This Anti-Inflammatory Kale Cobb Salad is a loaded salad you do NOT want to miss! This massaged kale salad is packed with tons of flavor, pulling from some traditional Cobb salad ingredients, but with a few minor tweaks to make it a super nutrient-dense anti-inflammatory meal, that also happens to be Paleo.
Recipe: $13.12 | Per Serving: $3.28 | Yield: 4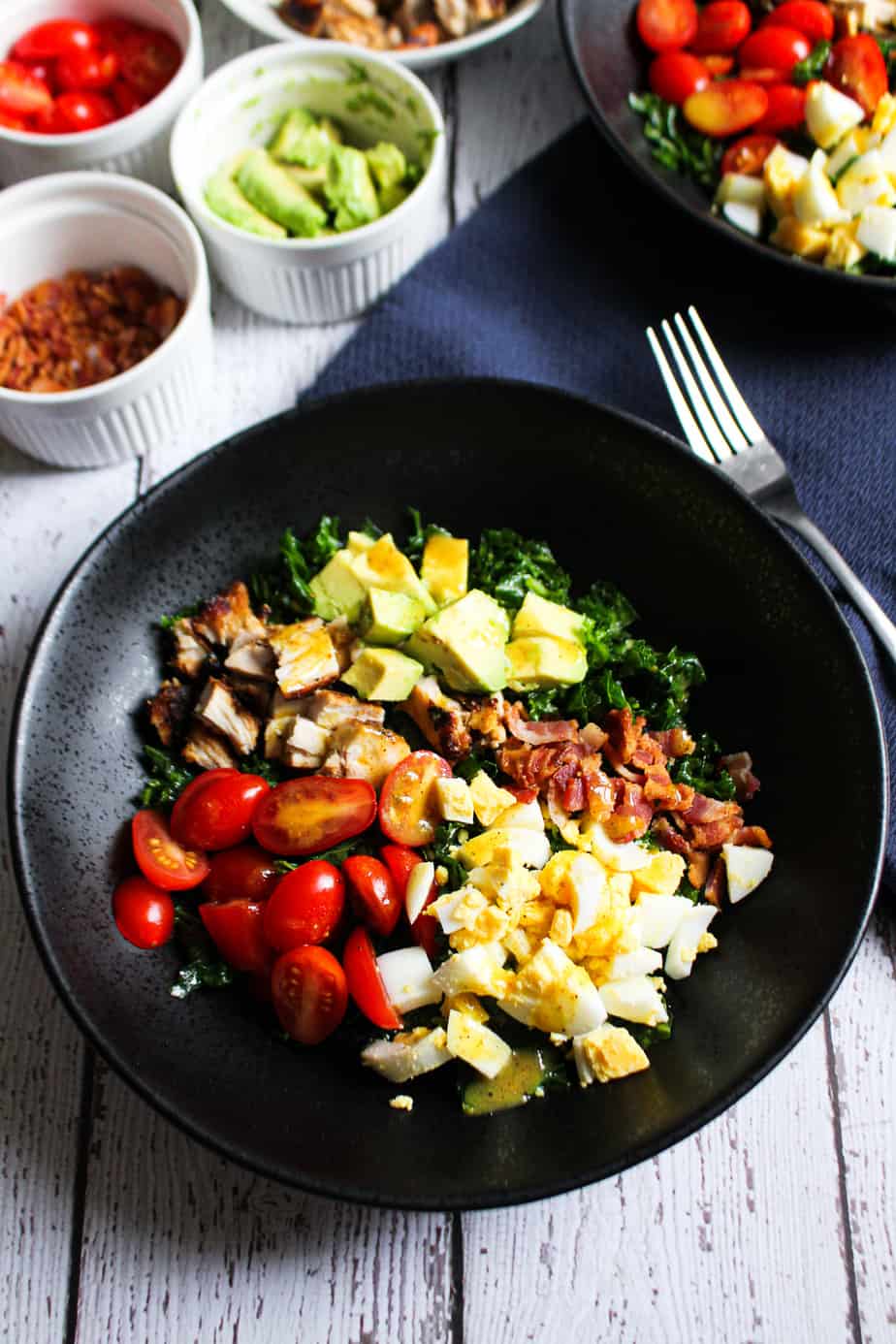 I have made several versions of this salad and this final version is my absolute favorite! This Anti-Inflammatory Kale Cobb Salad is 50% massaged kale greens, and 50% toppings. Just as a loaded Cobb salad should be!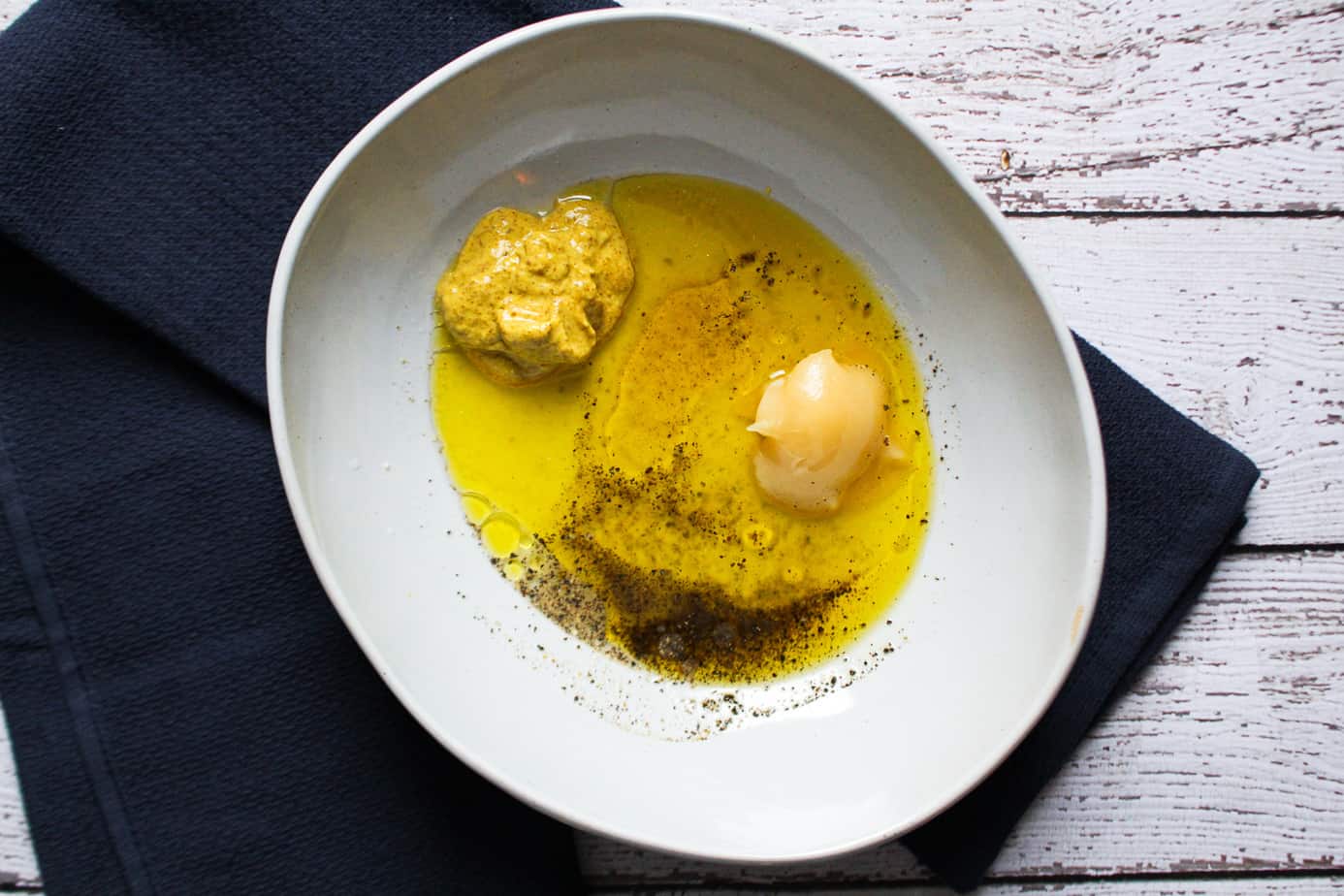 There are several different dressings typically used on a Cobb Salad, but the honey mustard was my favorite of the bunch. I added a pinch of turmeric and kicked out the Bleu cheese (sorry, BC, you're still delicious) in favor of the lactose-intolerant-friendly (and anti-inflammatory) avocado.
We've also increased the eggs a little bit and decreased the chicken to make it a slightly more affordable option. This recipe calls for just 2 chicken thighs (about 8 ounces) over 4 servings. To make this even cheaper, you can remove the chicken completely and replace it with chickpeas.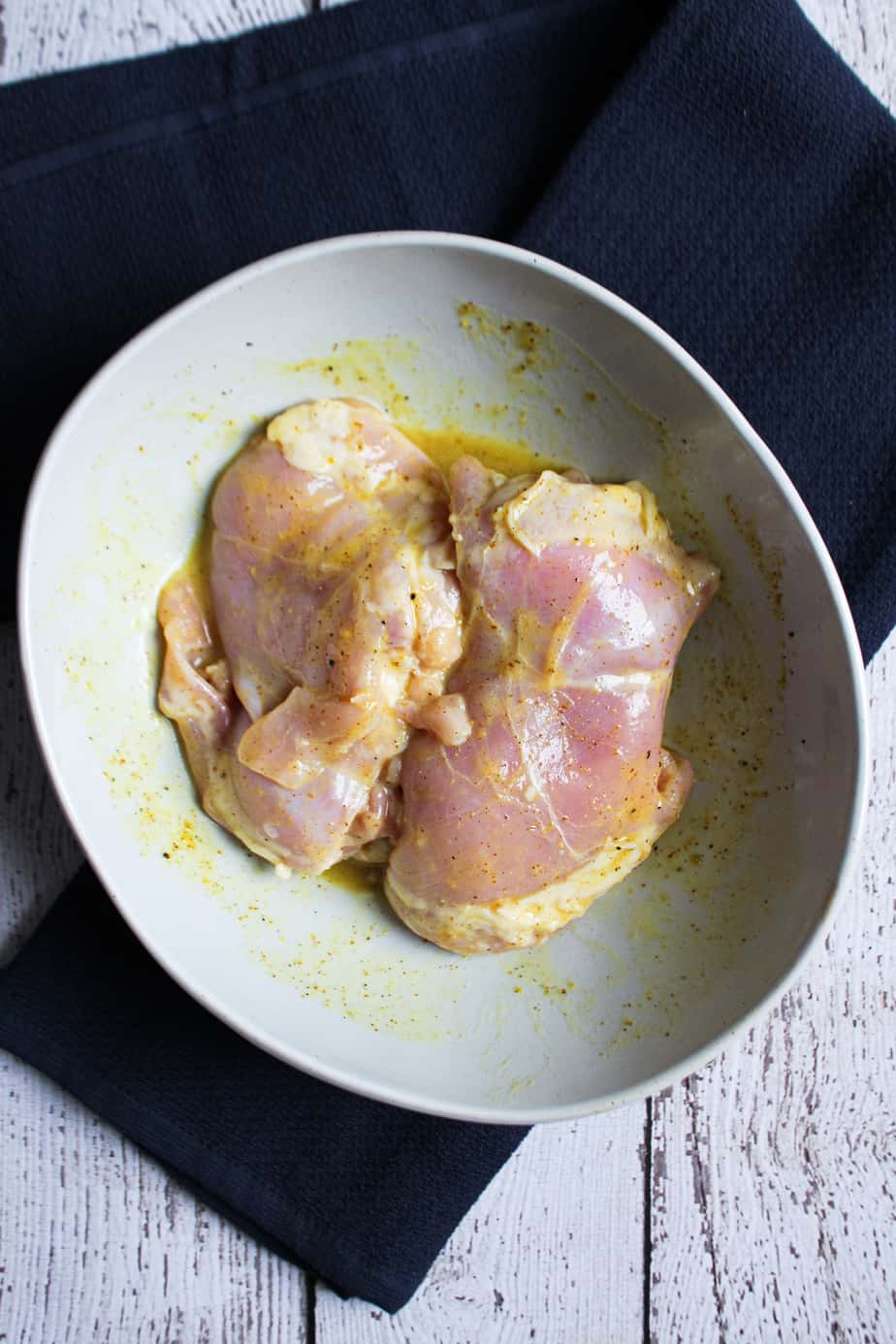 What Are "Anti-Inflammatory" Foods?
Anti-Inflammatory Foods refers to a class of foods that are rich in bioactive compounds - certain nutrients and colorful phytochemicals - that have been found to reduce inflammation. Nearly all of these foods are plant-based, with the exception of certain fish that are high in anti-inflammatory omega-3 fatty acids.
Anti-Inflammatory Ingredients in Kale Cobb Salad
Colorful fruits and vegetables tend to be pretty anti-inflammatory, but this recipe also has turmeric in the dressing, avocado, extra virgin olive oil, and kale, which are four anti-inflammatory powerhouses!
Turmeric contains curcumin, a potent anti-inflammatory phytochemical. When paired with black pepper, the bioavailability increases by up to 2,000%! And these compounds are fat soluble, so it is best to have them with a source of fat like the avocado and olive oil in this recipe.
Avocado is another anti-inflammatory food, which has been show to actually reduce the inflammatory response in real time. So if you're eating something that's somewhat pro-inflammatory (sugar, certain fats, processed meats like bacon), avocado can modulate the inflammatory response! We aren't entirely sure of the mechanisms at play here, but avocados contain carotenoids and omega-3 fatty acids, both of which are anti-inflammatory compounds.
Extra Virgin Olive Oil contains phenolic compounds like oleocanthal and oleuropein that have anti-inflammatory benefits in the body. Oleuropein is actually able to prevent certain types of cholesterol (LDL) from oxidizing and becoming inflammatory.
Kale is packed with many nutrients, including vitamin E, which is the strongest antioxidant found in plants. It contains other important nutrients and anti-inflammatory compounds that help to balance oxidative stress in the body. AND it is a good source of fiber, which can help bind chemicals, hormones, and toxins to excrete them from the body.
More Anti-Inflammatory Recipes:
How to make this recipe:
First, make the dressing.
Second, marinate the chicken.
Third, make hard boiled eggs and bacon.
Fourth, wash and chop the vegetables and avocado and massage the chopped kale.
Fifth, cook the chicken.
And finally, serve!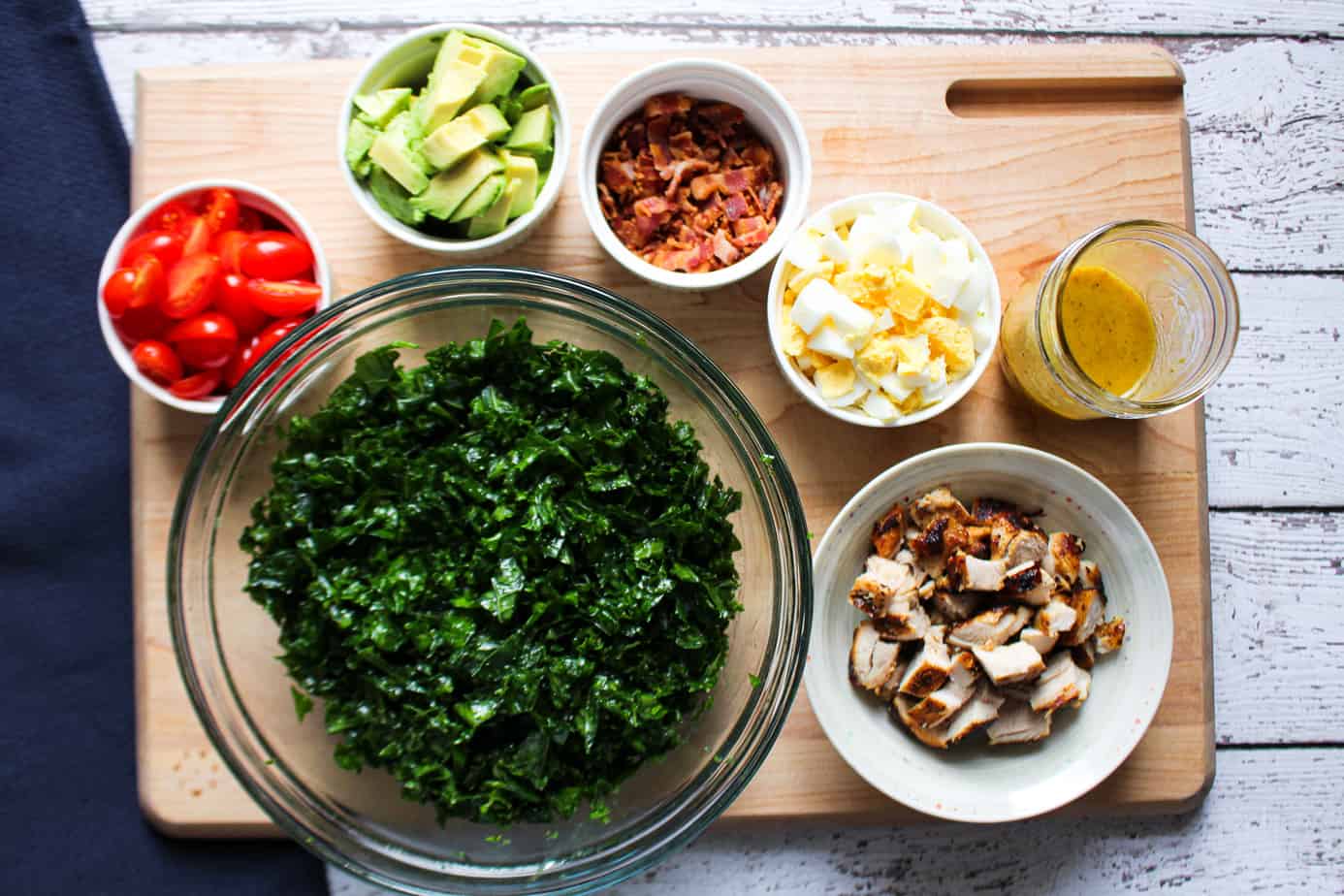 Anti-Inflammatory Kale Cobb Salad YouTube Video
If you'd like a complete video guide to this recipe, check out my YouTube video below!
Fun fact: this is also a great meal prep recipe! Raw kale holds up really well to being pre-dressed and it continues to soften as the days go by, without getting sad or wilted. To prep this ahead, I just cut up the avocado the morning of or toss an avocado into my lunch box to take care of at lunch time.
This recipe is part of my 2022 Anti-Inflammatory Diet Series. Check in weekly for updates and information!
Vegetarian: Not as written, but you could replace the chicken and bacon with other protein sources here. (Chickpeas, mushroom bacon, cheese, etc.)
Paleo: Yep! And Whole30 if you skip the honey in the dressing.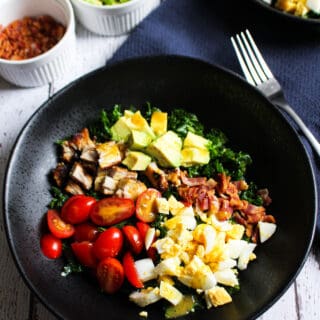 Kale Cobb Salad (Gf, DF, Paleo)
This Paleo Kale Cobb Salad is a super delicious, semi-fancy way to get in those leafy greens and anti-inflammatory foods. It is bright and filling, with a richly flavored dijon mustard dressing.
Ingredients
For the Dressing:
1

Tablespoon

honey

2

Tablespoons

mustard - dijon or spicy brown

2

Tablespoons

lemon juice

¼

cup

extra virgin olive oil

¼

teaspoon

salt

¼

teaspoon

freshly ground black pepper

¼

teaspoon

ground turmeric

1

Tablespoon

apple cider vinegar
For the Salad:
8

ounces

chicken thighs

4

eggs

hard-boiled

5

slices

of sugar-free bacon

8

cups

kale

curly green or lacinato best here

1

cup

grape tomatoes

1

large avocado
Instructions
Dressing: In a large bowl, whisk together the dressing ingredients (or combine in a jar and shake).

Marinate the chicken: Remove 2 Tablespoons of the dressing and add to a shallow dish. Coat chicken in this marinade and set aside for about 20 minutes or overnight.

Hard-boiled Eggs: add several cups of water to a medium sauce pot (you want enough to be able to cover the eggs). Bring to a boil and gently place the eggs into the boiling water. After 2 minutes, cover pot and reduce the temperature to a simmer. Cook for about 8-9 minutes. (11 minutes total) Immediately remove from water and place in an ice bath. (Aka a bowel with ice water in it.) Let rest until cool to the touch. Peel and chop into bite-sized pieces.

Bacon: cook the bacon in a large skillet. Remove to a paper towel-lined plate. Drain the grease, leaving about 1 Tablespoon in the pan for cooking the chicken. Once the bacon is cool, chop into pieces.

For the Salad: de-stem the kale and wash in a large bowl, then dry (using a salad spinner if you have one). Then finely chop. Drizzle with about 1 teaspoon of olive oil and a sprinkle of salt (coarse is best if you have it), and using clean hands, massage the kale well for about 30-60 seconds. This softens the cell walls of the kale and makes it much more tender and easier to digest.

Wash the tomatoes and slice in half long-wise.

Cut open the avocado and cut into cubes, or if preferred, pretty little slices.

Chicken: Season then chicken with a sprinkling of salt on both sides. As noted above, combine the chicken thighs with 2 Tablespoons of the dressing and 1 Tablespoon of apple cider vinegar and marinate for at least 20 minutes. Bring the skillet with the bacon grease to medium heat and place the chicken in the pan. Cook on each side for about 5ish minutes or until the internal temperature reaches 165ºF.

If you wait until the pan is very hot (and a drop of water makes it sizzle), you should get a nice char on the first side of the chicken, which is helped along by the honey in the marinade.

For Serving: I recommend adding about half of the dressing to the kale and tossing to coat. Then divide the kale among 4 bowls. Top with each of the ingredients and drizzle each bowl with the remaining dressing.
Notes
If you prefer chicken breasts, I recommend pounding them prior to marinating. To do this, place chicken in a zip-top bag and pound with a mallet or heavy-bottom skillet until even in thickness. This will help it cook more evenly and more quickly. You can certainly do this with chicken thighs as well, but it isn't as necessary since it is harder to overcook chicken thighs.
This salad is quite low carb. If you, like me, need more carbs in your meals, feel free to add some fruit, chips, bread, quinoa, chickpeas, or other carbs of choice.
Nutrition
Calories:
465
kcal
Carbohydrates:
17
g
Protein:
21
g
Fat:
37
g
Saturated Fat:
7
g
Polyunsaturated Fat:
6
g
Monounsaturated Fat:
21
g
Trans Fat:
0.1
g
Cholesterol:
219
mg
Sodium:
436
mg
Potassium:
1003
mg
Fiber:
10
g
Sugar:
7
g
Vitamin A:
14058
IU
Vitamin B1:
0.3
mg
Vitamin B2:
1
mg
Vitamin B3:
5
mg
Vitamin B5:
2
mg
Vitamin B6:
1
mg
Vitamin B12:
1
µg
Vitamin C:
138
mg
Vitamin D:
1
µg
Vitamin E:
5
mg
Vitamin K:
546
µg
Calcium:
385
mg
Copper:
0.3
mg
Folate:
154
µg
Iron:
4
mg
Manganese:
1
mg
Magnesium:
84
mg
Phosphorus:
295
mg
Selenium:
28
µg
Zinc:
2
mg
Choline:
168
mg