Recipe: $10.60 | Per Serving: $1.77 | Yield: 6
For some reason I've decided to skip over fall entirely and head straight for winter, in the form of a Slow Cooker Whole Chicken, with potatoes, carrots, onions, and collards. I know it's still 80 degrees out right now, but you'll be glad you have this recipe a month from now. And it's super delicious and simple!
There is something so comforting about the combined aromas of rosemary, garlic, and chicken wafting through the house. This dish is very much Winter On A Plate. I have made this basic meal in the oven a few times, with the drippings from the chicken flavoring the potatoes to the max and it is awesome. But I really wanted to see if I could manage to make it in the slow cooker for a few reasons. 1) It's way more hands off, so I can go about my business, and even leave the house without babysitting my meal, and 2) it's actually still kind of summer here in Baltimore, so I wanted to avoid heating up my entire house by using the oven for like 60-90 minutes, and 3) I was already planning to use my oven for Pumpkin Lasagna (only 30 minutes!!!) on the same Sunday.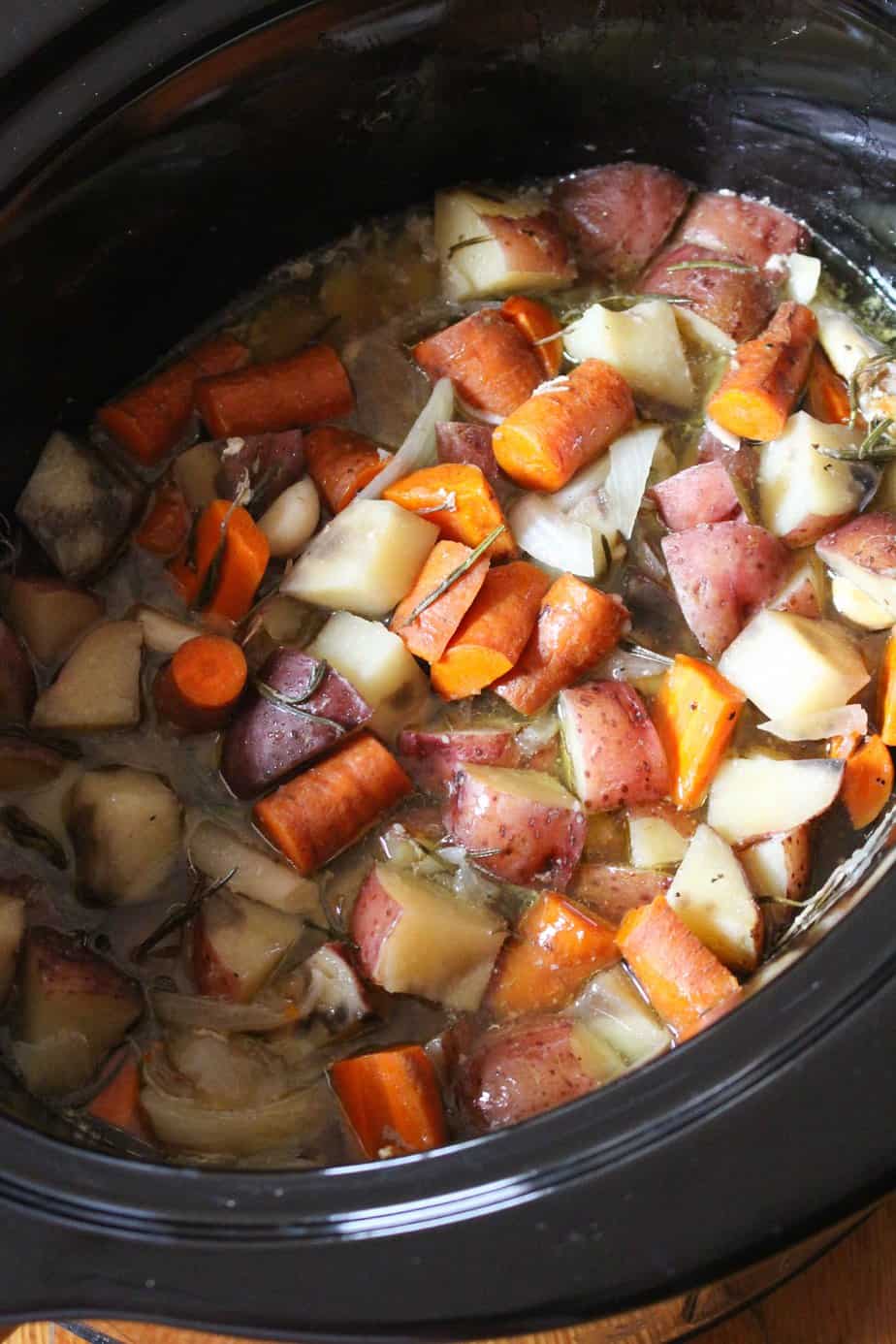 In the spirit of budget life, potatoes, carrots, and a whole chicken are pretty high up on the cheap bang-for-buck list. And for the sake of convenience, I went for the frozen collards I found on sale to round out the veggie profile. This chicken is perfectly moist (sorry!) and tender and super flavorful. The skin doesn't get crispy in the slow cooker, but that's easily solved with 3-5 minutes under the broiler. (Or you can remove the skin and crisp it up in the toaster oven!) You also don't get crispy potatoes this way; they're more in the realm of soft & flavorful pot roast potatoes, but you could certainly give them a few minutes under the broiler as well if you're craving that crunch.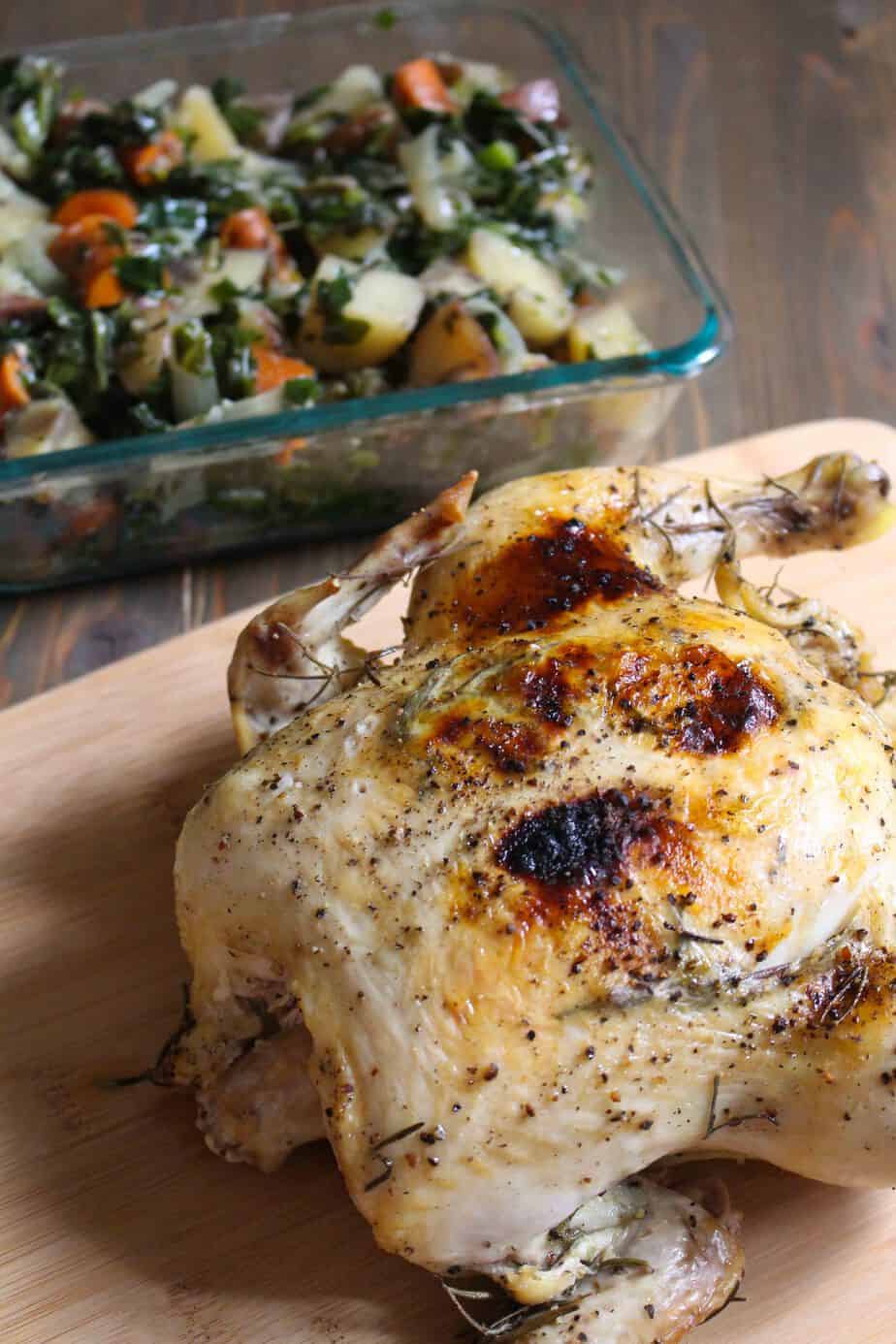 I prepped this on Saturday night and packed it all into the slow cooker insert, then let it hang out in the fridge overnight. Then I popped it in and started it on Sunday morning. I love splitting up tasks like this when I have some free time, but one of the main reasons I did this was to take advantage of the juicy benefits of dry brining. And then it takes about 3-4 hours to cook the chicken, plus the additional 30 minutes to thicken up the liquid and cook the collards, if desired.
I usually buy either farmer's market chickens for $5 a pound, or Open Nature (Safeway/Vons) chicken for around $2 a pound on sale, but this time around Zac did the grocery shopping and we needed a bunch of staples from Trader Joe's, so this 4.73-pound chicken was just $1.49 a pound from Trader Joe's! I also got several sprigs of rosemary from my boss's garden, but I included 50 cents for the cost of fresh rosemary anyway.
Vegetarian: Sorry, it's a chicken.
Paleo: Mostly - it's your choice to eat white potatoes or not, but you could certainly sub them out for more carrots, parsnips, sweet potatoes, or winter squash.
Print
Slow Cooker Whole Chicken, Potatoes, & Vegetables
---
Author:

Total Time:

4 hours 10 mins

Yield:

6

1

x
1

whole chicken, 4-5 pounds

1

medium onion

4

-

8

cloves garlic, peeled and crushed

5

medium red potatoes

4

large carrots
a handful of fresh rosemary, or 1 teaspoon dried
salt, pepper
optional: 4 cups frozen collard greens, roughly chopped (or about 6-8 cups fresh)
additional seasonings to taste: garlic powder, paprika, cayenne, thyme, etc.
---
Instructions
Slice the onions into wedges, chop the potatoes to about 1-inch cubes, and chop the carrots into large-ish chunks (1.5 inches). Layer the vegetables in a large slow cooker and season with salt & pepper and about half the rosemary. (About 1/2 teaspoon dried or maybe 3-4 springs' worth fresh.)
Season the chicken as desired: I gently pull the skin away and put salt, pepper, and rosemary under the skin, in the cavity, and all over the outside. You can also stick half a lemon and a few cloves of garlic within the cavity. Make sure it's well-seasoned!
Make space in the slow cooker and place the chicken on top. You want a layer of potatoes and vegetables underneath so the chicken isn't sitting in its juices while it cooks.
[Optional dry brine: Now that it's salted, you can let it rest, covered, in your fridge for 20 minutes or up to three days. I like to start mine the night before and let it rest in the fridge overnight for a quick 8-hour dry brine.]
Cook on HIGH for about 3 - 3.5 hours, or on low for about 6 hours. I use a meat thermometer to check doneness. You want the thickest part of the thigh to reach 160-165ºF, and the juices to run clear.
Remove the chicken from the slow cooker and let rest, or place in oven to broil for 3-5 minutes to get crispy skin.
Stir the potatoes and vegetables into the juices and mix in the collards. Cook another 30 minutes while the chicken rests. (You can choose to leave the lid off to thicken the juices a little.)
Prep Time:

10 mins

Cook Time:

4 hours