Recipe: $1.82
Per Serving: $0.91
We eat a lot of vegetable egg scrambles around here on the weekends. If we're ever in the mood for a special weekend breakfast, it's eggs about 97% of the time. 1% of the time we go out (read: never), and 2% of the time Zac gets pancakes. Normally breakfast potatoes are also on the menu, and perhaps a bit of fresh fruit or a tortilla. Don't get me wrong, I LOVE these egg breakfasts, but sometimes they get a little boring week after week.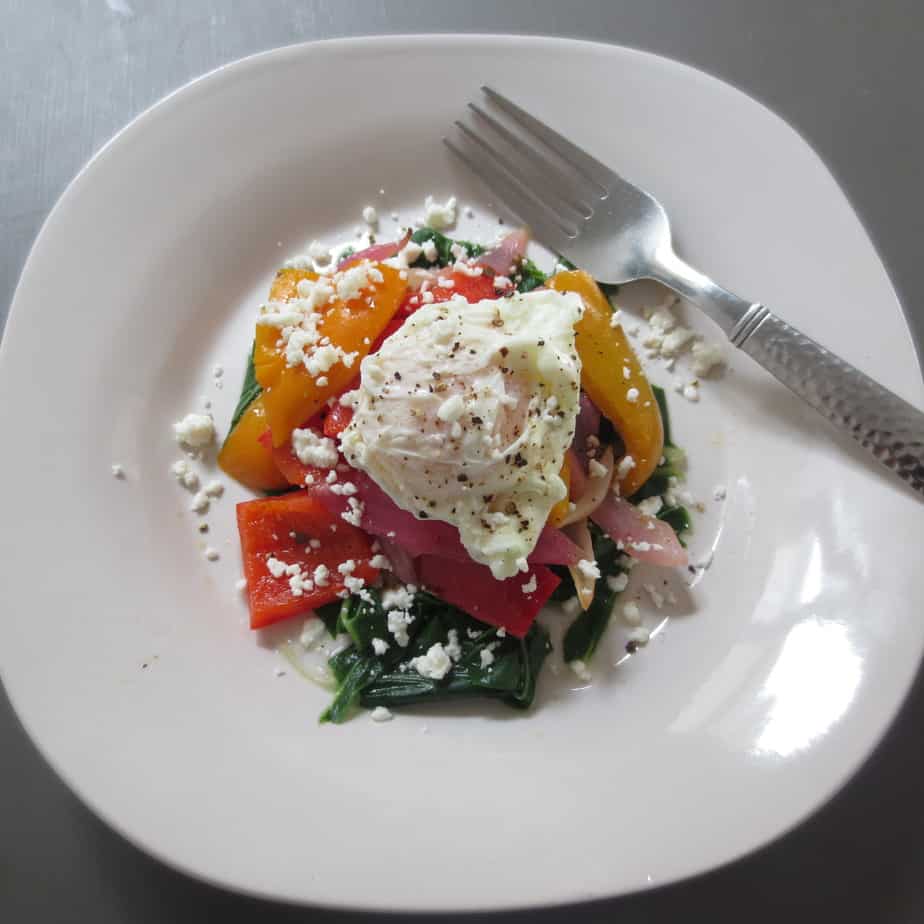 Enter Poached Eggs Over Roasted Mediterranean Veggies. This dish is perfection. I am a sucker for creamy gooey egg yolks, especially mixed with a little feta cheese and blanched greens. This is kind of like a breakfast salad, but in cooked form. You could go ahead and throw a fried egg on top as well, but in the interest of saving dirty dishes, I like to poach them in the same water I use for the greens.
This dish first entered my mind when I was in Baja with my two brothers, waiting for the rest of the clan to arrive. We had a hodgepodge of leftovers from the previous dinner, including tortillas and beans, plus eggs, fresh kale, and cherry tomatoes. Want to know what we didn't have? Oil or butter! So we made a Mexican version of this dish with the oven and a pot of water, and it was divine! (Did I say divine? Who even uses that word? I feel ashamed, but I can't delete it because that would be like lying to you all. So, yes, I said "divine.")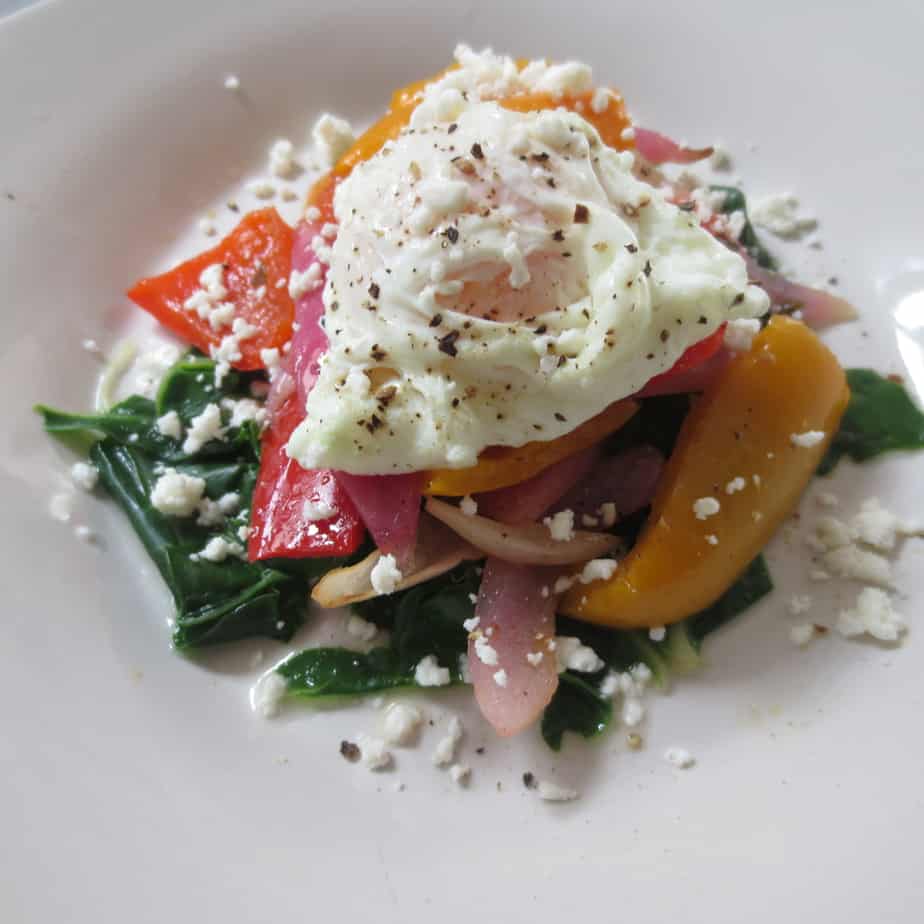 But really, it was sooo good. Surprisingly so. And I fell in love with the mixture of egg yolks and wilted kale. I've been thinking about it ever since, and decided I'd like to recreate it with new flavors, mostly because we eat Mexican-style-flavored-inspired food about 80% of our lives. Also, oregano! So underrated. I always associate it with pizza, but when roasted with this lemony olive oil mixture it's perfect. I'm gushing, I know, but THIS IS HOW I FEEL ABOUT FOOD. All the time.
Now get your veggie-packed eggy brunch on. With cheese on top.

Poached Eggs Over Roasted Mediterranean Vegetables
Tasty roasted vegetables with poached eggs for a healthy vegetarian main dish.
Ingredients
½

bell pepper

or 2-4 baby sweet bell peppers, cut into chunks

¼

red onion

sliced into wedges

½

tomato

sliced into chunks (or ½ cup cherry tomatoes)

2

Tablespoons

olive oil

1

Tablespoon

fresh lemon juice

½

teaspoon

oregano

salt

pepper to taste

2

cups

kale

or swiss chard

2

pastured eggs

2

Tablespoons

feta cheese

optional
Instructions
Preheat oven to 425ºF. Cut bell peppers, onions, and tomatoes into chunks or wedges and mix with olive oil, lemon juice, oregano, salt, pepper. Roast for 15 minutes or until veggies are soft and slightly charred.

Meanwhile, bring a pot of salted water to a rapid boil. Submerge greens and stir for 30 seconds, or until it reaches a bright green color. Remove immediately using a slotted spoon. (To stop cooking, you can rinse greens under cold water or place in ice bath, but you might need to reheat it a bit, or mix in with the cooked veggies to warm. I just let them cool on their own and eat them at room temp.) Drain and set aside.

Reduce heat on stove to low-medium until a low simmer is achieved. Crack egg into ceramic cup or ramekin and gently lower into water. DO NOT PLOP. Let the edge of the cup touch the water before pouring out the egg.

Swirl egg with a spoon to try and form a nice round poached egg. Poach for 2-4 minutes and remove with a slotted spoon. Repeat with second egg.

Arrange cooked greens on plates, top with mediterranean vegetables and poached eggs. Dust with a little salt and pepper and a sprinkling of feta cheese. Serve!

(Note: This is a pretty light breakfast at under 300 calories. Pair with tortillas, potatoes, toast, or serve 2-3 eggs per person to make it heartier.)
Nutrition
Calories:
277
kcal
Carbohydrates:
9
g
Protein:
11
g
Fat:
23
g
Saturated Fat:
6
g
Polyunsaturated Fat:
3
g
Monounsaturated Fat:
13
g
Trans Fat:
0.01
g
Cholesterol:
179
mg
Sodium:
296
mg
Potassium:
474
mg
Fiber:
4
g
Sugar:
4
g
Vitamin A:
8199
IU
Vitamin B1:
0.1
mg
Vitamin B2:
1
mg
Vitamin B3:
2
mg
Vitamin B5:
1
mg
Vitamin B6:
0.4
mg
Vitamin B12:
1
µg
Vitamin C:
109
mg
Vitamin D:
1
µg
Vitamin E:
4
mg
Vitamin K:
277
µg
Calcium:
296
mg
Copper:
0.1
mg
Folate:
91
µg
Iron:
2
mg
Manganese:
1
mg
Magnesium:
41
mg
Phosphorus:
202
mg
Selenium:
17
µg
Zinc:
1
mg
Choline:
137
mg