Recipe: $4.40 | Per Serving: $0.55  | Yield: ~1 pint (8 servings of 4 tablespoon each)
Take your favorite beige condiment and amp it up with fresh herbs and leafy greens to get a super-boosted and brightly colored Green Hummus! This hummus is packed with anti-inflammatory herbs, greens, and healthy fats, making it a delicious and nutritious addition to snacks and meals.
Hummus is an expensive item at the grocery store, but if you have time to wash a food processor (which let's be honest, I know not everybody does), you have time to make hummus at home!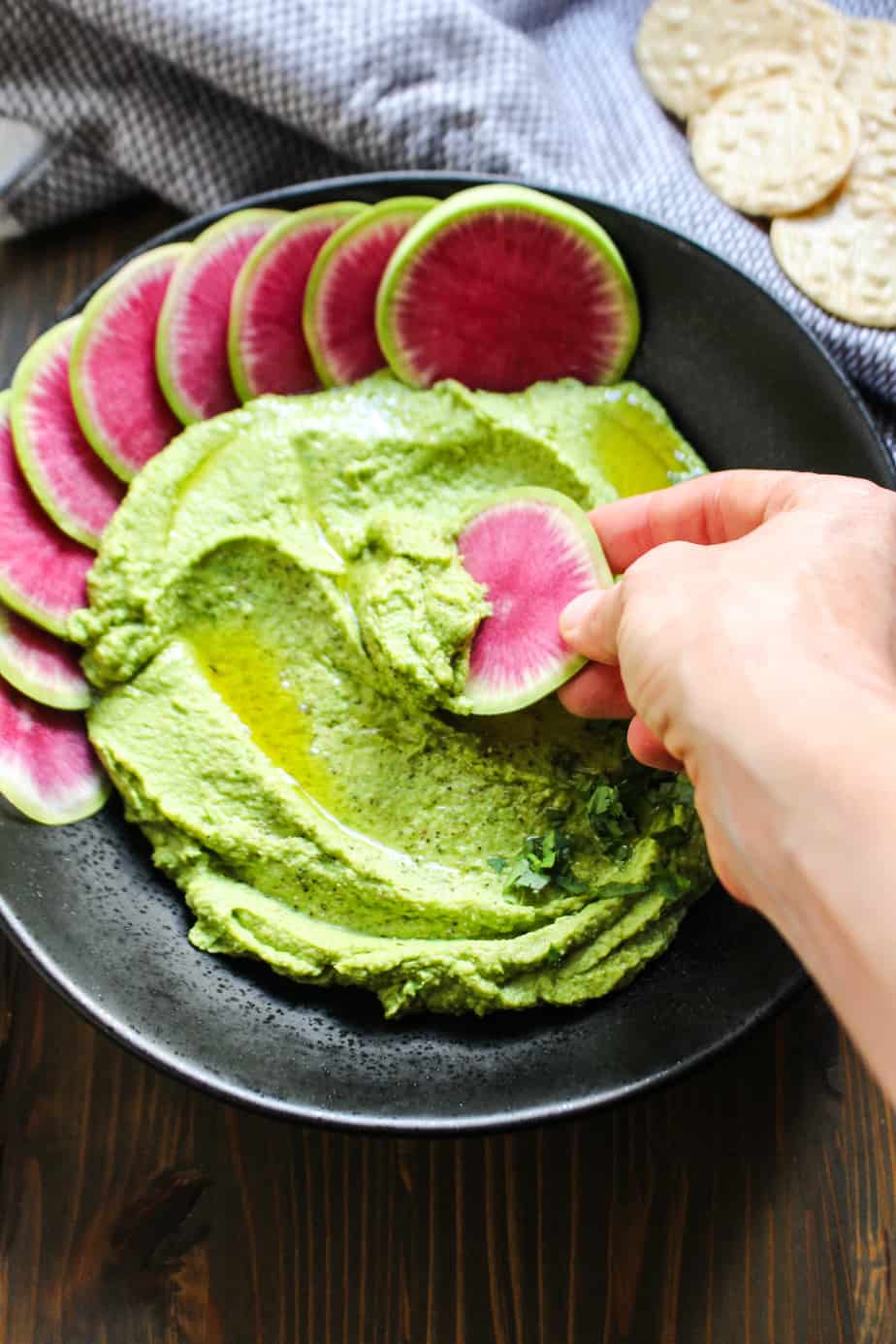 Before we dive into the green hummus - can we talk about these watermelon radishes for a second? I'm a huge fan of most types of radishes - daikon, french red radishes, white radishes, etc. - but these watermelon radishes take the cake! They are both delicious and gorgeous!
They're also not readily available everywhere. I've been making some version of green hummus for quite some time and planned to post it on my blog this year (2022), but these pictures were taken in late November when I received watermelon radishes in my CSA box and I knew they would be so beautiful with my hummus!
What is Green Hummus Made Of?
Typically, green hummus is classic chickpea hummus with the addition of fresh herbs and greens. The vibrant green color comes from fresh ingredients such as cilantro, parsley, basil, green onion, and spinach.
One of the topics I discuss with my clients is increasing the intake of anti-inflammatory foods. Green hummus is an excellent way to do that! Herbs are rich in phytonutrients, and extra virgin olive oil is an anti-inflammatory healthy fat rich in polyphenols.
In this recipe I'm using spinach, cilantro, parsley, green onions, and - for a kick of gentle spice - jalapeño!
Is Hummus Healthy?
Homemade hummus is made from simple, whole-foods ingredients including chickpeas (garbanzo beans), tahini (sesame seed butter), lemon juice, garlic, optional spices and herbs, and high quality olive oil.
With the right ingredients it is a great source of polyunsaturated and monounsaturated fats (from the tahini and olive oil). Tahini is also a decent source of calcium, while chickpeas provide folate, along with some fiber and some protein.
Storebought hummus is also a perfectly acceptable option - we have certainly eaten our weight in this hummus (Amazon affiliate link) over the last couple of years. BUT, hummus is not immune to the machine that is the American food market.
Many of the storebought options use oils that may contribute to inflammation (canola, sunflower, safflower), gums and stabilizers that cause symptoms in those with GI issues like SIBO, and ingredients like manufactured citric acid that are typically grown on mold (Aspergillus niger), and might worsen symptoms of mold illness.
For this reason, it's good to have some options for homemade - and, you can make homemade hummus that is amped up with your own personal preferences (like this green hummus!).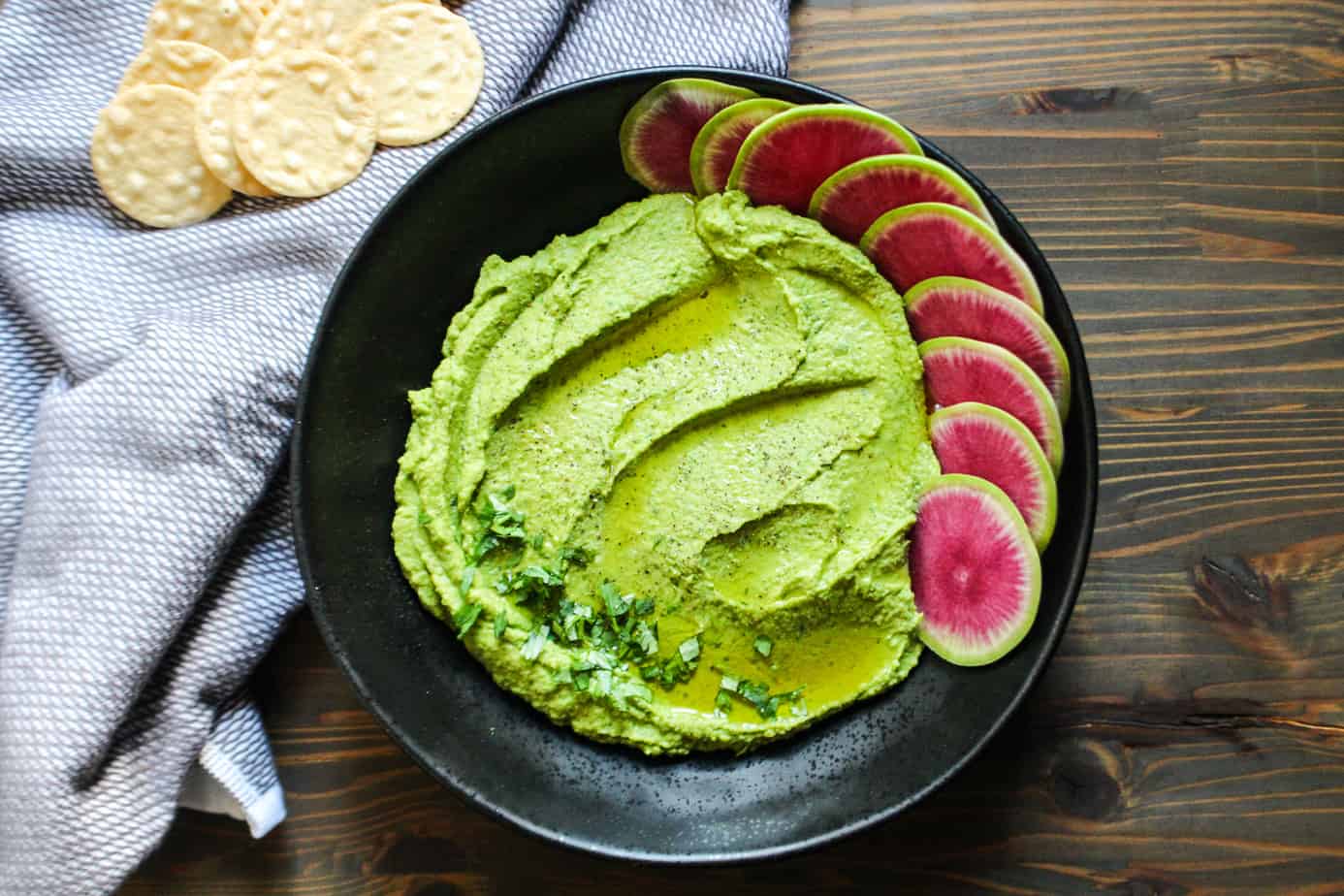 What is the Serving Size of Hummus?
The typical serving size of hummus in the US is about 2 Tablespoons, but hummus originated in the middle eastern region of the world, where the standard portion size is closer to 1 cup. Here in the US we are so afraid of eating enough food and eating enough calories and eating enough fat that it is no surprise that we shrank that serving size down so much!
However, serving sizes on packaged foods in the US are actually set very arbitrarily based on the amount the consumer is assumed to actually eat. So serving sizes are not actually a recommendation, but are supposed to be a reflection of consumption habits. (But we know they're very often wrong, looking at you, boxed mac and cheese and you're 2.5-3 servings per box. 🙄)
If you're making hummus at home, and especially if you're making green hummus packed with additional herbs and greens, it is great as an appetizer, of course, but can be a significant part of your main meal - no need to limit yourself to just 2 Tablespoons! In this case, I've determined 1 serving to be about ¼ of a cup, or about 4 Tablespoons.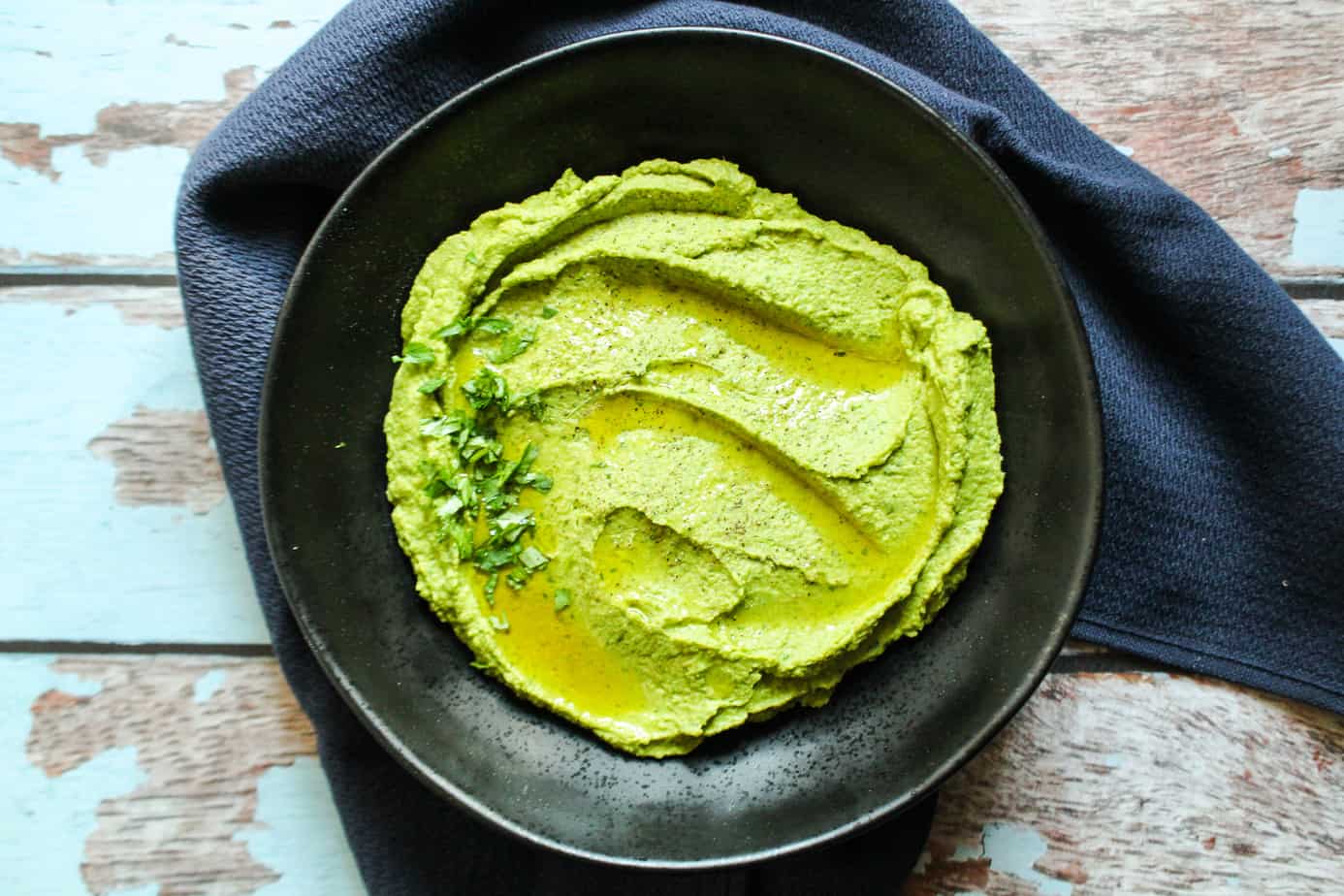 How to Make Smooth & Creamy Hummus at Home:
I have made hummus for years - for nearly a decade really - and I have tried nearly every tip for creamy hummus. NONE of them are fool proof. NONE of them. The best solution I have found is a combination of the following:
overcook your chickpeas
use more fat (oil or tahini) than you think you need
blend for a lot longer than seems necessary - so when you've got a good consistency, blend another 1-3 minutes
use a high speed blender
*sometimes adding ice cold water also helps with consistency, but I think this dilutes the flavor too much and haven't found a great way to incorporate this yet!
Without a super high speed blender, I think it is impossible to get super duper creamy hummus. My Ninja Kitchen Prep does not have enough horsepower to puree those little legumes into creamy oblivion. My high end Cuisinart food processor does a good job, but does not achieve creamy perfection.
It seems to me that the true secret ingredient in homemade hummus is a high-speed blender like a Vitamix or Blendtec. I've used a Vitamix before and it worked great! However, I do not have my own high-speed blender, so I use a food processor and accept the medium-creaminess of the hummus. As new tips and techniques show themselves, I'm sure I'll try them, and I'll hold out hope for the perfect hummus solution, but I won't be sad because all hummus is delicious!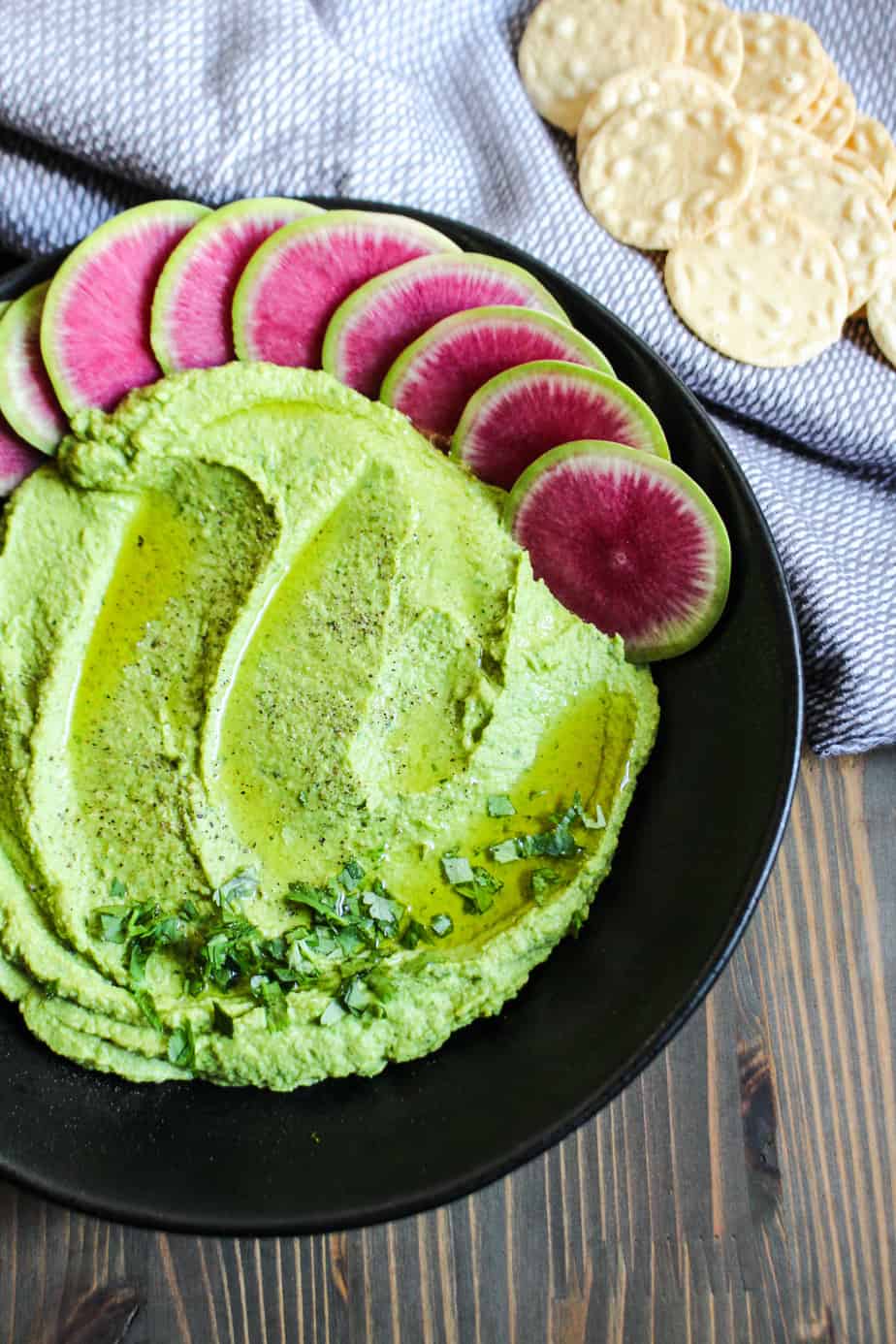 Tips and resources for creamy hummus:
Add a little baking soda to the cooking water when cooking chickpeas - I've tried it and it didn't make a huge difference to me
Peel your chickpeas - everyone swears by this one but I did not see a significant change in the resulting consistency
And since I didn't want to totally reinvent the wheel here, I thought I would link to some other blogs with great tips for making hummus. Unfortunately, nearly everybody blogging has fancy machinery like a Vitamix or Blendtec, so you'll just have to try some different tips and see what works best for you and your blender/food processor!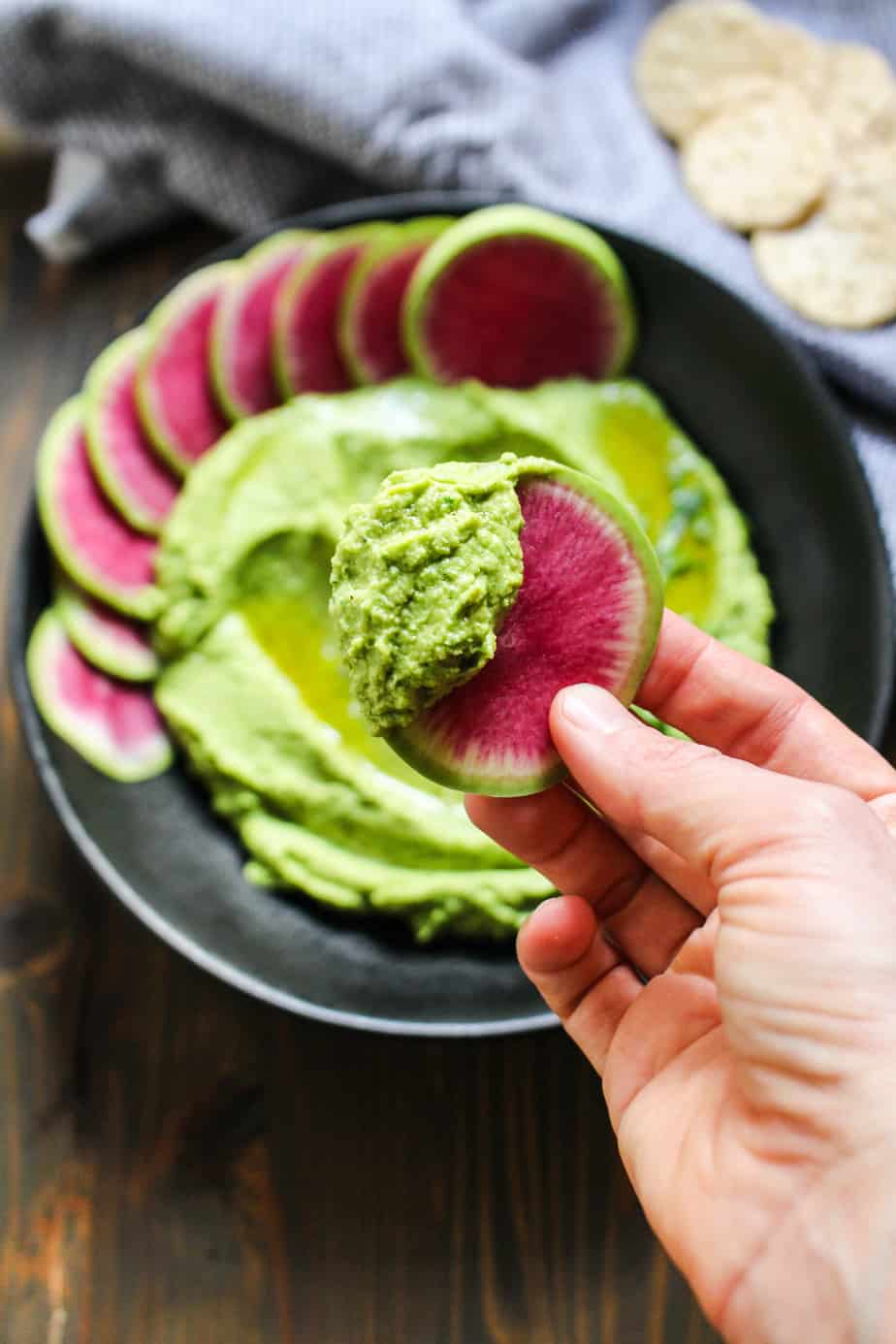 What to Serve with Hummus:
Pita, naan, crackers, toast
Crudité (ie raw or lightly blanched vegetables such as carrot sticks, celery, radish, snap peas, bell peppers
As a spread on sandwiches
Dolloped onto a quinoa bowl or salad
Alongside lamb gyro wraps, chicken shawarma, or any Mediterranean, Middle Eastern, Jewish, or North African meal
Dietary Substitutions for Homemade Green Hummus
Vegetarian: yep!
Paleo: nope! Chickpeas, as a member of the legume family, are not Paleo.
Low FODMAP: if you skip the garlic and use just the green parts (not the white) of the green onion, this becomes a low-moderate FODMAP dish. Chickpeas are low FODMAP at the serving size of ¼ cup.
PIN THIS RECIPE FOR LATER!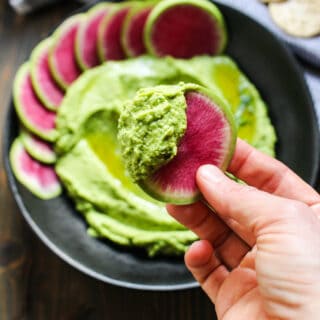 Homemade Green Hummus
This creamy hummus is spiked with fresh herbs, spinach, and jalapeño to brighten up your favorite dip!
Ingredients
1

can

unsalted chickpeas

about 1.75 cups, drained + 1 teaspoon salt

½

cup

fresh spinach or arugula

½

cup

fresh herbs

I recommend a mixture of green onion, parsley, cilantro, basil if you have them

3

Tablespoons

fresh lemon juice

½

teaspoon

salt

¼

teaspoon

ground cumin

4

Tablespoons

tahini

sesame seed paste/butter

4

Tablespoons

extra virgin olive oil

+ a little more if needed

½

jalapeño

optional, chopped into large chunks

1

clove

garlic

if desired! I skip it.

black pepper and additional chopped herbs for garnish
Instructions
In a large pot, add the drained chickpeas and about 1 teaspoon salt. Bring to a boil and simmer over low heat for about 10-15 minutes to make the chickpeas extra soft. Drain and set aside, removing any chickpea skins that have released themselves from the beans. (Don't spend a lot of time on this though!)

Add all ingredients, except the olive oil, to a food processor (or high-speed blender) and process until smooth, scraping down the sides as needed. Once the ingredients have formed a paste, add the olive oil and continue blending / processing.

When you think your hummus is smooth enough, blend or process for another 2-4 minutes. At this point, you can taste and adjust for salt and other seasonings, or add a little more oil if it isn't getting creamy enough. This is also where you can add the ice water if you're trying that method!

Pour into a bowl and garnish with a drizzle of olive oil and fresh herbs. Serve with your favorite crackers and crudité, dollop on a quinoa bowl, or spread on your favorite sandwich!
Notes
This recipe will keep well in the fridge for at least 7 days, and can be frozen for several months, though the consistency will change. If freezing, I recommend blending it again once thawed to ensure water and oil are properly re-emulsified.
Nutrition
Calories:
147
kcal
Carbohydrates:
3
g
Protein:
2
g
Fat:
15
g
Saturated Fat:
2
g
Polyunsaturated Fat:
3
g
Monounsaturated Fat:
9
g
Sodium:
203
mg
Potassium:
102
mg
Fiber:
1
g
Sugar:
0.3
g
Vitamin A:
676
IU
Vitamin B1:
0.2
mg
Vitamin B2:
0.02
mg
Vitamin B3:
1
mg
Vitamin B5:
0.04
mg
Vitamin B6:
0.04
mg
Vitamin C:
12
mg
Vitamin E:
1
mg
Vitamin K:
100
µg
Calcium:
26
mg
Copper:
0.2
mg
Folate:
24
µg
Iron:
1
mg
Manganese:
0.05
mg
Magnesium:
15
mg
Phosphorus:
85
mg
Selenium:
4
µg
Zinc:
1
mg
Choline:
2
mg