Recipe: $2.50
Per Serving: $0.16
I'm going to Maine! MAINE! Have you ever been there? One of my friends from college lives in Portland and I'm going to visit her for a WHOLE WEEK. Yep, that's like a real vacation. I'll be working during the weekdays of course, but not a lot. And I don't really have to plan activities or speak a foreign language or take an overnight bus anywhere. I can even drink the water. It doesn't even matter that it's supposed to be snowing when I land and I don't have a winter coat anymore. It's all very exciting. My friends are cool too.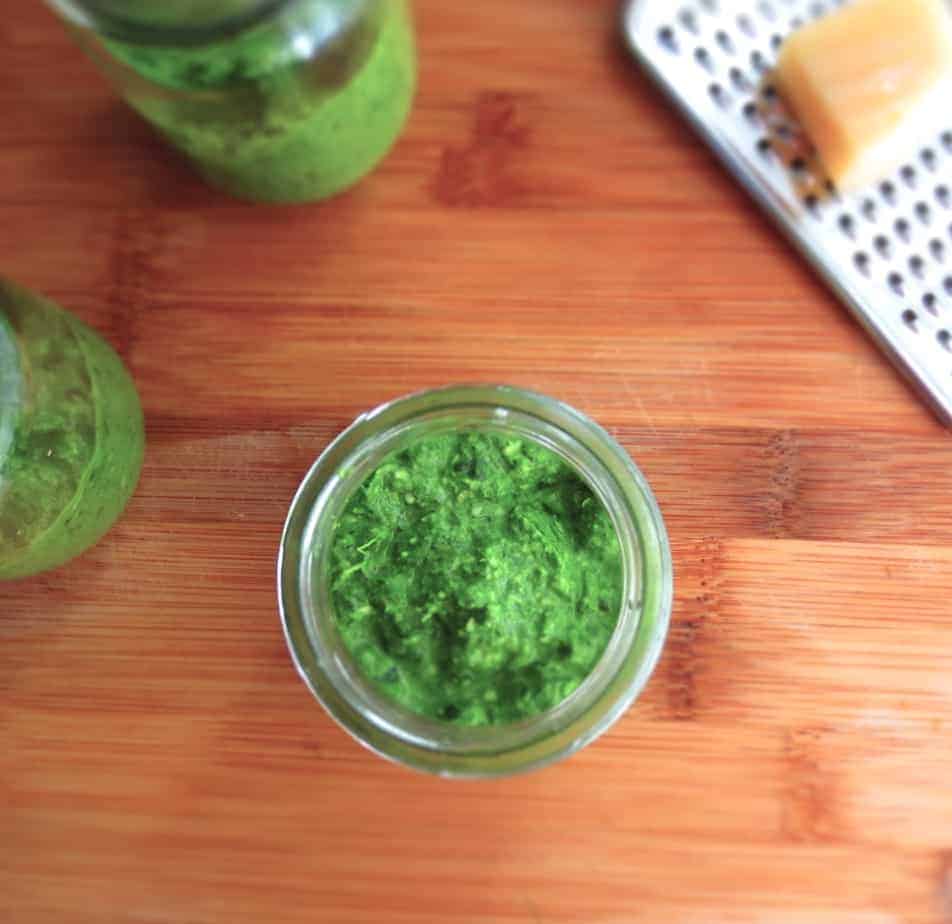 Zac isn't coming on our girls' trip, so he's stuck here in sunny San Diego with a big ol' box of greens and fruits and vegetables from our CSA. Here are the problems with that:
1) He can't eat that many greens in a week.
2) He doesn't know what most of the stuff is. (He keeps complaining about "all the dill," they keep giving us, but it's fennel, not dill, even though the fronds look like dill. I'm just proud of him for knowing what dill looks like.)
Our kitchen hippocratic oath is Waste No Food, so I have exactly 30 more hours to creatively figure out how to either eat, freeze, or cook 80% of the food in our CSA box. Task #1: Make Kale Pesto.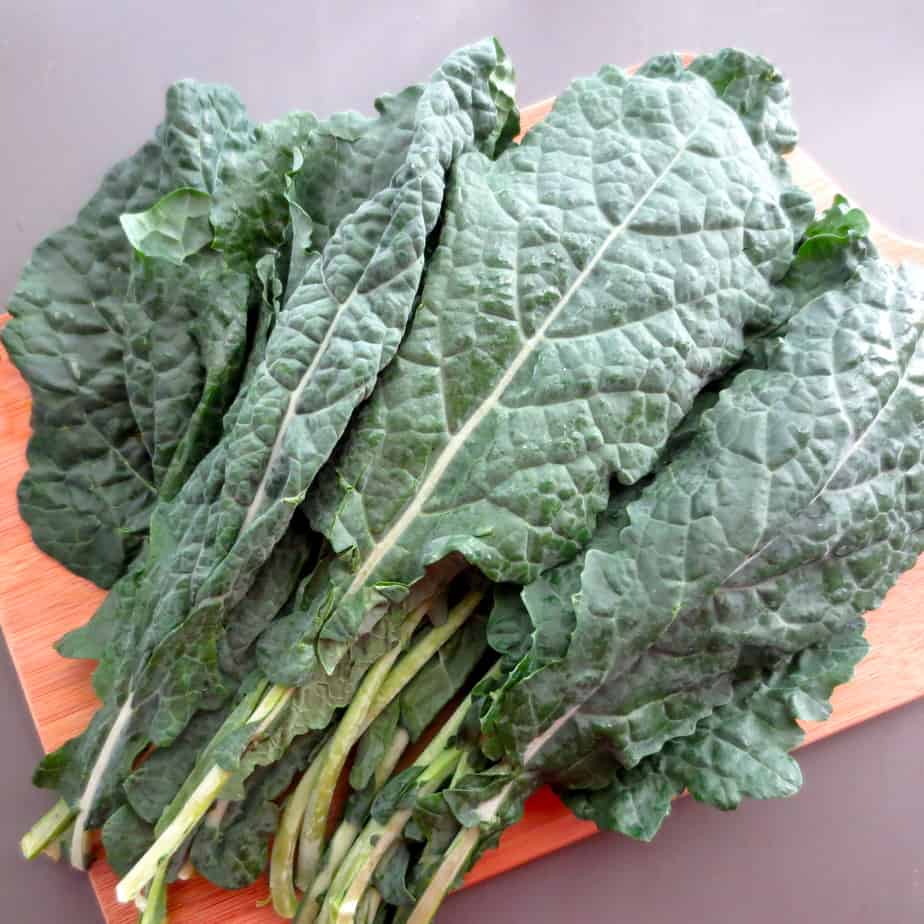 So that's what this post is about. KALE PESTO. No, it doesn't taste like basil pesto, and anyone who says it does is a liar. It does taste delicious in its own kind of way though. I am challenged when it comes to creating sauces and pestos and such because we only have a blender. No food processor. And we sold our Magic Bullet base for $10 in Peru because ZAC thought it was too heavy. (It really was too heavy.) I still mourn for that Magic Bullet. We have like 52 blender cups for it though if anyone is interested.
Back to Kale Pesto. I blanched it, because it is my understanding that it freezes and defrosts best when blanched. It's also easier to blend in a blender when blanched. You don't have to blanch it though if you have a food processor (or a Bullet).
Also, roasted garlic is delicious. If you prefer a punch in the face, use fresh garlic. Serving size is about 1 fat Tablespoon. You can eat it from the jar, mix it in pasta, use it in place of basil pesto in just about any dish, or make yourself a simple goat cheese and kale pesto sandwich with maybe sliced radish for color and crunch because you also have a bazillion of them in your CSA box.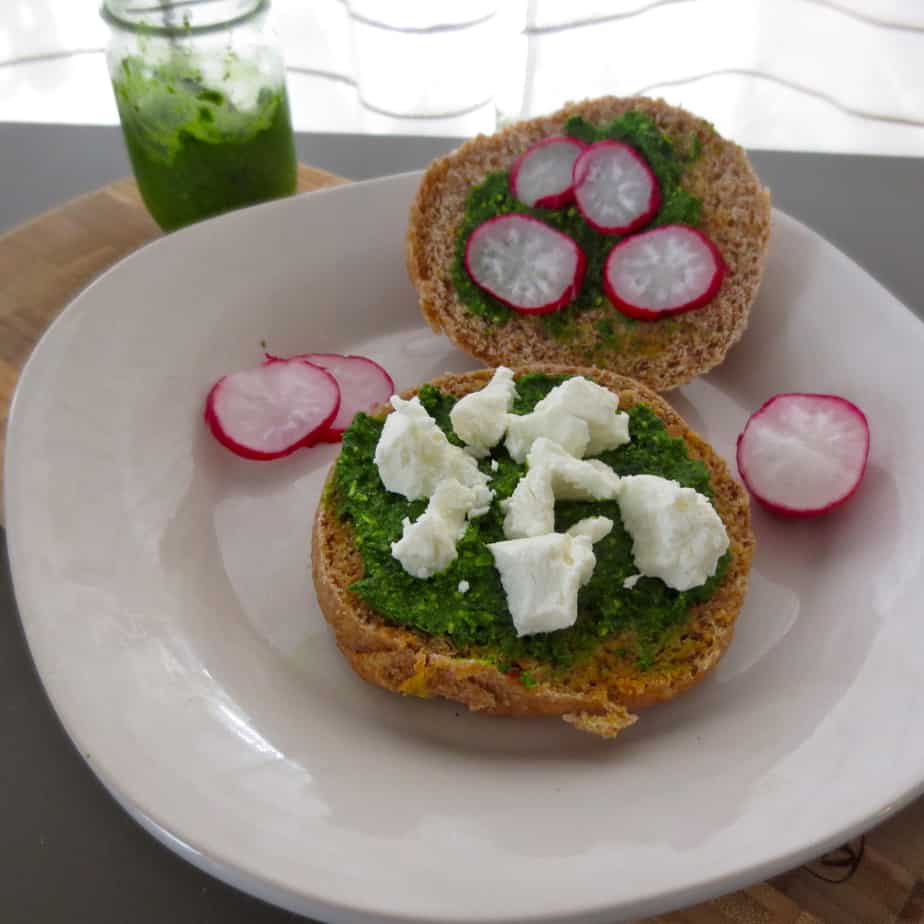 And then grill it for melty perfection.
Print

How to Make Kale Pesto
---
Author:

Caitlin

Total Time:

13 mins

Yield:

1

6

1

x
1

small-medium bunch kale (I had Lacinato)

1 Tbsp

fresh lemon juice (or a little more if you like it citrusy)

1

-

2

cloves roasted garlic

⅓ cup

walnut baking pieces (or crushed walnuts)

⅓ cup

freshly shredded Parmesan

⅛

–

¼

cup olive oil
salt and pepper to taste
---
Instructions
Bring a pot of water to bowl and boil kale for 25 seconds. Remove quickly and immediately place in a bowl of ice water to cool. Drain.
Add kale and lemon juice to blender and pulse, scraping down the sides as necessary, for just a minute or so.
Add garlic, walnuts, Parmesan, and about half of the olive oil. Blend until combined.
Add salt and pepper, then turn the blender on low (I used the Low – Liquify setting) and add the remaining olive oil. I only needed about ⅛ of a cup, but using ¼ cup will get the blender moving more, and still taste great.
Make sure everything is combined and serve!
Prep Time:

5 mins

Cook Time:

8 mins

Category:

Sauce, Dip, Condiment