Recipe: $2.89 | Per Bite: $0.19 | Yield: ~15 bites
By popular demand, cheesy broccoli quinoa bites are finally here! They're fast, flavorful, and great for both adults and kiddos. I'd definitely recommend them for an at-home cooking project if you get sick of baking sweet treats.
We all know cheese and broccoli is a match made in heaven, and these quinoa broccoli bites are no exception!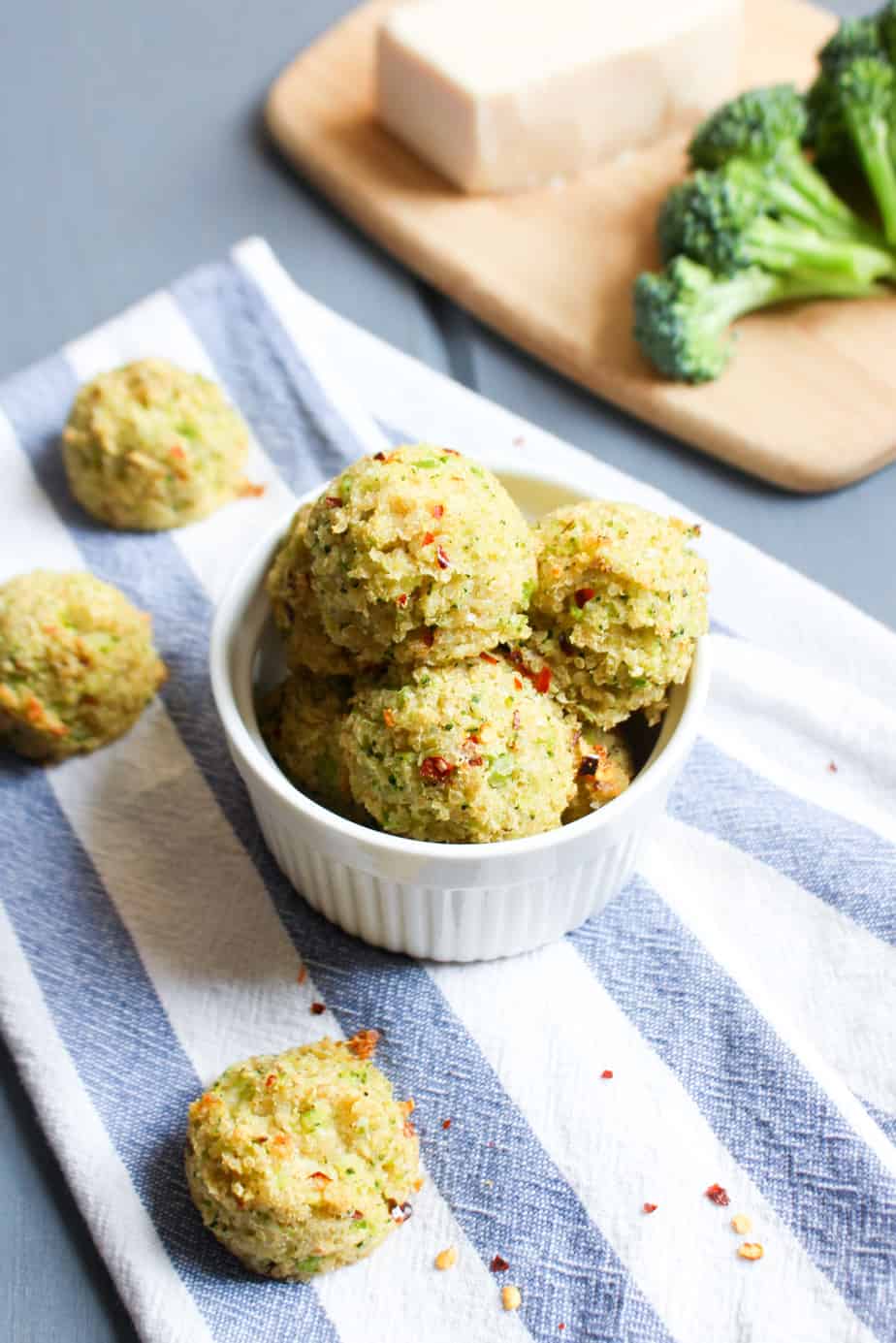 Have you ever made something and thought, "damn I think my picky eater / spouse / client will enjoy this," despite it containing foreign things like green foods and quinoa? If not, be prepared. This is that something.
Back when I did food & nutrition at a preschool, I was always surprised by how many kids liked quinoa, so I paired it with other crowd favorites - cheese and broccoli - and formed them into these great little bites for afternoon snack.
I haven't worked there in almost 2 years, but these keep popping up in our kitchen whenever I have leftover quinoa.
How to Make Cheesy Quinoa Broccoli Bites
Pulse ingredients in food processor (reserving some un-pulsed cooked quinoa to mix in afterwards).
Scoop into bite-size balls and gently press them together before dropping them on to the baking tray. (I gently press the scoop into the heel of my hand.)
Bake on 375ºF for 20 minutes. (I use the smallest size scooper of this set.)
That's it!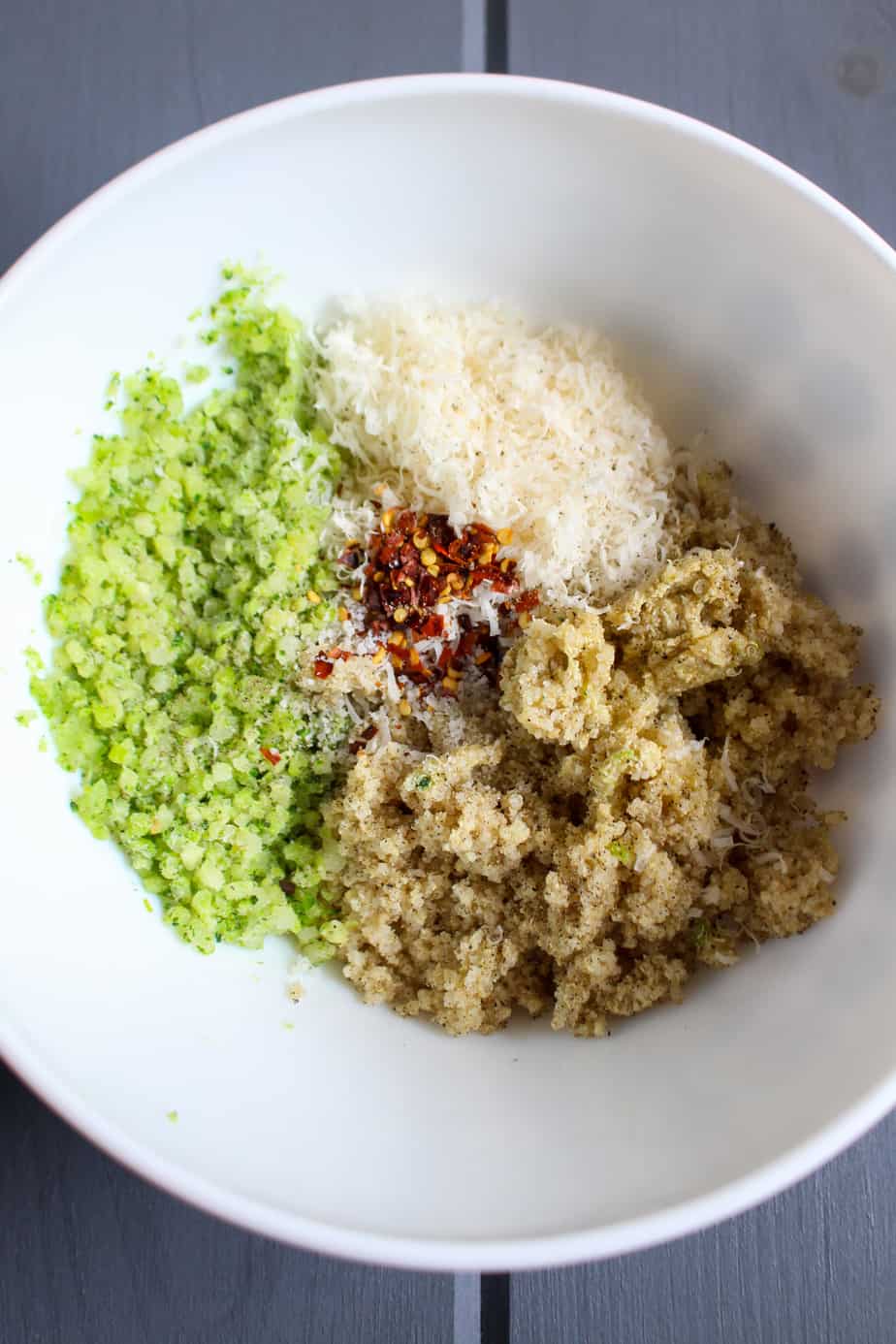 You can change things up by using whatever cheese you like - I've used cheddar, mozzarella, and cheddar jack in the past.
I love to make these a little spicy, personally, by adding about ½ teaspoon red pepper flakes, but if you're sharing these with young kiddos, you probably want to either skip the red pepper flakes all together, or only add a pinch.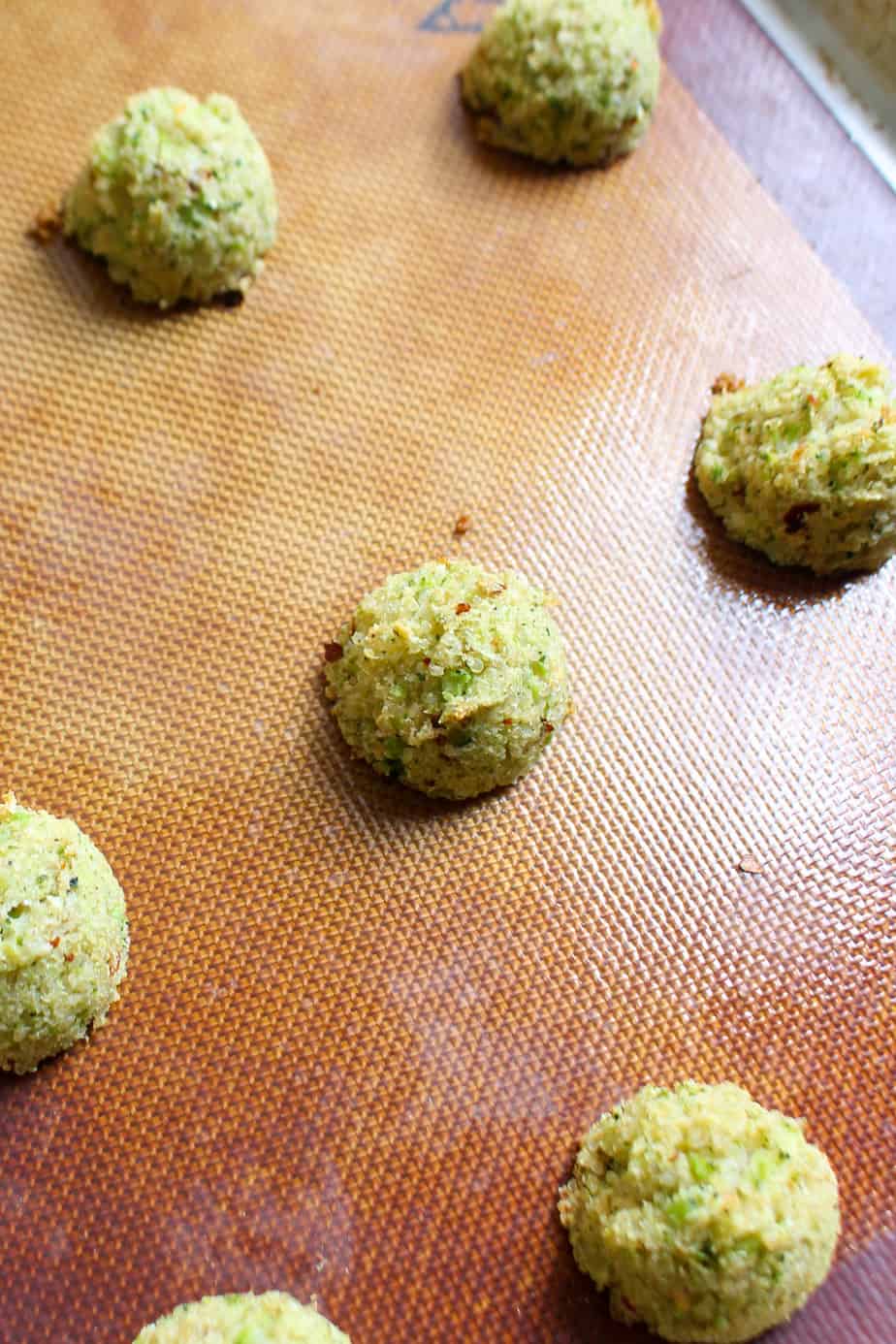 Enjoy these cheesy broccoli quinoa bites at room temperature or slightly warmer. They're still good cold, but I like them best when you knock the chill off a bit.
Toss these in your bento boxes for a delicious treat!
Paleo: Nope, not this time! But they are gluten-free.
Vegetarian: Yep!
PIN THIS RECIPE FOR LATER!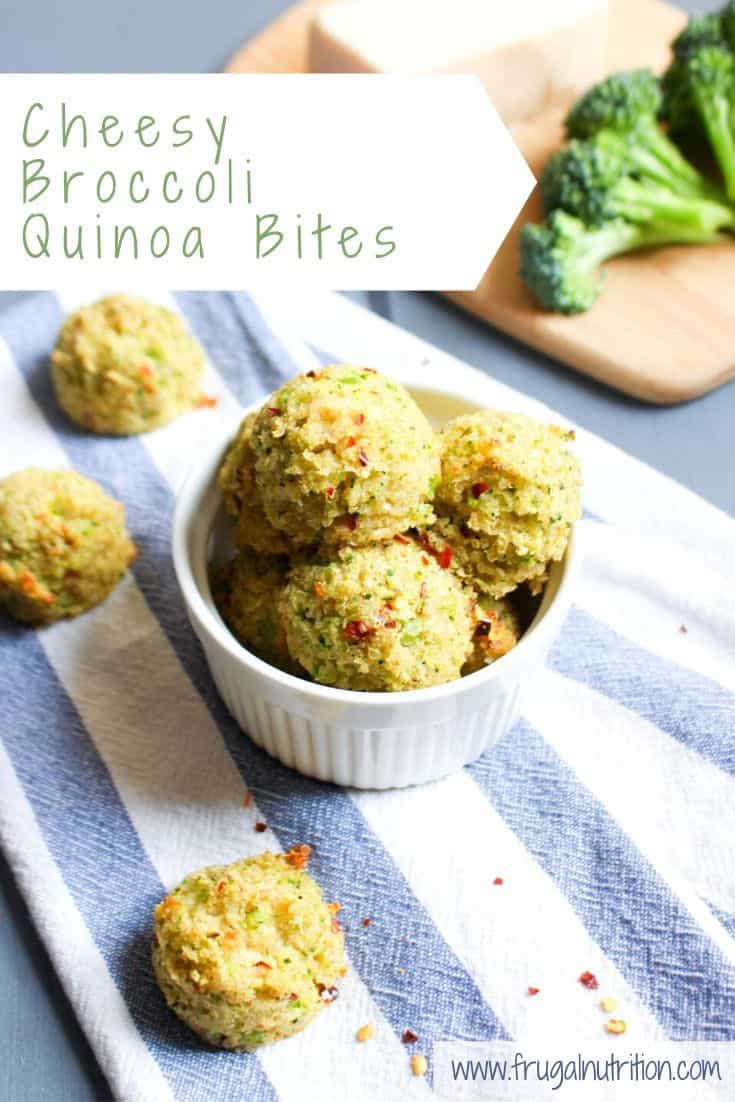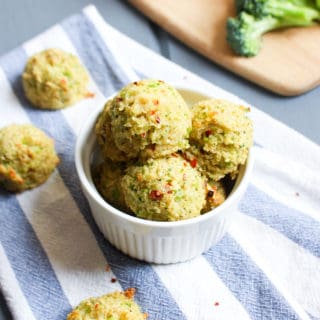 Cheesy Broccoli-Quinoa Bites
Cheesy Broccoli Quinoa Bites are the perfect treat for bento boxes and snacks, and for serving with snack-style meals!
Ingredients
1

cup

steamed or frozen broccoli florets

or ¾ cup riced broccoli

1 ½

cups

cooked quinoa

½

cup

finely shredded Parmesan cheese

about 0.6 oz (more or less to taste - can also sub with cheddar) - I use this microplane for my Parmesan!

1

Tablespoon

olive oil

salt

pepper, red pepper flakes to taste (can start with ¼ teaspoon and increase to taste)

optional: ½ teaspoon garlic powder
Instructions
Preheat oven to 375ºF.

Pulse the broccoli florets in the food processor until minced and "rice-like." (Skip this step if using riced broccoli.)

Add remaining ingredients, reserving about ½ cup quinoa. Pulse until it begins to get just a bit sticky and a paste-like consistency is reached. Stir in the remaining quinoa. (Optional: you can pulse all quinoa together, but saving some to mix in later just provides a nicer consistency in the final product.)

Scoop into round balls using a cookie scoop, pressing gently before releasing from the scoop. Or press into a greased mini muffin tin. If the quinoa balls aren't sticking together, place half the mixture back into the food processor and process a bit more.

Bake on 375ºF for 20 minutes. Enjoy warm or cold!
Notes
I usually use frozen broccoli florets. You can measure out a cup and then blitz them in the food processor.
Keeping some of the quinoa unprocessed preserves the texture, resulting in a lighter quinoa bite. This is optional - you can pulse all of it if that's easier!
To increase protein: stir in 2-4 Tablespoons of hemp seeds before forming into bites!
Recipe makes 15 bites using a small size cookie scoop or 24 bites using a mini muffin pan.
Nutrition label is per 1 bite using a cookie scoop.
Nutrition
Calories:
34
kcal
Carbohydrates:
3
g
Protein:
2
g
Fat:
2
g
Saturated Fat:
1
g
Polyunsaturated Fat:
0.2
g
Monounsaturated Fat:
1
g
Cholesterol:
2
mg
Sodium:
43
mg
Potassium:
41
mg
Fiber:
1
g
Sugar:
0.2
g
Vitamin A:
49
IU
Vitamin B1:
0.02
mg
Vitamin B2:
0.03
mg
Vitamin B3:
0.1
mg
Vitamin B5:
0.04
mg
Vitamin B6:
0.03
mg
Vitamin B12:
0.03
µg
Vitamin C:
4
mg
Vitamin D:
0.01
µg
Vitamin E:
0.2
mg
Vitamin K:
5
µg
Calcium:
34
mg
Copper:
0.03
mg
Folate:
9
µg
Iron:
0.3
mg
Manganese:
0.1
mg
Magnesium:
11
mg
Phosphorus:
41
mg
Selenium:
1
µg
Zinc:
0.2
mg
Choline:
4
mg