We all get into a rut when we're trying to plan a salad, but here's a great guide to help you! You don't have to eat just lettuce and croutons. There are so many amazing salad options out there, so check out the nutritious additions below and go get chopping!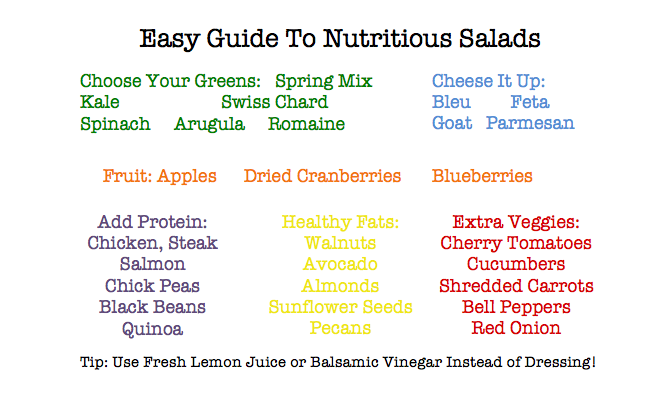 A few of my favorite combinations are:
Arugula with goat cheese, cranberries, sliced almonds with a dash of olive oil and a squeeze of lime.
Baby Spinach with feta cheese, chopped avocados, sunflower seeds and balsamic vinegar.
Spring Mix or spinach with gorgonzola or bleu cheese, chopped apples, walnuts, red onion, and a drizzle of balsamic vinegar.
Any dark greens with chick peas, feta cheese, and a squeeze of lemon.
Kale with feta cheese, black beans, quinoa, cherry tomatoes, chopped onion, and bell peppers with a squeeze of lime, (I like to marinate the kale in a tiny bit of olive oil for about 10 minutes while I prepare the remaining ingredients.)
Romaine with roasted chicken, parmesan cheese, avocado, and balsamic or homemade caesar dressing.
Loaded Salad: Spinach, chickpeas, grape tomatoes, sliced bell pepper, and fresh avocado chunks (With olive oil, lime, vinegar, pepper)