Friends! Let's get cozy for a second, it's time for another life update.
So sorry to all of you friends and family (and to the Google algorithm, who will inevitably punish me), for the lack of updates and recipes in March. There are a few reasons for this, and this post got so long I added a Table of Contents!
1 - We moved to Spain!
We moved to Malaga, Spain for 2 months (en route to Estonia in August!). We got busy on the weekends eating tapas and going on free walking tours and running along the coast, and doing a ridiculously terrifying Via Ferrata.
2 - I decided to start a YouTube channel!
(HOLY MOLY this feels like a big deal.) I have no shame in asking you to subscribe to my brand new channel! First video launching on May 1st! So far it's a lot of work but a fun new challenge.
But really, please subscribe! They don't let you customize your channel URL until you have 100 subscribers!
3 - The Malaga Bedroom Leak of 2022
Our bedroom ceiling started leaking from some crazy abnormal rain here in Malaga (and across the Andalucia region of Spain), causing part of the ceiling to fall down! We had to move our bed into the office. And then it spread across the room and into the living room and soaked our sofa while we were out of town for 2 days in Cordoba and Seville.
And also our Airbnb host (who is not Spanish) was largely unhelpful during this process. So we were trying to juggle work + travel + constant communications w/ Airbnb for the last 2 ish weeks of our time in Spain. 😒
What's especially funny about this is that we lived in a really shoddily built apartment in Lima, Peru in 2013 and had a very similar issue! We woke in the middle of the night to water dripping on our bed. But in Peru it was leaking through multiple areas of our bedroom ceiling and in many other rooms in the apartment. Like I said, shoddily built!
So I guess those are the main updates, but let's get into some fun things...
Summary / Highlights of 2 Months in Malaga, Spain:
Malaga is AWESOME.
We really enjoy it a lot and hope we will be back. There are certain areas here that are probably overrun with English-speaking and/or entitled tourists during the high season, which is what many people warned us against.
But for February and March, it has been full of very friendly, cheerful Malagueños. They let us stumble through our rusty Spanish for several minutes despite nearly all of them having excellent English.
Our neighborhood is Benalmadena Costa, which is about a 30-minute train ride from Malaga Centro via Torremuelle station. Ours is a quiet, sleepy neighborhood that is perfect for working 10-hour days and taking daily walks/jogs along the coast.
We had many breakfasts at Yucas Cafe down the street, and many coffee/tea breaks at the adorable Kafelito just a few minutes walk up the hill behind our apartment. And we even took a cooking class up in the hills of Benalmadena with a local chef.
We made Gazpacho, Spanish Tortilla with potatoes and onions, and Paella! (This homemade Malagueño version was actually the best Paella we had anywhere!)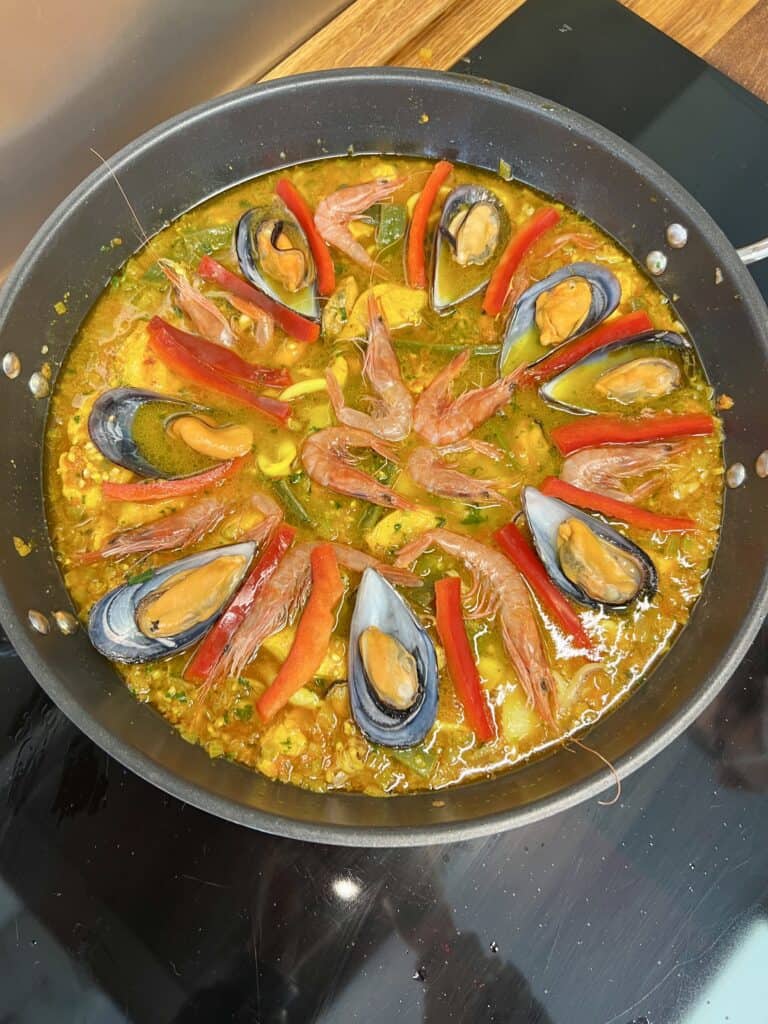 We did hear that summers in Malaga can be unpleasant because it gets really really hot and really crowded. But February and March were mild and calm, despite the abnormal 3 weeks of rain in March. (Including TWO "mud rains!")
Tapas are AMAZING.
Tapas are everything. I am a lots-of-little-things kind of eater in general, so the tapas culture really speaks to me. Tapas, sushi platters, mezze, whatever. If it's several small plates of different flavors and textures, color me excited.
My favorite tapas:
Patatas Bravas: You know I love potatoes, so of course this classic tapa tops the list. Give me all the crispy potatoes with brava sauce and/or aioli sauce and I'm quite happy.
Ensalada de Pulpo (Octopus Salad): We had this in Sevilla and another fancier version of it in Benalmadena. This is a cold marinated salad with octopus, red onion, bell peppers, and a vinaigrette with plenty of olive oil. Delicious!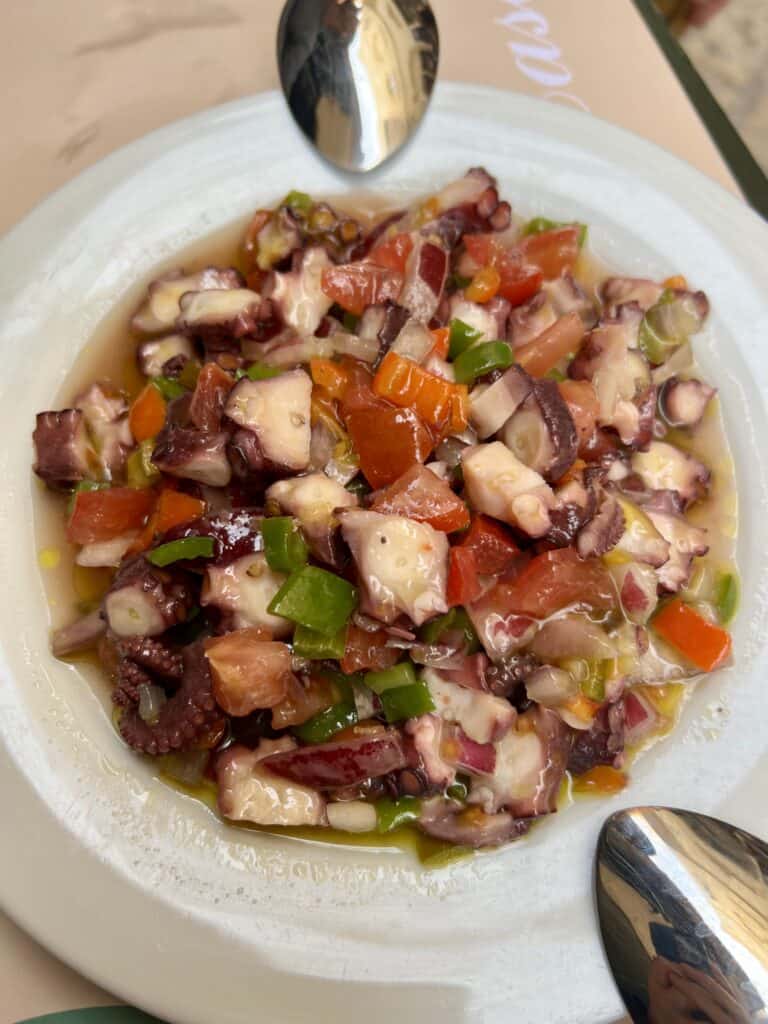 Ensalada de Pimientos Rojos: We ordered this several times because it is basically just marinated roasted red peppers topped with raw onions (though you could skip the raw onion in my opinion). So sweet and juicy!
Pintxos ("pinchos"): The closest cousin to Pintxos would probably be Italian crostinis, which we Americans are probably more accustomed to. We were able to get these (GF) little beauties a few times, and they range from simple salted anchovies to like a whole composed dish on two bites of toast. Just, so satisfying.
Pisto: This dish was essentially a saucy ratatouille served over - you guessed it - crispy fried potatoes. Super rich in flavor and great texture. Both times we had this dish it was also topped with a fried egg and you know how I feel about those gooey egg yolks. 😍
Carne Con Tomate: I think there are a few versions of this as they like various meats and meatballs in tomato sauce. We had this version twice at the same restaurant (Casa Lola Strachan) in Malaga. This is slow cooked pork in a flavorful tomato sauce served over french fries! I think it was my most favorite bite of food in Spain!
Of course the dish I like best has a base of french fries. 🍟 But, like, 85% of tapas have a base of either french fries or bread.
Zac's favorite dishes were Setas Salteadas con Jamon, which is grilled mushrooms (we saw oyster or trumpet) with jamon serrano. That is really saying something considering Zac does not typically like mushrooms!
We never saw this as a tapa, but it is a somewhat widely known dish in Spain.
And of course, he loves Jamon y Queso - various versions of cured ham, always served with manchego cheese.
Spain Makes Gluten-Free EASY.
We have heard that Spain is the easiest place for celiacs and gluten-free travelers, and we honestly found this to be quite true, at least for the Andalucia region and Barcelona. Many restaurants have labels on their menus for main allergens, and since bread is a big part of their food culture here, will have GF bread that is treated carefully with no risk of contamination.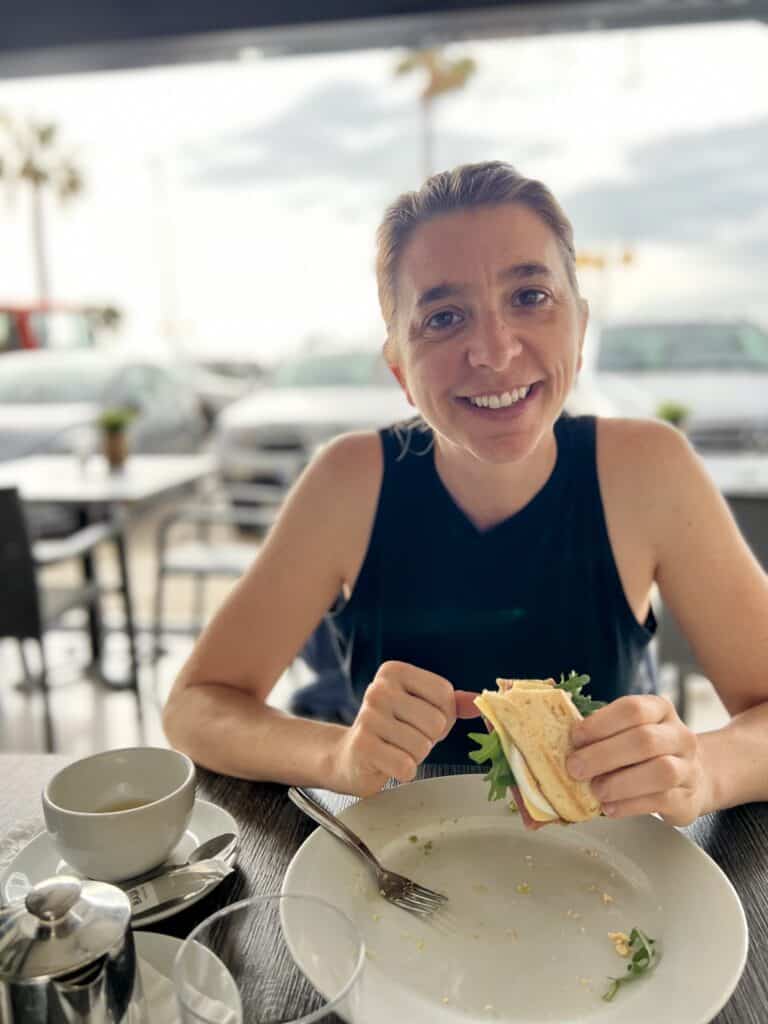 Every city we visited had at least one dedicated gluten-free restaurants, and many restaurants had safe gluten-free options. (My F*cking Restaurant in Barcelona was the best meal we had in Spain.)
For each food item I'd heard about, we were able to find a gluten-free version somewhere, but it often took some digging. We even had gluten-free churros from a dedicated fryer (only available on weekends).
I do not have celiac or celiac genes, so if I have some contamination, I don't suffer the same way celiac folks do. (I have a chance of overcoming my gluten sensitivity over time.) But even with that being said, waiters here were well informed and would ask if a shared fryer or shared toaster were ok or not, and many restaurants have gluten free bread in sealed plastic so as to avoid any chance of contamination.
If you have celiac and/or are incredibly sensitive, I would still do some research ahead of time. There were definitely a few restaurants that appeared to be friendly for celiacs, but then served bread on the plate and told us to "just take it off," which is a big no-no. A little research will go a long way here!
Andalucia is lovely, Barcelona is exciting, Cordoba & Sevilla are GORGEOUS.
We visited Barcelona, Granada, Cordoba, and Sevilla during our 2 months in Spain (great job, us!). There were some amazing highlights in each of these cities, but the vibe of Cordoba & Sevilla really spoke to us. These cities are old and small and beautiful, and we liked them at least as much as we liked Malaga, and definitely more than the other cities we visited.
Spanish People are SO FRIENDLY (especially in Andalucia).
Everyone is willing to help and willing to let us bumble around in Spanish. They're full of smiles and laughter, and just general good vibes. Every waiter, tour guide, yoga teacher, or local person we interacted with was an absolute joy to engage with.
A few other Favorites in Spain:
Zac says the Via Ferrata of Guadalhorce (near Caminito del Rey) was a highlight. I can't think of it without getting a stress cramp in my stomach so I'm not quite in agreement, but it was certainly an adventure, and a good story. I think I feel...proud for accomplishing it and also stupid for attempting it? My prefrontal cortex is clearly very against unnecessary risk at this age so I really stretched the limits of my nervous system that day.
Check out our video of this adventure here:
La Sagrada Familia in Barcelona was absolutely amazing, as was Park Guell. I recommend doing a joint tour of both! We found our tour on AirBnb Experiences and it was amazing. I don't have a lot of photos, mostly just videos, but here's a shot of one of the viaducts at Park Guell.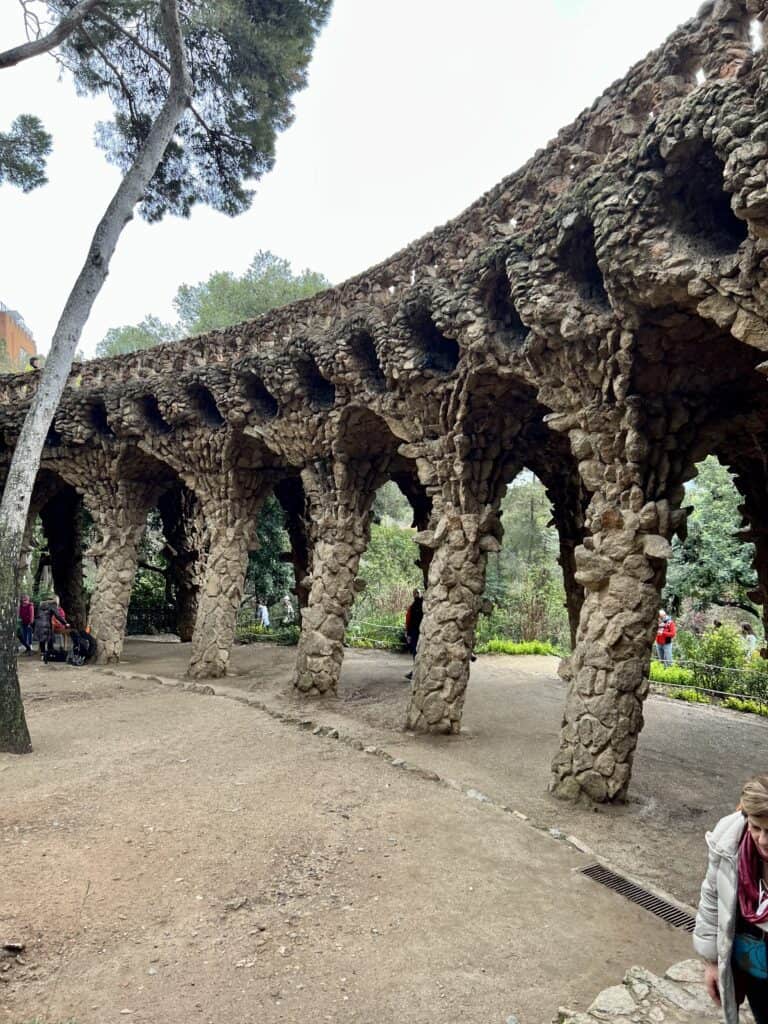 The Plaza España and Parque de María Luisa in Seville were a sort of "let's kill some time" choice for us, but the Plaza was breathtaking in its own sort of way. I kept declaring, "this is amazing," as we wandered around watching the boaters and street performers and an impromptu Flamenco show.
Free Walking Tours are still our favorite way to introduce ourselves to a new city - and occasionally they're kind of crappy so you just dip out early. But most of them are really, really good, and you get to hear some funny local legends that we really enjoy.
Biking Tours are a new find for us - but common here in Spain and highly recommended. Especially if your feet are tired from walking 60,000 steps in 2 days.
Open air Mercados are always, always worth visiting, and especially so here in Spain where the climate allows for a wide variety of fresh fruits and vegetables. We start nearly every weekend in Malaga off with a quick walk through their lively Mercado Central de Atarazanas.
Up Next: Scotland
And now, we are off to Newton Mearns, a little town outside of Glasgow, Scotland, for the next 4 ish months of our adventure. Again, we are so lucky, and so grateful that we have been able to keep our jobs / work situation while exploring another corner of the world, and I hope you're enjoying living vicariously through our adventures here, on Instagram, and (soon to be) on YouTube!
Let me know in the comments if you like this kind of post! It's always fun for me to write an update, but if nobody engages with it, I don't know if you all like this or would prefer more recipes!