These easy, high protein chocolate chip cookie dough bites are vegan, gluten-free, packed with extra protein, and full of flavor for a perfect snack or dessert!
Recipe: $7.59 | Per Serving: $0.47 | Yield: 16
Make yourself these amazingly delicious Cookie Dough Bites and you can tell everyone your favorite nutritionist blogger has recommended you eat cookie dough for your health!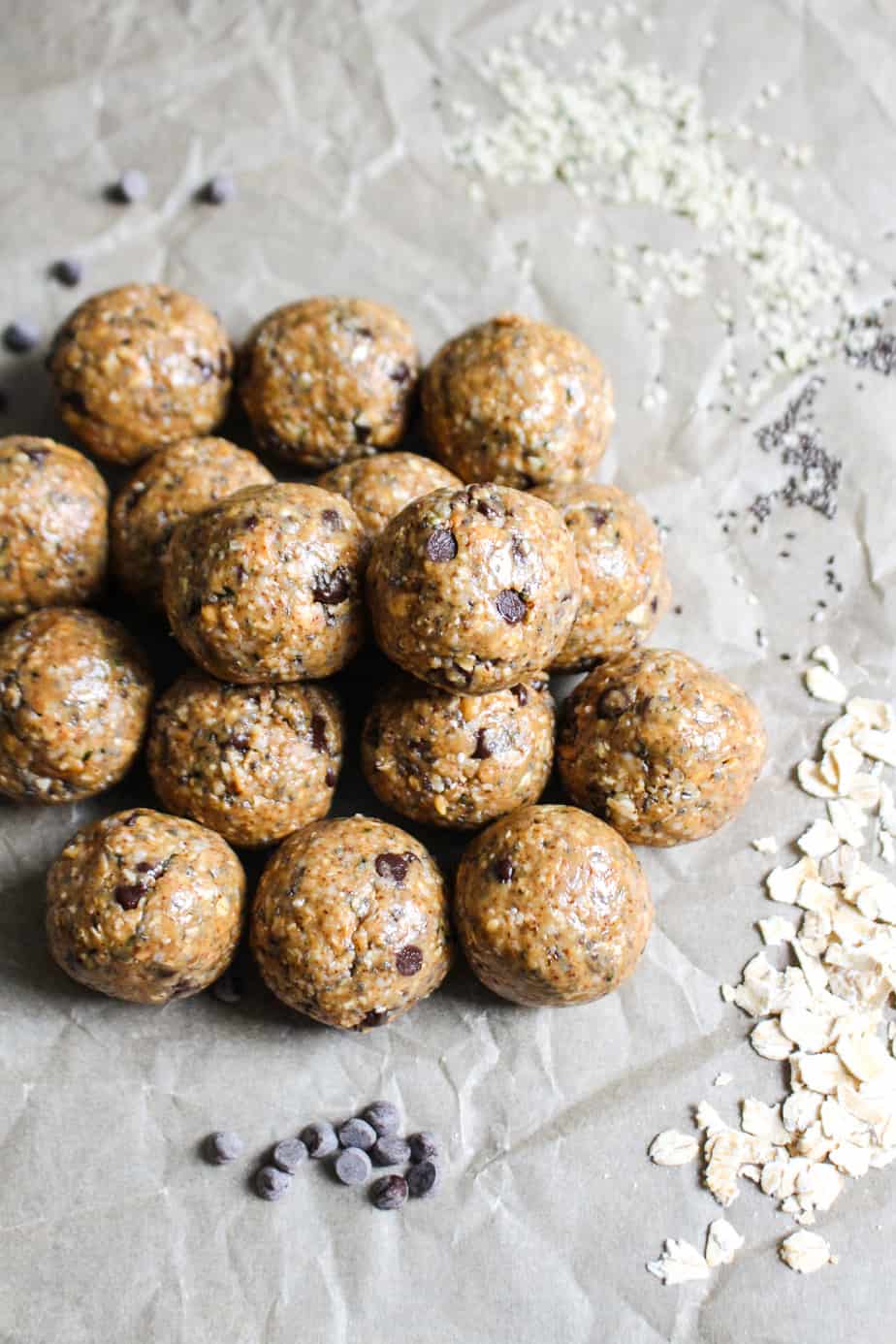 These little gluten-free cookie dough bites are based on whole grain rolled oats and your nut or seed butter of choice. Then they're packed with additional protein and healthy fats in the form of hemp and chia seeds. They're perfect for snacks, bento boxes, or for pre- or post-workout fuel.
This recipe is heavily inspired by the chef and Instagram personality Serena Wolf, but these have more protein. She has a more sugary version of these cookie dough bites in her first cookbook, and I found myself making some version of those babes pretty often back in 2018!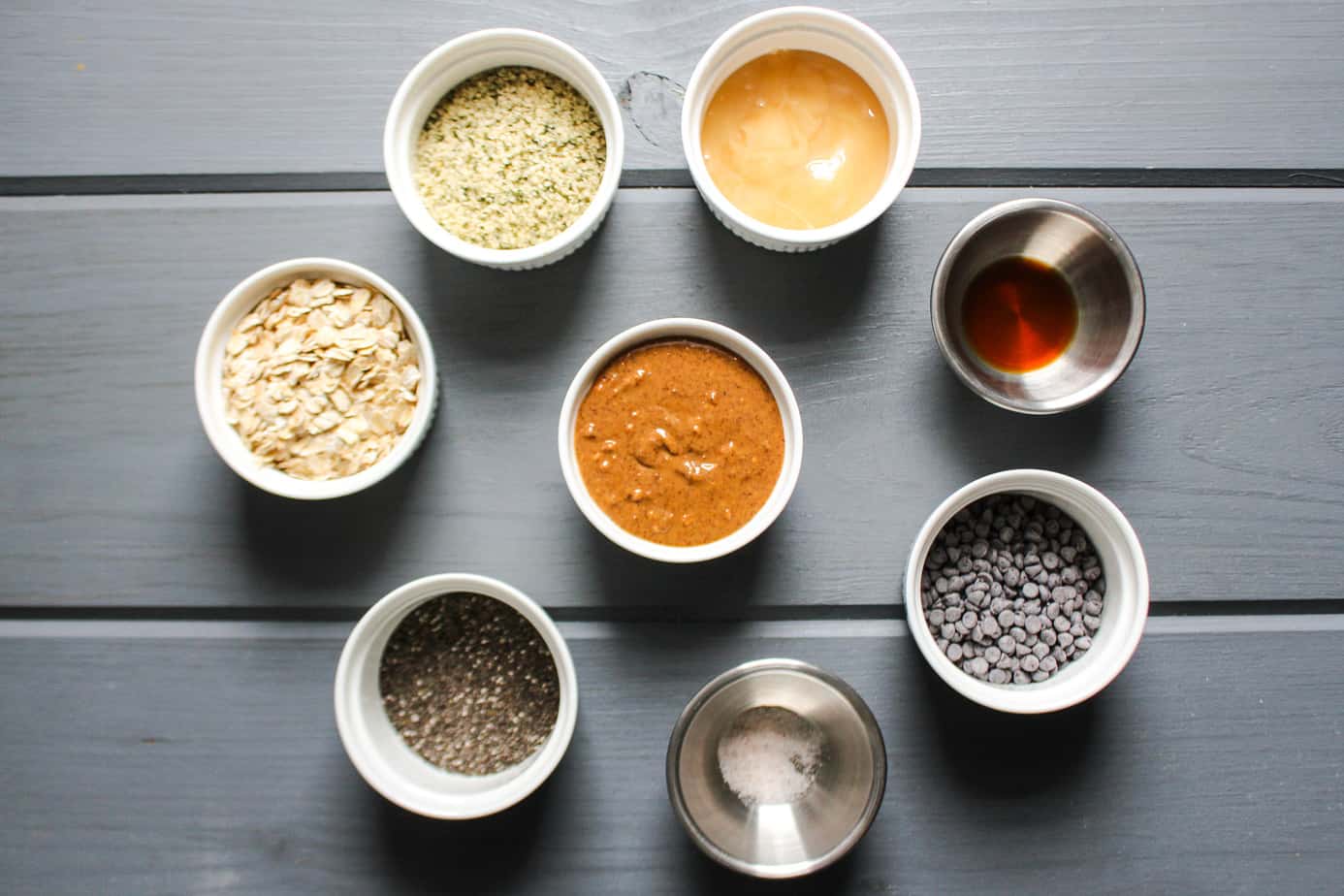 But back in 2018-early 2020 before the whole world shut down, I used to do in-person events. Some were community, others were promotional, some were paid events in schools, others free or donation based.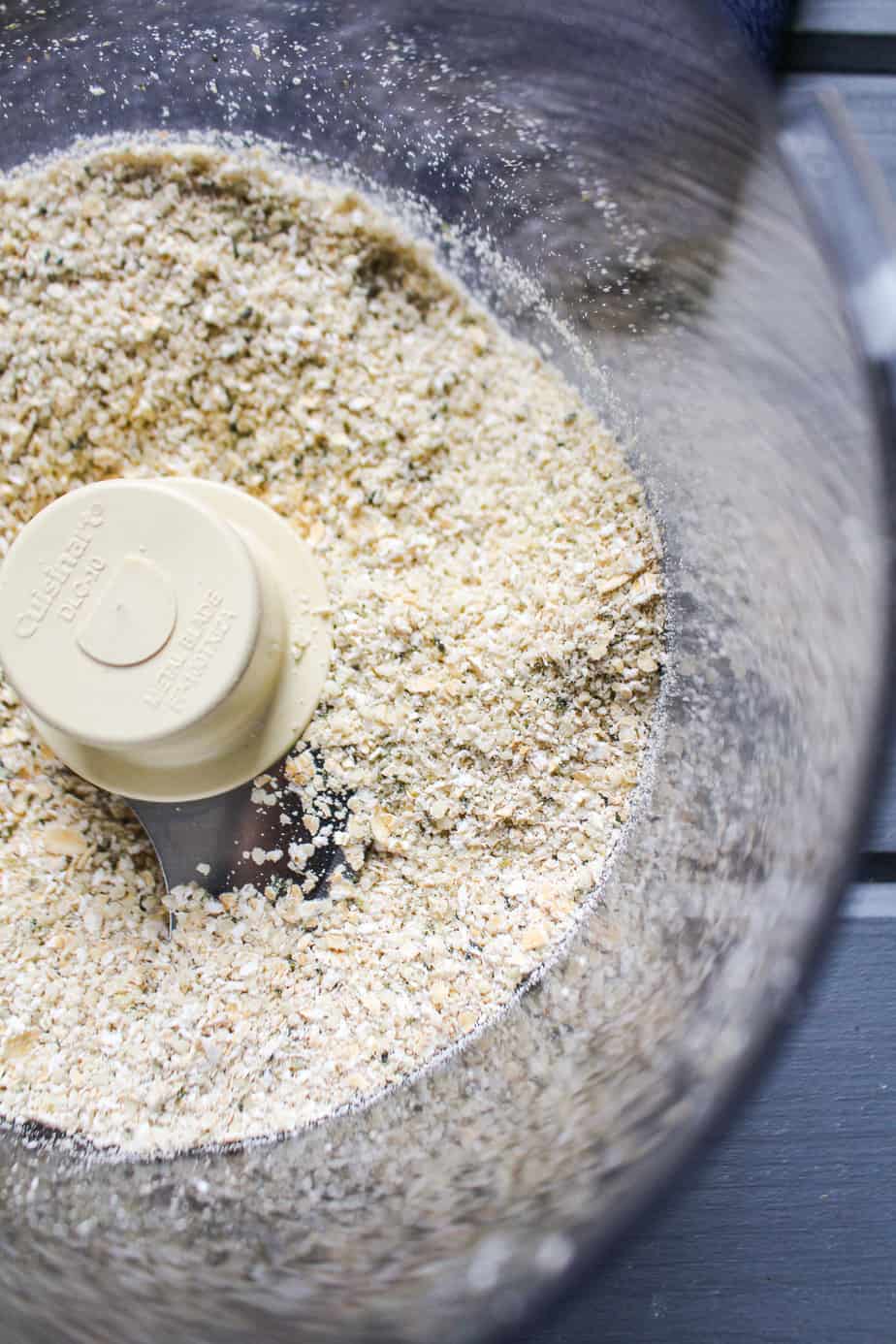 When I was doing a bento event for kids of all ages, I thought these cookie dough bites would be a hit for the dessert item! This recipe works so great for kids. Anything that gets kids involved in stirring or forming food is usually a hit. The chocolate chips also help.
However, whenever working with young kids, I like to be careful about nuts and sugar, and even honey. So I set about tweaking this recipe to be higher in protein, lower in sugar, and tested versions with a bunch of different nut/seed butters and liquid sweeteners.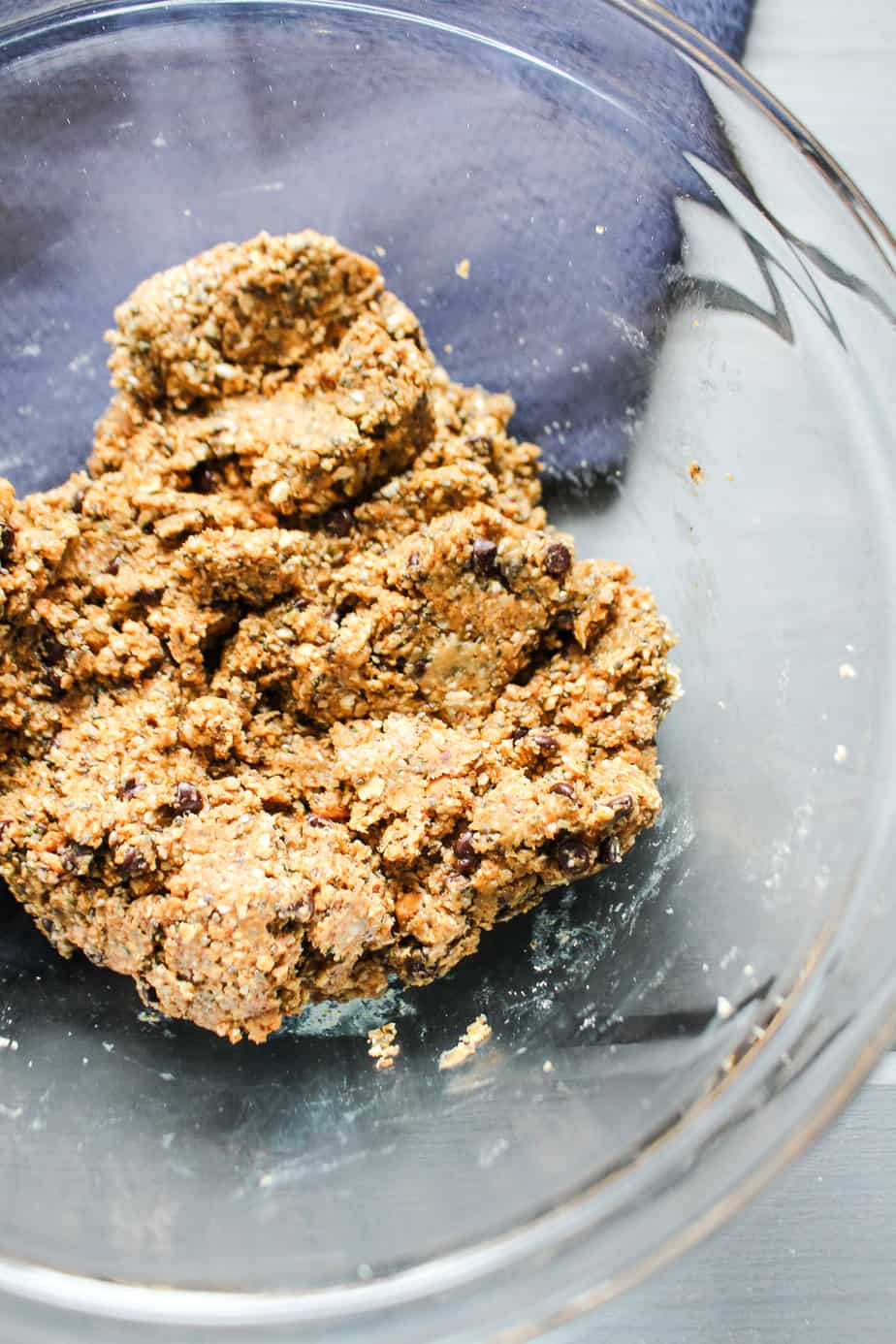 Variations of this recipe:
My favorite version is with almond butter and honey, but the sunflower seed butter and maple syrup combo is a close second.
Surprisingly, peanut butter (which we love in this house!) was not a huge hit in this recipe. Cashew butter is also delicious, but cashews are sweeter so I cut back on the sweetener a smidge.
How to Make This Recipe Cheaper:
I have priced this with almond butter and maple syrup.
You could easily use another cheaper nut or seed butter such as sunflower seed butter or peanut butter, or even make your own homemade almond butter.
I've also used these mini chocolate chips in my pricing (because I happen to have them on hand), but there are certainly other brands that are cheaper! You could always use standard sized chocolate chips and pulse them in the food processor a little bit.
How to Store Chocolate Chip Cookie Dough Bites
I recommend storing these in the fridge. They can certainly stand to sit out at room temperature for several hours, but should be stored in the fridge. We take them backpacking sometimes and always plan to eat them on the first or second day.
Nuts and seeds have volatile fats that go rancid once they're broken open. So that means, yep, all your nut butters, seed butters, ground flax, and almond flour should be refrigerated. They will last longer and be safer and healthier for your family if stored in the fridge or freezer.
Plus, any time you're mixing sugar and water, that becomes a breeding ground for bacteria. Let's just put these in the fridge for optimal food safety!
I toss these cookie dough bites into a container and store them in the fridge. They'll stay fresh for about a week. You can also store them in the freezer, as I often do.
If you like this recipe, check out these other easy 🍫 CHOCOLATE 🍫 recipes!
Most of those beauties are no-bake and perfect for summer!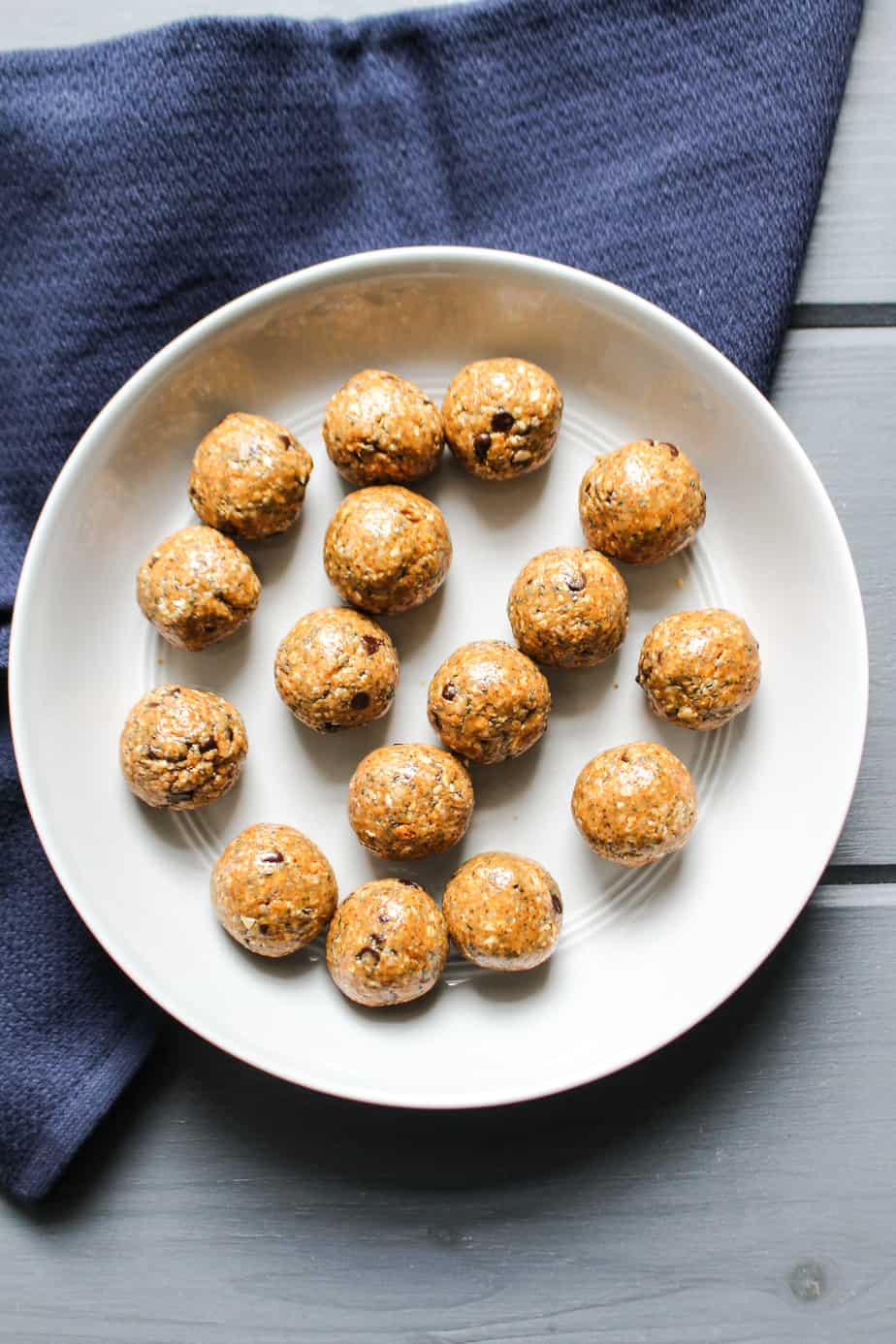 Dietary Modifications for these Cookie Dough Bites
Paleo: Nope! You could certainly try almond meal in place of the rolled oats, but I would start with a smaller portion.
Vegetarian: Yes!
Vegan: Yes! If you use honey, this will not be vegan.
Gluten-Free: this is a gluten-free recipe, as long as you use certified gluten-free oats. (Thrive and Bob's Red Mill are the GF oats I recommend. I have had gluten-sensitive and celiac patients who reacted to Trader Joe's GF oats.)
PIN THIS RECIPE FOR LATER!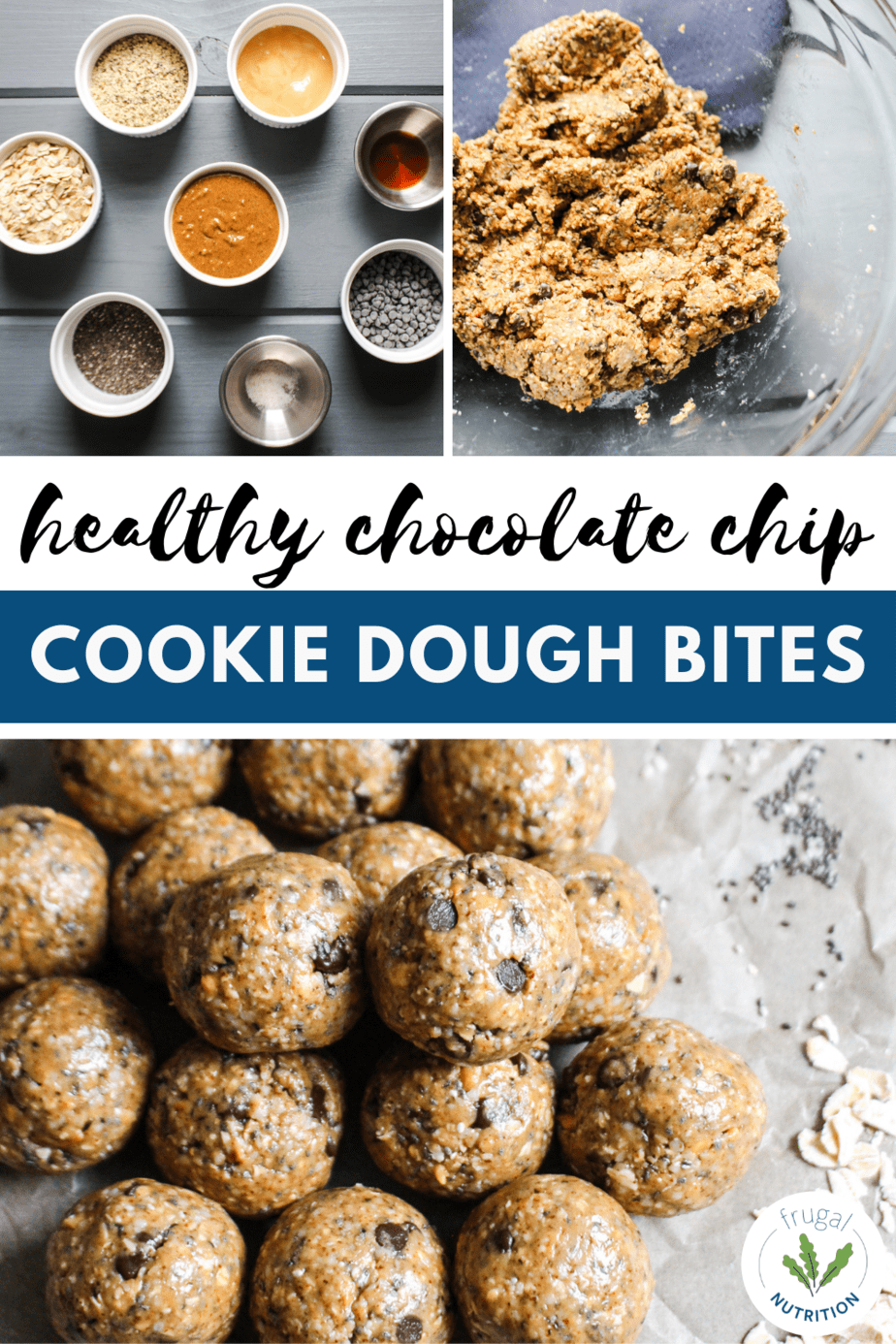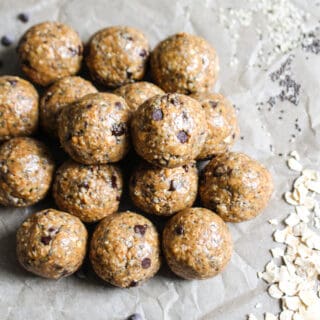 Cookie Dough Bites (gluten-free, vegan, higher protein, nut-free)
A few simple pantry ingredients come together to make these wholesome and delicious cookie dough bites! They're vegan, gluten-free, low in sugar, and contain 2 grams of protein per bite. Inspired by Cookie Dough Bites in Dude Diet by Serena Wolf. 
Ingredients
⅔

cup

gluten-free rolled oats

old fashioned

⅓

cup

hemp hearts

2

Tablespoons

chia seeds

¼

teaspoon

sea salt

⅔

cup

unsalted almond butter or sunflower seed butter

¼

cup

maple syrup

or raw honey

½

teaspoon

vanilla

¼

cup

mini dark chocolate chips

a little under 2 ounces
Instructions
Add the rolled oats and hemp hearts to a food processor. Process until they form a coarse flour. Pour this mixture into a large bowl.

Add the remaining ingredients to the bowl of oats/hemp. Stir well with a fork or spatula until fully combined.

Using a small ice cream scoop (or spoon), scoop into 16-20 equal-sized pieces, then roll between your hands to smooth.
Notes
If you don't have a food processor, you can replace the rolled oats with instant oats for similar results.
I usually use Enjoy Life Mini Chocolate chips, but you can also take any chocolate chips or a bar of chocolate and chop them up or pulse them in the food processor.
Nutrition
Calories:
131
kcal
Carbohydrates:
9
g
Protein:
4
g
Fat:
9
g
Saturated Fat:
1
g
Polyunsaturated Fat:
3
g
Monounsaturated Fat:
4
g
Trans Fat:
0.002
g
Cholesterol:
0.03
mg
Sodium:
41
mg
Potassium:
120
mg
Fiber:
2
g
Sugar:
4
g
Vitamin A:
23
IU
Vitamin B1:
0.04
mg
Vitamin B2:
0.2
mg
Vitamin B3:
1
mg
Vitamin B5:
0.1
mg
Vitamin B6:
0.02
mg
Vitamin B12:
0.01
µg
Vitamin C:
0.04
mg
Vitamin E:
3
mg
Vitamin K:
0.2
µg
Calcium:
66
mg
Copper:
0.1
mg
Folate:
7
µg
Iron:
1
mg
Manganese:
0.4
mg
Magnesium:
39
mg
Phosphorus:
124
mg
Selenium:
2
µg
Zinc:
1
mg
Choline:
7
mg