Recipe: $6.50 | Per Serving: $1.63 | Yield: 4
Here is an official, traditional (almost) Japanese recipe! And it is really super delicious, I promise.
So when our friends Bridget & Bobby came out to Japan for a couple of days, we took a cooking class at SmithKitchen in Tokyo. We learned to make a Japanese omelet (it is a bit stressful), sesame-flavored green beans, clam miso, and meat & potato stew.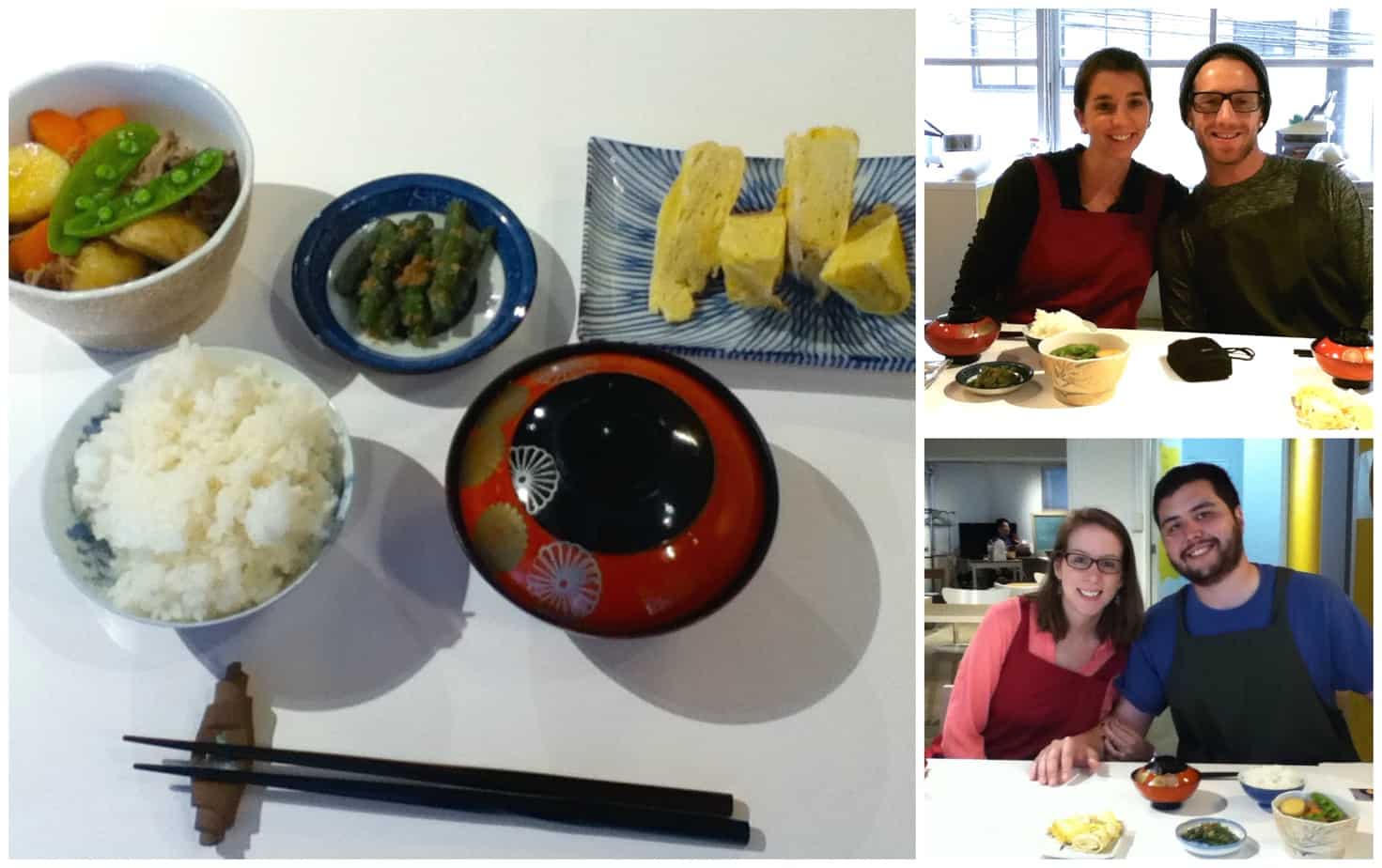 Everything was delicious, but there was something about this meat & potato stew that I loved more than anything else. It was super rich and flavorful, and I knew I would make it again. I couldn't believe how the same basic ingredients in my mom's fantastic Sunday pot roast could taste so completely different. (Seriously, beef, potatoes, onions, carrots…)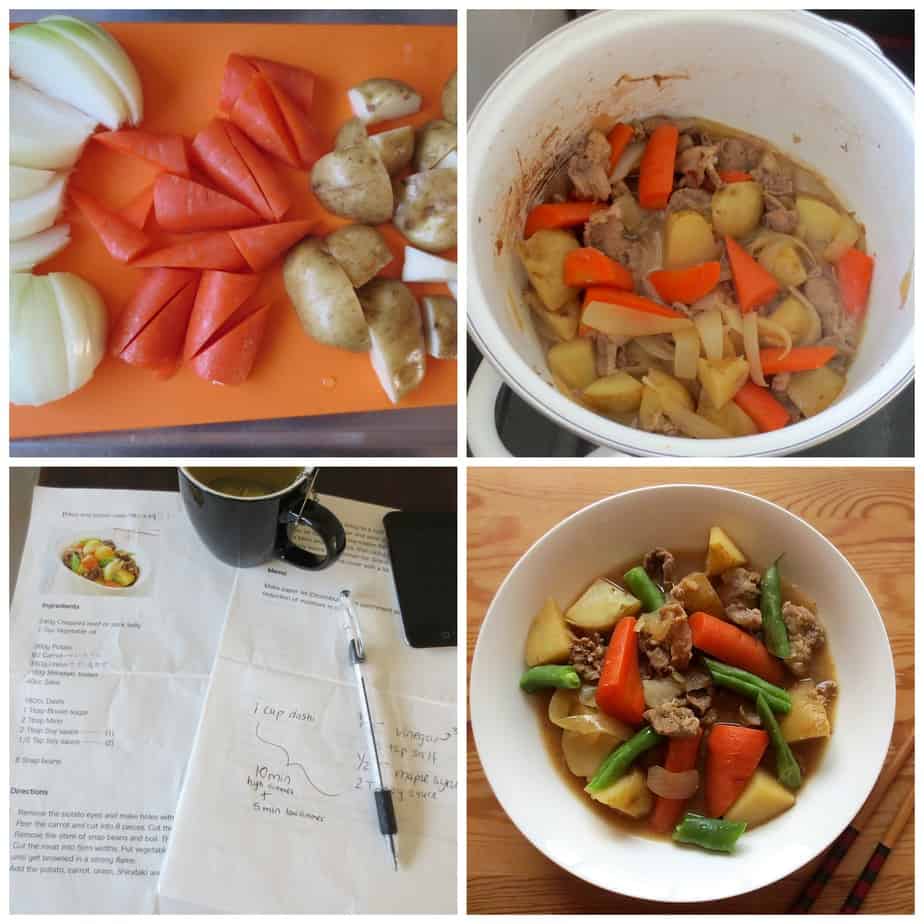 I mean, logically, those four ingredients are pretty neutral, and it is the additional seasonings that really make the dish, but still.When I look at this stew, I feel like I should be eating it at home with the parents.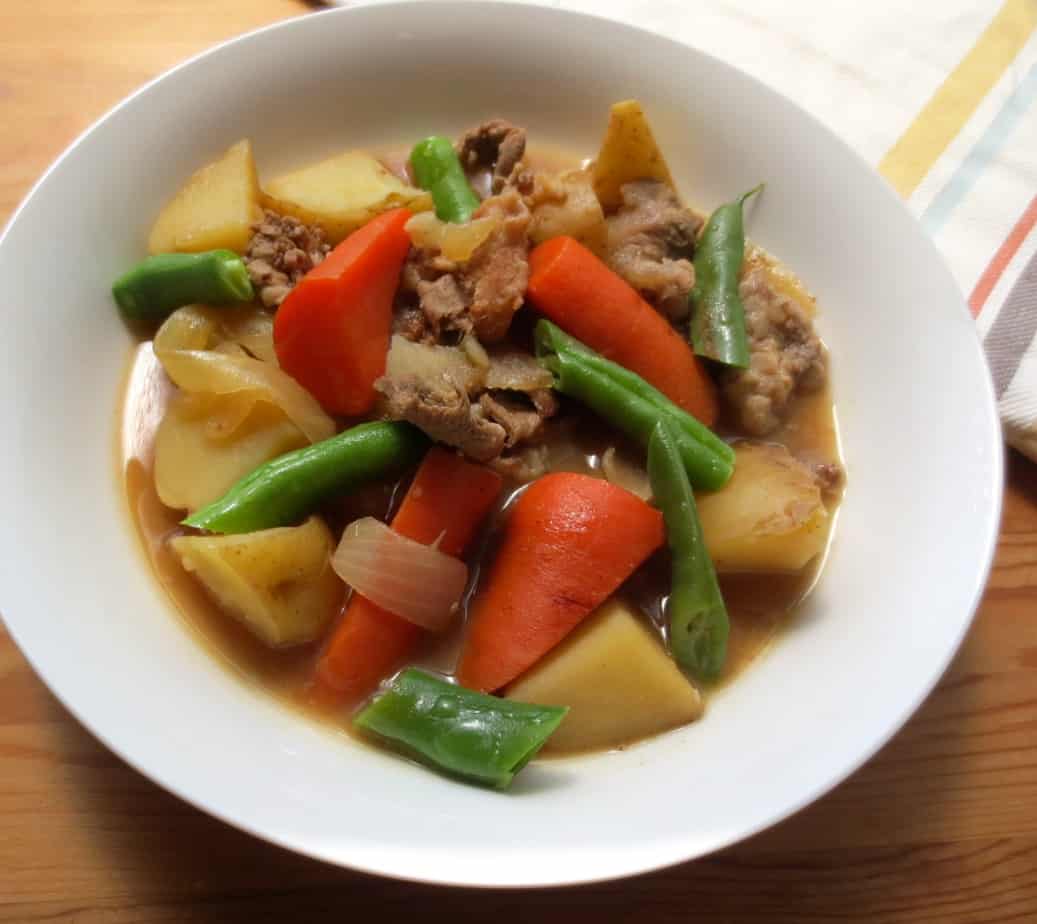 They'd enjoy this version too though, I'm sure of it. Anyway, I'm really happy to post this! Beef isn't cheap, so this is a bit pricier than most of the recipes on here, but you can probably find pretty sweet deals on cheaper cuts.
I've also included the original recipe, in both English and Japanese. So you can be totally traditional about it if you really want. I didn't have Mirin or shirataki noodles, and I couldn't figure out which of the 50 bottles of cooking liquids was actually cooking sake…so instead I used rice wine vinegar and a little extra dashi. It was a bit vinegar-y, but I loved it.
Also, this was a recipe for 4 people. As in, four Japanese people who plan to enjoy it with rice, soup, and two sides…so for us Americans who like large portions of one thing, this won't really serve 4 people on its own. I added extra potatoes and carrots, and we got 3 servings out of it. If you're serving it with something else – veggie sides, salad, etc. – then you can certainly stretch it to 4-5 smaller servings.
Japanese Traditional (JT) Recipe Ingredients for Japanese Meat & Potato Stew (From Smith Kitchen)
240g chopped beef or pork belly
1 teaspoon vegetable oil
360g potato
60g carrot
160g onion
100g shirataki noodles, boiled
40cc sake
180cc dashi
1 Tablespoon brown sugar
2 Tablespoons mirin
2.5 Tablespoons soy sauce
8 snap peas, boiled in salted water for 3-5 minutes
And in Japanese:
Okay, enjoy!
食べましょうか!Tabemashouka!! ("Let's eat!")
Print
Japanese Beef & Potato Stew
---
Author:

Prep Time:

5 mins

Cook Time:

30 mins

Total Time:

35 mins

Yield:

3

-

4

1

x
1/4 cup

bonito flakes (katsuo) (or use pre-made dashi)

1.5 cups

water

1 teaspoon

oil (coconut or olive)

1

pound beef (stew meat is fine)

1

medium onion, cut into wedges

2

medium carrots, cut into bite-sized chunks

3

–

4

small potatoes, stabbed with a fork or toothpick and cut into bite-sized chunks

1 cup

dashi (from above)

1/4 cup

vinegar

1/2 teaspoon

salt

1/2 Tablespoon

maple syrup

2 Tablespoons

soy sauce

1/4

pound green beans
---
Instructions
Start by making the dashi. Simply simmer the fish flakes in the 1.5 cups of water for about 8 minutes. Drain using a towel-lined strainer. (Do no squeeze the flakes while draining!)
Warm the oil in a large pan. Brown the beef for a few minutes, then add the chopped onions, carrots, and potatoes and braise, stirring occasionally, for about 3-5 minutes.
Add the vinegar (here is where you would add the sake in the JT recipe) and salt, and cook for about 3 minutes more, stirring a bit to de-glaze the pan.
Add the maple syrup, soy sauce, and dashi (and mirin, brown sugar, shirataki noodles in the JT recipe), and cook on a high simmer for 10 minutes. Stir well, check for doneness, and reduce heat to a low simmer for about 3 more minutes. (You can add a bit of water here if you want it more of a soupy-stew!)
Meanwhile, cut the green beans into bite-sized pieces and boil, blanch, or steam them. (I boiled them for about 2 minutes, then drained immediately.)
Serve the stew topped with green beans. Enjoy!
Category:

Entree, Soup, Stew

Cuisine:

Japanese