Look, I'm sorry, I really love quinoa. It blows brown rice and couscous out of the water in my opinion, and it has just the right texture for warm and cold dishes. Hence the hot Quinoa Lasagna and cold Quinoa 'Guacamole.' It's versatile, I tell ya!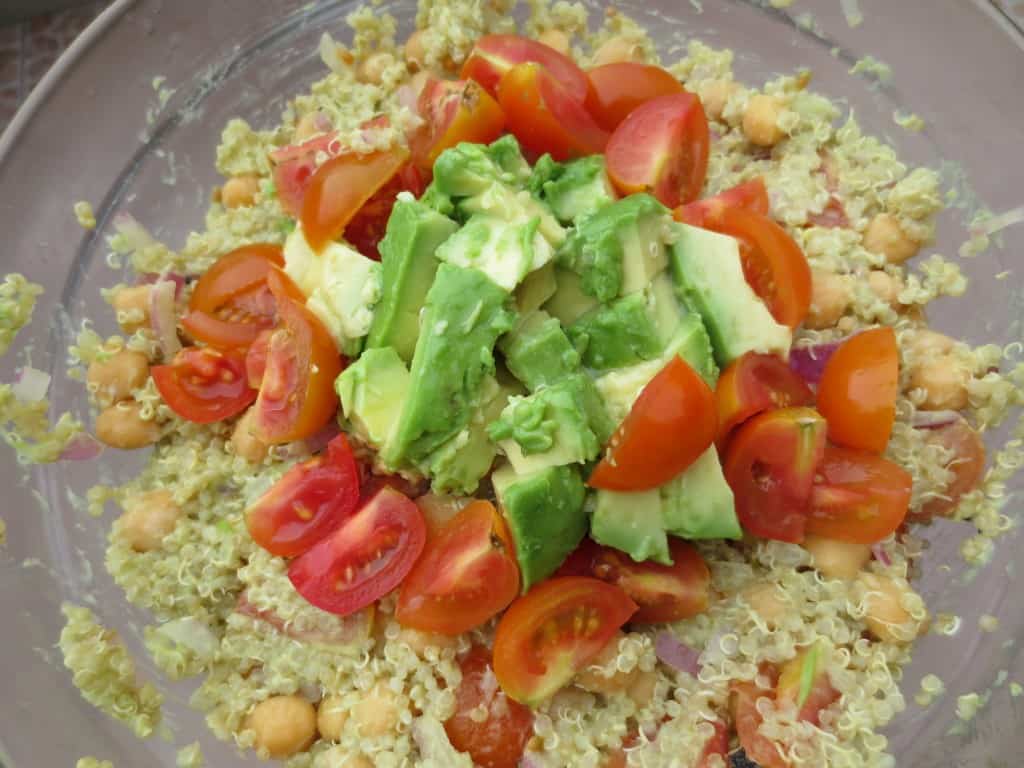 I came up with this light and delicious "salad" when we were down to bare bones in the kitchen. We had leftover chickpeas, a little uncooked quinoa, and exactly the right ingredients for guacamole, but no chips and nothing to serve it with. So, the concocting began!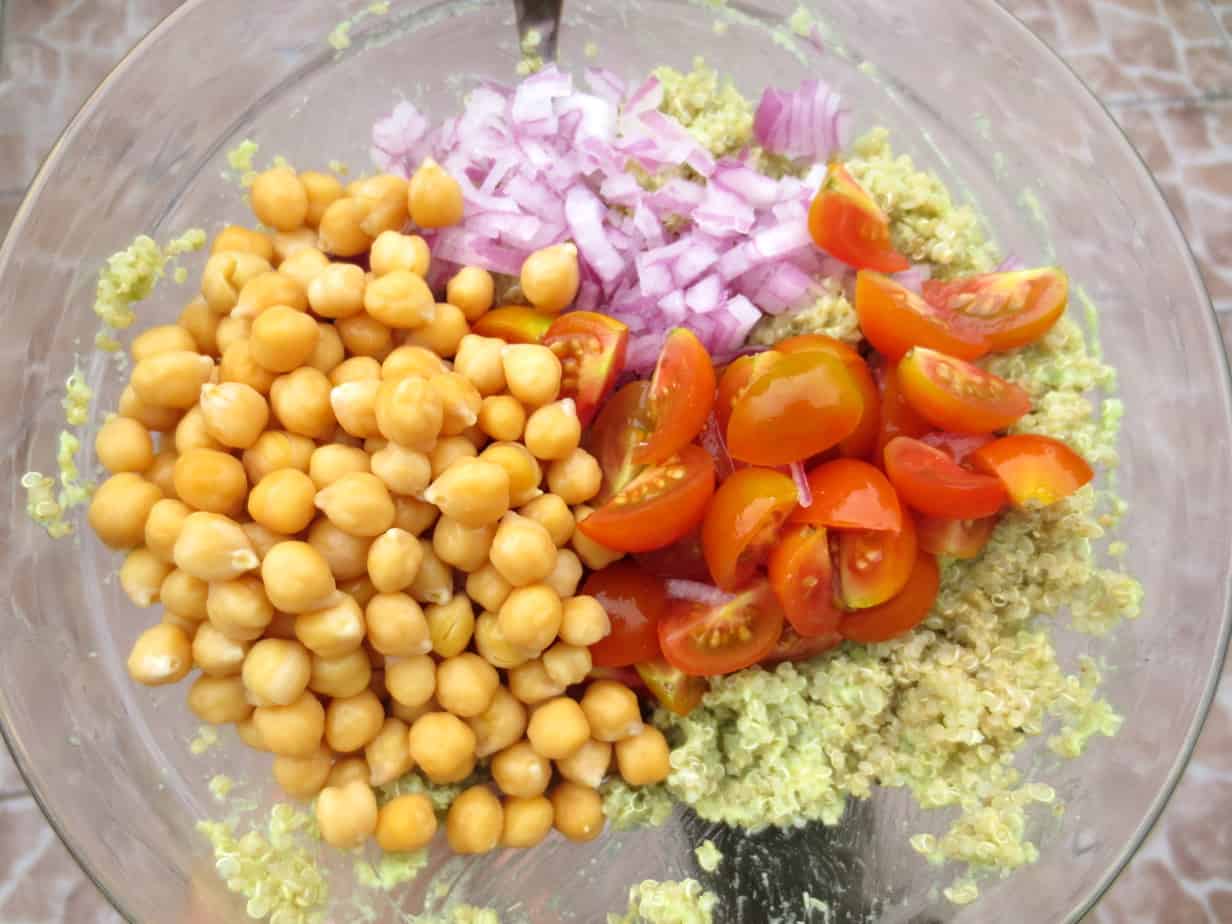 I know that quinoa and avocado are not generally considered very budget-friendly, but I kid you not, this whole meal cost $3.50. I rounded up and called it a dollar a serving. I normally look for quinoa at $3 a pound, and I'm one of those lucky people who can often buy an avocado for $1 or less. (That's the southwestern U.S. for ya.)
This was definitely a successful quick lunch. We ate the first half of this as is, and the leftovers were mixed with chopped arugula for seriously nutrient-packed meal. Enjoy!

Quinoa 'Guacamole'
Quinoa gives a healthy boost in this easy guacamole recipe.
Ingredients
1

cup

uncooked quinoa

1 ½

cups

broth or water

1

ripe avocado

1

cup

cooked chick peas

1

cup

cherry tomatoes

½

medium red onion

1-2

limes

*optional: 1-2 tablespoons chopped cilantro
Instructions
Rinse, soak, and cook quinoa. I always cook my quinoa in a little vegetable or chicken broth, but that's completely optional.

Meanwhile, mash up half of the avocado, and mix with juice of 1 lime in a large bowl. (If you've got cilantro, I'd suggest adding it here!)

Clean and quarter your cherry tomatoes, dice your onion, and mix together. Squeeze juice of the other lime over this concoction and set aside.

After the quinoa is done cooking, fluff it with a fork, then place it aside to cool. I put mine in the freezer for about 5 minutes.

Once the quinoa is completely cooled, mix it into the mashed avocado. Add the chick peas and tomato-onion-lime "salad." Finally, top with freshly chopped avocado.

Personally, I like my meals light in salt and heavy in lime, so I squeezed another quarter of a lime on my portion. You can adjust to your own personal preference!
Nutrition
Calories:
326
kcal
Carbohydrates:
48
g
Protein:
11
g
Fat:
11
g
Saturated Fat:
1
g
Polyunsaturated Fat:
3
g
Monounsaturated Fat:
6
g
Sodium:
366
mg
Potassium:
721
mg
Fiber:
10
g
Sugar:
5
g
Vitamin A:
469
IU
Vitamin B1:
0.3
mg
Vitamin B2:
0.2
mg
Vitamin B3:
2
mg
Vitamin B5:
1
mg
Vitamin B6:
0.5
mg
Vitamin C:
20
mg
Vitamin E:
2
mg
Vitamin K:
13
µg
Calcium:
59
mg
Copper:
1
mg
Folate:
198
µg
Iron:
4
mg
Manganese:
1
mg
Magnesium:
124
mg
Phosphorus:
307
mg
Selenium:
6
µg
Zinc:
2
mg
Choline:
59
mg