Recipe: $2.68
Per Cookie: ~$0.20 (14 cookies)
It's time for a cookie intervention.
Or maybe just a cookie interruption. I swear I don't have a sweet tooth, but this is the third batch of cookies I've made in the last three weeks. First, my favorite Banana Peanut Butter Oat Cookies, then Zac's favorite Whole Wheat Chocolate Chip Cookies, and now Chocolate Almond Chia Bites. See how I'm calling these bites instead of cookies though? Sneaky. I have a slight chocolate cookie problem.
These are super easy little energy bites, but they do require either a blender or a food processor to whizz the dates. Medjool Dates are everywhere right now, and at $4.49 for a pound (like 30 dates?) at Trader Joe's, they're a steal! Okay, I get it, dates aren't the cheapest thing in the world, but when you turn them into 100-calorie energy bites, they're totally totally worth it.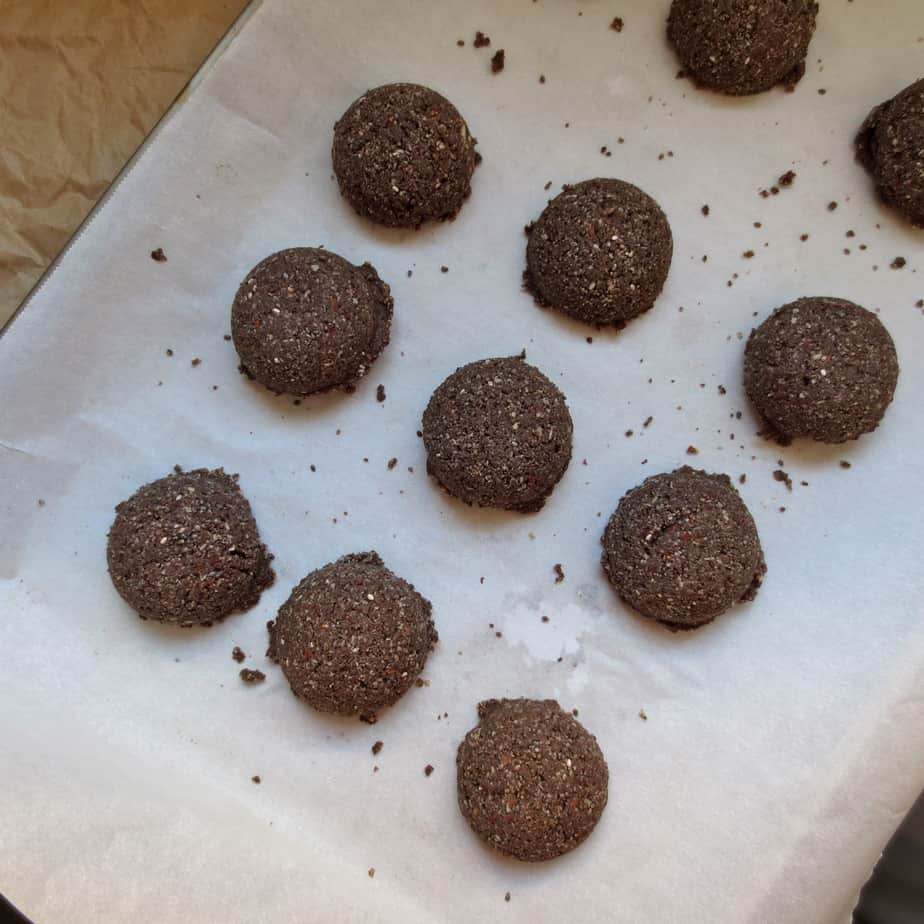 These energy bites. They're delicious. A little coconut-y, a little chocolate-y, and perfectly sized for pre-workout fuel, post-workout hunger, and snack attacks all day long.
These are not exactly cookies, and they're not exactly race fuel, but they're somewhere in between. I wouldn't bring them to a birthday party, but they're a great gift for new mamas with no time/energy/sanity left. They come out to about 100 calories each if you make 12. Which means you should probably eat 2 cookies about 15-30 minutes before a workout, or any time you're HANGRY.
I store them in the freezer so that I'll forget to eat them all they last longer, and either pull them out the night before I want to eat them, or nom 'em frozen. All the same! Now here is your motivation to go to a 5:45am spin class. Good luck!

Chocolate Almond Chia Bites (Paleo)
These healthy chocolate chia bites make a tasty, healthy snack!
Ingredients
6

dried dates

soaked in warm water (or about 7-8 tablespoon date syrup)

3

teaspoons

cocoa powder

1

Tablespoon

chia seeds

2

Tablespoons

coconut oil

1 ½

cups

almond meal

¼

teaspoon

salt

teaspoon

vanilla extract

optional:

If not sweet enough, add a ½ tablespoon maple syrup or honey
Instructions
Preheat oven to 350º.

Soak the dates in the warm water until soft, about 5 minutes or so, then squeeze out the water and add the dates to the blender. You can add about 2-3 Tablespoons of the soaking water if necessary, and the melted coconut oil. Blend until a paste forms. (If desired, add the optional vanilla now.)

In a bowl, mix together almond meal, salt, cocoa powder, and chia seeds. Add date paste and stir well. It will probably be a little crumbly, which is fine. It might be sticky if you added extra water, which is also fine! Taste and adjust as desired.

Scoop one Tablespoon of dough at a time and roll into a ball, or shape with your measuring spoon. (Makes 12-16 balls.) Place on a parchment-lined baking sheet and then flatten with your hands, a fork, or the bottom of a glass. (Or leave them with rounded tops!)

Bake on 350º for 12-15 minutes.

Tips for this recipe: Based on your blender, and how much water you need to get your dates pureed, the final results might vary. I made these by warming the dates instead of soaking, and then blending them without water. The resulting cookies were firm and almost crunchy, so you can totally do that. I preferred them a little softer, so soaking them works perfectly.
Nutrition
Calories:
114
kcal
Carbohydrates:
6
g
Protein:
3
g
Fat:
10
g
Saturated Fat:
2
g
Polyunsaturated Fat:
0.3
g
Monounsaturated Fat:
0.2
g
Trans Fat:
0.002
g
Sodium:
49
mg
Potassium:
31
mg
Fiber:
2
g
Sugar:
3
g
Vitamin A:
1
IU
Vitamin B1:
0.01
mg
Vitamin B2:
0.01
mg
Vitamin B3:
0.1
mg
Vitamin B5:
0.02
mg
Vitamin B6:
0.01
mg
Vitamin C:
0.03
mg
Vitamin E:
0.01
mg
Vitamin K:
0.1
µg
Calcium:
37
mg
Copper:
0.03
mg
Folate:
1
µg
Iron:
1
mg
Manganese:
0.05
mg
Magnesium:
6
mg
Phosphorus:
13
mg
Selenium:
1
µg
Zinc:
0.1
mg
Choline:
0.3
mg