Recipe: $2.50
Per Serving: $0.63
It's that time of year again - fennel season. So I guess fennel gets its start in October and stays until April? Definitely didn't know that.
Good thing I learned to love fennel last season! I don't always love the licorice smell that lingers in my tiny studio, but I've really come around to fennel itself. So though I was surprised, I wasn't the least bit upset about discovering a few bulbs in my CSA box.
Time to make some SOUP! This recipe is inspired by The Kitchn's recipe for Leek, Potato, and Fennel Soup, though I made several changes. First and foremost: OMG yogurt. I try not to actually ever type "OMG" because it's way too...not me, but sometimes I say it, and sometimes I think it…so there it is. Don't get me wrong, I like cream, and if that's your style, go for it. But we never have cream, and we always have yogurt, and yogurt is creamy and a little sour, which is even better.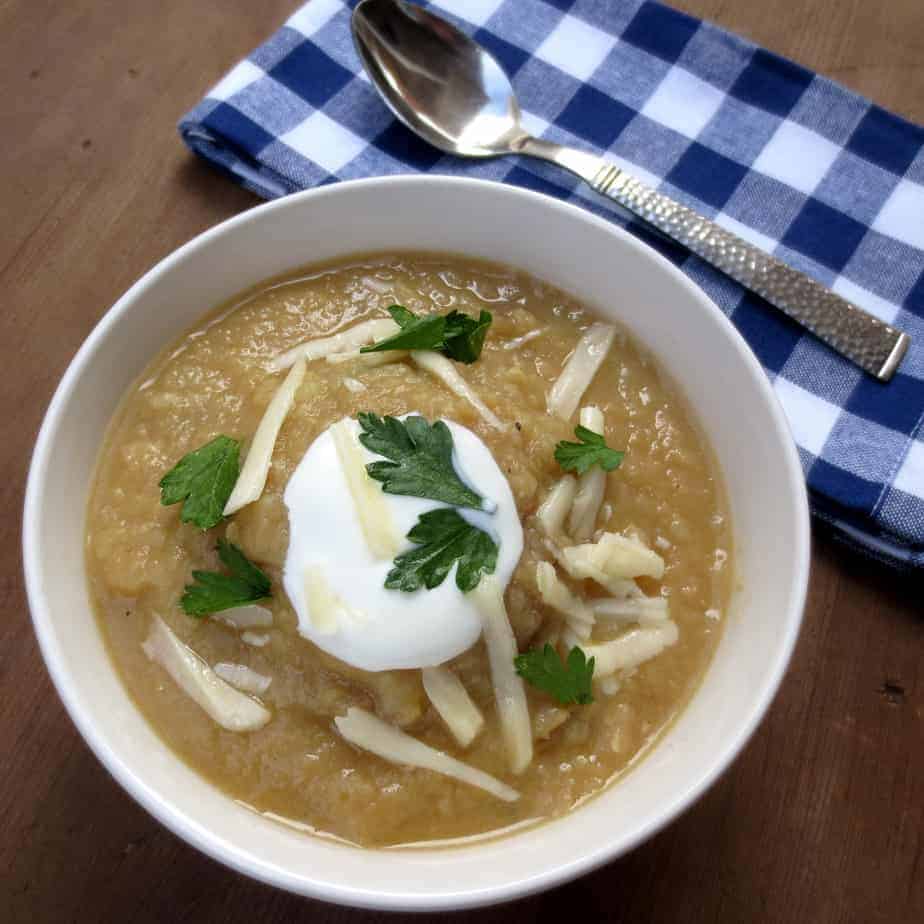 You can also use bacon, of course, but I went with a different (and actually healthier - holler atcha omega-3's) source of umami. Anchovies. I've talked about them before on this here blog, and by themselves they're fishy and weird. But added into soup? Yum. They break down completely and disappear so you won't even know there's fish, it just gives the dish an extra oomph.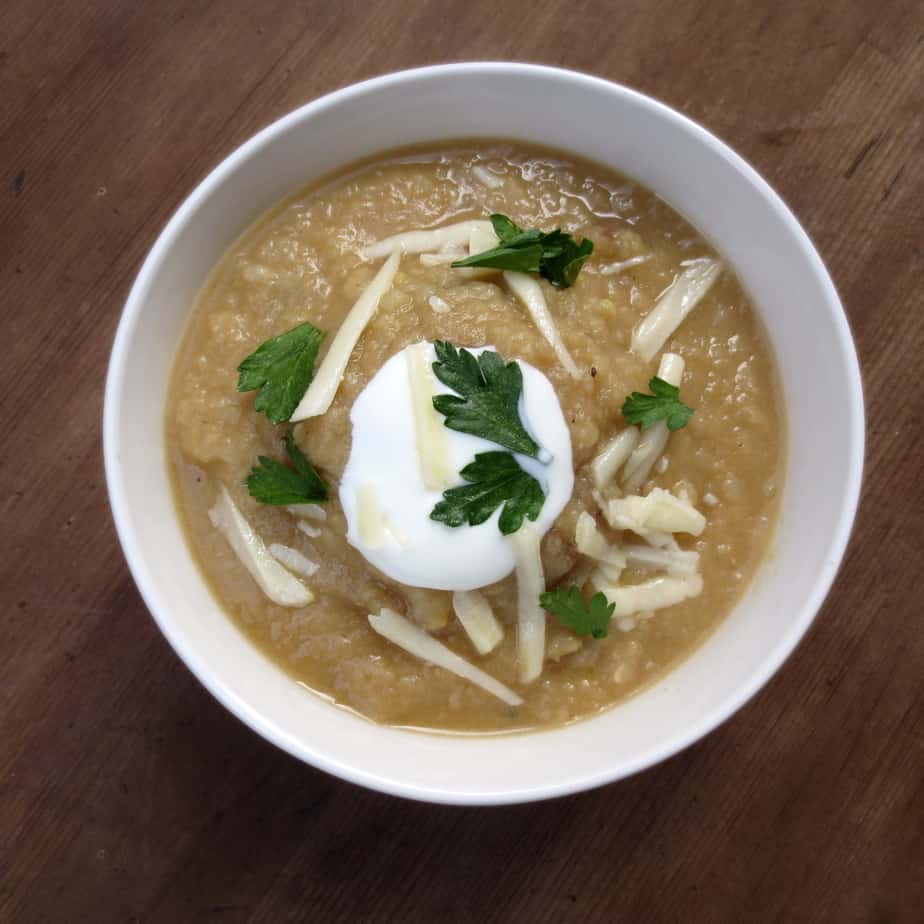 This is a pretty simple soup, and it freezes well. Enjoy!

Potato and Fennel Soup
A creamy potato soup recipe with fennel and flavored with a touch of sardines for a boost of salty flavor.
Ingredients
1

Tablespoon

olive oil

or butter

2

anchovies

minced (or about ½ teaspoon paste)

1

bulb

fennel

can sub with onion

3

cloves

garlic

1 ½

pounds

potatoes

I used 3 red potatoes and 1 yellow potato

4

cups

chicken stock

vegetable broth, or water

⅓

cup

yogurt

organic, plain or greek yogurt

salt

pepper to taste

optional: parmesan or asiago cheese and parsley to garnish
Instructions
Warm the oil/butter over medium heat in a large sauce pan. Add the minced anchovies and cook until they're super mushy, 1-2 minutes. (If using anchovy paste, just saute it for 30 seconds or so). Add the fennel and garlic and cook just until soft. Remove vegetables and place in blender. Blend until smooth, adding a touch of the broth as necessary, and return to pan.

Add potatoes to pan with half the remaining vegetable broth, salt, pepper, and seasonings. Bring to a boil, then reduce to a simmer for about 30 minutes or until potatoes are super soft. Mash the potatoes well, then add remaining vegetable broth and cook another 5 minutes. Be sure to add additional seasonings to taste! *Note: You can skip a few steps if you want to puree your potatoes in a blender or using an immersion blender. I find that it makes the potatoes gluey and I prefer to just mash them separately!

Stir in the yogurt when you're ready to serve it. Ladle into bowls, then top with your garnishes of choice and enjoy!
Nutrition
Calories:
285
kcal
Carbohydrates:
44
g
Protein:
11
g
Fat:
7
g
Saturated Fat:
2
g
Polyunsaturated Fat:
1
g
Monounsaturated Fat:
4
g
Cholesterol:
11
mg
Sodium:
396
mg
Potassium:
1259
mg
Fiber:
6
g
Sugar:
8
g
Vitamin A:
110
IU
Vitamin B1:
0.2
mg
Vitamin B2:
0.3
mg
Vitamin B3:
6
mg
Vitamin B5:
1
mg
Vitamin B6:
1
mg
Vitamin B12:
0.1
µg
Vitamin C:
42
mg
Vitamin D:
0.02
µg
Vitamin E:
1
mg
Vitamin K:
43
µg
Calcium:
88
mg
Copper:
0.4
mg
Folate:
57
µg
Iron:
2
mg
Manganese:
0.4
mg
Magnesium:
63
mg
Phosphorus:
217
mg
Selenium:
8
µg
Zinc:
1
mg
Choline:
54
mg