Recipe: $5.00
Per Serving: $0.42
I really wanted to call these PAC-MAN brownies because of this picture. But, that's not very descriptive. Even so, I really wish I'd added a few chocolate chips to the brownie pan to make an eye. Number one regret in this moment. Fortunately I have chocolate comfort.
Inspired by So Let's Hang Out, these were really easy to make, even though I was worried about the lack of a food processor. I went with the "brownie-cake" title because they're some sort of a mix between brownies and cake. Not quite as chewy as a fudge-like brownie, but not as fluffy as regular chocolate cake. I have plans to try again with a few additional tricks to make it chewier, but for now it's Pac-Man Brownie-Cake.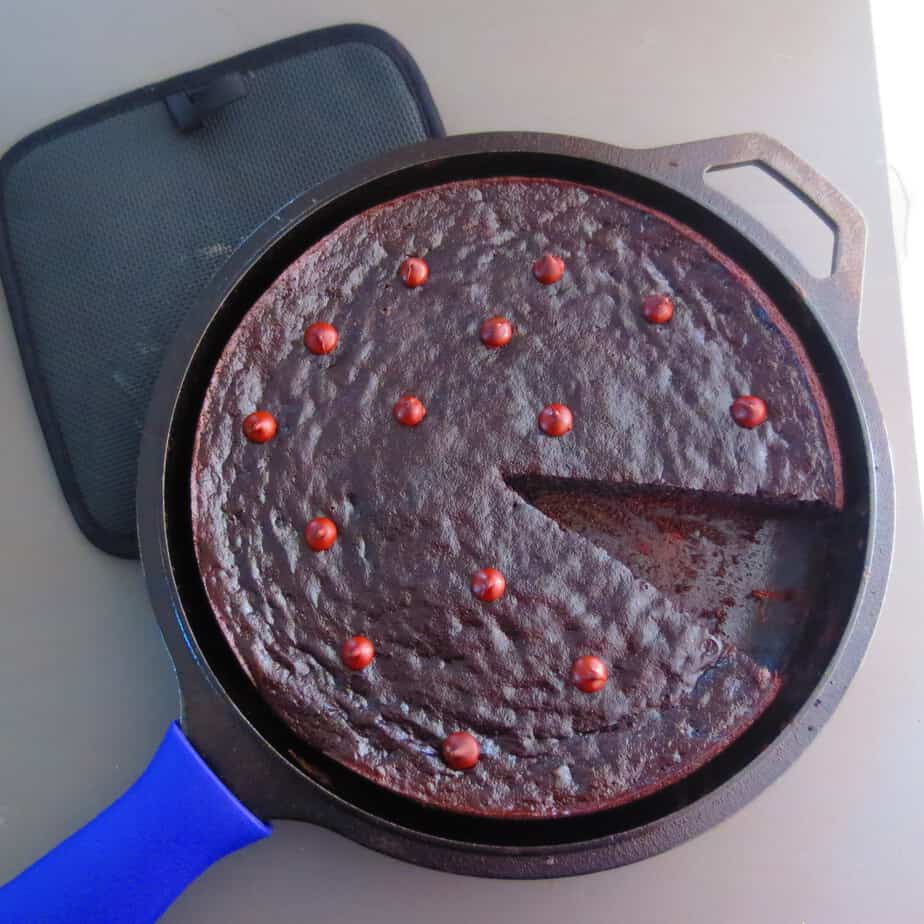 Also, DARK CHOCOLATE IS KING. I've been buying bittersweet chocolate instead of semisweet chocolate for baking lately, and it might be my finest decision to date. Also, Hershey's Special Dark Cocoa Powder is the best. These are the chocolate chips I bought since my beloved SunSpire Bittersweet chips were out of stock. Non-GMO, which is all I really want, and and less than $3, which might convert me from the SunSpire brand anyway. Also, I'm really sorry that this costs about 5 times as much as a box of brownie batter from the store. But in reality, you could probably eat this for breakfast and it would still be a healthier decision than boxed brownie mix. (Plus the CHEWIER version to come!)
You should eat these right out of the oven when they're nice and warm, or nuke a slice for 10-20 seconds when you get the urge. But, you know, on a microwave-safe dish, not the skillet. And maybe add some ice cream. I won't judge.
I'm happy to report that these are about as healthy as a chocolate-filled dessert can get!Totally gluten-free, no flour whatsoever, a scant 1/4 cup of honey, and packed with TWO plantains. And it serves 12! Win-win-win-win. Lots of winning here. Eat and smile.
Print
Dark Chocolate Plantain Brownie-Cake (Paleo)
---
Author:

Prep Time:

5 mins

Cook Time:

35 mins

Total Time:

40 mins

Yield:

12

1

x
Scale
Ingredients
2

ripe plantains, peeled and chopped

1/4 cup

of coconut oil, melted

1/4 cup

raw honey

1/4 cup

unsweetened cocoa powder

1 tsp

baking soda

1/2 tsp

sea salt

2 tsp

vanilla extract

2

eggs

1/2 cup

dark chocolate chips (optional)
---
Instructions
Preheat oven to 350 degrees F.
(BLENDER VERSION!) Slightly warm the coconut oil and honey together until liquid (using microwave, or by putting measured ingredients in metal bowl on stove while it preheats!), then add to blender with 1 plantain (chopped). Blend until smooth, then slowly add pieces of second plantain until fully blended.
In separate bowl, mix the dry ingredients together (cocoa powder, baking soda, salt).
Add eggs, vanilla, and mixed dry ingredients to blender and blend until mixed and smooth. (*NOTE: If your blender is kaka, you might have to get a spoon in there to make sure everything blends evenly.)
Grease a regular casserole dish or your beloved cast-iron skillet with your fat of choice. (I used about 1 Tablespoon coconut oil to grease my 10-inch cast-iron skillet).
Pour half the brownie batter into dish, then sprinkle 1/2 cup dark chocolate chips (optional). (You can also just fold them into the batter if you don't mind that most of them will sink straight to the bottom.)
Bake for approximately 35 minutes, or until toothpick comes out clean. If you like a firmer texture, cook for about 40 minutes.
Remove from oven, add a few decorative chips to the top, and let cool for 5 minutes before diving in.
---