This post is part of a Nutritionist Behind the Scenes series that is hosted on Frugal Nutrition to help CNS nutritionists navigate the industry after graduation. To see the full series, please visit The CNS Path: Exam Study Tips, Internships, Licensing, Getting a Job.
What better way to get insight into the RD pathway than straight from an RD?
Many students, potential nutrition students, and current CNS candidates reach out to me with tons of questions about pursuing the RD vs. CNS pathway for nutrition. I am always happy to share my perspective, but as a CNS, I can't really share the full perspective of a functional RD.
I reached out to Katie Morra, a functional RD who works in Bethesda, MD to get more information about her experience as a conventionally trained RD working in a functional practice.
I started following Katie several years ago when one of my friends scored a CNS internship with her at Capital Integrative Health, a functional and integrative practice where she specializes in gut health.
Since then, Katie has completed the Institute for Functional Medicine Certification, launched a podcast called Gut Honest Truth with her CNS colleague, and written an eBook on treatment, management, and symptomatic relief of Acid Reflux called How to Get Rid of Your Acid Reflux.
Katie is one smart cookie and I appreciate her functional approach alongside her understanding of conventional medicine. I have loved following Katie's career over the past few years and I was so glad when she agreed to answer a few RD-specific questions for all of us!
1) What made you choose the RD pathway for nutrition?
I had two main purposes for choosing the RD pathway: I'm licensed in Maryland and in New York; in New York you must be an RD to practice clinically. [

Edit: CNSs and RDs can now both practice in New York.

] We do not have licensure, only certification so you can not practice by being a "Certified Nutrition Specialist" in many clinical settings. The second reason, paralleling the first reason, having the RD credentials will almost always allow me to compete for any job, anywhere.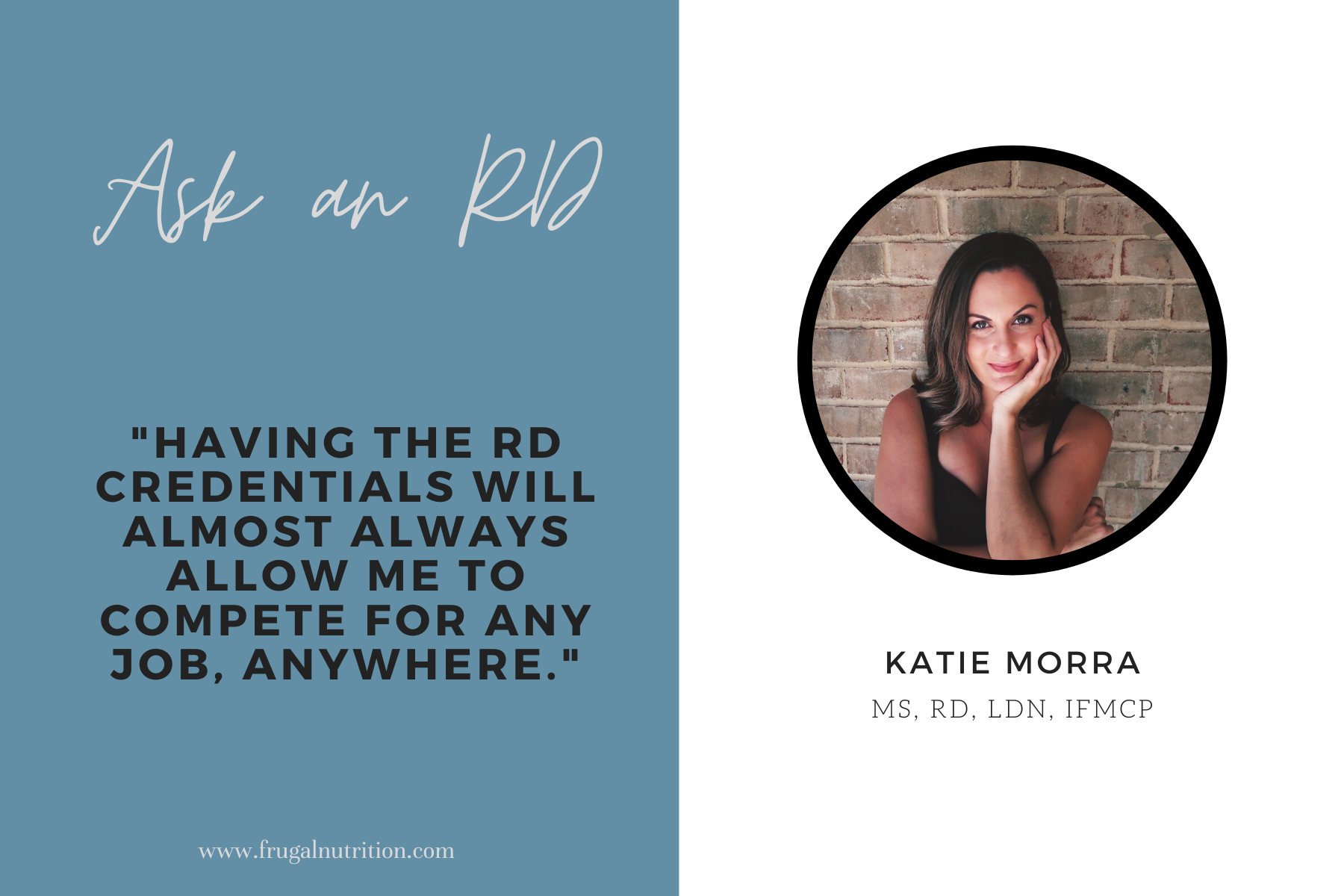 2) How much additional training did you complete, after getting your RD, to become so well versed in functional medicine?
After getting my RD, I completed a Masters in Applied Nutrition and became certified as a First Line Therapy specialist through Metagenics. I then completed the Institute for Functional Medicine program that was primarily targeted to physicians and started my own practice, which was where the real learning happened!
3) From your perspective, what do you think are the main differences between the RD certification and the CNS certification? // I know you work alongside a CNS, do you see major differences in how you were each trained for your base certification (not including IFM)?
We were not trained similarly at all to my knowledge. As a RD that is a preceptor to potential CNS grads, I must say the RD internship is far more competitive and far more intense; and I happen to work in a very busy, complex practice. However, my [CNS] interns seem to come out of their schooling with a much broader sense of functional medicine and nutrition and complementary therapies, which I did not as a RD.
4) Do you think the master's degree requirement for RDs will help create more functionally minded registered dietitians?
I think this really depends on which school and type of graduate school you attend. Unfortunately, my RD and functional training are mutually exclusive. My functional training was all sought out separately or self taught. I would never take back my Masters degree, in fact, I'm sure it'll be mandatory for RDs to obtain sometime soon.
5) Do you have any advice for someone thinking about becoming a nutritionist, or starting out in the field of nutrition, either as an RD or CNS?
Shadow, intern and volunteer. Rinse and repeat. I actually have a degree in psychology and minor in biology and after school decided to shadow people in a variety of health care fields prior to applying for graduate school. I shadowed an RD that is a diabetes educator, an integrative nutritionist, and somehow landed a gig as an intern for Mark Hyman, MD at The UltraWellness Center, and poof there you have my next degree and interest.

I have interns regularly and it not only lets them soak everything up like a sponge but allows them to see if it is what they really want to be doing as a career. That's the beauty of internships that have different rotations, you can see what will jive with you and what won't. And what better way to figure this out than before you pay a bunch of money to land in a career that maybe isn't right for you?
6) How can readers find a functional practitioner / dietitian in their area?
My best recommendation would be to go to

www.ifm.org

(The Institute for Functional Medicine's website) and click on 'Find A Practitioner' which will allow them to choose their area, the distance they are willing to travel, as well as see individual practitioners' bios.