This dairy-free Zucchini Rollatini uses rich and decadent macadamia nuts as a stand-in for ricotta cheese, while zucchini takes the place of noodles for this amazingly flavorful show-stopping weeknight dinner that is much easier than it looks!
Recipe: $14.91 | Per Serving: $3.73 | Yield: 4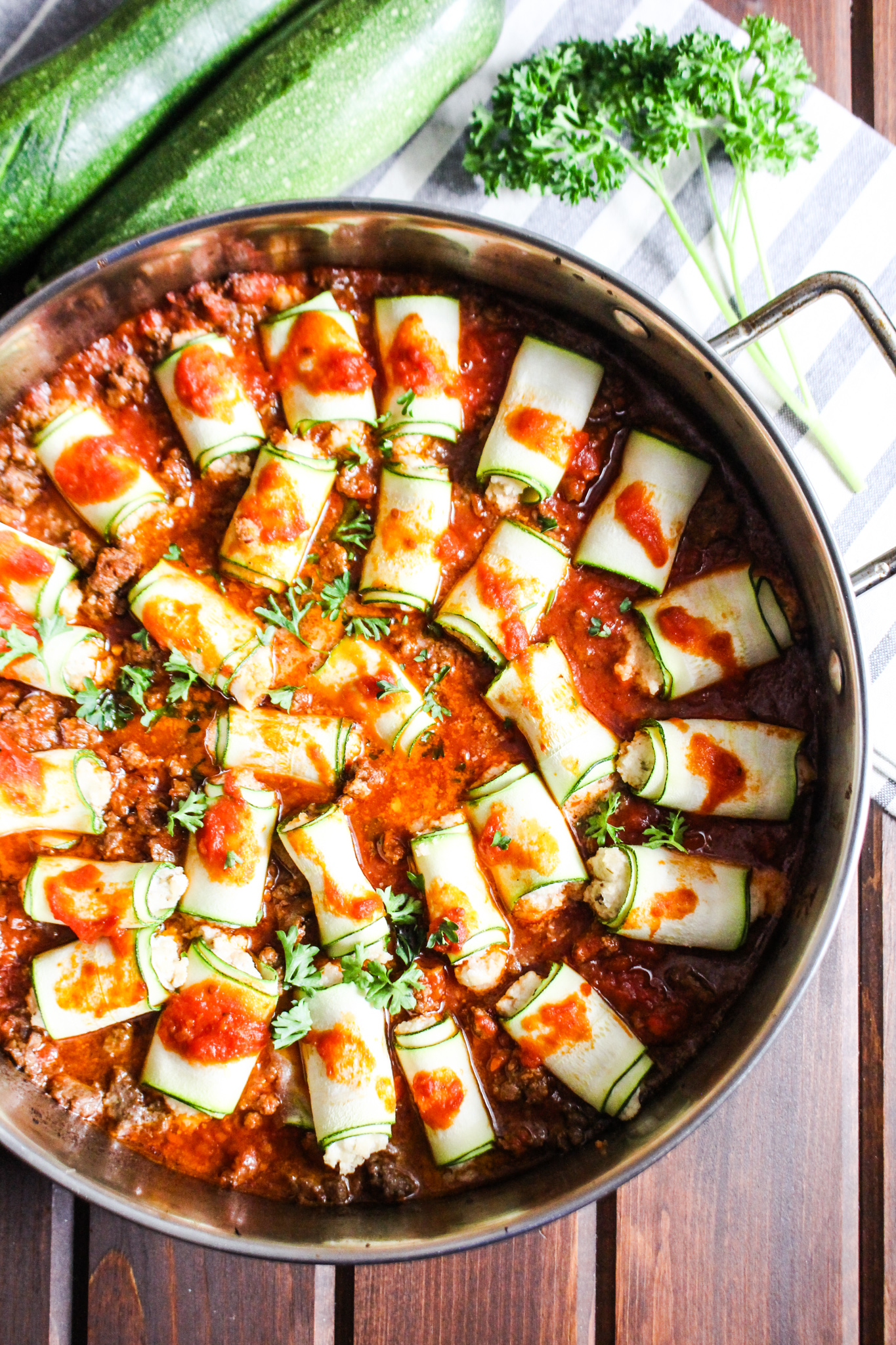 As you may have seen on my macadamia-cauliflower ricotta post, I've been making this ricotta alternative since about 2014! It's incredibly delicious, and brings a lot of rich flavor to things like eggplant rollatini and pizza-stuffed mushrooms!
After battling against eggplants (how do you know when they're ripe? how do you know when they're overripe?) for the last year or so, I decided to change up my 'noodle' and use zucchini instead! This zucchini rollatini recipe has been in the making for several years now, and I'm so excited to finally share it with you all.
I'm sure I'm not alone in this, but we are swimming in zucchini these days - it's always on sale at the grocery store and my brother brings some home from the farm where he works every day. So much zucchini!
What is Dairy-Free Ricotta?
This right here is the star of the show!
I like to make dairy-free ricotta from macadamia nuts and steamed cauliflower and it is so SO good. What started as an experiment to find a dairy-free alternative to ricotta turned into a true love affair.
Honestly, in this dish, the dairy-free macadamia ricotta is even better than regular ricotta! Believe me, I've taste-tested it multiple times.
All you do is process macadamia nuts and steamed cauliflower in a food processor, adding some lemon juice and water if needed and you have an easy ricotta substitute!
The full story can be found in this Macadamia-Cauliflower Ricotta "Cheese" recipe; I promise you, it is delicious.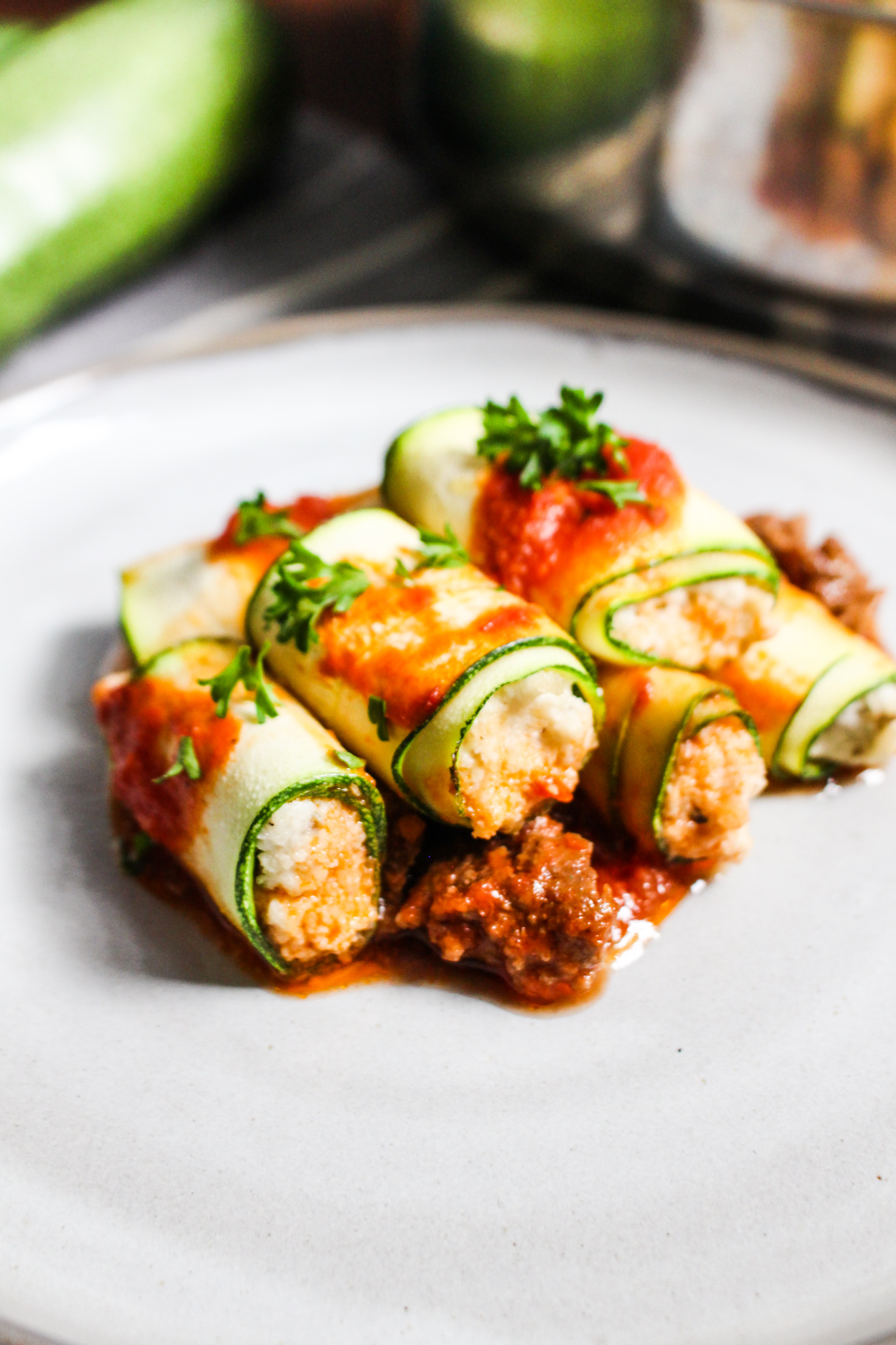 What is Zucchini Rollatini?
This dish is a modern twist on an Italian classic.
Rollatini is an Italian dish that usually involves thin slices of eggplant, rolled up with a ricotta cheese mixture. Sometimes cutlets of veal or chicken are made in the "rollatini" style.
Similar to how we have eggplant parmesan or chicken parmesan, the 'rollatini' refers to the method more than the exact ingredients.
Zucchini rollatini requires thinly sliced zucchini (peelers and mandolines are best here), and fillings of your choice.
Here we're using my favorite macadamia-cauliflower ricotta to keep things dairy-free, but there are plenty of rollatini recipes using a stuffing of regular ricotta mixed with egg and parmesan, and some even add spinach or ground beef to the stuffing.
So versatile!
How to Make Zucchini Lasagna Strips
Get yourself a peeler - I like this Y peeler best, but you can also use a swivel peeler, they're just not as stable. You can also use a mandoline, but be careful!
Find a small to medium-sized zucchini - You want one that's about 2 inches in diameter, and not wider than your peeler or your mandoline blade.
Hold the Y peeler in your dominant hand and the zucchini in your other hand.
Peel wide strips (towards your body) to make long thin zucchini strips that resemble lasagna noodles.
If you don't have a good peeler or mandoline, you can definitely use a knife. You'll want to carefully cut them into ¼-1/8th thick strips and then salt & bake the zucchini for about 10 minutes so they're pliable enough to roll.
Dietary Modifications and Substitutions for Zucchini Rollatini
Is this Zucchini Rollatini Whole 30 and Paleo Friendly?
This dish is made completely Whole30 and Paleo, but there are a lot of ways you can modify it to work with what you've got on hand or whatever dietary restrictions you follow. I'm using jarred marinara here, but homemade absolutely kicks up the flavor!
How can I make this recipe low FODMAP?
Use a low-fodmap marinara (FODY, Rao's, and Thrive all have one), and swap the cauliflower out for more macadamia nuts. 
What about vegan and vegetarian?
Swap out the ground beef for lentil bolognese and this is 100% vegan (and vegetarian!). You can also use organic tofu in place of cauliflower for more protein.
Any other modifications or substitutions?
- Make this meal pegan by reducing the meat by half and adding lentils to the sauce. Top it with hemp 'parmesan' before serving for an added boost of protein and omega-3s.
- Make your own marinara/bolognese, or serve the rollatini with pesto.
- Buy store-bought ricotta (regular or nut-free like Kite Hill)
- Swap out the ground beef for your favorite meatballs.
What else should I make?
Lucky for you, I have a few ideas!
Now have fun cooking! Let me know what you think and please leave a star rating below if you think this dish is as delicious as I do!
PIN THIS RECIPE FOR LATER!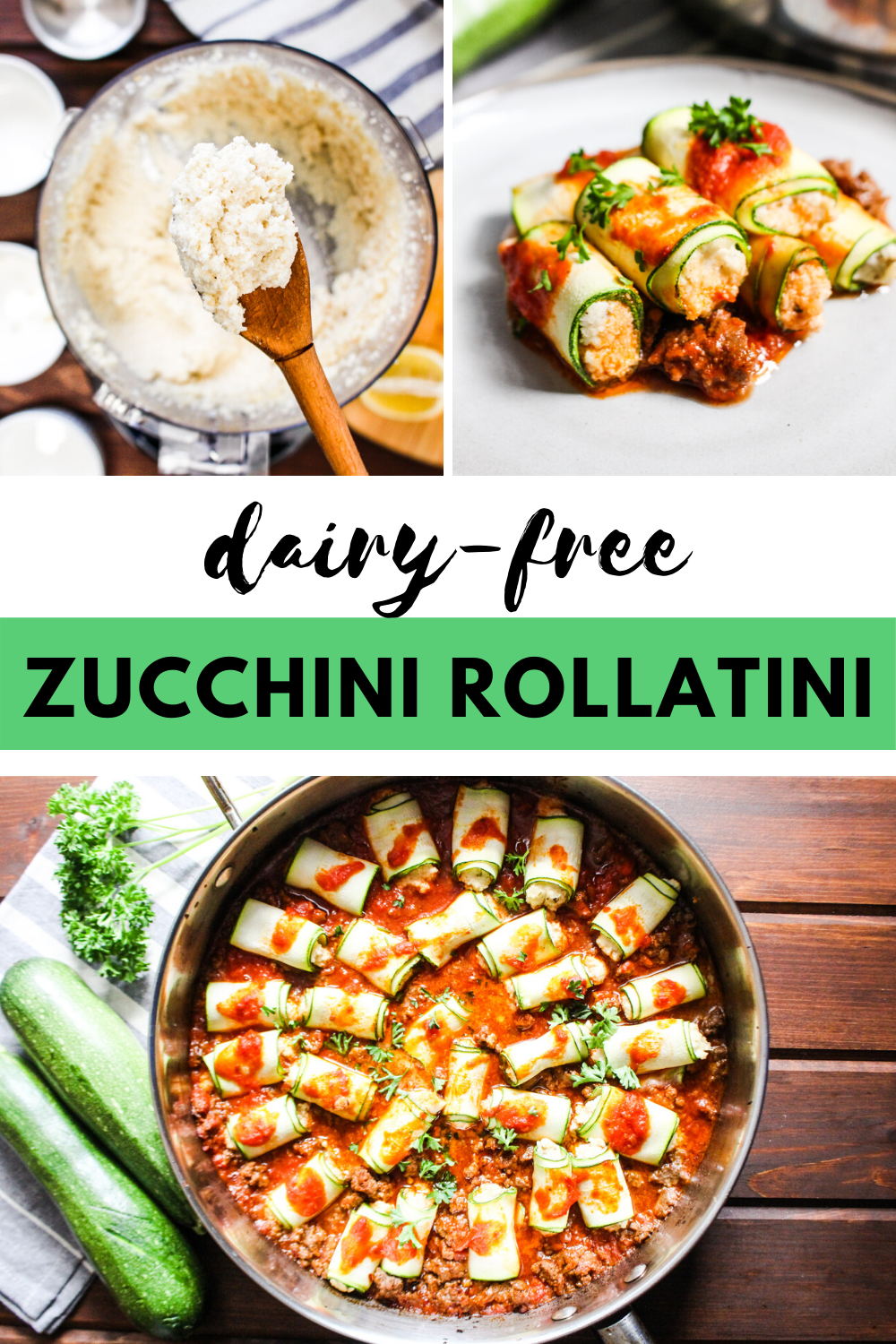 Dairy-Free Zucchini Rollatini (Whole30, Paleo)
Rich and decadent macadamia nuts stand in for ricotta cheese, while zucchini slices take the place of noodles for this amazingly flavorful show-stopping healthy weeknight dinner!
Ingredients
For the Macadamia-Cauliflower Ricotta:
1

cup

unsalted roasted macadamia nuts

1

cup

steamed cauliflower

½

teaspoon

sea salt

or Himalayan

½

teaspoon

lemon juice

1-2

tablespoons

water

or broth
For the Zucchini Rollatini:
1

pound

ground beef

or other meat, can also use lentils

salt and pepper

to taste

24 ounce

jar

marinara sauce

of choice

2

medium

zucchini
Instructions
For the Macadamia-Cauliflower Ricotta:
Add macadamia nuts, cauliflower, salt, and lemon juice to food processor. Process until well combined.

Scrape down the sides and add water or broth as needed. Add optional herbs and spices and process until a mostly smooth ricotta-like consistency is reached.
For the Zucchini Rollatini:
Preheat oven to 400ºF.

If using, cook the ground beef in an oven-safe skillet until fully browned, seasoning with salt and pepper and any other desired seasonings. Pour the marinara over the beef and bring to a simmer while preparing the noodles.

Wash the zucchini and chop off either end.

Using a peeler, carefully peel the zucchini into wide strips. You can do also this with a mandoline or a sharp knife, but be very careful! (See video in post!)

Take a scoop of the ricotta mixture (about 1 Tablespoon or less) and place it on the short end of the zucchini. Roll this part all the way to the end. Place on a plate seam-side down while you repeat with all of the remaining zucchini noodles.

Nestle the zucchini roll-ups into the sauce. You can top each with a little marinara.

Bake on 400ºF for about 15-20 minutes. You want everything cooked, and the sauce should get a little bubbly, but we don't want soggy zucchini!

Garnish with fresh basil or parsley and serve!
Notes
If using salted macadamia nuts, add salt at the end of making the ricotta to avoid over-salting.
If you have extra zucchini, you can chop it up and add it to the sauce or save it for your breakfast!
I like to pair this with roasted veggies or even a side dish of red lentil pasta.
STOVETOP: feel free to skip the oven! You can prepare the dish through step 6, then cover the skillet and cook covered for 10-20 minutes until fully cooked but not too soft.
Nutrition
Calories:
592
kcal
Carbohydrates:
18
g
Protein:
26
g
Fat:
49
g
Saturated Fat:
13
g
Polyunsaturated Fat:
1
g
Monounsaturated Fat:
30
g
Trans Fat:
1
g
Cholesterol:
81
mg
Sodium:
1190
mg
Potassium:
1266
mg
Fiber:
7
g
Sugar:
11
g
Vitamin A:
933
IU
Vitamin B1:
1
mg
Vitamin B2:
0.4
mg
Vitamin B3:
8
mg
Vitamin B5:
2
mg
Vitamin B6:
1
mg
Vitamin B12:
2
µg
Vitamin C:
42
mg
Vitamin D:
0.1
µg
Vitamin E:
3
mg
Vitamin K:
15
µg
Calcium:
94
mg
Copper:
1
mg
Folate:
65
µg
Iron:
6
mg
Manganese:
2
mg
Magnesium:
110
mg
Phosphorus:
336
mg
Selenium:
20
µg
Zinc:
6
mg
Choline:
101
mg