Recipe: $2.98 | Per Serving: $0.75 | Yield: 4
If you're looking for a vegetable side dish that's flavorful, slightly sweet, and perfect for fall, look no further than this Roasted Delicata Squash!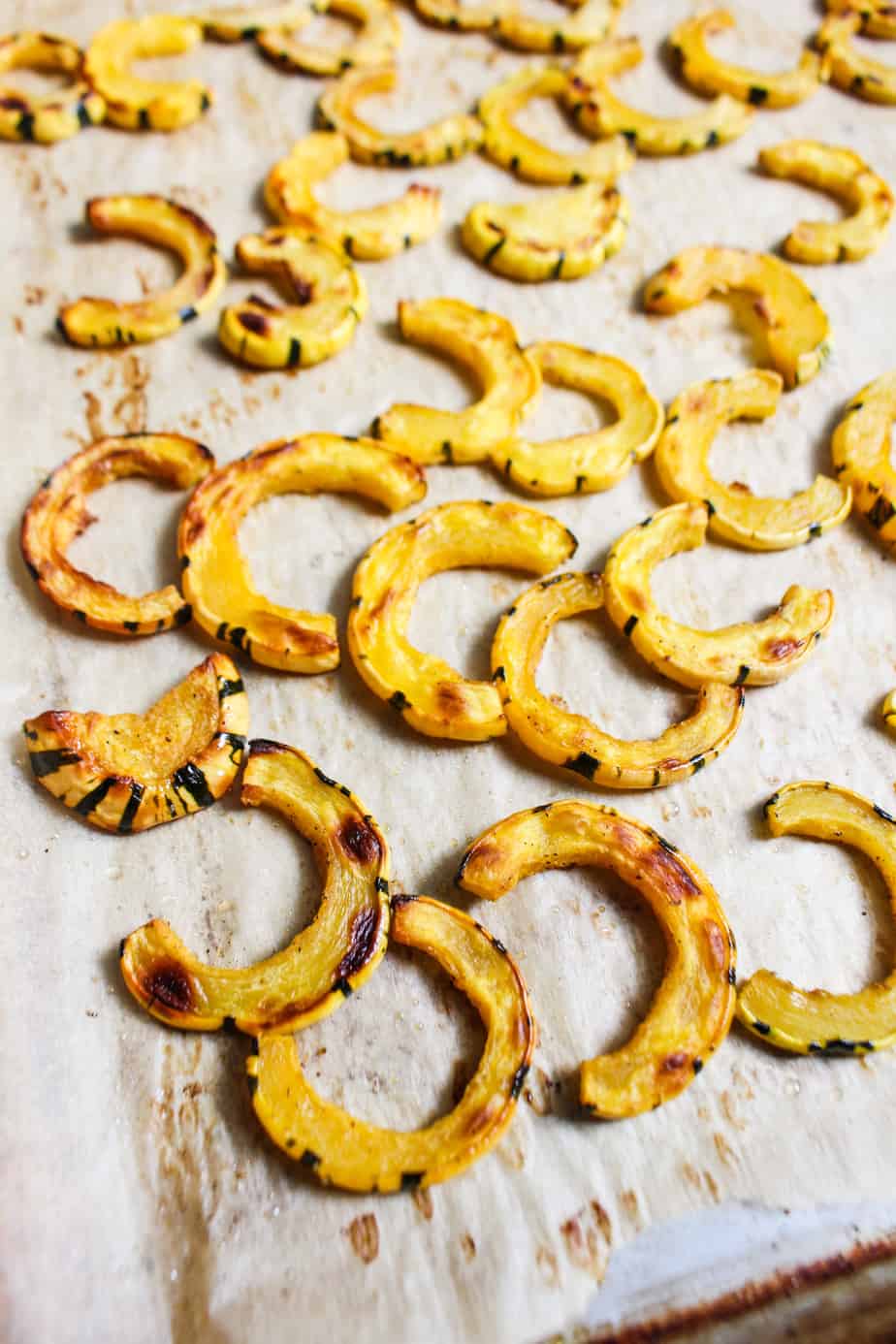 If you have not yet found yourself in possession of one of these beauties, allow me to introduce you to the one and only DELICATA SQUASH.
Delicata is more of a fall squash than a winter squash because the season is short and it's not quite as starchy as your standard butternuts and acorn squashes. It is, however, the BEST squash, I promise you!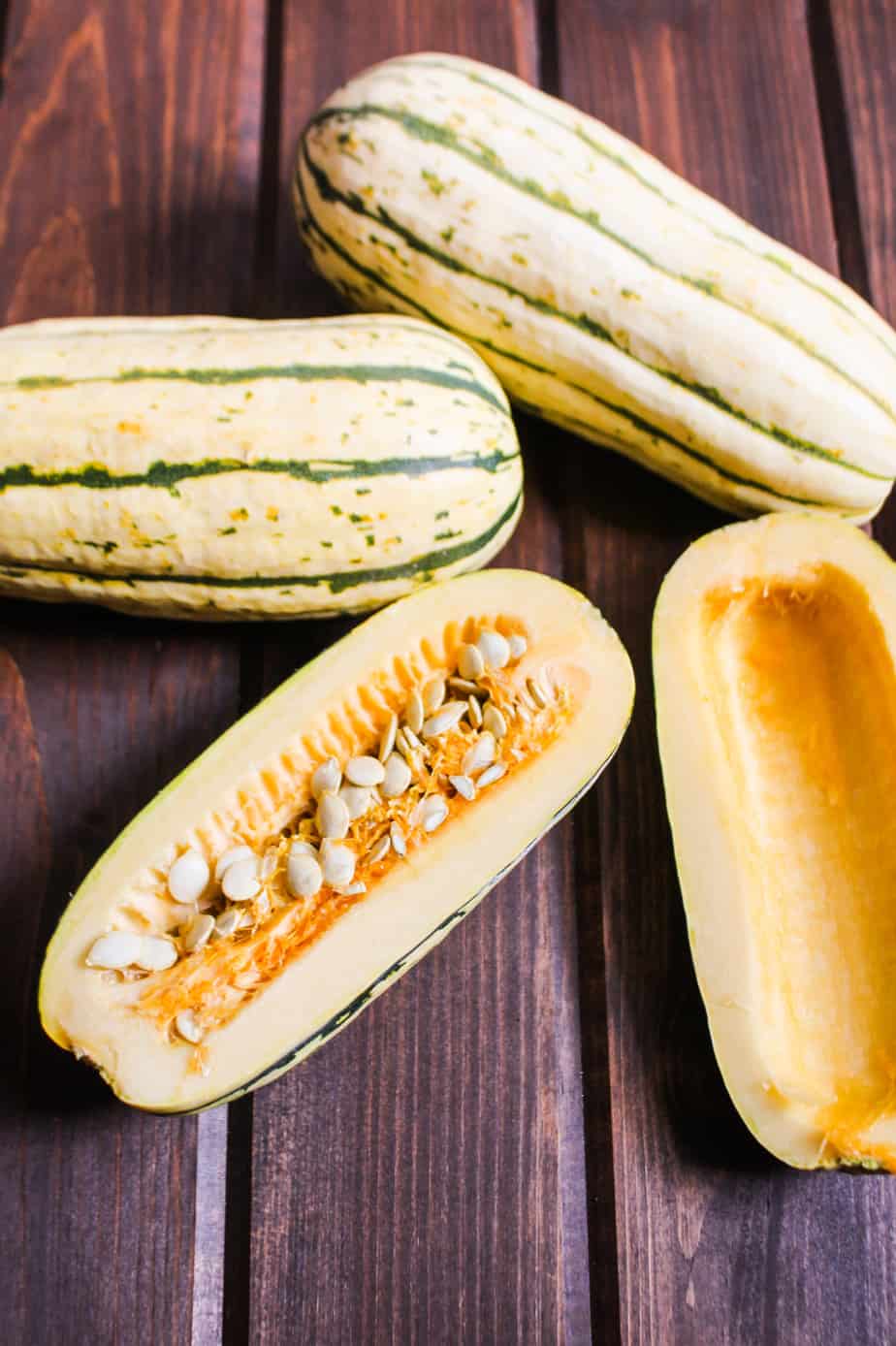 I have met a lot of squashes I didn't like - it took me years to come around to butternut - but this is a WINNER right out of the gate. Kabocha will always be my first squash love, but the ease of delicata (it's easier to cut!), the crispiness (SOO crispy!), and the shorter season (usually only around 4-6 weeks) are enough to make me crave delicata squash all the time.
Tips for Making Roasted Delicata Squash
Use high heat - do NOT bother with a 350ºF oven. You want to cook this at 425ºF or hotter for the best caramelization.
Use oil. I know there's a trend towards oil-free cooking in some circles, but oil-free roasted delicata just gets dry. Use oil here!
FLIP IT! You can use tongs or a spatula, but it's actually pretty important to flip the squash at least once while cooking it. I know this seems finicky, but you'll be rewarded with supremely flavorful and crispy squash, I promise!
While you can easily roast this up into something edible, these tips take it to the next level.
What Does Delicata squash taste like?
This is the most frequent question I get about this gourd. It's sort of like a firmer butternut squash that's mild in flavor and tends to caramelize easily. It's the like Japanese Sweet Potato of the squash world - firmer and richer than a butternut, but with a less overpowering flavor.
(TIP: I like to keep my squash all lined up before I add the oil and seasonings - it gets MUCH better oil / spice coverage this way, and I don't waste any oil!) Like so:
Can you eat the skin of a Delicata squash?
Yes! You can actually eat the skin of many winter squashes, but this one is more tender than most of the others, so you'll rarely see it served without the skin.
This also makes it the EASIEST starchy squash to cut! I always have a struggle with kabocha, butternut, and spaghetti squash, but not with delicata! So much more manageable.
Is Delicata squash healthy?
Of course! First of all, it's a vegetable, which automatically makes it more health-promoting than many other foods, but much like other winter squashes, it's also rich in vitamin A, vitamin C, vitamin B6, and fiber.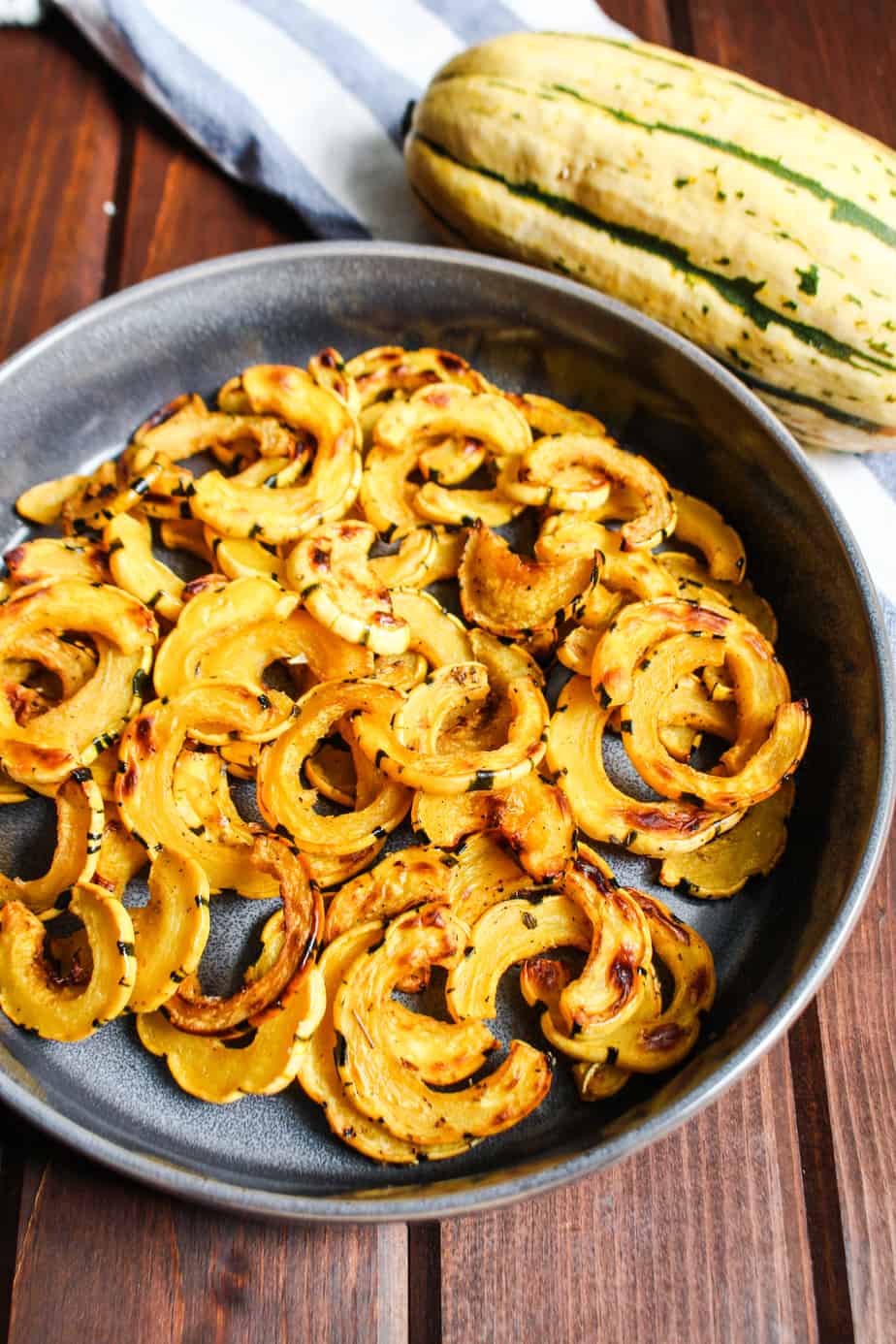 Serve this baby up with your favorite rosemary meatloaf, or alongside eggs and sausage for breakfast. It. Is. Perfection.
Paleo: Yep!
Vegetarian: Yep!
PIN THIS RECIPE FOR LATER!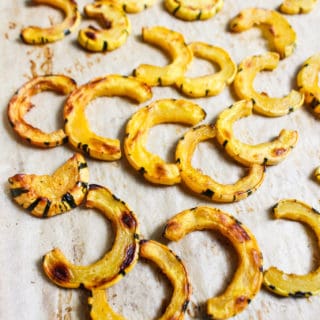 Easy Roasted Delicata Squash
Make this DELICIOUS roasted delicata squash while the season lasts - you'll never get sick of it, I promise!
Ingredients
2

Delicata squashes

about 1 pound each

1-2

Tablespoons

oil

½

teaspoon

sea salt

or more to taste

¼

teaspoon

fresh black pepper

or more to taste

Optional: add more herbs and spices

I love smoked paprika, cayenne, and Italian herb seasoning!
Instructions
Preheat oven to 425ºF.

Cut the ends off the Delicata squash to create a flat surface, then cut the squash in half lengthwise. Scoop out the seeds and discard or save for roasting.

Slice the squash into ¼-inch slices. Place on baking sheet (lined with parchment paper) and toss with oil, salt, and pepper. (And any additional herbs & spices.)

Spread the squash out on two baking sheets in one even layer.

Roast for 20 minutes. Remove one tray at a time and flip each piece of squash. Roast for another 15-25 minutes, or until it is brown and caramelized.
Notes
Don't forget to flip! Opening the oven actually releases some of the steam, which increases crisping, and flipping gives both sides contact with the sheet pan. This results in the crispiest delicata!
Nutrition
Calories:
108
kcal
Carbohydrates:
20
g
Protein:
2
g
Fat:
4
g
Saturated Fat:
0.3
g
Polyunsaturated Fat:
1
g
Monounsaturated Fat:
2
g
Trans Fat:
0.01
g
Sodium:
300
mg
Potassium:
794
mg
Fiber:
3
g
Sugar:
5
g
Vitamin A:
3097
IU
Vitamin B1:
0.1
mg
Vitamin B2:
0.1
mg
Vitamin B3:
1
mg
Vitamin B5:
0.4
mg
Vitamin B6:
0.4
mg
Vitamin C:
28
mg
Vitamin E:
1
mg
Vitamin K:
5
µg
Calcium:
64
mg
Copper:
0.2
mg
Folate:
54
µg
Iron:
1
mg
Manganese:
0.4
mg
Magnesium:
32
mg
Phosphorus:
52
mg
Selenium:
1
µg
Zinc:
0.5
mg
Choline:
23
mg