Recipe: $9.05 | Per Serving: $2.26 | Yield: 4
You're not living until you've had quinoa lightly fried in bacon grease! This breakfast is so delicious and perfectly complemented by the sweet roasted bell peppers.
Bacon quinoa breakfast bowls are my favorite way to convert sweet breakfast lovers into savory breakfast lovers, and it's also the BEST way to start getting in veggies first thing in the morning!
This recipe is not actually my invention - it comes to you straight from Zac! As those of you who follow me on Instagram know, Zac makes breakfast for us at least 5 days a week. Some weeks I help with prep, but usually he's on his own in there.
One week we had a bunch of leftover quinoa and he kept frying it up in some bacon grease and pairing it with whatever leftover roasted vegetables we had on hand. It was SO GOOD.
This Bacon Quinoa Breakfast Bowl is the result of that week of deliciousness. Thank you, Zac.
This dish is:
filling
meal prep-able
packed with flavor
nutrient-dense
protein-rich! (24 grams per serving!)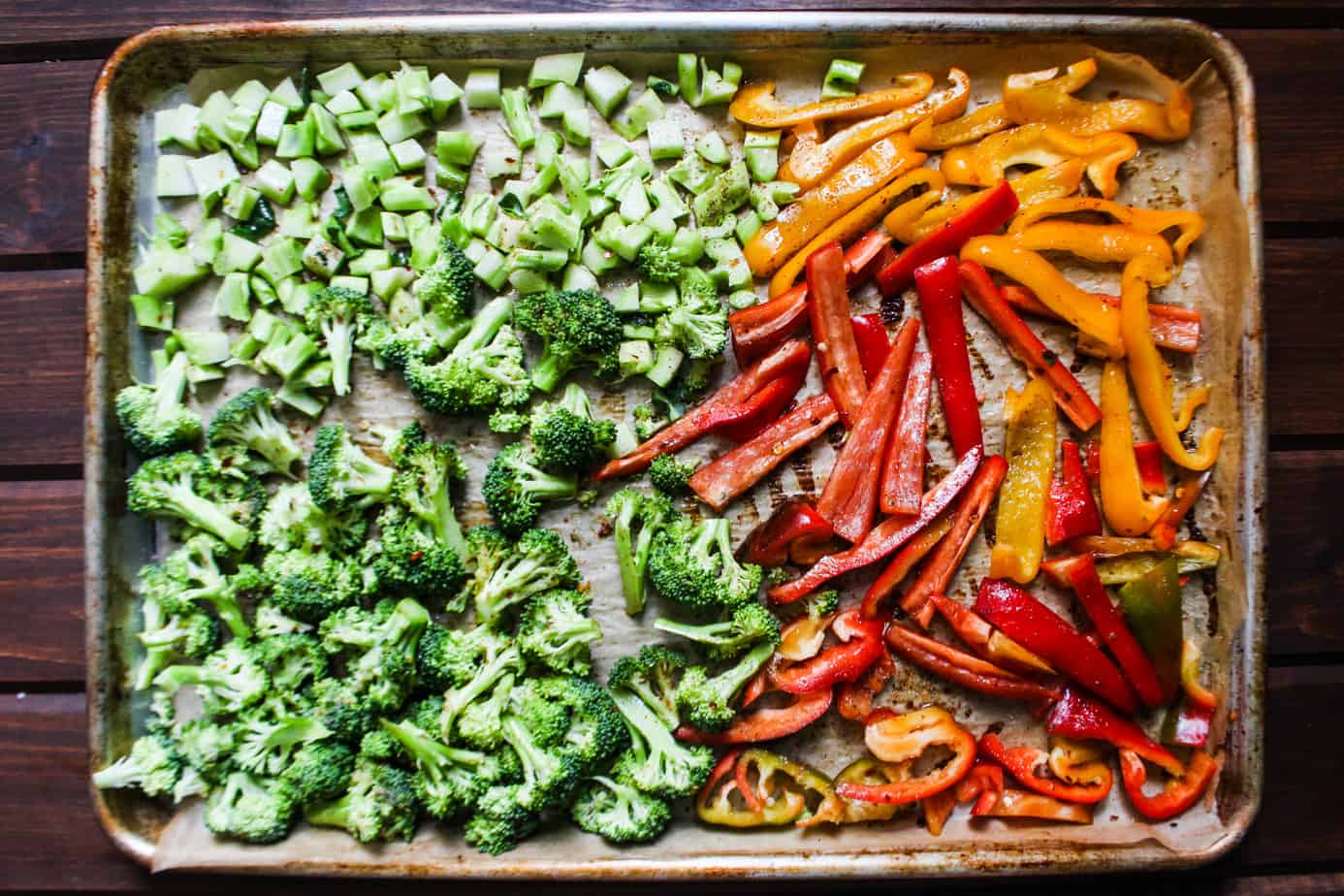 How to Roast Vegetables for this Recipe:
I recommend choosing medium-cooking vegetables for this recipe. I like to cook them for 25 minutes on 450ºF.
For medium-cooking vegetables, go for things like bell peppers, broccoli, cauliflower, Brussels sprouts, and shopped cabbage.
If you have different vegetables on hand, just remember that water-heavy vegetables like zucchini, summer squash, asparagus, and tomatoes will probably cook in just 15-20 minutes, so check them earlier.
When using broccoli or cauliflower - I recommend cooking and eating the stem! You paid for it, so you should eat it! For broccoli, I always peel the stem (the outside is tough and fibrous) and then chop it up and roast it. 
And for more veggie-packed breakfast recipes, try my Chickpea Shakshuka with Kale!
How to Cook Quinoa
We've talked about this before - and I've written about quinoa at length. It's my favorite grain and my gut loves it!
Most packages will advise you to cook your quinoa with a 2:1 ration of water to quinoa. (ie 2 cups water for 1 cup quinoa)
However I highly recommend using 1.75 cups or even 1.5 cups water for each cup of quinoa. If quinoa is new to you, I recommend reading this post on everything you need to know about quinoa.
Tips for Making this Meal Faster:
Instead of roasting the bell peppers and broccoli - you can sauté them, which takes closer to 15 minutes instead of 25.
You can also use quick-cooking vegetables like zucchini, summer squash, asparagus, or grape tomatoes.
Replace the fried / poached egg option with hardboiled or jammy eggs - you can make these ahead of time all in one small pot in 2-10 minutes.
Tips for Making this Meal Cheaper:
Sub out the quinoa for white or brown rice. Lower protein content, but definitely cheaper.
Swap your bell peppers ($1.66) or your broccoli ($1.87) for a cheaper vegetable - shredded cabbage and sliced onions are good here, but go for whatever is on sale!
Use frozen vegetables and sauté them in some of the extra bacon grease.
Tips for Meal Prep:
The quinoa and vegetables can be cooked ahead and either microwaved or re-heated on the stove.
Instead of fried eggs, make some hard-boiled or jammy eggs.
Portion everything into meal prep containers so you have breakfast ready to go!
Top those jammy eggs with everything but the bagel seasoning. You know you want to!
Vegetarian: No, but you can skip the bacon if you really want!
Paleo: No, quinoa is not Paleo. But this is gluten-free!
PIN THIS RECIPE FOR LATER!
Bacon Quinoa Breakfast Bowls
This savory breakfast is exactly what you need break up the oatmeal monotony and add some variety to your morning!
Ingredients
3 ½

cups

cooked quinoa

from 1 cup uncooked

6

slices

raw bacon

you'll need to save about 2 Tablespoons of the bacon grease

1

large head

broccoli

about 1 pound

2

sweet bell peppers

oil of choice

avocado oil is my preference here

½

teaspoon

salt

½

teaspoon

pepper

or more to taste

½

teaspoon

smoked paprika

4

eggs

optional add-ons: avocado

feta cheese, fresh herbs, everything but the bagel seasoning
Instructions
Preheat the oven to 450ºF.

Prep the veggies: remove the seeds and stem from the bell peppers and slice into strips. Break the broccoli florets into small, 1-bite pieces. For the stem, I recommend peeling it, chopping off the bottom ½ inch or so, and then chopping it into small bites. Broccoli stems are so underrated - they're delicious roasted!

Toss the veggies with oil, salt, pepper, and the smoked paprika. Spread out on a baking tray (parchment-lined is my preference). Roast on 450ºF for about 25 minutes, or until just started to get a bit crispy.

Bacon: Cook the bacon in a shallow skillet or dutch oven; I cook it over medium heat for about 3-4 minutes per side, but just cook it to your desired doneness (feel free to use the oven if you prefer, just be sure to reserve some of the bacon grease). Remove bacon from pan. Set 4 pieces aside for serving (I like to cut them in half so it feels like you get more bacon!). Dice 2 of the bacon slices into small pieces.

Drain the bacon grease, but reserve 2 Tablespoons for cooking the quinoa. (Feel free to reserve even more if you like to cook your eggs in bacon grease!)

Quinoa: While the pan is still hot, add in the reserved 2 Tablespoons of bacon grease and the chopped bacon. Add the COOKED quinoa and 'fry' as if you were frying rice. This should only take 1-2 minutes. (Optional: feel free to crisp up these chunks of bacon for added texture before adding the quinoa!)

Eggs: using fat of choice (bacon grease, butter, ghee, etc.), heat a skillet over medium heat. When quite hot, drop in an egg and cook until the whites are set. I'd cook the eggs as the last step so they're warm when you serve. Feel free to use a different method to cook your eggs - poached and jammy eggs are both great here.

Add the quinoa to the bowls and top with the roasted vegetables. Serve each with a slice of bacon and a fried egg.
Notes
For the Quinoa: I recommend using cold quinoa that you cooked ahead. Much like fried rice, this is best with 'leftover' quinoa. If you don't have leftover quinoa, here are quinoa cooking instructions: rinse 1 cup dry quinoa 1-3 times until the water runs clear. Add to a large pot with 1.5 cups of water and bring to a boil. Immediately reduce to a simmer and cover and simmer for about 15 minutes. Remove from heat and let rest (still covered) for another 10 minutes. Fluff with a fork and proceed with the remainder of the recipe.
Nutrition
Calories:
327
kcal
Carbohydrates:
49
g
Protein:
18
g
Fat:
8
g
Saturated Fat:
2
g
Polyunsaturated Fat:
3
g
Monounsaturated Fat:
3
g
Trans Fat:
0.02
g
Cholesterol:
164
mg
Sodium:
447
mg
Potassium:
954
mg
Fiber:
10
g
Sugar:
7
g
Vitamin A:
3180
IU
Vitamin B1:
0.3
mg
Vitamin B2:
1
mg
Vitamin B3:
2
mg
Vitamin B5:
2
mg
Vitamin B6:
1
mg
Vitamin B12:
0.4
µg
Vitamin C:
212
mg
Vitamin D:
1
µg
Vitamin E:
4
mg
Vitamin K:
159
µg
Calcium:
130
mg
Copper:
0.4
mg
Folate:
212
µg
Iron:
5
mg
Manganese:
1
mg
Magnesium:
149
mg
Phosphorus:
450
mg
Selenium:
22
µg
Zinc:
3
mg
Choline:
199
mg