Recipe: $3.65
Per Serving: $0.61 (for 6)
We officially know who is going to play in the Super Bowl next month. I'm not really that excited about it. However, there are things like FOOD that happen simultaneously on Super Bowl Sunday. Also, if you live here in San Diego, you can enjoy the fun Cardiff Kook 5K up here in Cardiff, and then walk over to 20/20 salon for sparkling wine and manicures, and then go home and eat a whole bunch of Super Bowl snacks while grown men and women act like high schoolers again.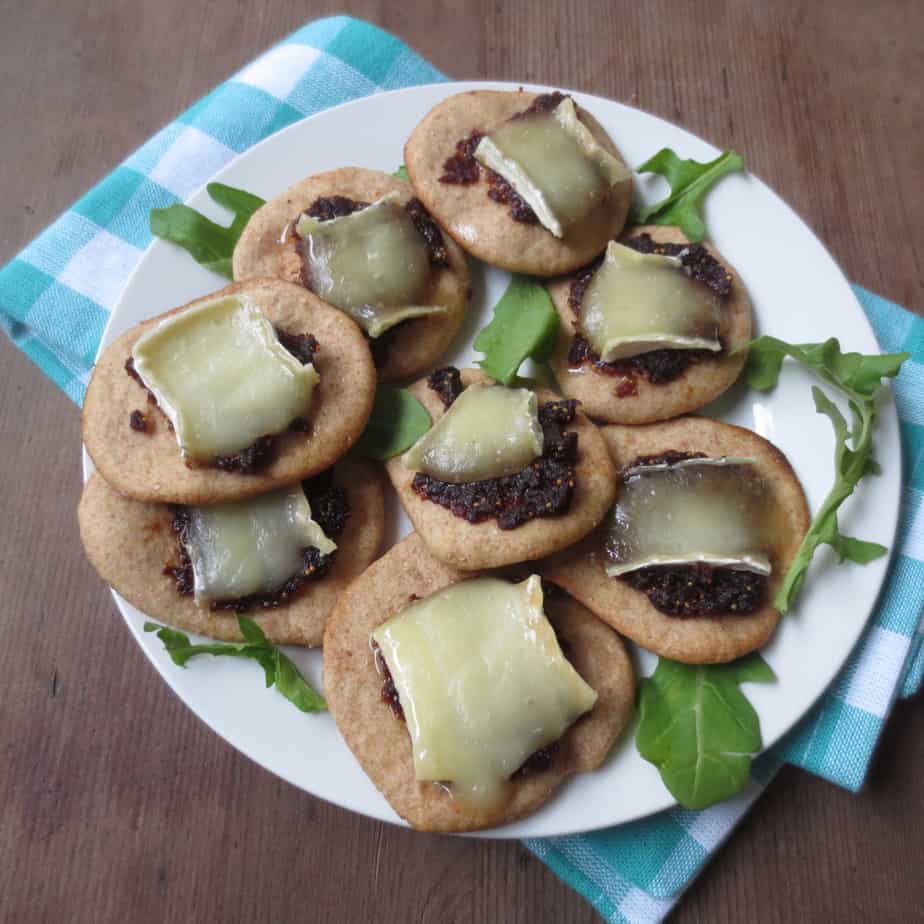 But really, that was going to be my plan, and these fig & brie bites would have been a perfect sweet & cheesy contribution to football. I used to care a little bit about football, because I went to Rutgers, and that was really fun. However, after 5 years of Zac's nonstop football talk...I couldn't care less about it. Sometimes i even hate it when he & his friends only want to talk about football and I'm like...woo...this is boring. What's new on IFLScience? Can you keep it down, I'm trying to watch Modern Family?
...And things like that. I like the green in the Seahawks' uniforms, I think Peyton Manning seems like a good dude. Ray Rice went to Rutgers and we used to be so proud of that. End of my football opinions/talking points.
Also, in other news, I'm leaving for Japan in THREE days. As in, Thursday. This week. I'm feeling anxious. There's still kind of a lot to do and pack and finalize. It's a scary time in the garage-apartment. This also means that I won't get to do any of the Super Bowl day plans after all. I will be 17 hours ahead though, so I can tell you guys who wins. *wink wink*
Anyway, food.
Dried figs and brie are perfect for each other. I want to eat a caramelized onion-fig jam pizza smothered in brie and topped with arugula, and maybe pancetta. This is what I envisioned when I recommended a fig and brie pizza for a GetFresh meal last summer, but we went with fresh figs instead, and I was totally okay with it.
But now, I'm back on track to the dried figs, and I bought a 4.5-ounce bag of dried figs at the dollar store. Um, hello, that's about a third of the price of the mission figs at Sprouts. Woot! And you can get Brie for $5.99 at Trader Joe's. And Whole Wheat Pizza Dough is super easy to make, at just over $1 for the whole recipe. You can also use mini whole wheat pita rounds from TJ's or Ryvita Crackers or crostinis (sliced and toasted baguette pieces).
All of these options are great, but I just love that whole wheat pizza dough is really easy to make and is super cheap. So this dish is a great, cheap and flavorful thing to bring to your lovely football gathering. It will be pretty and delicious and will go well with all the wings and chips and guac and stuff. Super Bowl snacks! Eat them!

Dried Fig & Brie Bites
Figs and brie make a tasty appetizer combination.
Ingredients
½

recipe

whole wheat pizza dough

3

ounces

dried mission figs

½ cup chopped

½

cup

water

more as necessary

1

Tablespoon

maple syrup

optional

pinch

of salt

6

ounces

brie
Instructions
Divide pizza dough into 24-26 small circles and roll out into circles about 1.5 inches across (think two bites). Place on cookie sheet and stab each circle with a fork. Bake on 500ºF for 10 minutes. Remove and set aside.

Remove the stems from the figs and chop them. Add the figs and the water to a small saucepan and bring to a boil, then reduce to a simmer. Add the maple syrup and salt and simmer until very tender, about 10 minutes, adding a little more water as necessary. Puree in blender and set aside.

Spread fig puree over each pizza dough round, and top with a chunk of Brie. Turn oven off, and return the bites to the oven for about 2 minutes, just to melt the cheese. Serve!

Note: You can double this recipe easily! ½ a pizza dough makes about 25 rounds.
Nutrition
Calories:
208
kcal
Carbohydrates:
25
g
Protein:
9
g
Fat:
9
g
Saturated Fat:
5
g
Polyunsaturated Fat:
0.3
g
Monounsaturated Fat:
2
g
Cholesterol:
28
mg
Sodium:
325
mg
Potassium:
147
mg
Fiber:
3
g
Sugar:
9
g
Vitamin A:
169
IU
Vitamin B1:
0.03
mg
Vitamin B2:
0.2
mg
Vitamin B3:
0.2
mg
Vitamin B5:
0.3
mg
Vitamin B6:
0.1
mg
Vitamin B12:
0.5
µg
Vitamin C:
0.2
mg
Vitamin D:
0.1
µg
Vitamin E:
0.1
mg
Vitamin K:
3
µg
Calcium:
79
mg
Copper:
0.05
mg
Folate:
20
µg
Iron:
0.4
mg
Manganese:
0.2
mg
Magnesium:
16
mg
Phosphorus:
63
mg
Selenium:
4
µg
Zinc:
1
mg
Choline:
7
mg