Recipe: $2.69
Per Serving: $0.34
Yield: Almost 4 cups
I have a bone to pick with all the homemade coconut recipes on the Net. They basically suck.
But this, not to toot my own horn or anything, definitely doesn't suck. If you like coconut cream or coconut milk, this is going to change your world.
Okay, that might be slightly dramatic. But here's the deal, people of the world like canned coconut milk because it is thick and creamy. And it makes for delicious Paleo Dark Chocolate Mousse, and Red Lentil Thai Curry. For real. I have ISSUES with the TetraPaks of coconut milk beverage, and canned coconut is the way to go.
Except for the fact that it runs somewhere from $1-$4 per can, and often contains thickening agents like xanthan gum and carageenan. That's TWO problems for me. I've made it using other recipes before and I was never impressed. It didn't have enough coconut flavor, it was too thin, etc. But there's such an easy fix.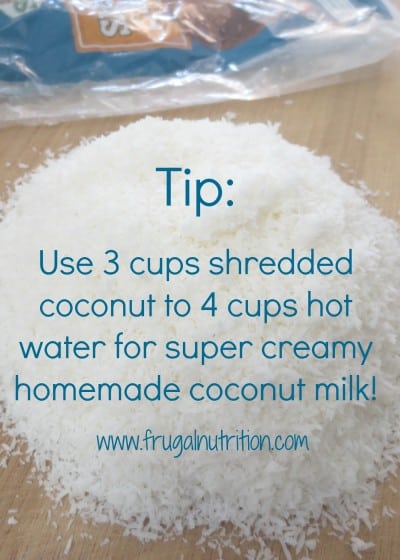 Most recipes call for something like 4 cups of water to 1-2 cups shredded coconut milk. I CALL BULLS**T. That turns into a watered-down version of coconut milk, nothing like the canned stuff (though it does taste much better than the cartons). Instead, change that ratio to this: 4 cups of water for 3 cups of shredded coconut. Or 1 cup water to 3/4 cup shredded coconut. Or 1 and 1/3 cup water to 1 cup shredded coconut. Yep, it's worth it.
If you're just trying to make a watery beverage that isn't water, then, yeah, I guess you can make coconut milk with the standard recipe, but if you're looking for a punch of flavor for stews, curries, soups, smoothies, popsicles, and mousse…this is the way to go.
Also, you can use a nutbag if you want. I think they're like $2 each. But I don't have one, and I don't plan to get one. Also, I did find some reusable produce bags at Sprouts, 3 for $2.99. Those seem like they might work also, but your milk might have a little pulp.
The end.
Print
Easy Homemade Creamy Coconut Milk – No Special Tools Required!
---
Author:

Prep Time:

15 mins

Total Time:

15 mins

Yield:

8

1

x
Scale
Ingredients
3 cup

s shredded coconut (

one

8ish-ounce package)

4 cup

s hot water (not boiling)
Tools Needed:
blender
strainer (which is technically optional, you can just use a bowl.)
non-fuzzy dish towel (or nut milk bag, or cheesecloth)
---
Instructions
Pour ingredients in blender and let soak (covered) for about 10 minutes. (I microwave the water for 3 minutes, then wait about 30 seconds before pouring it over the coconut.)
Blend for 1 minute, then stir, and blend again. Repeat 3-5 times, or until it is thick and creamy.
Line the strainer with a dish towel and place over a large pot or container. Pour the coconut mixture into the dish towel, then squeeze out all the water. Voila! It's surprisingly cheap & easy!
Note: You can repeat this process 2-3 times and the 2nd and 3rd pressings will yield coconut milk that is similar to the store-bought carton stuff. If that's what you're into.
Yield: just shy of 4 cups coconut milk. Serving: 1/2 cup per serving.
---
Category:

Drink, Make Ahead