This homemade creamy coconut milk is everything you want in a dairy-free beverage! It's thick, rich, delicious, and not at all watery. You can use it in other recipes, like a curry or a mousse, or you can enjoy it as is!
Recipe: $2.69 | Per Serving: $0.34 | Yield: ~4 cups (8 servings)
Why I Love This Homemade Creamy Coconut Milk
Not to toot my own horn or anything, but this recipe definitely doesn't suck. If you like coconut cream or coconut milk, this is going to change your world.
Okay, that might be slightly dramatic. But here's the deal, people of the world like canned coconut milk because it is thick and creamy. It makes for delicious Paleo Dark Chocolate Mousse and Red Lentil Thai Curry - for real. The (major) downside is that canned coconut runs somewhere from $2-$4 per can, and often contains thickening agents like xanthan gum and carrageenan.
I've made homemade coconut milk using other recipes before and I was never impressed. It didn't have enough coconut flavor, it was too thin, etc. But never fear - I've found an easy fix!
How to Make Coconut Milk from Shredded Coconut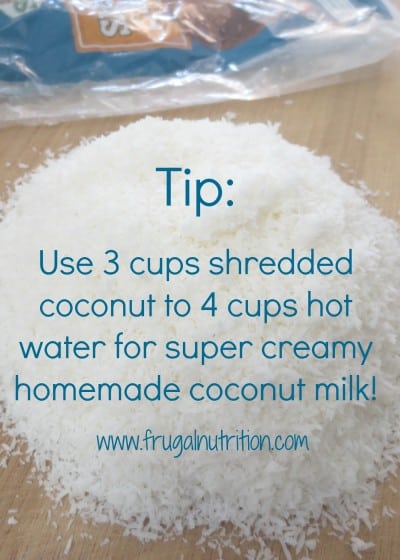 Shredded coconut is the key to the creamiest coconut milk that has no additives! Most recipes call for something like 4 cups of water to 1-2 cups shredded coconut milk. I CALL BULL! That turns into a watered-down version of coconut milk, nothing like the canned stuff, and we're trying to replicate the good canned stuff here!
Step By Step Instructions to Make Thick & Creamy Coconut Milk
Use this ratio: 4 cups of water for 3 cups of shredded coconut.

Or, for a smaller batch, use 1 cup water to ¾ cup shredded coconut.

Soak shredded coconut in hot (not quite boiling) water for about 10 minutes.
Add soaked coconut and soaking liquid to blender. Blend for 1-3 minutes, stopping to stir and scrape down the sides as needed.
Strain through dishcloth or nut milk bag into a large bowl. I find that fine mesh sieves are not fine enough for nut milks, so I recommend using either a non-fizzy dishcloth or a nut milk bag.
If you're just trying to make a watery beverage that isn't water, then, yes, you can definitely make coconut milk with the standard recipe (4 cups water for 1-2 cups coconut), but if you're looking for a punch of flavor for stews, curries, soups, smoothies, popsicles, and mousse…this is the way to go.
FAQ
How do you thicken coconut milk?
It's all about the proportions! I find most recipes don't use enough shredded coconut and the milk comes out more like coconut-flavored water. That's not what we're going for here! This recipe is creamy, so it calls for more shredded coconut than you'd expect.
Is it cheaper to make your own coconut milk?
Yes! Canned coconut runs $2-$4 per can, and your homemade ingredients (shredded coconut and water) give you much more bang for your buck. Plus, it doesn't contain artificial additives!
How long does homemade coconut milk last?
About five days in an air-tight container, refrigerated.
Dietary Modifications
Paleo: Yep!
Vegetarian: Yep!
Dairy-Free: Of course!
Variations
You can use a nut milk bag if you want, as they're easy to find these days. Thrive Market sells them, and there are lots of options on Amazon. But if you don't have one, you can use a dish towel, or in a pinch, use a reusable produce bag!
Add fresh fruit to the blender to make fruity flavored coconut milk!
Sprinkle in some cocoa powder and a bit of vanilla extract for a healthier chocolate milk.
Go seasonal! In the autumn and winter, you can add in seasonings like allspice, cinnamon, and pumpkin pie spice.
Want to enjoy the traditional flavor of coconut milk with a sweeter kick? Add a bit of honey.
Additional Ways to Use Coconut Milk
This coconut milk is creamy enough to use in a variety of ways! Here are a few ideas to get your wheels turning.
I hope you enjoy this recipe - and if you make it, please be sure to leave a ⭐️ review and comment below! Be sure to follow me on Instagram, and for videos of different recipes from my blog, please check out my YouTube channel!
PIN THIS RECIPE FOR LATER!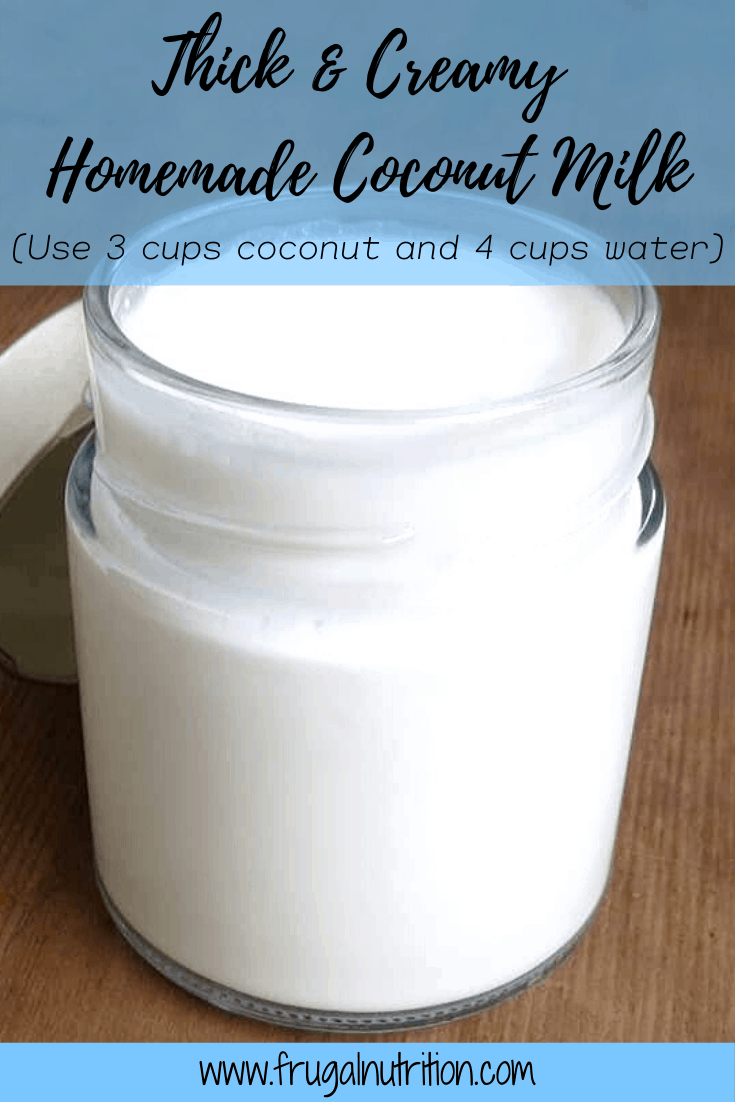 Homemade Creamy Coconut Milk
This homemade creamy coconut milk is everything you want in a dairy-free beverage! It's thick, rich, delicious, and not at all watery. Plus, no special tools are required! It's perfect for stews and curries!
Equipment
blender

strainer

which is technically optional, you can just use a bowl.

non-fuzzy dish towel

or nut milk bag, or cheesecloth
Ingredients
3

cups

shredded coconut

one 8ish-ounce package

4

cups

hot water

not boiling
Instructions
Pour ingredients in glass bowl or blender jar and let soak (covered) for about 10 minutes. (I microwave the water for 3 minutes, then wait about 30 seconds before pouring it over the coconut.)

Blend for 1 minute, then stir and scrape, and blend again. Repeat 3-5 times, or until it is thick and creamy.

Line the strainer with a dish towel and place over a large pot or container. Pour the coconut mixture into the dish towel, then squeeze out all the liquid. Voila! It's surprisingly cheap & easy!

Note: You can repeat this process 2-3 times and the 2nd and 3rd pressings will yield coconut milk that is similar in consistency to the store-bought carton stuff.

Yield: just shy of 4 cups coconut milk. Serving: ½ cup per serving.
Notes
This coconut milk can be stored in an air tight container in the refrigerator for five days.
Nutrition
Calories:
169
kcal
Carbohydrates:
16
g
Protein:
1
g
Fat:
12
g
Saturated Fat:
11
g
Polyunsaturated Fat:
0.1
g
Monounsaturated Fat:
1
g
Sodium:
88
mg
Potassium:
114
mg
Fiber:
2
g
Sugar:
15
g
Vitamin B1:
0.01
mg
Vitamin B2:
0.01
mg
Vitamin B3:
0.2
mg
Vitamin B5:
0.2
mg
Vitamin B6:
0.1
mg
Vitamin C:
0.2
mg
Vitamin E:
0.1
mg
Vitamin K:
0.1
µg
Calcium:
5
mg
Copper:
0.1
mg
Folate:
3
µg
Iron:
1
mg
Manganese:
1
mg
Magnesium:
17
mg
Phosphorus:
36
mg
Selenium:
6
µg
Zinc:
1
mg
Choline:
7
mg