Recipe: $4.63 | Per Serving: $0.38 | Yield: 12
Behold: the most allergy-friendly of all chocolate chip cookies. The Any-Butter Cookie! (Except for regular dairy butter.) Any Butter cookies are made with nearly any nut or seed butter, are chewy and delicious, and use only 5 ingredients (plus water and salt).
They are one of my favorite cookies to whip up because they hit all the marks: texture - chewy, flavor - balanced and not too sweet, look - runway ready!
As the title suggests, these chewy chocolate chip cookies can be made with any nut butter or seed butter. Perfect for friends with allergies.
I am a very picky chocolate chip cookie eater. I grew up on Nestlé, but I also fell in love with Tara O'Brady's cookies as an adult, tried every variation of Alton Brown's cookies (wasn't a fan), was briefly obsessed with Ambitious Kitchen's Paleo Chocolate Chunk Cookies (still LOVE them), and now, my newest cookie find: these allergy-friendly cookies that all my friends can eat!
I don't mess with the store bought crunchy pre-packaged cookies. I want chewy and chocolatey and fresh. P.S. These chocolate chip cookies can be made without brown sugar! And without white sugar! It's a sugar miracle!
I really mean it when I say ANY Butter Cookies.
We're talking tahini chocolate chip cookies or almond butter chocolate chip cookies or cashew butter chocolate chip cookies...really, ANY nut or seed butter will do!
I've made these with store-bought tahini (Sprouts, Trader Joe's, Soom), almond butter (Sprouts, Trader Joe's, Thrive Market (affiliate link)), cashew butter (Artisana or Thrive Market (affiliate link)) - as well as homemade pumpkin seed butter and homemade cashew butter.
They are everything you need in a chocolate chip cookie: chewy, gooey in the middle, slightly crisp around the bottom edge, and ALLERGY FRIENDLY.
Here's your allergy-friendly list for these chewy cookies:
gluten-free
dairy-free
nut-free
egg-free (this is the hardest one usually - but it works here!)
soy-free
You can choose to make them with nut butter, but my favorite version is with tahini. The most popular version I've made has been the cashew butter version, but I just don't love cashews, and you do get a hint of a cashew flavor when you use cashew butter.
I will also say that the dough will vary greatly depending on which nut or seed butter you use. For thinner versions of nut or seed butters, I recommend using just 2 Tablespoons of water to make your flax egg. And just truuuuust. It always comes together in the end!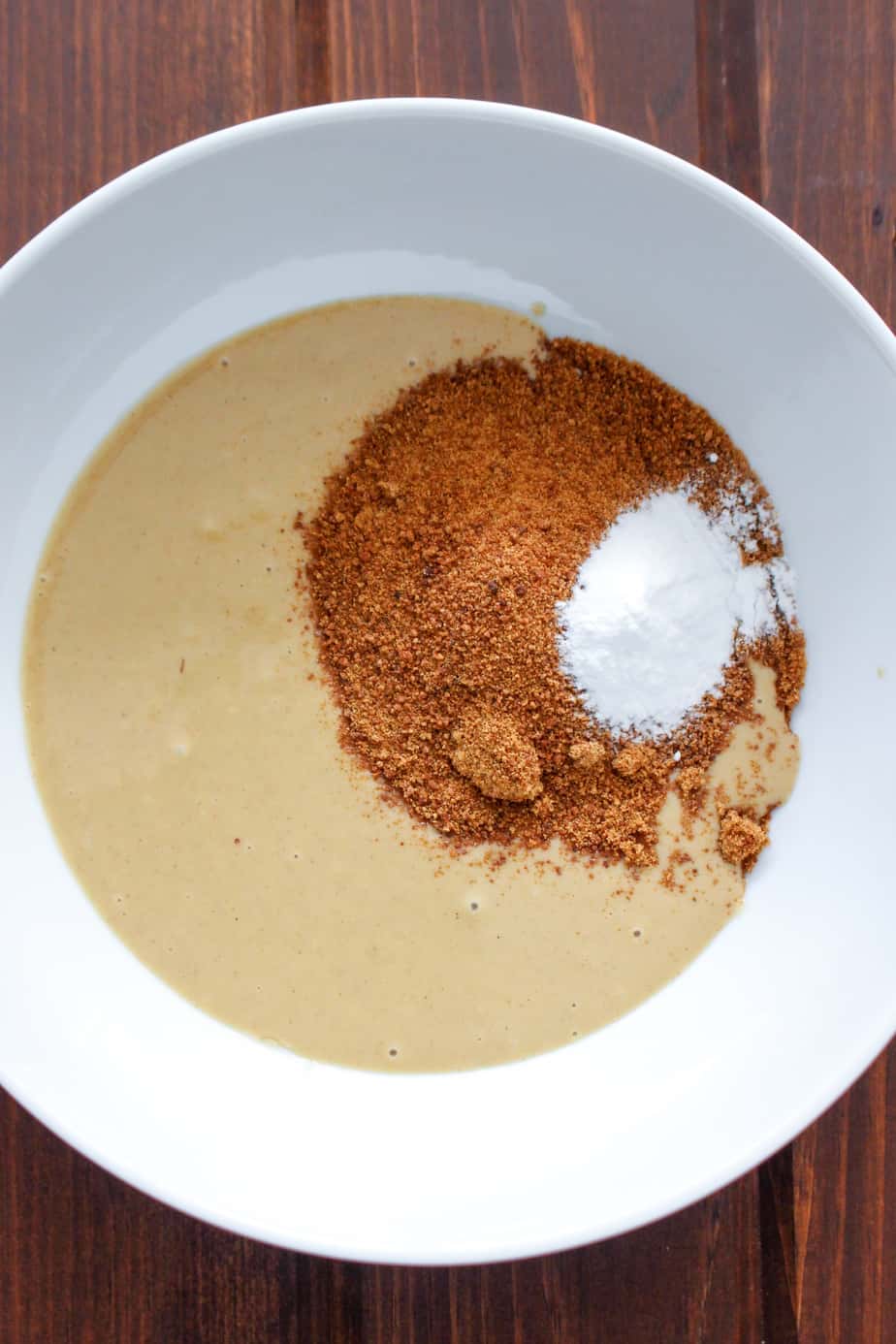 I first made these ANY Butter Chocolate Chip Cookies last December. My friend and I got together to do a bunch of baking, but her husband can't have eggs or gluten or almonds, which complicates a lot of baking. I set about to merge together several different cookie recipes and tips to find a somewhat affordable allergy-friendly version.
Even though the first batch was way too sweet (I think I started with ⅓ cup of brown sugar), it was still a hit and after a few more tweaks I settled on this version as the absolute all star.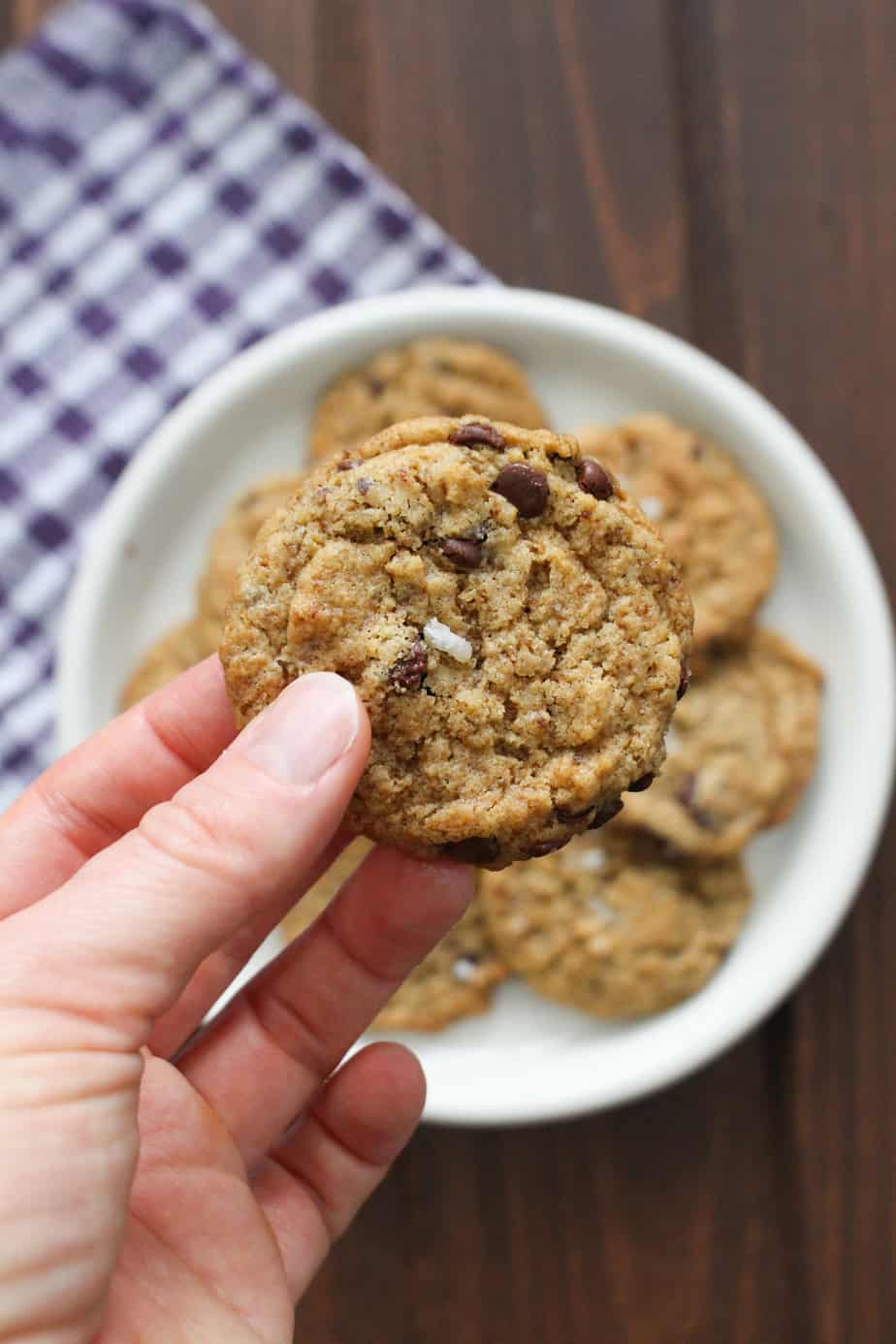 Honestly, even my hard-to-please sister was surprisingly excited by these cookies. The batter doesn't look like much when you're mixing it together, but the resulting cookies are excellent! I included some notes in the recipe for using different nut butters; as I said, my personal favorite flavor profile is tahini, but the chewiest texture I've achieved has been with cashew butter.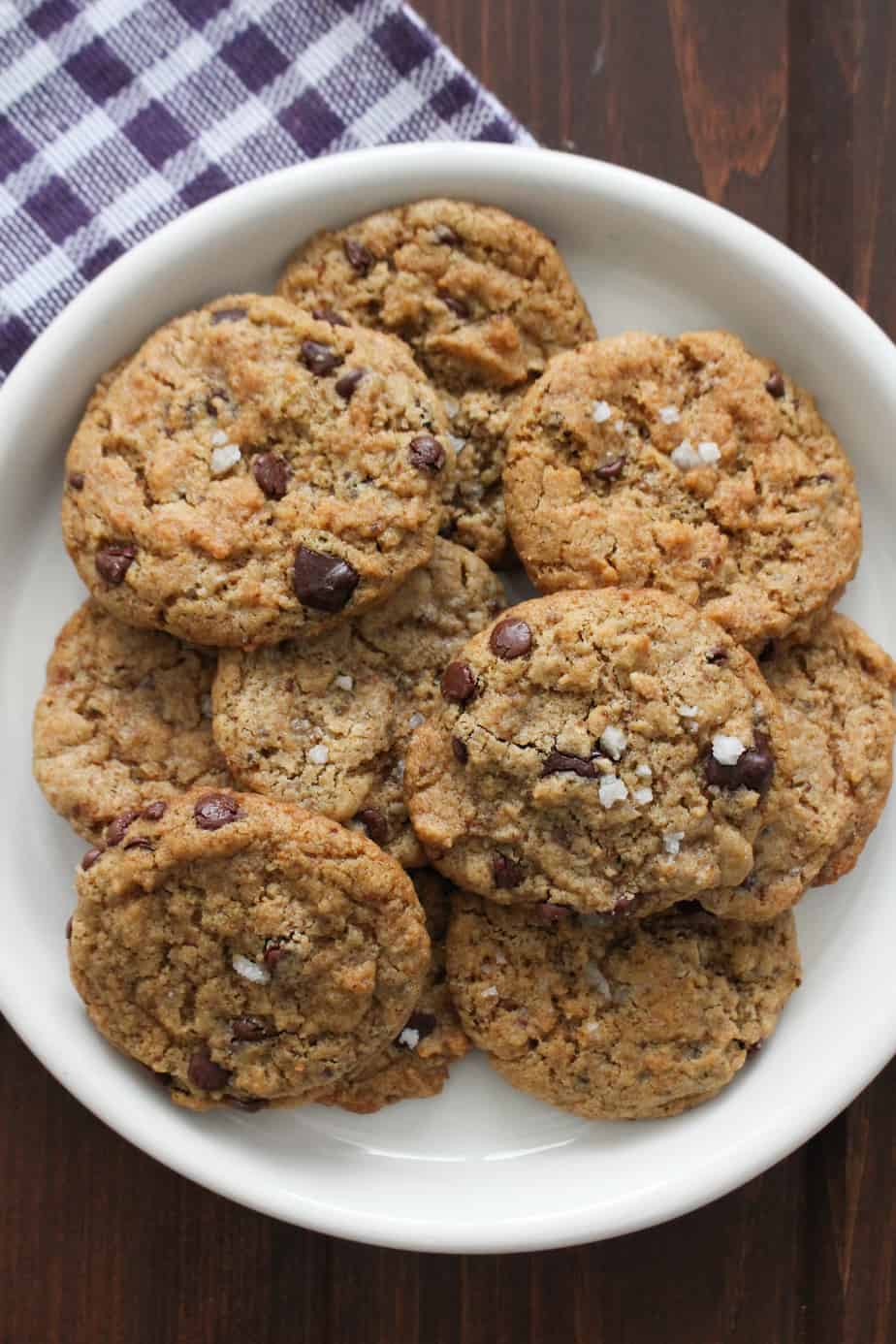 I made a triple batch for an event and they were snatched up in no time at all - prepare to be so amazingly surprised with these allergy friendly chewy chocolate chip cookies!
Paleo: Yep!
Vegetarian: Yep! (Vegan)
PIN THIS RECIPE FOR LATER!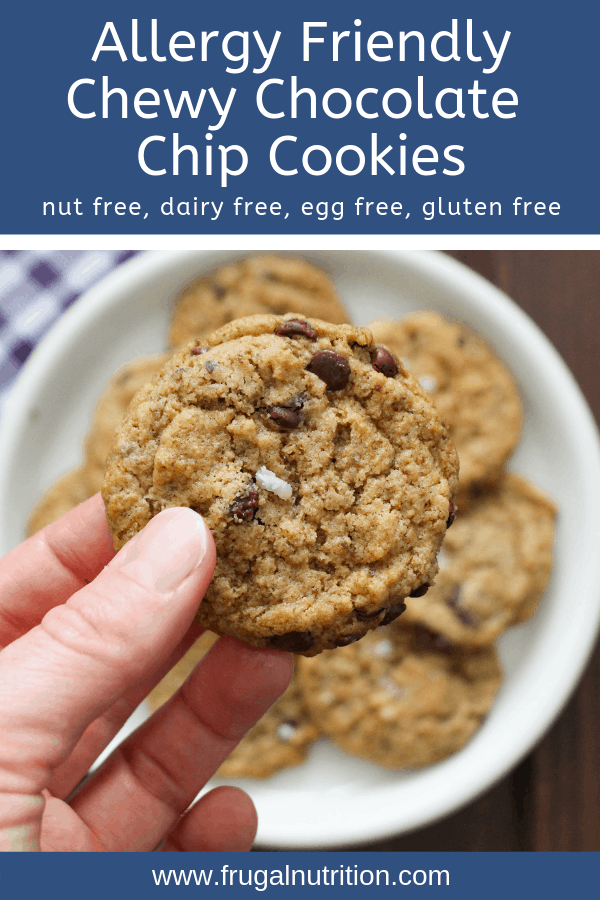 ANY Butter Chocolate Chip Cookies
These chewy chocolate chip cookies are crowd-pleasing, allergy-friendly allstars! Cashew butter provides the best texture, while tahini is my personal favorite for flavor. Make sure you get a high-quality nut or seed butter that is thick and well-mixed.
Ingredients
1

flax egg

1 Tablespoon flaxseed + 3 Tablespoons water OR 1 regular egg

¾

cup

any salted nut or seed butter

almond, cashew, and tahini are my favorite

⅓

cup

coconut sugar

or brown or white sugar

1

teaspoon

baking soda

¼

cup

dark chocolate chips

I like Enjoy Life or Guittard)

Coarse or flakey sea salt for topping
Instructions
Make a flax egg: combine the ground flax with the cold water and stir. Place in fridge and let sit for 15 minutes. (Alternatively, you can use one regular egg.)

Preheat oven to 350ºF.

In a large bowl, combine the nut or seed butter, coconut sugar, baking soda, and the prepared flax egg. Stir well, then add the chocolate chips.

Divide into 9-12 small-medium sized cookies and place on cookie sheet at least 1-2 inches apart (cookies will spread).

Bake on 350ºF for 10-13 minutes, or until cooked through but still chewy.

LET COOL. This is important. The cookies will be soft / crumbly when they first come out. Let them cool at least 10 minutes. The texture improves further after chilling in the fridge!
Notes
If your nut / seed butter is very drippy and you're using a flax egg, use 2 just Tablespoons of water.
If your nut / seed butter is very drippy, you will want to use 6 Tablespoons of sugar to help with the structure.
Your batter will vary greatly depending on the nut butter you use.
- The chewiest cookies are made with a flax egg and a thick nut butter, like cashew (Artisana is excellent!).
- Almond butter is slightly cake-ier (I prefer Sprouts brand or raw almond butter from Trader Joe's).
- Tahini is usually chewy, but depending on the brand, can be a little thinner and more crumbly (Trader Joe's, Sprouts, and Artisana are my favorite brands for chewy). Soom is a thinner tahini, which results in a slightly flatter and crumblier cookie (though none of my tasters had an issue with this), so with thinner butters, I recommend making the flax egg with 1 Tablespoon flax and just 2 Tablespoons water.
Nutrition Label is for 12 cookies made with Tahini and a Flax egg.
Nutrition
Calories:
142
kcal
Carbohydrates:
11
g
Protein:
4
g
Fat:
10
g
Saturated Fat:
2
g
Polyunsaturated Fat:
2
g
Monounsaturated Fat:
5
g
Cholesterol:
0.04
mg
Sodium:
97
mg
Potassium:
147
mg
Fiber:
2
g
Sugar:
8
g
Vitamin A:
1
IU
Vitamin B1:
0.02
mg
Vitamin B2:
0.2
mg
Vitamin B3:
1
mg
Vitamin B5:
0.1
mg
Vitamin B6:
0.02
mg
Vitamin B12:
0.01
µg
Vitamin C:
0.02
mg
Vitamin E:
4
mg
Vitamin K:
0.3
µg
Calcium:
68
mg
Copper:
0.2
mg
Folate:
10
µg
Iron:
1
mg
Manganese:
0.4
mg
Magnesium:
48
mg
Phosphorus:
89
mg
Selenium:
1
µg
Zinc:
1
mg
Choline:
10
mg