Recipe: $5.32 | Per Serving: $0.67 | Yield: 8 | Jump to Recipe
Looking for a low sugar snack to add to your lunchbox? Let's talk about this delicious tahini fudge! Made with coconut butter / coconut manna (my current obsession), and tahini, these little fudge bites are perfect for snacking and for seed cycling.
This is the second post in a 2-post series about seed cycling. If you'd like to learn more, you can read the first post here: Spiced Flax & Pumpkin Seed Bites (Seed Cycling).
Seed Cycling: Sesame and Sunflower Seeds
Sesame seeds and sunflower seeds are the seeds of choice for the second half of your cycle, and while it is pretty easy to incorporate the sunflower seeds, I constantly find myself looking for an easier way to get my sesame seeds in. Although the ideal scenario is to buy whole seeds and grind them yourself (storing them in the freezer), sometimes you need a shortcut, and tahini is the answer!
I love that Soom Tahini has little individual packets of tahini you can buy for emergencies, and Artisana offers raw tahini, which is ideal for cycling (at a great price on Thrive Market!). While I sometimes feel like preparing my seeds can be a chore, I always look forward to tahini fudge!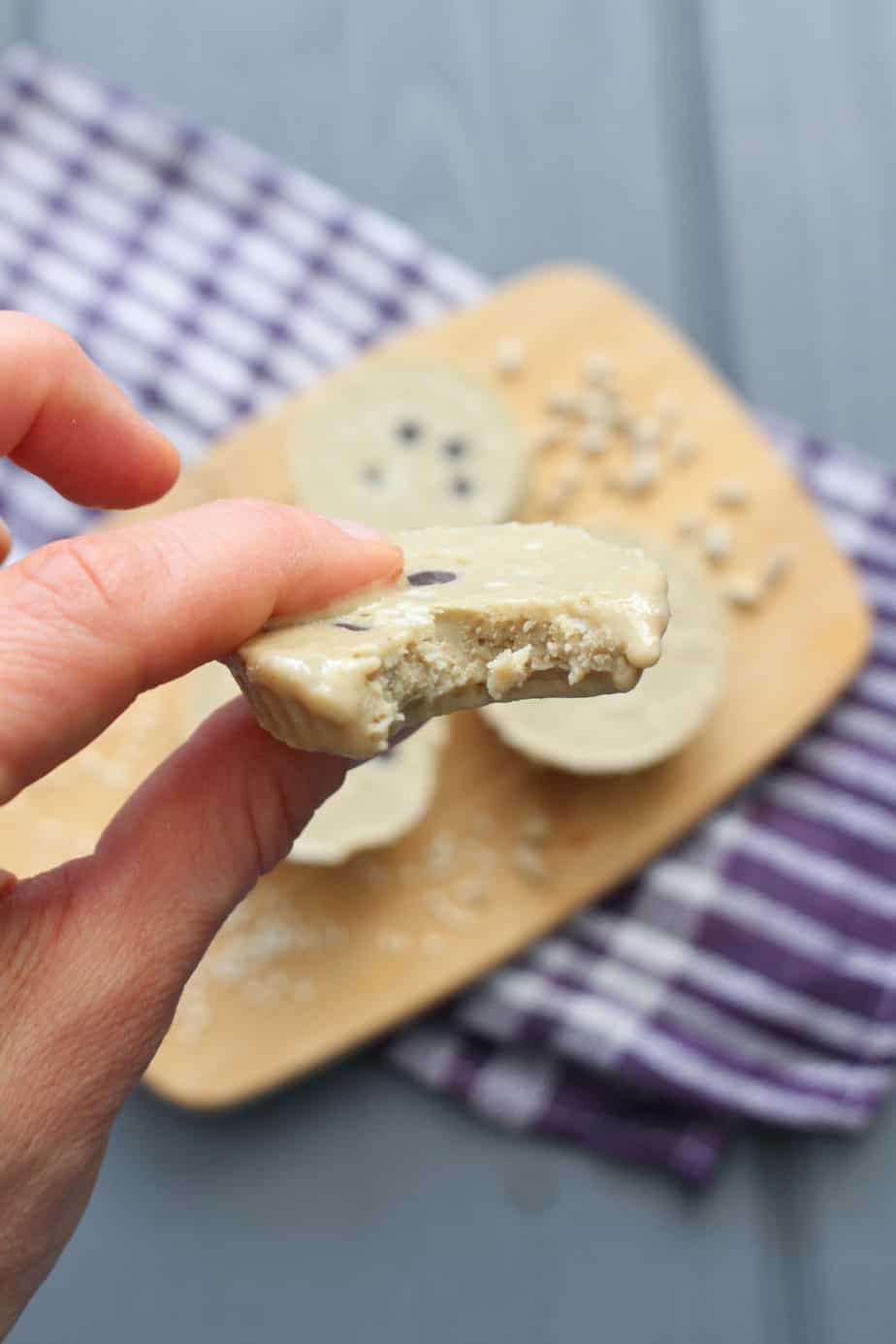 Either way, this series is about making seed cycling approachable for your lifestyle. It is recommend to follow seed cycling for at least 3 full cycles to see effects. Consistency is key, and I recommend using the raw, freshly ground seeds for your first cycle (and as often as you can), but you can start incorporating things like tahini and lightly roasted seeds as you get further along in the process. I like to keep these in my freezer for those days when freshly ground seeds just aren't in the cards.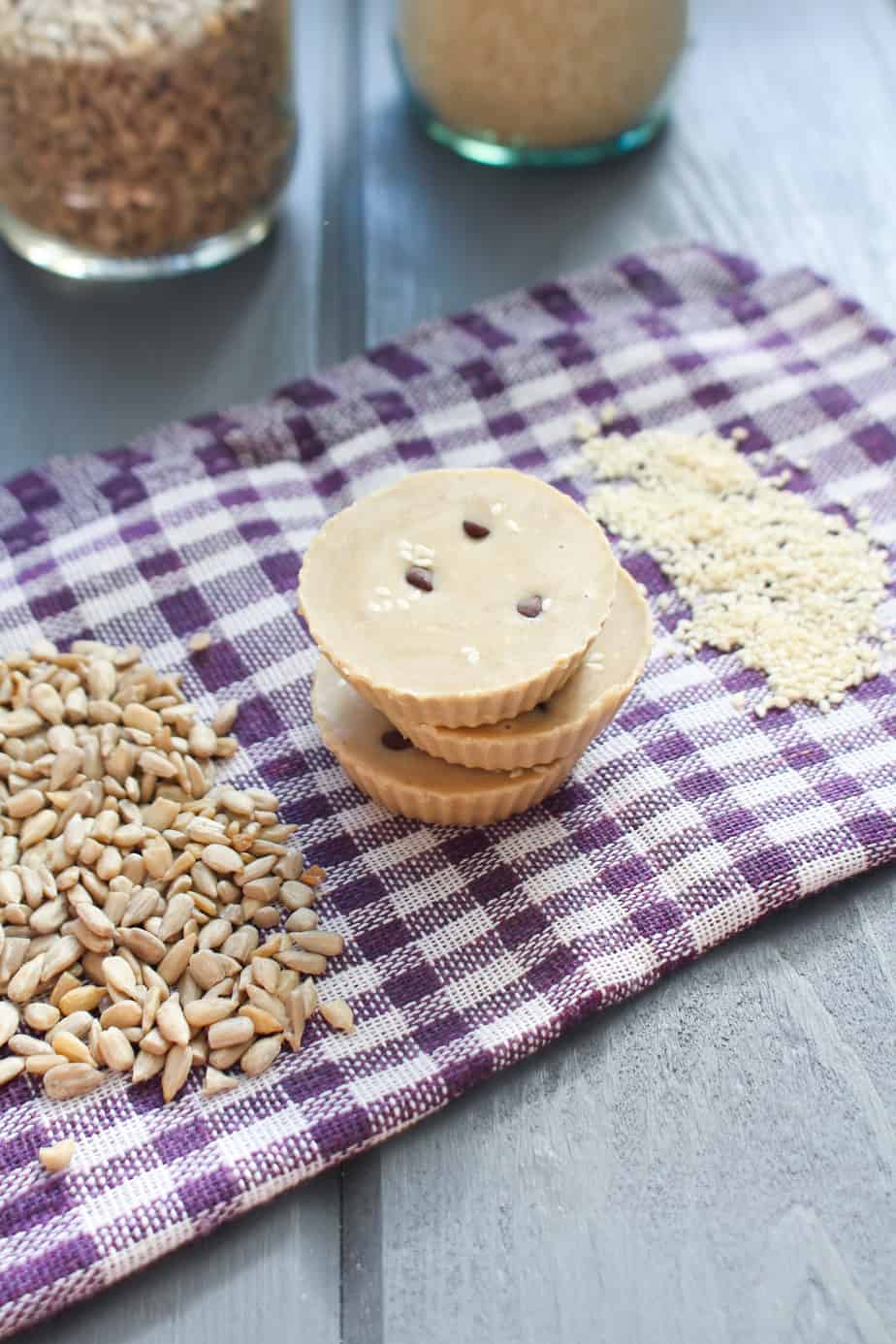 And if you're really just here for the fudge, let me tell you, it will not disappoint! This is an unsweetened fudge recipe because I find that the coconut butter plus a few chocolate chips is a sweet enough combination for me. However, tahini is a relatively bitter food, so feel free to stir in either more coconut butter or add a little honey or maple syrup to sweeten it to your liking. Once I stirred in additional chunks of coconut butter (which is solid at room temperature) and the texture and flavor contrast was the best!
The recipe is super easy - just grind up your sunflower seeds a little bit, combine with tahini and coconut butter and any sweetener of choice, and divide into muffin tins and freeze! You can also pour this into one parchment-lined container, but I like to use silicone muffin cups because I can divide the servings easily and grab one from the freezer whenever I'm ready for my seeds.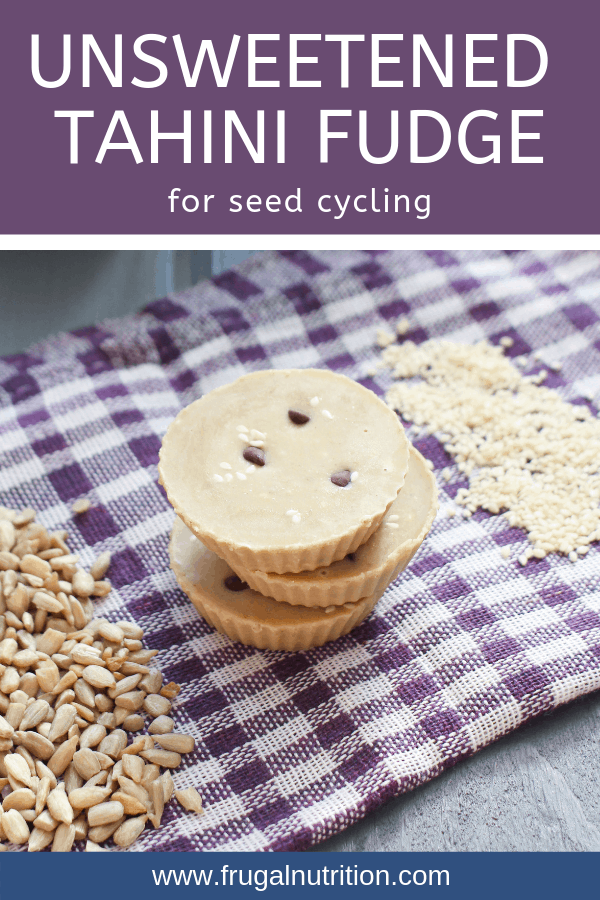 Paleo: Yep! (as long as you get soy-free chocolate chips)
Vegetarian: Yep!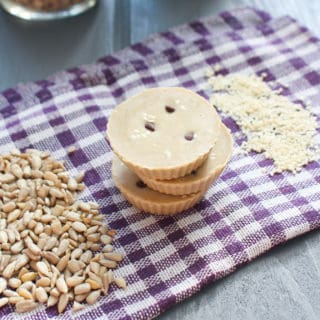 Unsweetened Tahini & Sunflower Seed Fudge (Seed Cycling)
This tahini and sunflower seed fudge makes a healthy, tasty snack that's perfect for seed cycling.
Ingredients
½

cup

sunflower seeds

½

cup

tahini

2-4

Tablespoons

coconut butter

more butter = sweeter fudge

1

tablespoon

maple syrup

or honey, optional

2

tablespoons

mini chocolate chips
Instructions
In a food processor (or maybe in a blender, if you have a good one), process the sunflower seeds until they are broken up a bit. (I prefer larger pieces, but you can process until a coarse flour if you prefer!).

Add the tahini, coconut butter, and optional sweetener and process just until combined.

Divide among 8 silicone muffin tins and top with mini chocolate chips and sesame seeds. Optional: you can pour into a small parchment-lined glass dish and then cut into 8 squares.

Freeze for at least one hour and then serve. Store in freezer.
Notes
Additional add-ins: add cacao nibs or chunks of coconut butter for some texture and flavor contrast!
Nutrition
Calories:
187
kcal
Carbohydrates:
10
g
Protein:
5
g
Fat:
15
g
Saturated Fat:
3
g
Polyunsaturated Fat:
5
g
Monounsaturated Fat:
5
g
Trans Fat:
0.01
g
Cholesterol:
1
mg
Sodium:
10
mg
Potassium:
128
mg
Fiber:
2
g
Sugar:
4
g
Vitamin A:
23
IU
Vitamin B1:
0.4
mg
Vitamin B2:
0.1
mg
Vitamin B3:
2
mg
Vitamin B5:
0.1
mg
Vitamin B6:
0.1
mg
Vitamin C:
1
mg
Vitamin E:
3
mg
Calcium:
36
mg
Copper:
0.4
mg
Folate:
34
µg
Iron:
1
mg
Manganese:
0.2
mg
Magnesium:
42
mg
Phosphorus:
174
mg
Selenium:
10
µg
Zinc:
1
mg
Choline:
5
mg
Nutrition Label is without added sweetener.