Recipe: $9.22 | Per Serving: $2.30 | Yield: 4 | Jump to Recipe
These meatballs are the BEST! They're super flavorful (thank you, herbs!), they're really rich (lamb for the win!), and they've got a great texture despite being gluten-free, flour-free, and egg-free (cauliflower mash!). Put down the eggs and the milk-soaked bread crumbs and give these Herbed Lamb Meatballs (paleo) a try!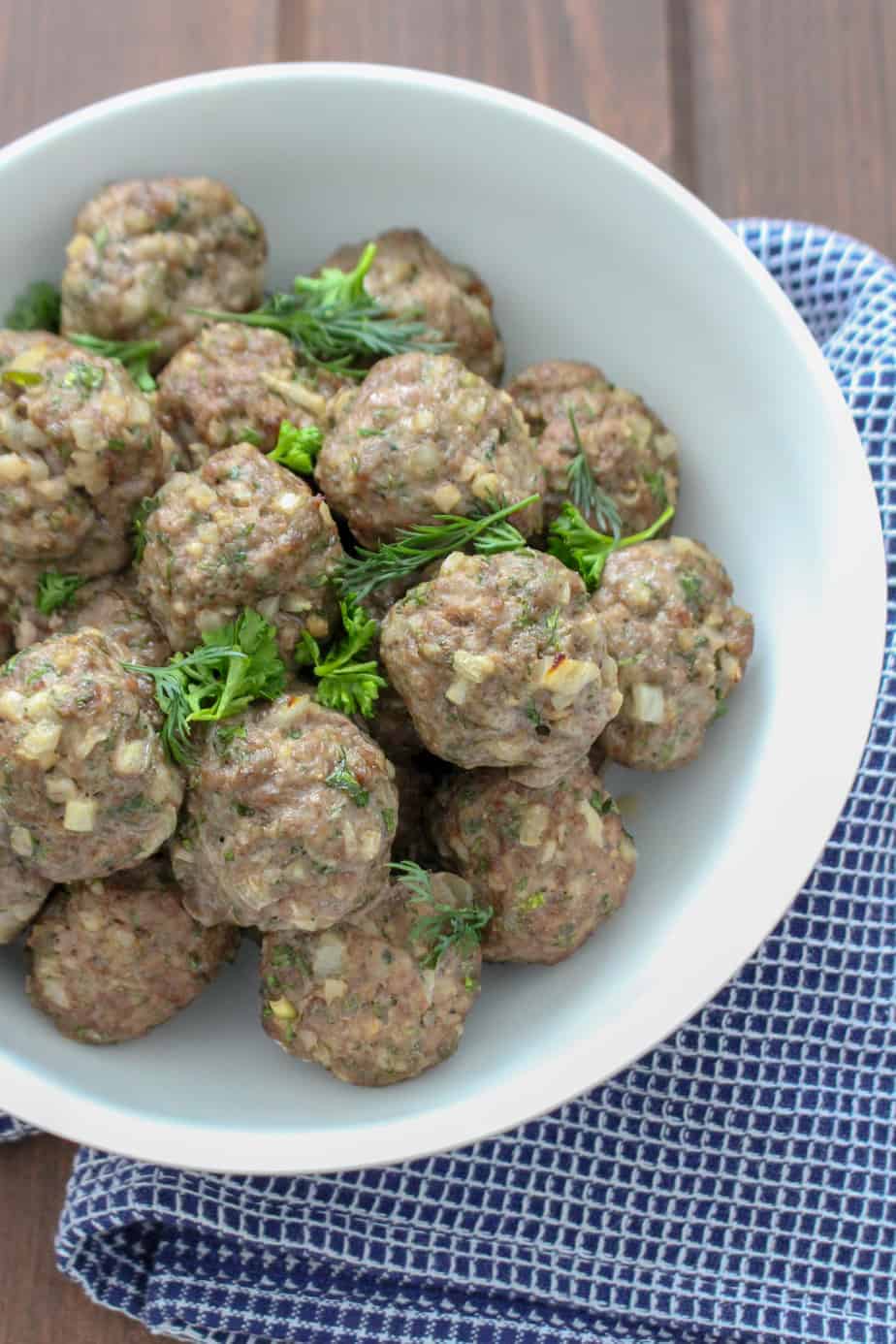 I started using more lamb when we started receiving a MoinkBox about two years ago. And while I still keep my meat box order pretty simple, I always include at least a pound of ground lamb to keep things interesting. It has been a game changer! I love lamb for the flavor, but it also has a solid dose of B12 and if you get high quality (pastured / grass-fed), it's got a better omega-3 profile than grass-fed beef.
Depending on where you are, lamb can sometimes be really expensive, so just keep that in mind as you plan this recipe. I will often make this recipes as written, but add a pound of either ground beef, pork, turkey, or chicken and make twice as many meatballs to lower the average-serving price. I get my lamb from my meat box, but I will also sometimes snag grass-fed lamb from either Safeway or Sprout's when I see it on sale.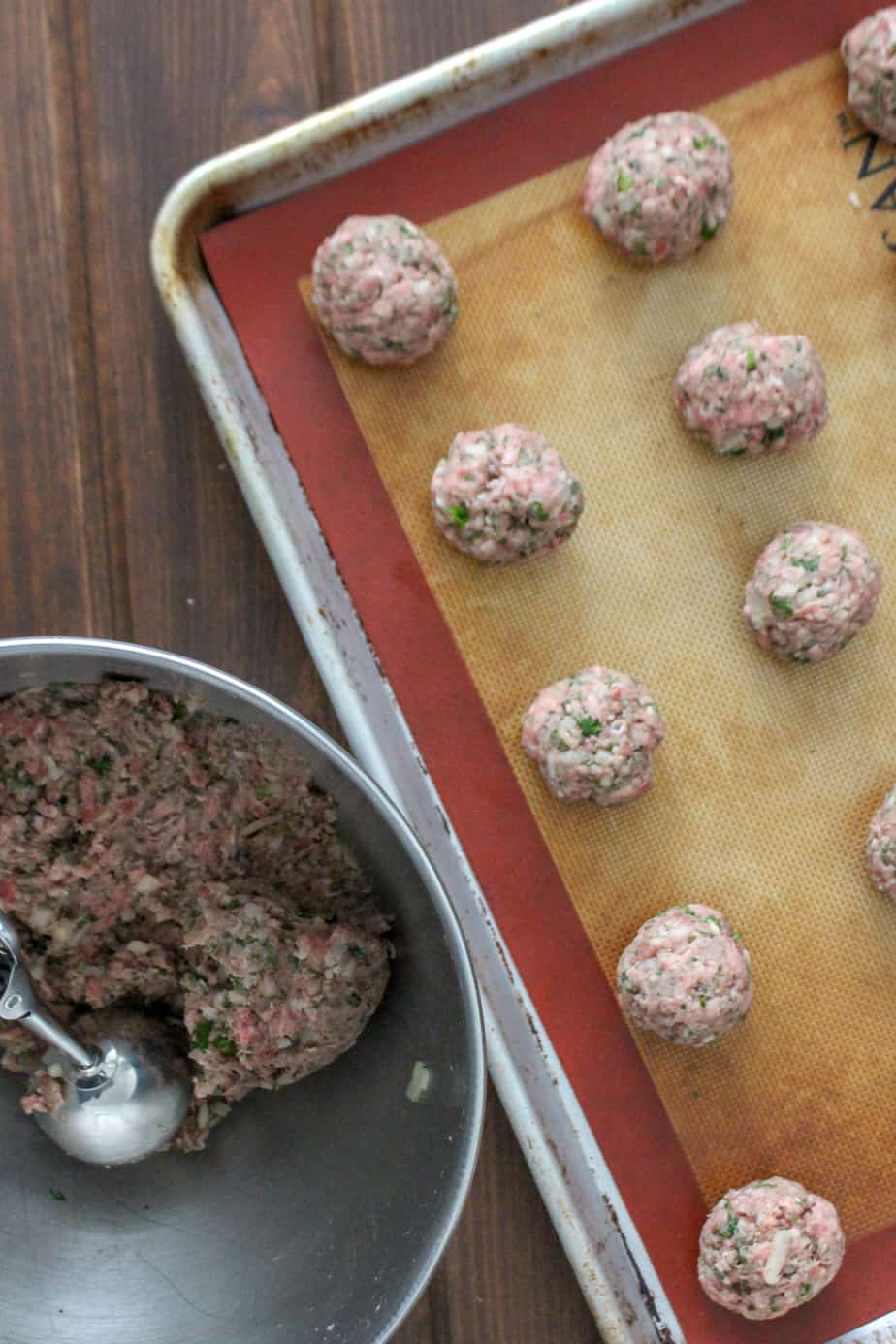 My mom is a master at making lamb chops, and I remember having lamb at Easter while growing up, but somehow I never took the time to learn how to cook lamb of any kind. I've been experimenting with different cuts for a while, but I mostly tend to stick with ground lamb for the convenience. Plus, you can make things like awesome 20-Minute Lamb Curry, and these beautiful herbed lamb meatballs!
Also, these are BAKED!
I often just can't be bothered with frying meatballs on the stovetop, and I find they're still really delicious when baked - you do you! I've included frying instructions in the notes below just in case. Pro tip: if you overcook meatballs, you can salvage them my slow cooking them on low heat in sauce. Red sauce works, but I've also used ratatouille (mostly vegetables) and Thai coconut milk sauce.
If you need another push to get you using more herbs - let this be it.
They're super affordable if you get them from the farmer's market in your area, plus they're basically a more concentrated form of vitamins and minerals. And if you have a green thumb, lots of herbs are relatively easy to grow inside or out all summer long! When I buy them from the grocery store, I can usually find most organic loose herbs in the produce section for $1.49-$1.99 each. That's a lot of flavor and nutrition for not a lot of money.
I like to buy at least one fresh herb per week, and if I have leftovers at the end of the week, they tend to find their way into meatballs, like this dish, or I'll toss together my favorite Magic Green Sauce by Pinch of Yum! Leftover herbs are also great as pesto, cooked into sauces, blended into dressings, or even finely minced and sprinkled on salads.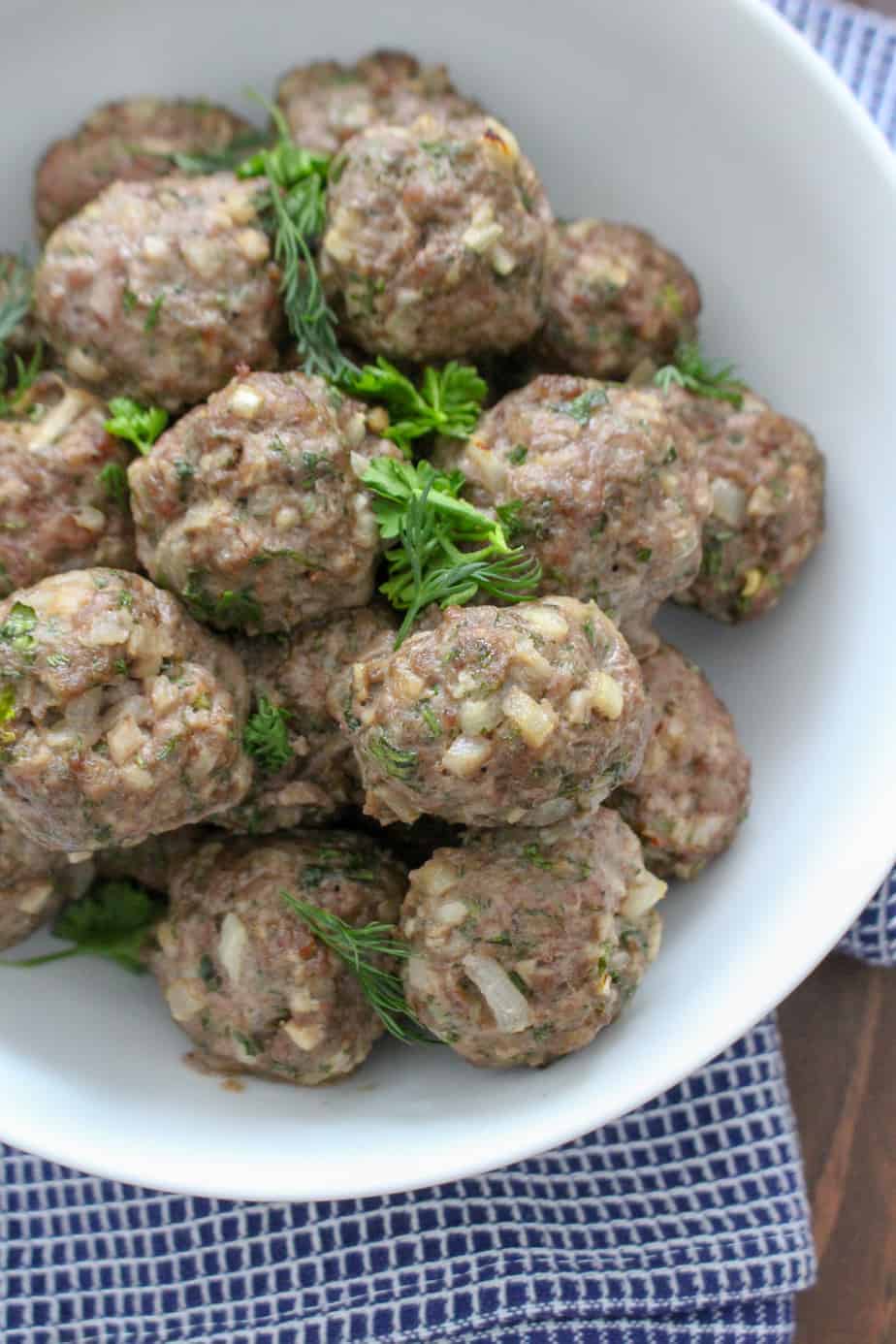 Here I paired these lamb meatballs with a dill-yogurt sauce, which is this Tzatziki recipe, but without the cucumber and using goat kefir instead of Greek yogurt (kefir = more probiotics and goat = less lactose!).
Paleo: Yep!
Vegetarian: Sorry, nope, but I hope this inspires you to use more herbs in your vegetarian cooking!
Herbed Lamb Meatballs (Paleo)
These delicious meatballs are packed with rich umami and bright herb flavors. Makes about 16 meatballs.
Ingredients
1

cup

mashed cauliflower

see instructions/notes

1

pound

ground lamb

½

cup

fresh basil

minced

½

cup

fresh parsley

minced

1

teaspoon

sea salt

½

medium

onion

minced

2

garlic cloves

minced or grated
Instructions
For the Cauli Mash: steam or boil about 1.25 cups cauliflower. Drain (reserving a little water) and puree in blender or food processor. Can also blend thawed frozen cauliflower, which as already been steamed or par-boiled.

Preheat oven to 375F.

Combine all ingredients in a large bowl and mix well, either with your hands or using a stand mixer.

Scoop out medium-sized meatballs (I usually use the small or medium scooper in my 3-scoop set.) You should get about 16 meatballs.

Place them on a parchment or silpat-lined baking sheet and bake about 18 minutes. You can also just check the temperature with a thermometer; you want the centers to be at 165ºF.
Notes
Onions can be sautéed ahead of time or not - I haven't really noticed a huge difference in flavor.
To Fry: Warm a large deep-sided pan or cast-iron skillet over medium-high heat. Add enough ghee, coconut oil, avocado oil, or other fat of choice to cover the bottom of the pan, then fry each meatball, turning as much as needed to cook on all sides. You will have to do this in batches and it will likely spatter a little! Be sure to check doneness.
Nutrition
Calories:
85
kcal
Carbohydrates:
1
g
Protein:
5
g
Fat:
7
g
Saturated Fat:
3
g
Polyunsaturated Fat:
1
g
Monounsaturated Fat:
3
g
Cholesterol:
21
mg
Sodium:
166
mg
Potassium:
112
mg
Fiber:
0.3
g
Sugar:
0.4
g
Vitamin A:
198
IU
Vitamin B1:
0.04
mg
Vitamin B2:
0.1
mg
Vitamin B3:
2
mg
Vitamin B5:
0.3
mg
Vitamin B6:
0.1
mg
Vitamin B12:
1
µg
Vitamin C:
8
mg
Vitamin D:
0.03
µg
Vitamin E:
0.1
mg
Vitamin K:
36
µg
Calcium:
12
mg
Copper:
0.04
mg
Folate:
15
µg
Iron:
1
mg
Manganese:
0.04
mg
Magnesium:
9
mg
Phosphorus:
52
mg
Selenium:
5
µg
Zinc:
1
mg
Choline:
25
mg
Nutrition Label is per meatball. Recipe makes approximately 16 meatballs.