Recipe: $14.41 | Per Serving: $3.60 | Yield: 4 | Jump to Recipe
This is not pizza. This is, however, super delicious spaghetti squash casserole with the flavors of pizza, like oregano and tomatoes and even sausage. Hence the Pizza Spaghetti Squash Casserole. It's really good, even adult spaghetti squash-haters (Zac), and picky kids seem to like it. It's flavorful, it's easy, and you should definitely make it!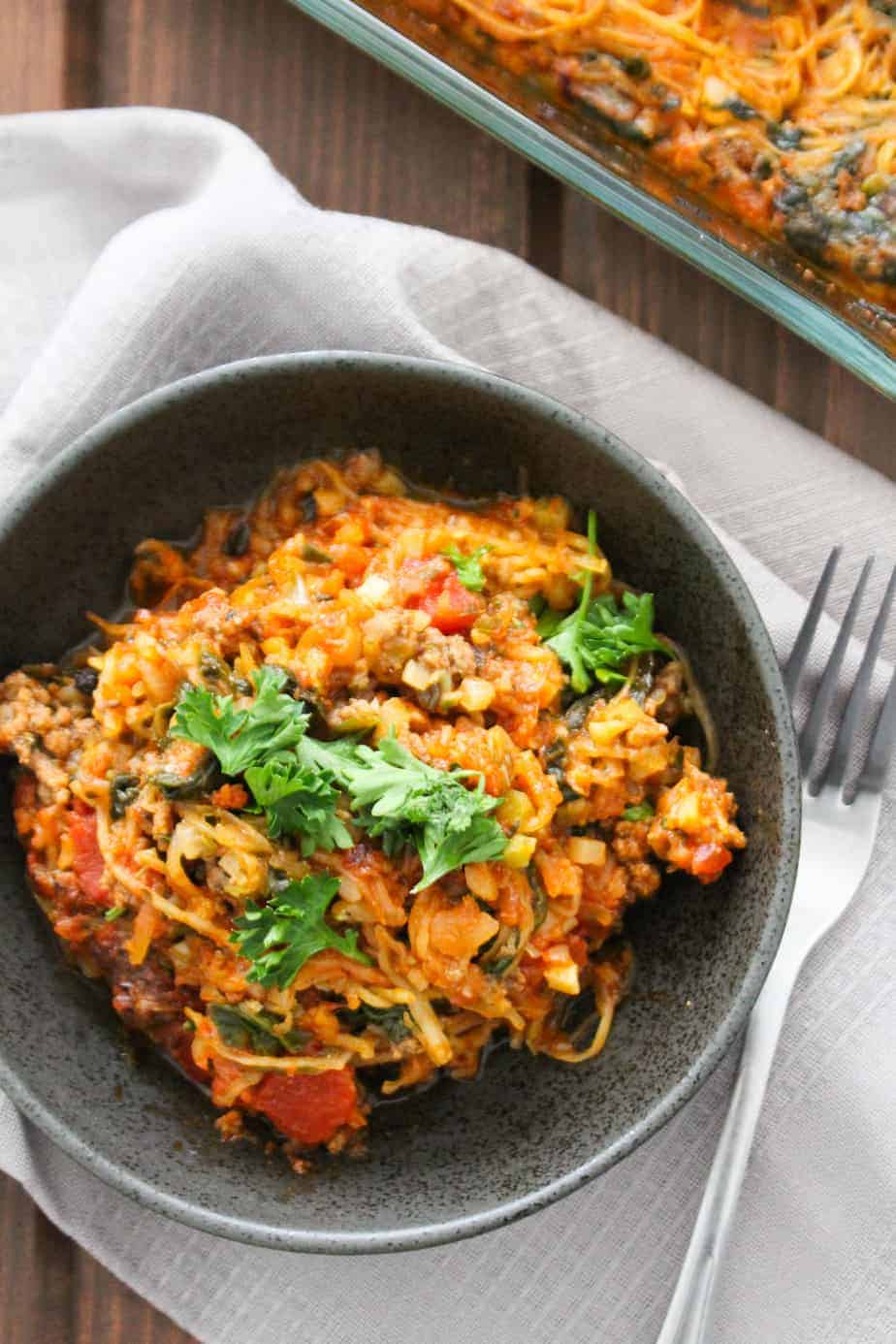 For a little over two years when I first moved to Baltimore I was a director and substitute preschool teacher for a daycare / preschool. It was equal parts awesome and awful, but I consider it an incredible opportunity, and I'd say everyone should spend a week working in a daycare before they're allowed to make laws and policies for families, children, and minimum wage workers in this country.
Full disclosure: this post is a little long because I'm sharing my experience working with kids, so if you're only here for the recipe, JUMP TO IT.
One of my first tasks as director was to clean up the snack menu, so I took over all the nutrition programming for the toddlers and preschoolers - including cooking projects, school lunch, and the twice daily snack menus. I'm really proud of that program, because I was able to get 30 kids off of weekly chicken nuggets and low-fat strawberry yogurt, and on to real chicken, beans, vegetables, and completely unsweetened yogurt. REALLY. After a few months of slowly mixing and phasing out the strawberry and vanilla yogurts, the kiddos were completely happy with full-fat plain yogurt, both greek and regular. (PSA: children should NOT eat sweetened yogurt. It is candy masquerading as a health food, tricking parents and children alike.)
I made a lot of changes to that menu, and I was able to really understand the struggles with food preparation for our school children. We live in a country where many of the lunch ladies themselves are so removed from cooking with real food, that their version of cooking from scratch is still preparing food products - not real food. Plus, our regulating bodies (USDA) are relying on completely outdated research to make their recommendations, which are further confusing parents, pediatricians, caregivers, and children.
My favorite lesson while there was understanding that kids need a lot less variety than we think. In fact, they like eating the same thing over and over because they know what to expect and they can have less stress around mealtimes. We may think they're "sick of" something, but really, we're projecting our own perspective; they're probably just not that hungry, and that's ok. It's good to give kids variety because that's how they learn that more foods are "safe," but variety can be as simple as one new thing a day. Instead of just carrots and hummus today, try carrots, snap peas, and hummus. The combination of safe foods and new foods makes kids more likely to expand their palates, which is the ultimate goal for optimal nutrition!
I don't know what it is about red sauces, but during my two years of feeding 30 kids, red sauces were the magic ticket to getting them to eat nearly anything. Hate vegetables? Add marinara. Hate beans and meat? Add pizza sauce. Hate yogurt? Add pureed raspberries. This pizza spaghetti squash dish was a real sleeper hit for the kids; I'd had some mild success with spaghetti squash for the kids who were buying lunch, so I figured some pizza-flavored squash might work well for the full school, but a lot of people don't like spaghetti squash so I didn't have high hopes. Aside from the one child who would lick the noodles and place them aside, this was a pretty popular dish while I was cooking for the kids.
Making this is usually a pretty straight forward affair: 1 spaghetti squash, 1 pound pork or beef with spices, 1 jar organic pizza sauce, 12ish oz vegetables. Optional alterations include: cheese, bell peppers, olives, ground turkey or chicken, fresh basil, or whatever else you like on pizza. I usually make this as written, but I have added minced onion and bell peppers in the past, and I've also made it with cheese. It's super easy and delicious!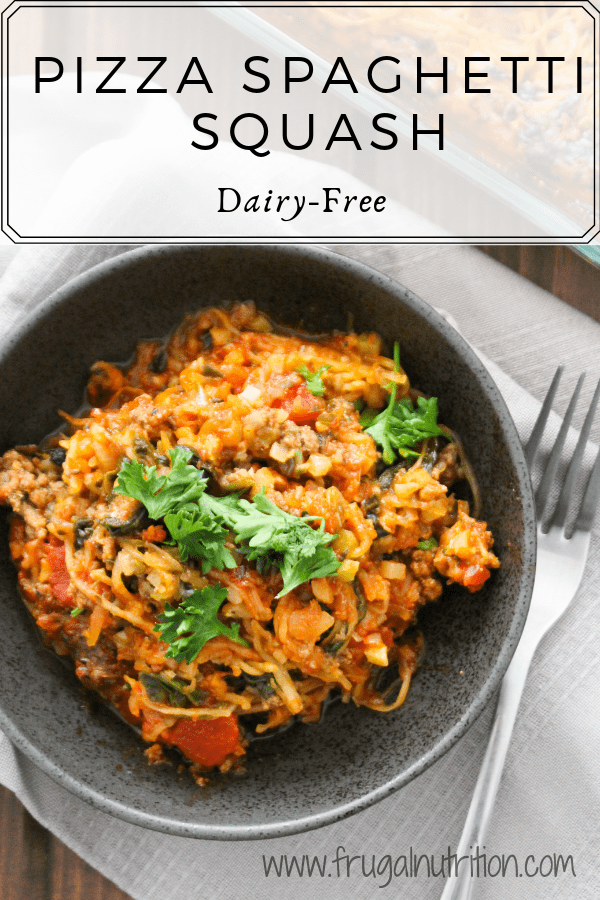 Paleo: Yep!
Vegetarian: Nope! But you could skip the meat in favor of more vegetables and a vegetarian protein of choice.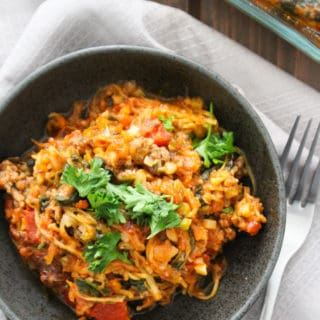 Pizza Spaghetti Squash Casserole
A healthy spaghetti squash recipe with all the flavors of your favorite pizza!
Ingredients
1

medium

spaghetti squash

about 4-6 cups cooked squash

1

pound

ground beef

or pork, turkey, or chicken

1

Tablespoons

Italian sausage seasoning

or ½ teaspoon each garlic powder, oregano, basil, red pepper flakes, smoked paprika, and black pepper

1

teaspoon

oregano

1

teaspoon

garlic powder

1

teaspoon

sea salt

divided

black pepper

to taste

1

cup

riced vegetables

broccoli, cauliflower, etc.

8

oz

spinach

fresh or frozen

14

oz

organic pizza sauce
Instructions
Preheat oven to 400ºF.

Slice spaghetti squash in half lengthwise, sprinkle with salt and pepper, and bake on 400ºF for approximately 35 minutes. (I always check my squash around 30 minutes. To check: use a fork to pull the shreds away from the side. It should shred easily, but should still be slightly firm, not too soft.) Once cooked, remove spaghetti squash shreds from the peel and be sure to get a spoon to scrape as much as you can from the peel.

Meanwhile, heat a large pan over medium-high heat. Brown the ground beef with the seasonings and half a teaspoon sea salt until fully cooked. Stir in the riced vegetables and cook for about 5 minutes. Add the spinach and cook just until wilted. If using frozen vegetables, cook just until thawed and warmed through.

Place the spaghetti squash shreds in a large casserole dish. I recommend using a fork or your hands to separate the shreds. Add the beef, vegetables, and the pizza sauce and stir until well combined.

(Optional: add 1 cup cheese, such as aged parmesan or mozzarella.)

Bake on 400ºF for about 20-25 minutes, just until warmed through! Serve as is, or top with aged parmesan or your cheese of choice.
Notes
Pro tip: cook the spaghetti squash ahead of time while you're cooking other meals to save time on busy weeknights!
Seasonings: feel free to change things up with different seasonings. I love using homemade Italian Sausage Seasoning, but when I'm out, I just use a blend of spices from my pantry, such as those listed, to equal about 3-4 teaspoons of spices.
Spice: omit or reduce the red pepper flakes for little ones!
Nutrition
Calories:
417
kcal
Carbohydrates:
28
g
Protein:
25
g
Fat:
25
g
Saturated Fat:
9
g
Polyunsaturated Fat:
1
g
Monounsaturated Fat:
10
g
Trans Fat:
1
g
Cholesterol:
81
mg
Sodium:
1226
mg
Potassium:
1329
mg
Fiber:
8
g
Sugar:
11
g
Vitamin A:
6066
IU
Vitamin B1:
0.2
mg
Vitamin B2:
0.4
mg
Vitamin B3:
9
mg
Vitamin B5:
2
mg
Vitamin B6:
1
mg
Vitamin B12:
2
µg
Vitamin C:
47
mg
Vitamin D:
0.1
µg
Vitamin E:
4
mg
Vitamin K:
298
µg
Calcium:
184
mg
Copper:
0.4
mg
Folate:
183
µg
Iron:
6
mg
Manganese:
1
mg
Magnesium:
119
mg
Phosphorus:
286
mg
Selenium:
19
µg
Zinc:
6
mg
Choline:
123
mg
Nutritional Label is for beef.