Recipe: $12.97 | Per Serving: $2.16 | Yield: 6 | Jump to Recipe
What's better than a simple, hearty, filling soup on blustery winter days? Not much! This soup - made with flavorful sausage, yellow sweet potatoes, and cabbage and greens - hits the spot. And it checks all the boxes for entertaining: it's easy, flavorful, gluten-free and allergy friendly, and all made in one pot! Today's sweet potato sausage soup with greens is made with quality ingredients and feeds a crowd, a perfect easy weeknight or weekend dish!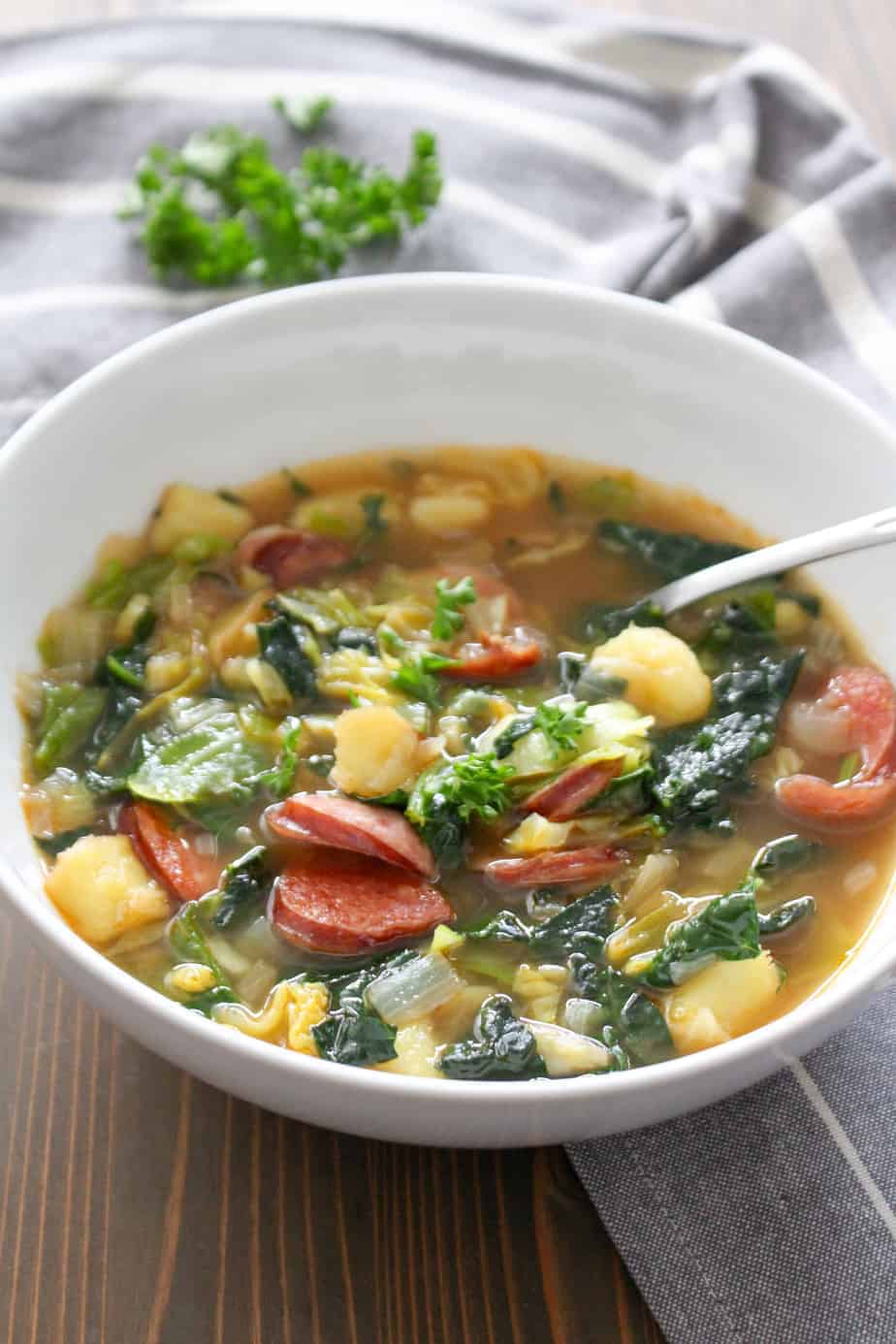 I'm writing this from my couch on a 22-degree day at the beginning of March. It snowed over the weekend and today I was blasted with an ice-cold burst of wind when I went outside. It's not yet spring, which makes me very (very) sad, but I do find some solace knowing that it's still the season for hearty soups like this one. I've also been making bone broth over the last 8 days for an upcoming event, so it feels very wintry and smells very soup-y in our little apartment these days.
Let's talk about this soup! It's really very simple, but I highly recommend choosing a sausage you like to get the job done. There's a really great Spicy Italian Sausage at Trader Joe's that does well in this soup, and I've also loved the Cajun Andouille by Aidell's, but today I'm using Pederson's Kielbasa - a favorite choice in our home. The ingredients list is short and sweet, it doesn't have any added sugar, and it reminds me of my childhood, when I hated hot dogs and asked for kielbasa on my bun instead.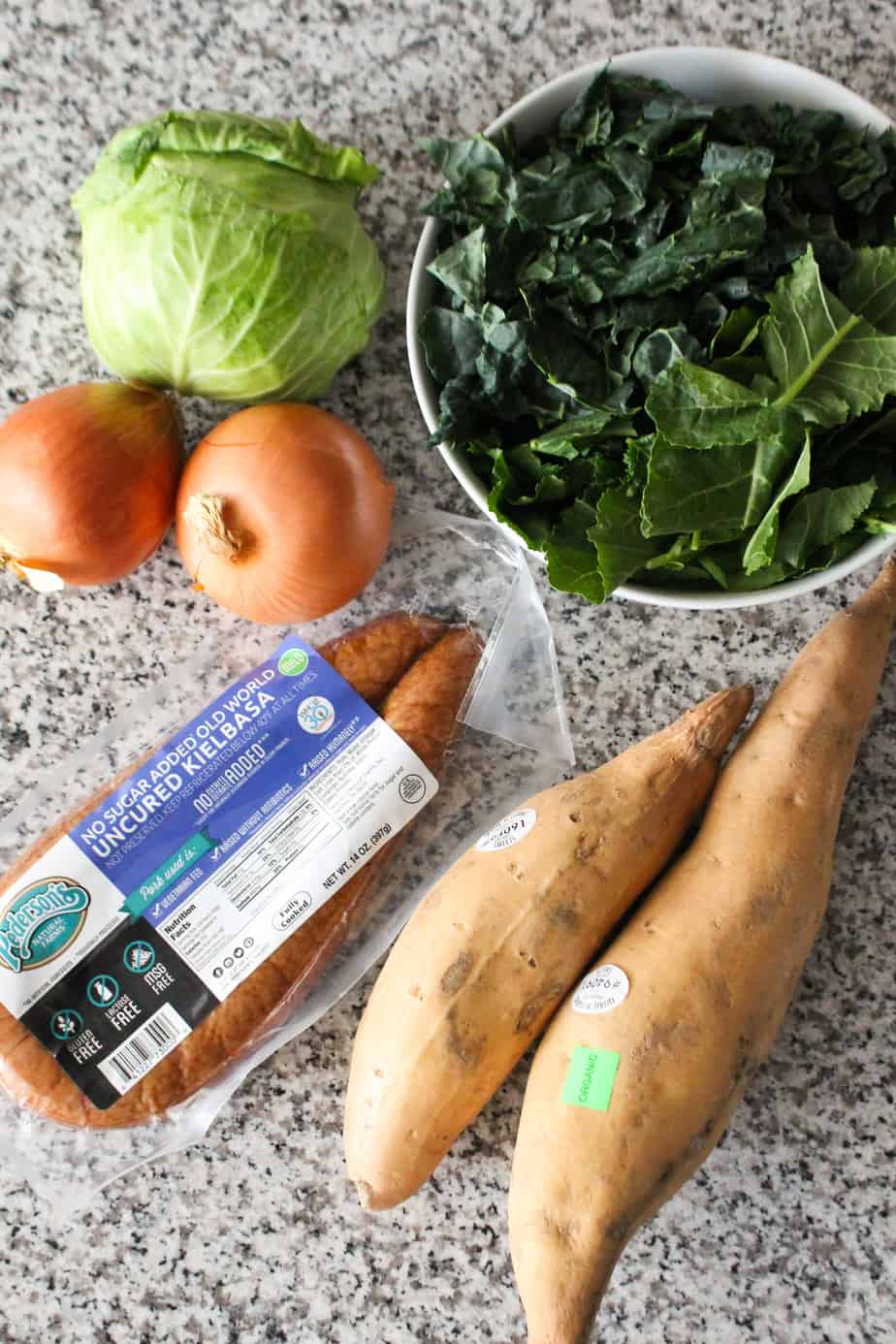 Pederson's is the cleanest kielbasa I've found so far. Fresh and local is always the best choice, but the local brand here in Baltimore has three types of sugar added, including corn syrup solids (no thanks!), and dextrose, so I'll stick with Pederson's for now. (Not sponsored!)
The sausage you pick is important because that will impart the majority of the flavor. I tried making this with my homemade chorizo sausage seasoning and beef, and it wasn't quite as good, so we're sticking with actual sausage for now. You'll definitely need to add salt and pepper, but any additional seasonings are up to you. I usually add cayenne or red pepper flakes, and a little smoked paprika because I'm addicted.
I have not yet tried this in the slow cooker, but I imagine it would work if you cut the potatoes into 1-inch cubes, and add the cabbage and greens a few minutes before serving. You definitely do not need to brown the sausage ahead of time, but I think it adds awesome flavor so I do.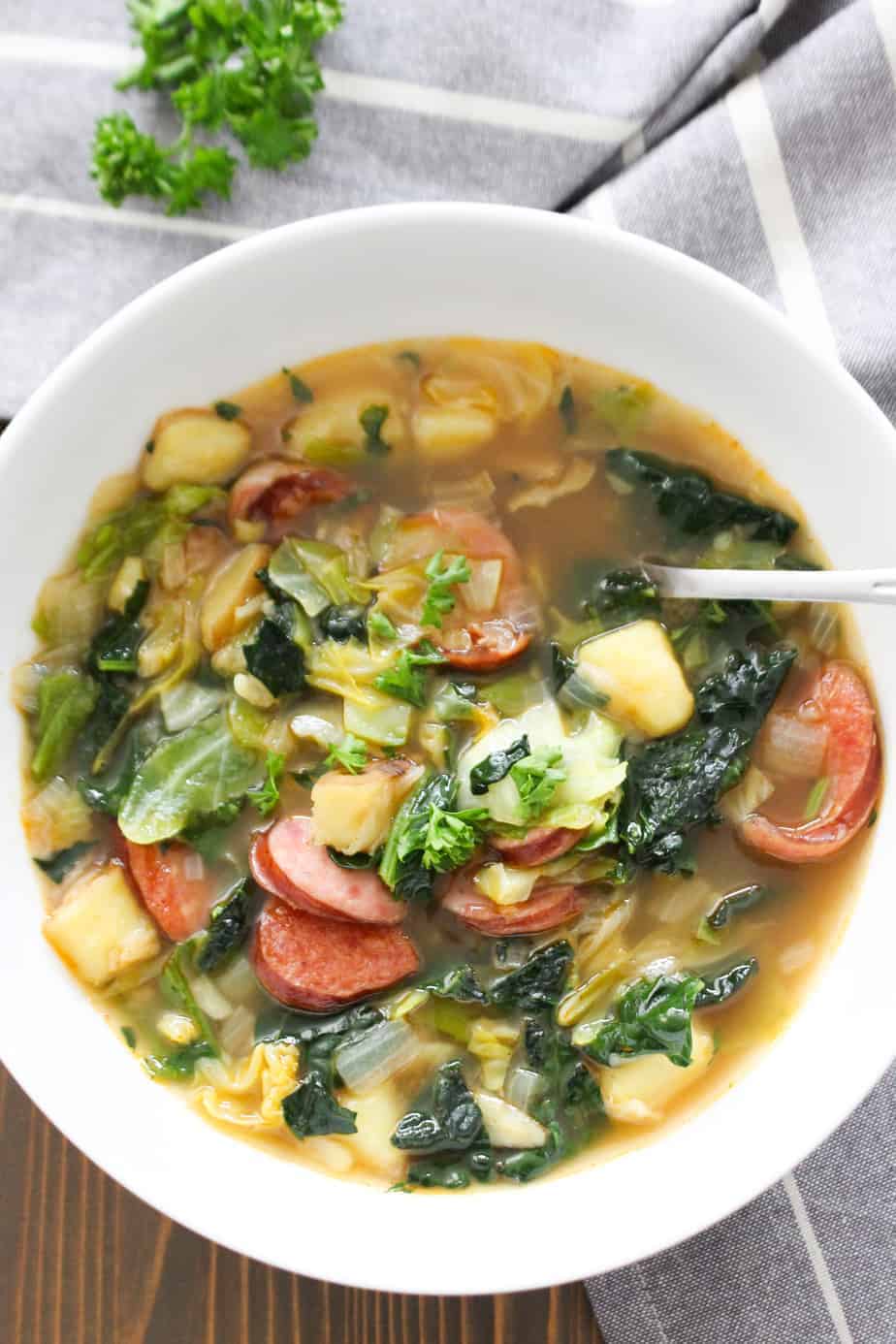 Paleo: Yep!
Vegetarian: Nope! I'm very much anti fake meats and sausages (not real food!), so I wouldn't use a vegan meat alternative either. There are plenty of other great vegan and vegetarian soups with beans and lots of spices though!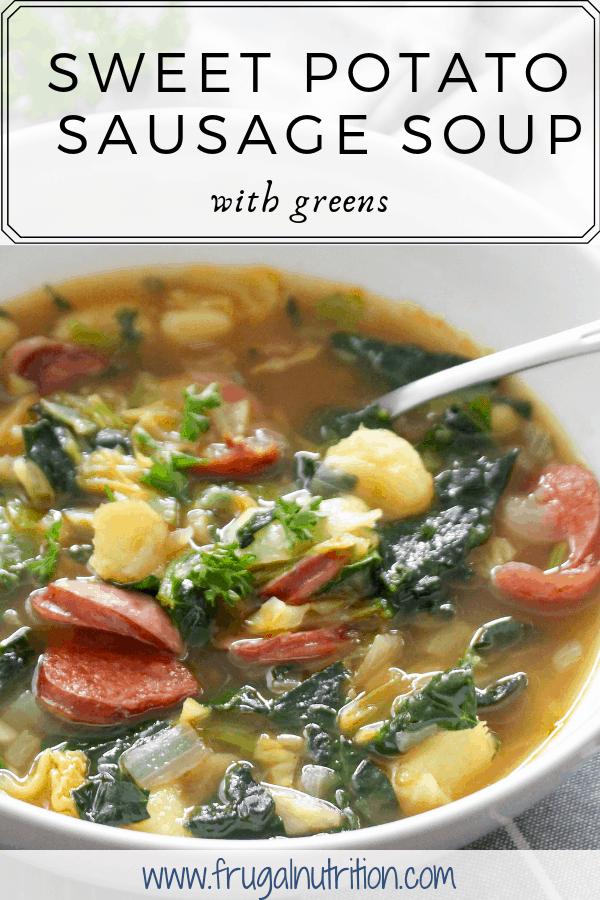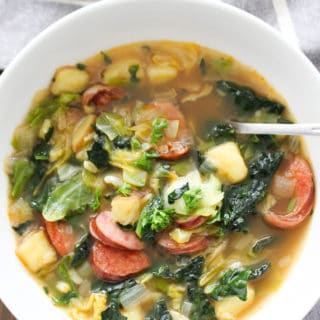 Sweet Potato Sausage Soup with Greens
Sweet potato, sausage and greens are cooked together into a tasty and healthy soup that's perfect to warm up with on a cold night.
Ingredients
4

cloves

garlic

medium-large

1

Tablespoon

oil

avocado or ghee

10-16

oz

sausage

of choice

2

medium

onions

about 2 cups diced

2

pounds

sweet potatoes

I like yellow Hannah or Japanese sweet potatoes best

3

cups

broth

of choice

3

cups

water

1

teaspoon

sea salt

plus more to taste

½

teaspoon

freshly ground black pepper

1

small cabbage

about ¾ pound

4

cups

greens

of choice, chopped, kale, spinach, or other

vinegar

or lemon to brighten the flavor, optional
Optional seasonings
½

teaspoon

cayenne

or red pepper flakes

½

teaspoon

smoked paprika

½

teaspoon

cajun seasoning
Instructions
Mince garlic and set aside.

Slice sausage into circles. Warm oil in a large soup pot over medium heat, then add the sausage. Brown sausage, stirring occasionally, for about 5 minutes.

Dice onions into small bite-sized pieces (about ½ inch dice). Add to pot and stir. Cook, stirring occasionally, another 5 minutes.

Meanwhile, scrub the sweet potatoes and chop into ½-inch diced pieces.

When onions are ready, stir in the garlic and cook just until fragrant, then stir in the sweet potatoes, broth, and water.

Add salt, pepper, and optional seasonings, then cover and bring to a boil, then reduce to a simmer. Simmer for approximately 10 minutes.

Wash and chop the cabbage and the greens. (Now's a good time to clean up!)

After 15 minutes, stir in the cabbage and cook another 5 minutes, then stir in the remaining greens and cook until wilted, approximately 3 more minutes.

Taste and adjust seasonings and serve! (I usually add more salt and occasionally add a splash - like ½ teaspoon - of vinegar to brighten the flavors.)
Notes
Please note that you do not really need to prep everything ahead of time! I timed myself and this dish took 30 minutes from start to finish. I warmed the oil in the pot and sliced the sausage, then I prepped everything else - including washing and chopping - in between other steps. You do you!
Nutrition
Calories:
354
kcal
Carbohydrates:
44
g
Protein:
12
g
Fat:
15
g
Saturated Fat:
4
g
Polyunsaturated Fat:
2
g
Monounsaturated Fat:
7
g
Trans Fat:
0.1
g
Cholesterol:
34
mg
Sodium:
1286
mg
Potassium:
1015
mg
Fiber:
9
g
Sugar:
13
g
Vitamin A:
23963
IU
Vitamin B1:
0.4
mg
Vitamin B2:
0.3
mg
Vitamin B3:
4
mg
Vitamin B5:
2
mg
Vitamin B6:
1
mg
Vitamin B12:
0.4
µg
Vitamin C:
57
mg
Vitamin D:
1
µg
Vitamin E:
2
mg
Vitamin K:
192
µg
Calcium:
135
mg
Copper:
0.4
mg
Folate:
114
µg
Iron:
3
mg
Manganese:
1
mg
Magnesium:
81
mg
Phosphorus:
191
mg
Selenium:
2
µg
Zinc:
2
mg
Choline:
63
mg
Nutrition Label is for 6 servings and 14 oz of Pederson's Kielbasa; sodium content will vary based on brand of sausage.