Recipe: $8.85 | Per Serving: $2.21 | Yield: 4 (4-6)
Mediterranean Quinoa Bowls! With seasoned ground beef and "grilled" veggies and garlicky quinoa and maybe even some feta and spinach if you're feeling it. So. Super. Bomb.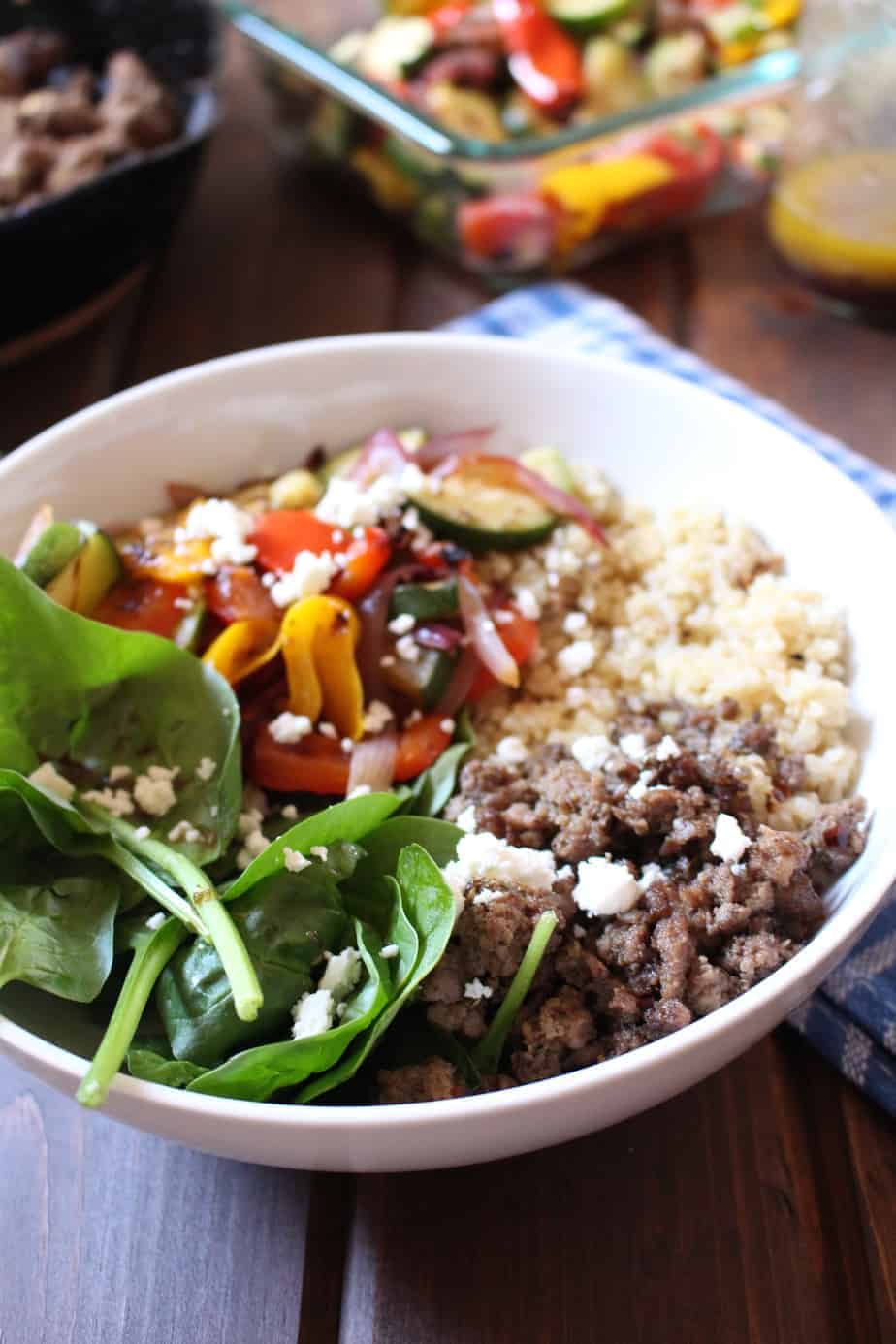 Things in the Self/Heisey household are super flip flopped right now. I am on school break for a couple of weeks, but Zac is finishing up some pretty big work projects, so I'm just hanging out with Netflix (mostly Friends), and my couch, while Zac is attached to his computer in the back room. Also, I'm making plans with people in the outside world and actually following through without agonizing about all the studying / work I'm missing out on. It's bizzaro world here.
So, with all this new time, you'd think I'd be glued to the blog stuff, but actually I'm trying not to spend too much time on the computer, so it might take some time to get the foods from the kitchen to the Internet. But this Mediterranean Quinoa Bowl couldn't wait. Look at the colors! I couldn't banish this to the folders of photos on my computer. I actually got all the produce for this dish, except the red onion, from the farmer's market! And while I know produce can get expensive, it's nice to make a meal of mostly local produce. And these grilled vegetables, are not realllllly grilled. Cause we don't have a grill.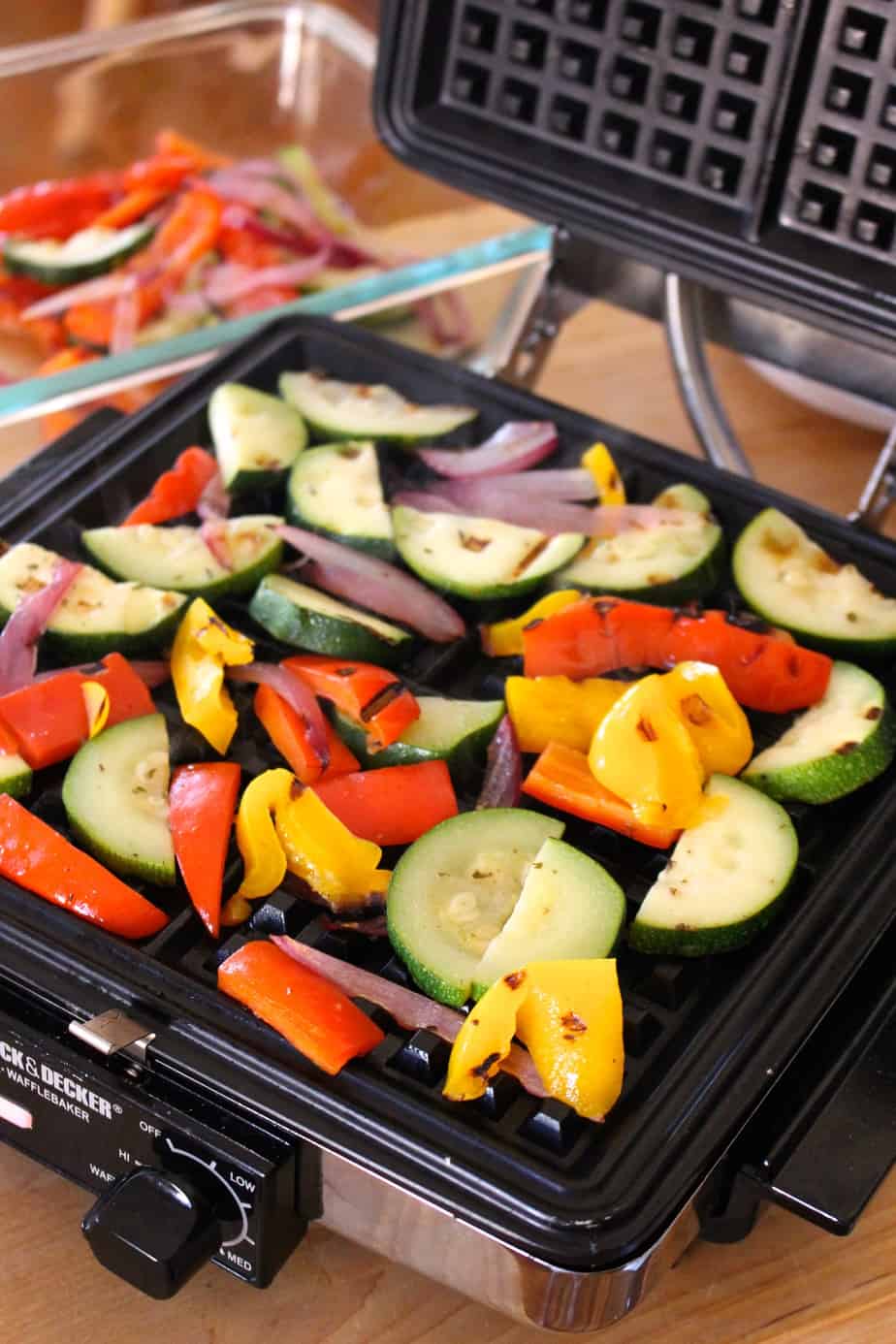 But we have a waffle iron! And I figured it's pretty similar to a grill pan, and although you'll never get the same char-grilled flavor, it was actually a really great indoor trick! The vegetables come out as a mix between lightly grilled and lightly roasted, so they're flavorful and still firm. This is basically a George Foreman grill. Look at those pretty little veggie babes.
Basically, the veggies are tossed in a little Greek vinaigrette, then waffle-ironed, while you cook up some garlic butter quinoa and seasoned ground beef. Although there are 3 distinct components, the dish is really easy and comes together in like 25 minutes.
Vegetarian: Skip the beef! You could swap it for lentils or chickpeas and I think that would be delish.
Paleo: If you skip the quinoa and the feta, yes!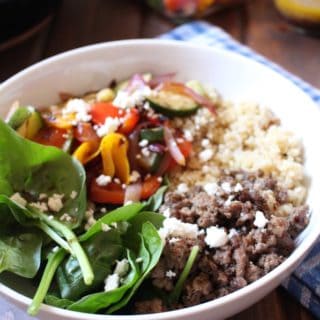 Mediterranean Quinoa Bowls
Flavorful ground meat is paired with grilled vegetables, buttery quinoa, and a tangy vinaigrette for a delicious mediterranean quinoa bowl!
Ingredients
For the Quinoa:
2

Tablespoons

butter

2

cloves

garlic

minced or grated

1 ½

cups

quinoa

3

cups

water

pinch

salt
For the Dressing:
3

Tablespoons

red wine vinegar

4

Tablespoons

olive oil

1

teaspoon

oregano

¼

teaspoon

salt
For the Veggies:
1

medium-large

zucchini

sliced into rounds and then in half

1 ½

sweet bell peppers

I used 1 red and ½ yellow, sliced into bite-sized strips

¼

red onion

sliced into wedges
For the Meat:
8

ounces

ground beef

grassfed!

½

teaspoon

dried oregano

½

teaspoon

red pepper flakes

salt & pepper

to taste

Optional: Fresh baby spinach

feta cheese, lemon wedges
Instructions
For the Quinoa: Rinse the quinoa well to remove bitter-tasting saponins. Set aside to drain. In a large pot, melt the butter over medium heat and add the minced or grated garlic. Stir and cook until fragrant, about 30 seconds, then add the rinsed quinoa. Stir well to coat and let the quinoa "toast" a little for about 2 minutes. Then add the water and a pinch of salt. Cover and bring to a boil, then immediately reduce to a simmer and let cook for 12-15 minutes. (I recommend cooking for 13 minutes, then, without lifting the lid, remove it from the heat and let rest, covered, for 5 minutes.)

For the Dressing: Combine all ingredients in a jar and shake well to combine.

For the Veggies: Preheat your waffle iron to the hottest setting (!!). You can also use an indoor grill / griddle pan / grill pan, etc., but these instructions are for a waffle iron. Combine all the vegetables in a large bowl with about 1-2 Tablespoons of the dressing. Toss well until coated and place in a single layer on the heated waffle iron. (You will likely have to do this in 3-5 batches.) Close the top and cook undisturbed for 4-5 minutes, depending on how charred you like your vegetables (I like 4, and I did mine in 4 batches.)

For the Meat: In a large skillet, brown the beef on all sides and season with the dried oregano, red pepper flakes, salt, and pepper.

ASSEMBLE: Assemble all ingredients in a large bowl or meal prep container and add the optional spinach, feta, and lemon juice. Drizzle the dressing over the top and serve!
Nutrition
Calories:
582
kcal
Carbohydrates:
47
g
Protein:
20
g
Fat:
35
g
Saturated Fat:
10
g
Polyunsaturated Fat:
4
g
Monounsaturated Fat:
18
g
Trans Fat:
1
g
Cholesterol:
55
mg
Sodium:
252
mg
Potassium:
771
mg
Fiber:
6
g
Sugar:
3
g
Vitamin A:
1766
IU
Vitamin B1:
0.3
mg
Vitamin B2:
0.4
mg
Vitamin B3:
4
mg
Vitamin B5:
1
mg
Vitamin B6:
1
mg
Vitamin B12:
1
µg
Vitamin C:
67
mg
Vitamin D:
0.1
µg
Vitamin E:
5
mg
Vitamin K:
19
µg
Calcium:
76
mg
Copper:
0.5
mg
Folate:
157
µg
Iron:
5
mg
Manganese:
2
mg
Magnesium:
155
mg
Phosphorus:
420
mg
Selenium:
14
µg
Zinc:
5
mg
Choline:
86
mg