I love Trader Joe's. I love it there because I love cheese, and I love nuts & seeds in my granola and I love Kerrygold butter, and all of these things have the best price tag when purchased from Trader Joe's. FACT. I know it's a fact because I've been price-comparing Trader Joe's and other grocery stores for about 4 years now, and there are just some items that are consistently cheaper at good ol' TJ's.
For the past 4 years, I've also been keeping a spreadsheet with grocery store prices. It contains tabs for Trader Joe's, Sprout's, and Ralph's. I regularly reference that spreadsheet when making grocery lists for various stores and when calculating the costs of my meals. The price of fresh tomatoes will change in the summer, but those canned tomatoes generally remain the same price, so it was a lot easier to just have "TJ's Olive Oil - 25 cents / Tablespoon" listed out for easy calculating.  BUT since I'm no longer in California, Sprout's and Ralph's are no longer relevant to my weekly shopping. Additionally, prices at my current Trader Joe's (Towson, MD), are different (mostly more expensive) than the one I would frequent in Encinitas.
In the process of updating my spreadsheet, instead of including the price per Tablespoon or half cup or whatever, I decided to just create a reader-friendly spreadsheet to help people just get an idea of the prices of various items at Trader Joe's. Obviously the prices will vary based on your location, but they items are generally priced within about 50 cents from store-to-store.
Some of these items might not be cheaper for you at Trader Joe's. I know Aldi's has great prices, and I know regular grocery stores do lots of sales, which means you'll find many of these items cheaper at other places. And that's fine - you do you! This is for those of you who might want prices for some of Trader Joe's items at your fingertips. You're welcome!
You can find the full embedded spreadsheet (which I can edit easily) over on the brand new Grocery Prices page, but here's a little snapshot for you: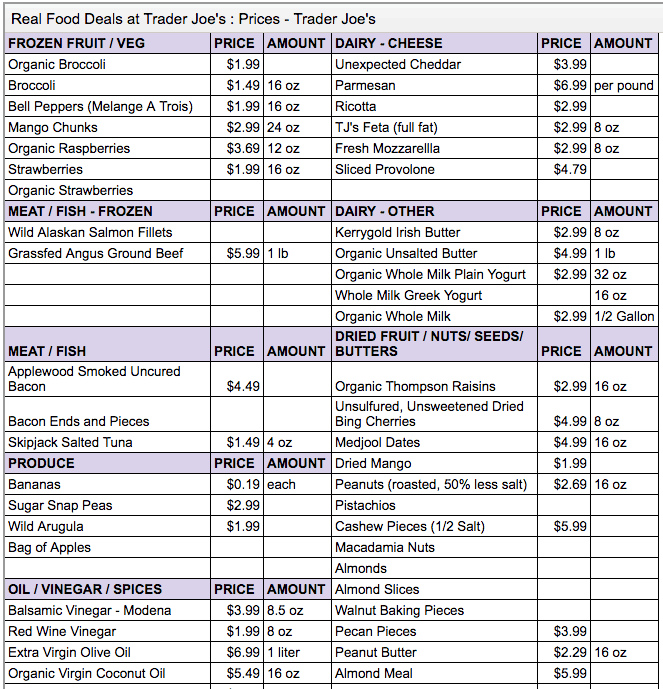 I hope this is a helpful tool for everyone. And while we're on the topic - favorite Trader Joe's basic items and / or treats? For me, my favorite treat would be the Dark Chocolate Covered Pretzels, but my favorite basic items are CHEESE. Especially the Parmesan. Such a great value - I usually buy the biggest block I can find and it keeps for months. :) (See: Parmesan-Garlic Rice with SDT & Spinach, Basil-Lemon-Parmesan Dressing Over Arugula).
And for fellow Trader Joe's Lovers - please see also: 10 Easy Weeknight Recipes - Thanks to Trader Joe's.