We've all seen some form of the one-pot pasta meal floating around, and I finally decided to give it a go. I'm not sure if it was first developed by Martha Stewart or by one of the many other foodie chefs out there, but it works. It's really nothing too fancy, but it's quick and delicious.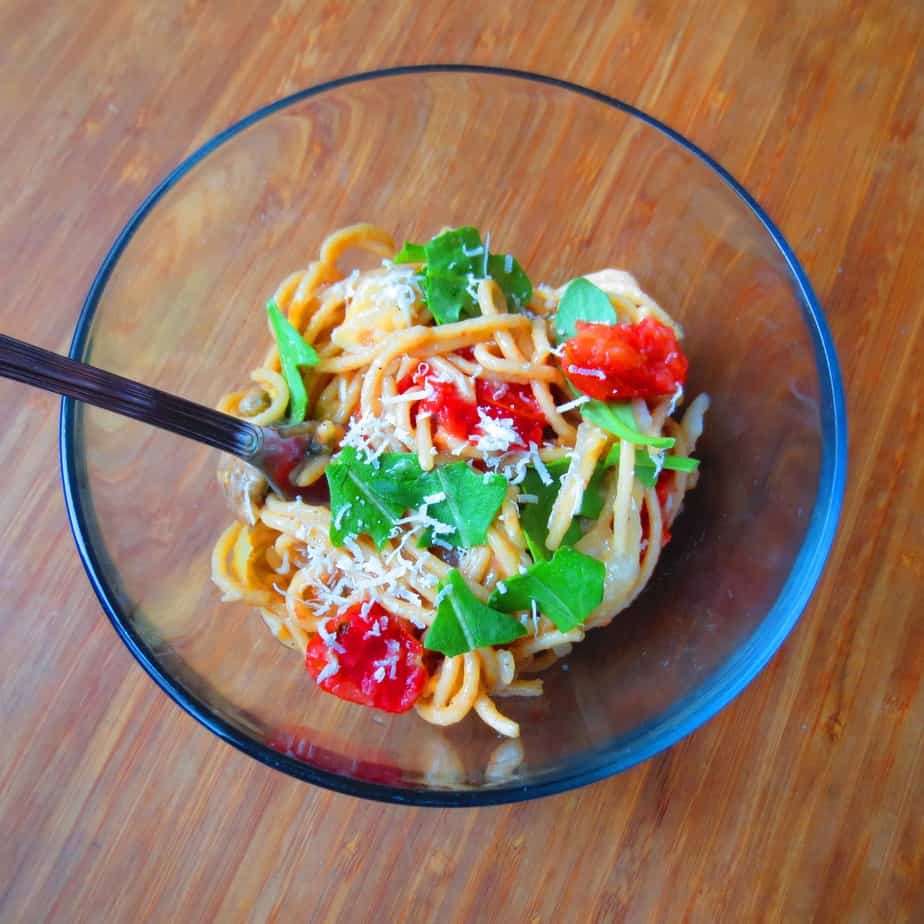 I was making dinner for my aunt & family, so I decided to throw some mild italian sausage in there for them, which is a variant from the other recipes. For the flexitarians out there, you can cook the sausage on its own, remove it from the pan and add it to individual dishes later, or just pick it out of your individual bowl like I did. This serves about 6 people, and the total cost of food was around $12, which comes to $2 a person. Not too shabby for whole grains and real food.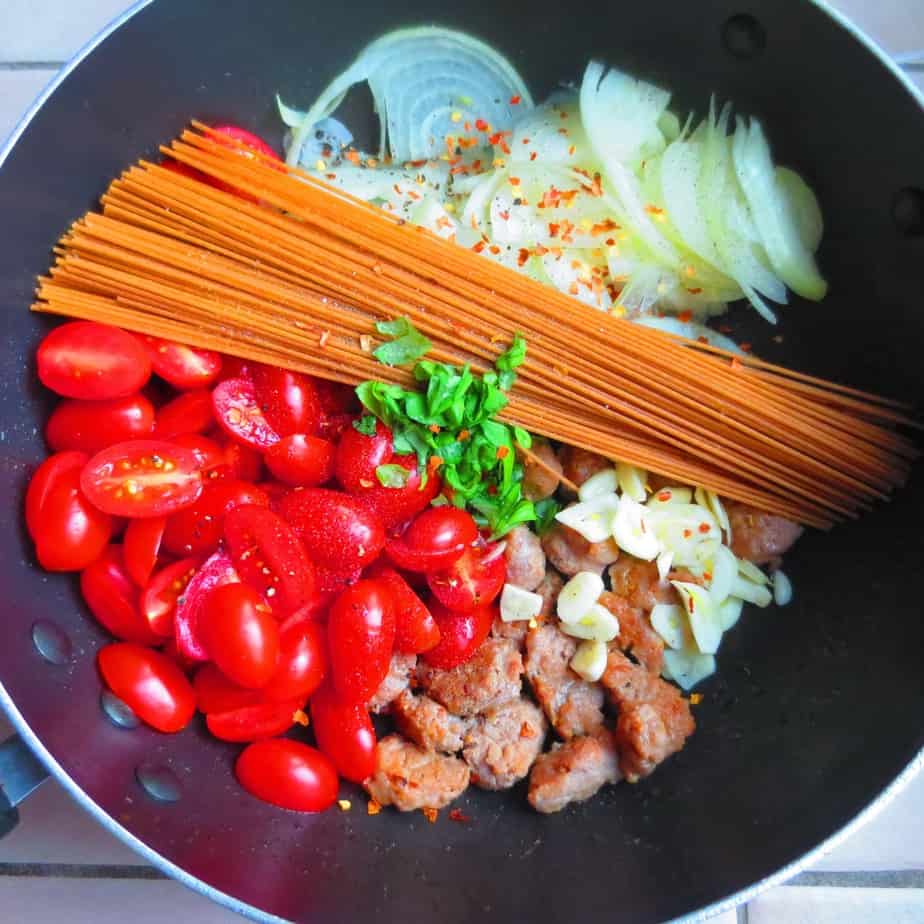 I adapted this one from Barefeet in the Kitchen, by simply adding sausage and lemon juice, and using 100% whole wheat pasta. Yes, that's why you see Nature's Promise in the picture - it was the only pasta made from 100% whole grain durum wheat. And it was only $1.69!
The prep time really depends on your chopping skills and the kind of knife you're working with. I started cooking the sausage and then began chopping the onion, garlic, and tomatoes while it was cooking, which took me about 10 minutes total. I just add them to the pan as I go because it's that easy! I prefer a bit more greenery in my meals, so I served this with my favorite Arugula salad with Lemon-Basil-Parmesan dressing. I loved making this with whole-wheat pasta because it really stays al dente much longer.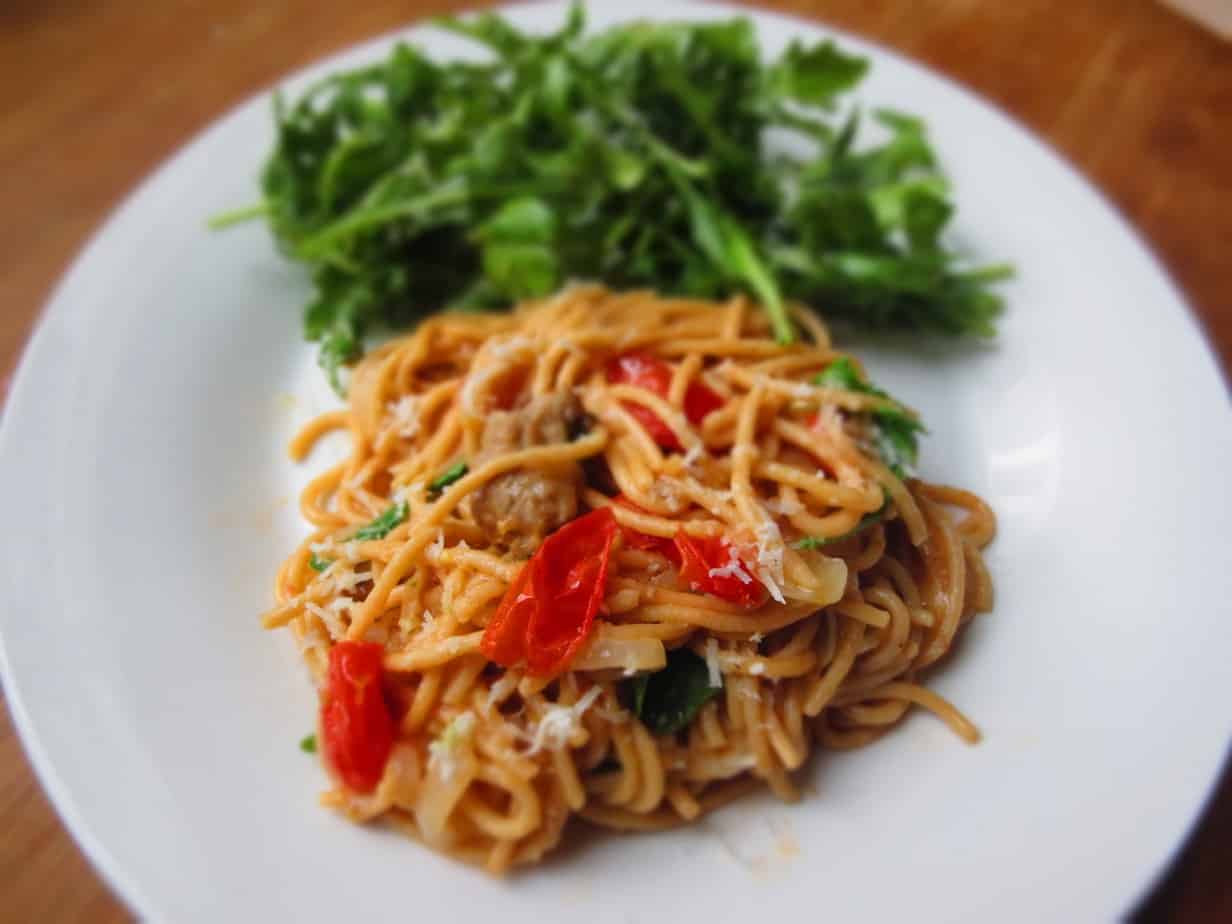 Easy!
One Pot Pasta (100% Whole Wheat): Tomato-Basil-Lemon
An easy pasta for dinner that cooks up in one pot.
Ingredients
3

mild Italian sausages

optional

12-16

oz

100% Whole Wheat Pasta

I used 12oz

12

oz

grape or cherry tomatoes

5-10

leaves

fresh basil

roughly chopped (optional)

1

onion

4

cloves

garlic

juice of 1 lemon

4 ½

cups

water

2

tablespoon

olive oil

optional

½

teaspoon

red pepper flakes

salt & pepper to taste

grated parmesan cheese for topping
Instructions
If you're sticking with the sausage, start by slicing it or breaking it in pieces and browning it in the pan. It doesn't have to be cooked fully in this step if you plan to leave it in during the boiling process. Meanwhile, prep your veggies.

Thinly slice the garlic and onion and cut the small tomatoes in half. Add to pan.

Add pasta and remaining ingredients to pan. Be sure to pour the olive oil (optional) over the pasta to help keep it from sticking together.

Bring pot to a boil. Reduce slightly, to a high simmer. Stirring constantly, cook for 9-12 minutes, or until pasta is al dente and the majority of the water is absorbed. Don't drain – serve with the "sauce," topped with grated parmesan or romano cheese!
Nutrition
Calories:
453
kcal
Carbohydrates:
48
g
Protein:
17
g
Fat:
23
g
Saturated Fat:
7
g
Polyunsaturated Fat:
3
g
Monounsaturated Fat:
12
g
Cholesterol:
43
mg
Sodium:
430
mg
Potassium:
437
mg
Fiber:
1
g
Sugar:
2
g
Vitamin A:
544
IU
Vitamin B1:
1
mg
Vitamin B2:
0.2
mg
Vitamin B3:
5
mg
Vitamin B5:
1
mg
Vitamin B6:
0.4
mg
Vitamin B12:
1
µg
Vitamin C:
11
mg
Vitamin E:
1
mg
Vitamin K:
9
µg
Calcium:
53
mg
Copper:
0.4
mg
Folate:
49
µg
Iron:
3
mg
Manganese:
2
mg
Magnesium:
100
mg
Phosphorus:
249
mg
Selenium:
56
µg
Zinc:
3
mg
Choline:
6
mg