Recipe: $3.25
Per Serving: $0.65
When I was visiting my parents in November, I bought a spaghetti squash. My parents hate all things squash, from zucchini to butternut, so they weren't very happy with my purchase. I say, whoever puts those two seasonal squashes in the same flavor category has clearly tasted very few squashes. Winter squashes are so different from summer squashes that I'm surprised they're all in the same family. But then, I look at my siblings, and I understand.
Anyway, the best part of the whole spaghetti squash debacle was when my brother picked it up, and said to me, totally deadpan (channeling Dr. Steve Brule): "Why does this thing say spaghetti?"
Okay, maybe it's not funny to everyone, but it shows how unknown squash is in our family. Then again, Zac thought I made spaghetti strands with some serious knife skills, so I guess this magical squash isn't fully mainstream just yet.
Anecdotes aside, I made a casserole for my dad incorporating kale, walnuts, and sun-dried tomatoes, and he actually enjoyed it. Nobody else would taste it though, so mad props to my pops!
I decided to take those same flavors and make them into spaghetti squash cakes since Zac hasn't fully come around to the Spaghetti Squash thing, and he LOVED them. I tried them both baked and fried, and we definitely prefer the version pan-fried in coconut oil, go figure!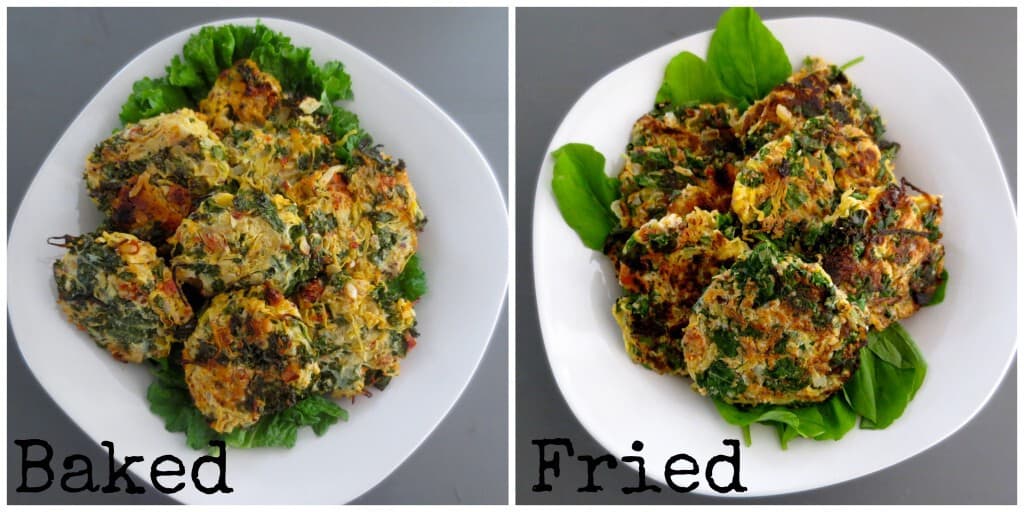 They're still pretty delicious when baked, but all that sweet coconut oil in the frying pan is decadence. If you don't need to keep them Paleo, you can also add 2 Tablespoons of whole wheat flour to the mixture to help them stay together a little better,  or might I suggest adding a little feta cheese to the mix?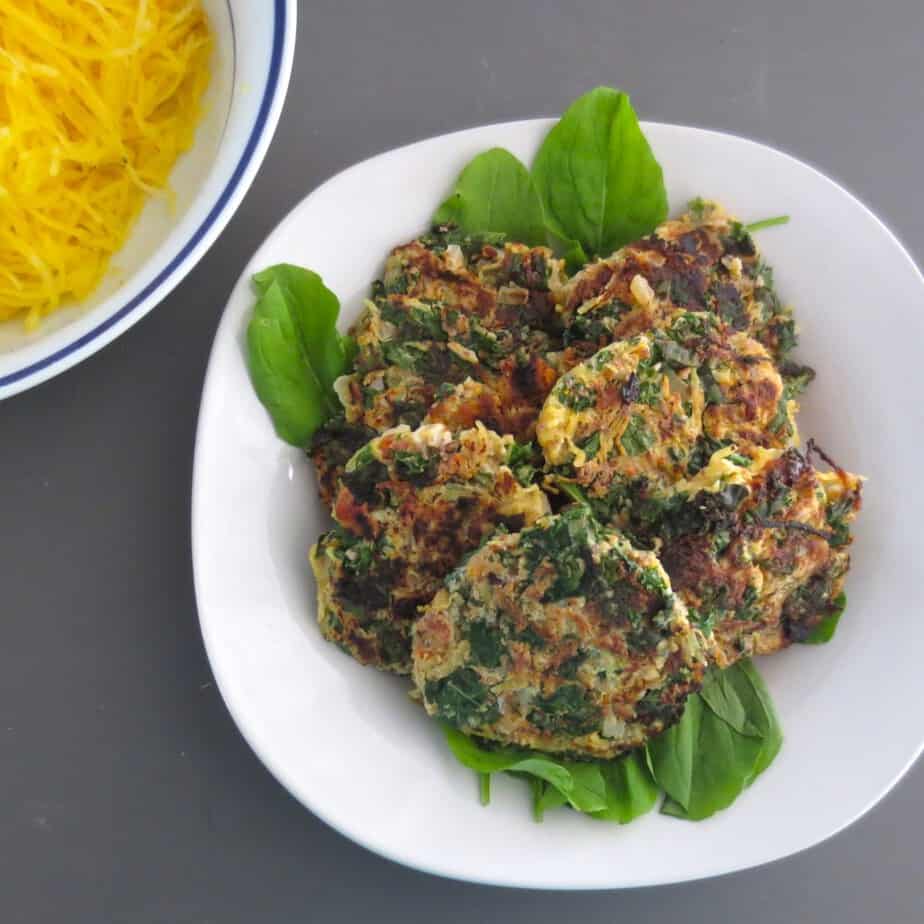 Paleo Spaghetti Squash Cakes Two Ways
A tasty paleo spaghetti squash cake you can either bake or fry for a healthy dinner meal.
Ingredients
3

tablespoon

ground almonds

you can crush them or put them through your food processor, or substitute almond meal

3

tablespoon

ground flaxseed

1

egg

2

cups

kale

minced/chopped

½

cup

onions

diced

¼

cup

sun-dried tomatoes

chopped

3

cups

spaghetti squash

cooked

salt and pepper

to taste
Instructions
Once you've measured out 3 cups of spaghetti squash, let it cool, them squeeze out all the excess moisture with your hands. Squeeze well! You should be left with about 1.5 cups of squash. Chop up your kale, and dice everything else to bite-sized pieces. (You could also use your food processor for mincing onions, kale, and sun-dried tomatoes, but I don't have one!)

Mix all ingredients together, and let sit for about 5 minutes.

BAKED: Grease a baking dish or sheet pan with coconut oil. Form spaghetti squash into 12 equal-sized patties and place on dish or sheet. Bake on 400º for 12 minutes, then flip and bake 8 more minutes.

FRIED: Coat the bottom of a skillet (I used a cast-iron skillet) with coconut oil and heat over medium, Form squash into flat patties (think potato pancakes), and fry in oil until crispy, then flip. (About 3-4 minutes per side.) This should make about 12 patties total and you should be able to fit two in the pan at a time.

Serve as a a party appetizer, or pair with grilled chicken, salad, or roasted vegetables for a complete meal.
Nutrition
Calories:
128
kcal
Carbohydrates:
14
g
Protein:
6
g
Fat:
7
g
Saturated Fat:
1
g
Polyunsaturated Fat:
2
g
Monounsaturated Fat:
1
g
Trans Fat:
0.01
g
Cholesterol:
41
mg
Sodium:
52
mg
Potassium:
498
mg
Fiber:
5
g
Sugar:
5
g
Vitamin A:
3531
IU
Vitamin B1:
0.2
mg
Vitamin B2:
0.2
mg
Vitamin B3:
2
mg
Vitamin B5:
1
mg
Vitamin B6:
0.2
mg
Vitamin B12:
0.1
µg
Vitamin C:
37
mg
Vitamin D:
0.2
µg
Vitamin E:
0.4
mg
Vitamin K:
134
µg
Calcium:
140
mg
Copper:
0.2
mg
Folate:
45
µg
Iron:
2
mg
Manganese:
1
mg
Magnesium:
55
mg
Phosphorus:
111
mg
Selenium:
6
µg
Zinc:
1
mg
Choline:
49
mg