Recipe: $10
Per Serving: $2.50ish
I already miss Cali-mexican food. It's the best kind of food. All the spicy deliciousness of Mexico and the healthy freshness of California. Yeah, I said all those words and you're just going to deal with it. I mean, sushi is delicious, but there is a limit to how much raw fish I can ingest without feel ill and/or having crazy dreams. (True story-anybody else experience this?) With avocados and beans and cheese, THERE IS NO LIMIT. Cali-mexican food was also the most-missed food while Zac & I were in Peru. We're addicted.That being said, this (Paleo) Taco-Stuffed Sweet Potato HIT THE SPOT.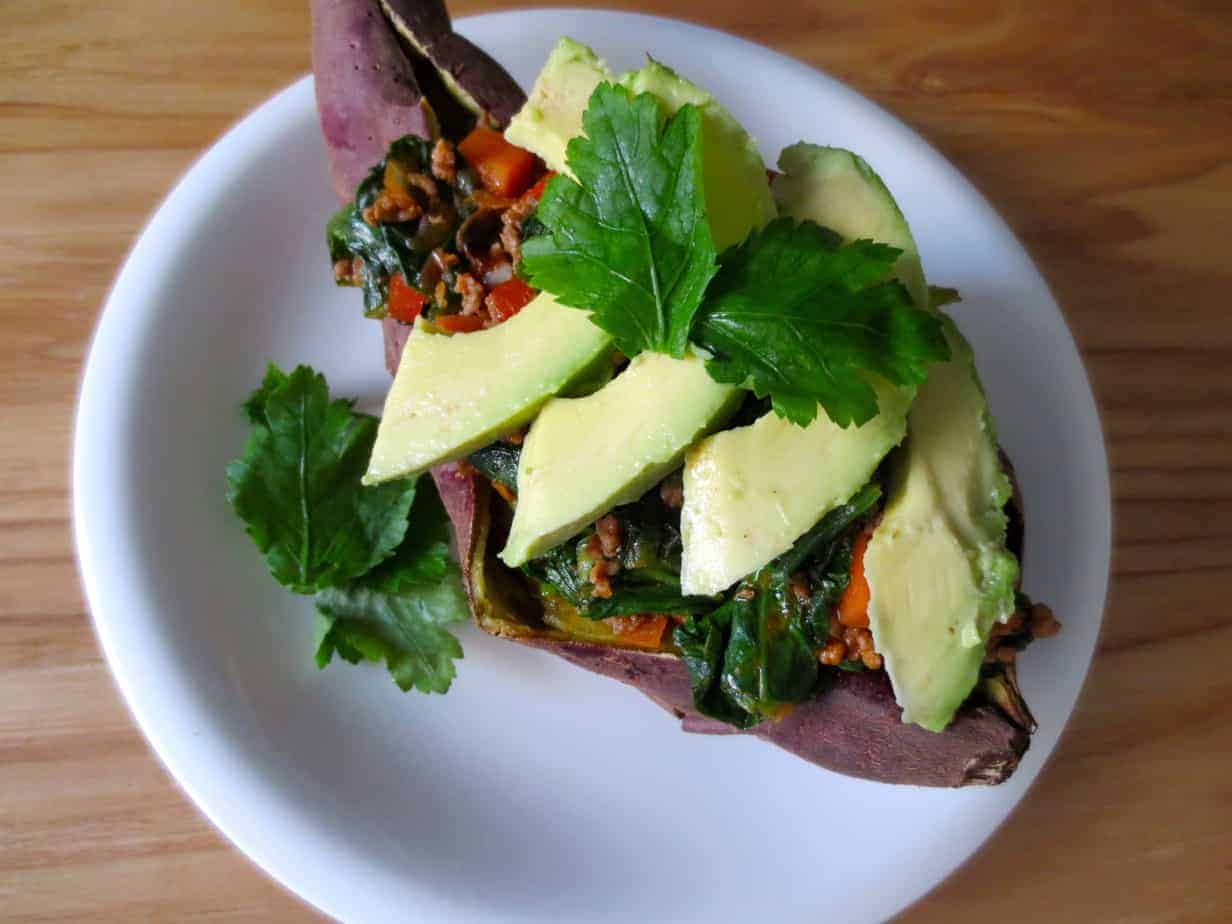 For two weeks in a row I found avocados for 100 yen each (about 82 cents), even though they're normally more like 250 yen a pop. So over those two weeks I probably bought 12 avocados, and enjoyed them as many ways as possible. Including on top of this awesome stuffed sweet potato. For reals, it is so good. It's inspired by Roasted Veggie Tacos, but minus the beans/tortillas and plus meat and mushrooms.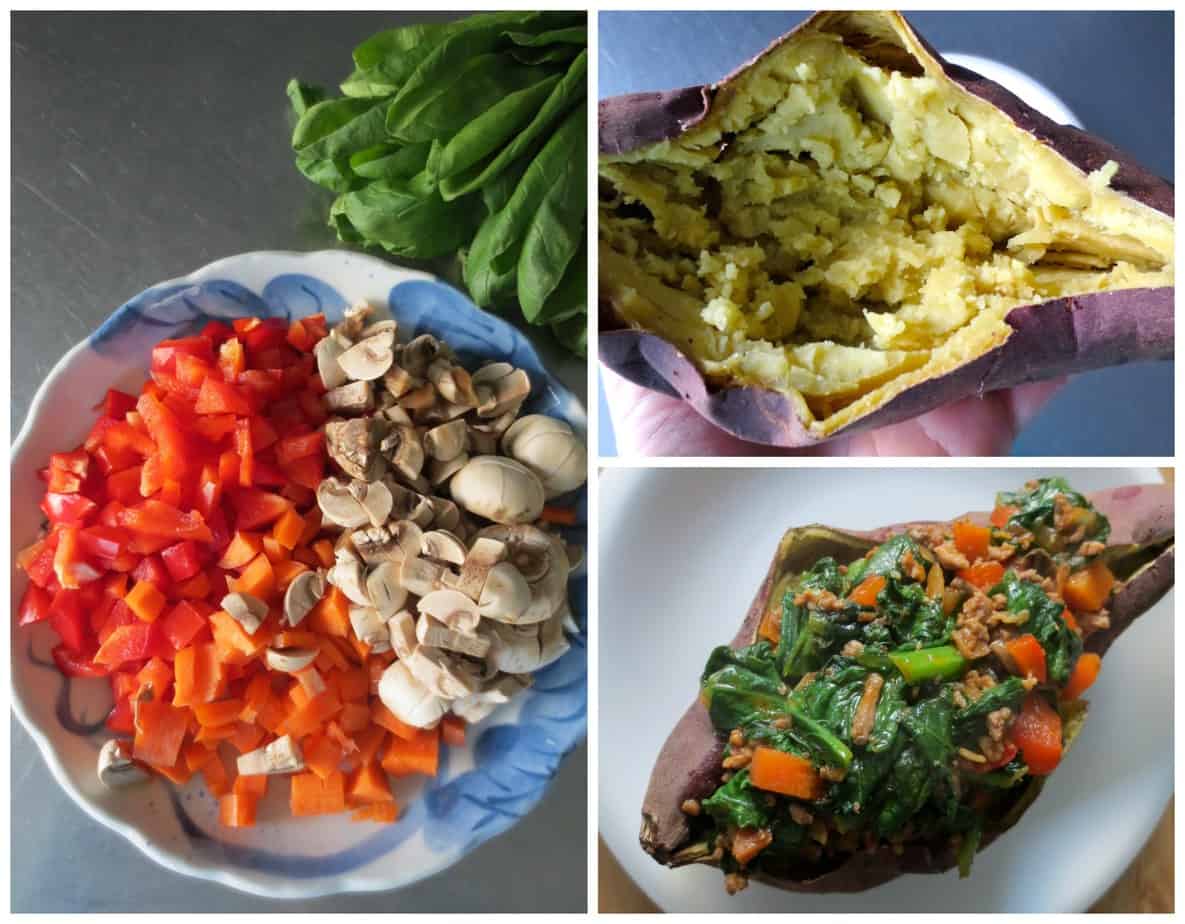 You can do all kinds of things differently if you want. Add some beans and cheese, or replace half the meat with black beans, lentils, or more mushrooms. Change up the veggies. Top it with salsa. Scoop out the sweet potato flesh and mash it, then stuff it back in. Top it with guac or pico. Just, ya know, do what feels right. I don't think you can mess this up.
This is one of those recipes that basically everybody should have in their repertoire. It took like 25 minutes to make, (well...a little longer on the sweet potatoes). Or, if you're in Japan (you're probably not), you can just buy a roasted sweet potato from the convenience store or grocery store and BAM. Dinner is like 20 minutes away. And so delicious. Soon I will move out of this sharehouse into an apartment with no oven, so I will be purchasing those easy sweet potatoes on the regular. You can also make them in the microwave. (Link to instructions in recipe.) Okay, go make this now.
Print

Paleo Taco-Stuffed Sweet Potato
---
Author:

Total Time:

45 mins

Yield:

4

-6

1

x
4

-

6

yellow (or orange) sweet potatoes

1

pound ground beef (or chicken, pork, etc.) – I actually used about 3/4 a pound, so whatever you've got should work

1 Tablespoon

tomato paste

1.5 teaspoons

dried oregano

1 teaspoon

cumin

1 teaspoon

chili powder (or red pepper flakes)
salt to taste

1

medium onion, chopped

2

cloves garlic, minced

8 ounces

mushrooms, chopped into chunks

1

bell pepper, chopped

1

medium carrot, chopped or grated

2

bunches of greens (I used

3 cups

spinach,

4 cups

swiss chard), roughly chopped
salt to taste
---
Instructions
Prick the sweet potatoes several times and bake in the oven for 30-45 minutes on 450º, or until soft. (Baked sweet potato instructions here. Microwave instructions here.)
Add the beef, tomato paste, and seasonings to a large pan or pot over medium heat and brown, adding a little water if necessary. Remove and set aside. (Leave the drippings in the pan.
Sauté the onions in the beef drippings for a couple of minutes, then add the garlic, mushrooms, bell pepper, and carrot. Add a little more salt and sauté for 5-8 minutes, or until nicely cooked.
Add the beef and chopped greens to the pan and sauté until wilted.
Cut the sweet potatoes open and fluff up the flesh a bit. Divide the filling evenly among the 4-6 potatoes and serve!
*One full sweet potato might be a bit much per person so feel free to serve half a sweet potato instead. This should serve between 4-6 people. If you're not Paleo and you load this up with black beans, you can easily double the servings for only $1-$2 more!*
Prep Time:

5 mins

Cook Time:

40 mins

Category:

Entree, Paleo