Recipe: $10.84 | Per Serving: $2.71 | Yield: 4 | Jump to Recipe
Looking for something easy, healthy, and super fast? Cauliflower rice bowls to the rescue! This Pesto Turkey Cauliflower Rice Bowl recipe boasts 3 different vegetables, fast protein in the form of ground turkey, and just 10-15 minutes of TOTAL TIME.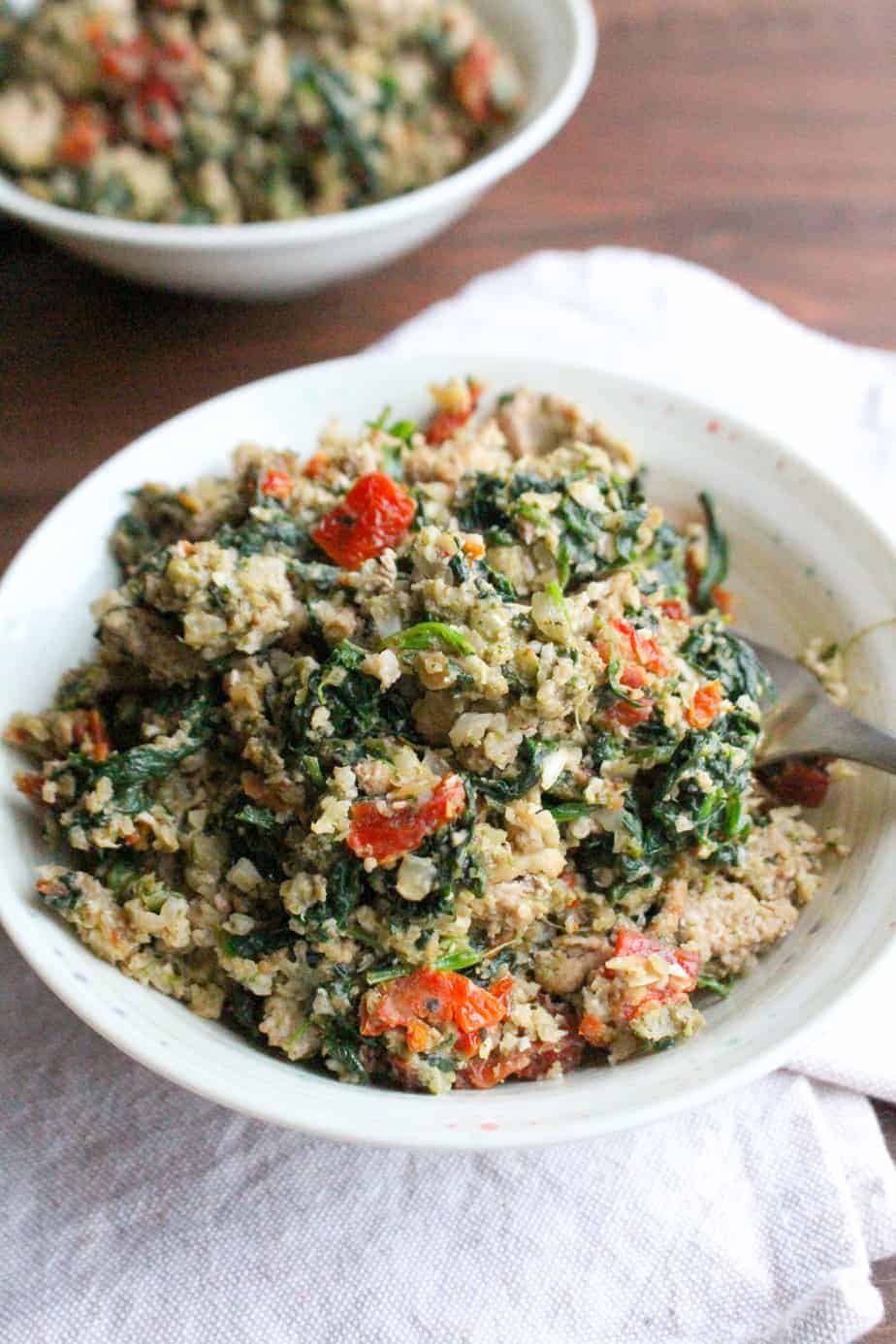 For this recipe we are looking at ground turkey, riced cauliflower, frozen spinach, sun-dried tomatoes, and pesto. That's it! The best dairy-free pesto I've found in my area is the Trader Joe's Vegan Kale Cashew Pesto ($3.49), but feel free to make your own Paleo Pesto or purchase whichever brand works for you.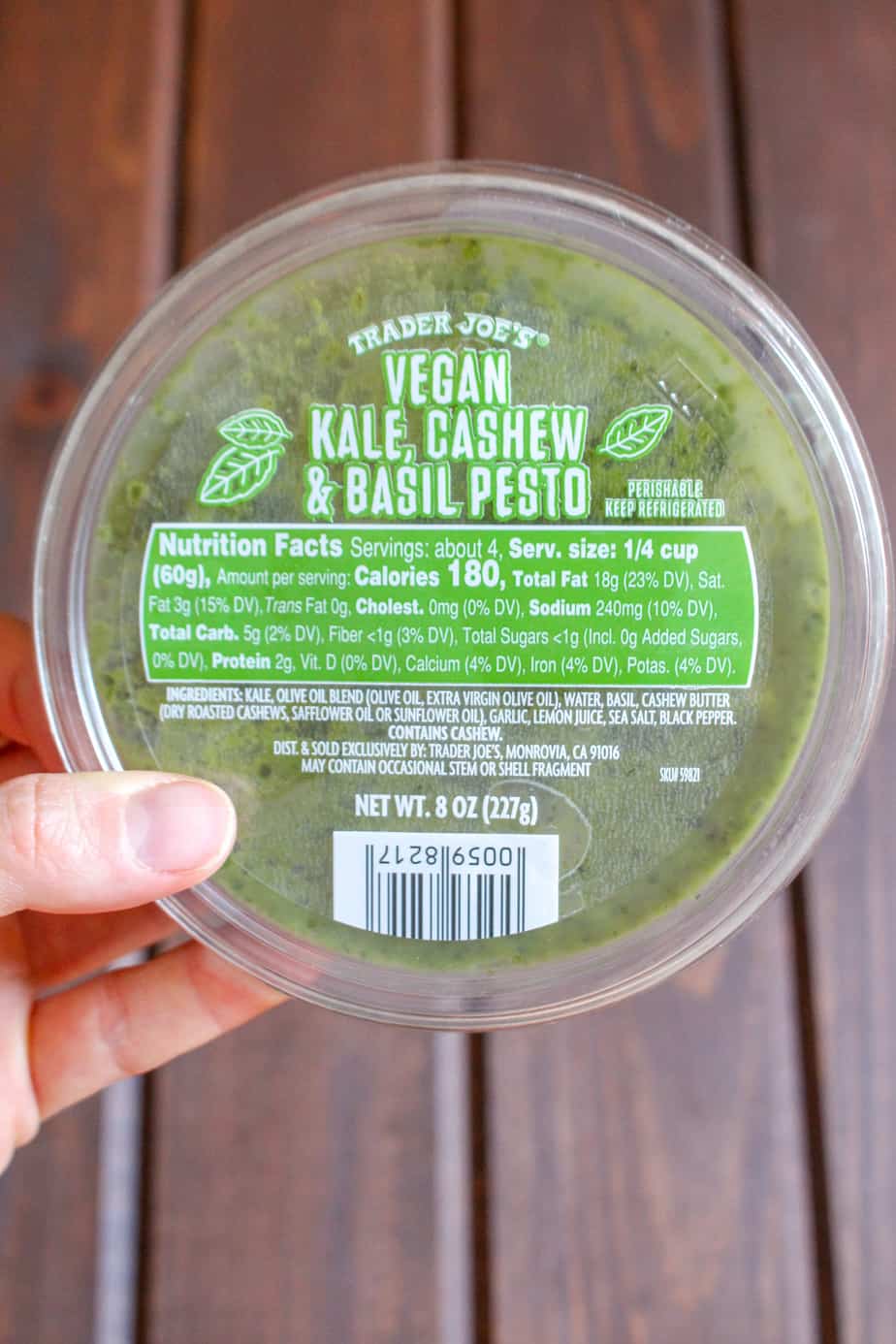 This combination is seriously delicious! Pesto and sun-dried tomatoes are a match made in heaven; add a little ground turkey and vegetables to the mix and you've got yourself a full meal!
Although I'm not a die-hard Whole30-er all year or anything, I do believe very strongly in the basic tenets of eating whole foods. But I also know that it is often financially out of reach for a lot people. Even I can't always afford Primal Kitchens mayo, and I certainly don't have the time to make a full feast every single night.
Since doing my first Whole30 in January (2018), I've been determined to come up with easy, fast, affordable recipes to ensure that the Whole30 elimination doesn't have to come with a mound of dishes and an empty wallet! I get a lot of messages from moms that they can't even spend 30 minutes making dinner - they need something faster.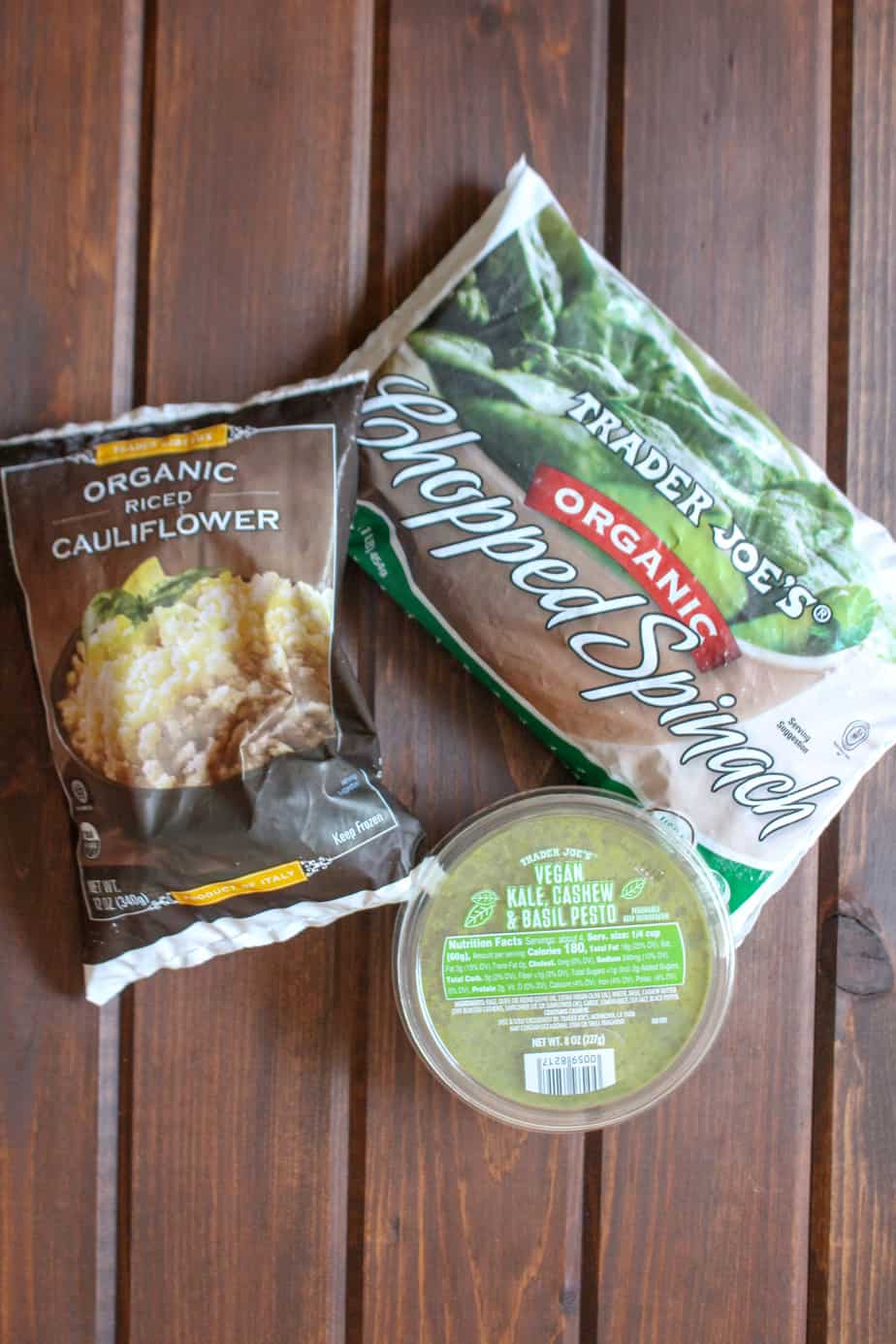 Determined to find alternatives to packaged dinners, I found myself writing down my own on-the-fly recipes and sharing them with clients in poorly formatted Google Docs to help families increase their vegetable intake (and decrease their refined and processed food intake).
What I've realized is that I now have a beautiful array of super fast Whole30 recipes for the average home cook. AND, they don't absolutely have to be Whole30. You can use it as the "main" part of a larger meal if you're not following the Whole30. And you can pair this dish with a little rice, pasta, roasted potatoes, or whatever makes a meal that works for your family.
These recipes utilize a lot of fast-cooking options, such as ground meat, frozen vegetables, riced cauliflower, and store-bought sauces (like pesto!) in order to keep the hands-on time to a minimum. You can certainly rice your own cauliflower or use fresh vegetables, but as written, the recipes in this series, including this one, are SUPER FAST, and most of them only dirty a single skillet and a spatula!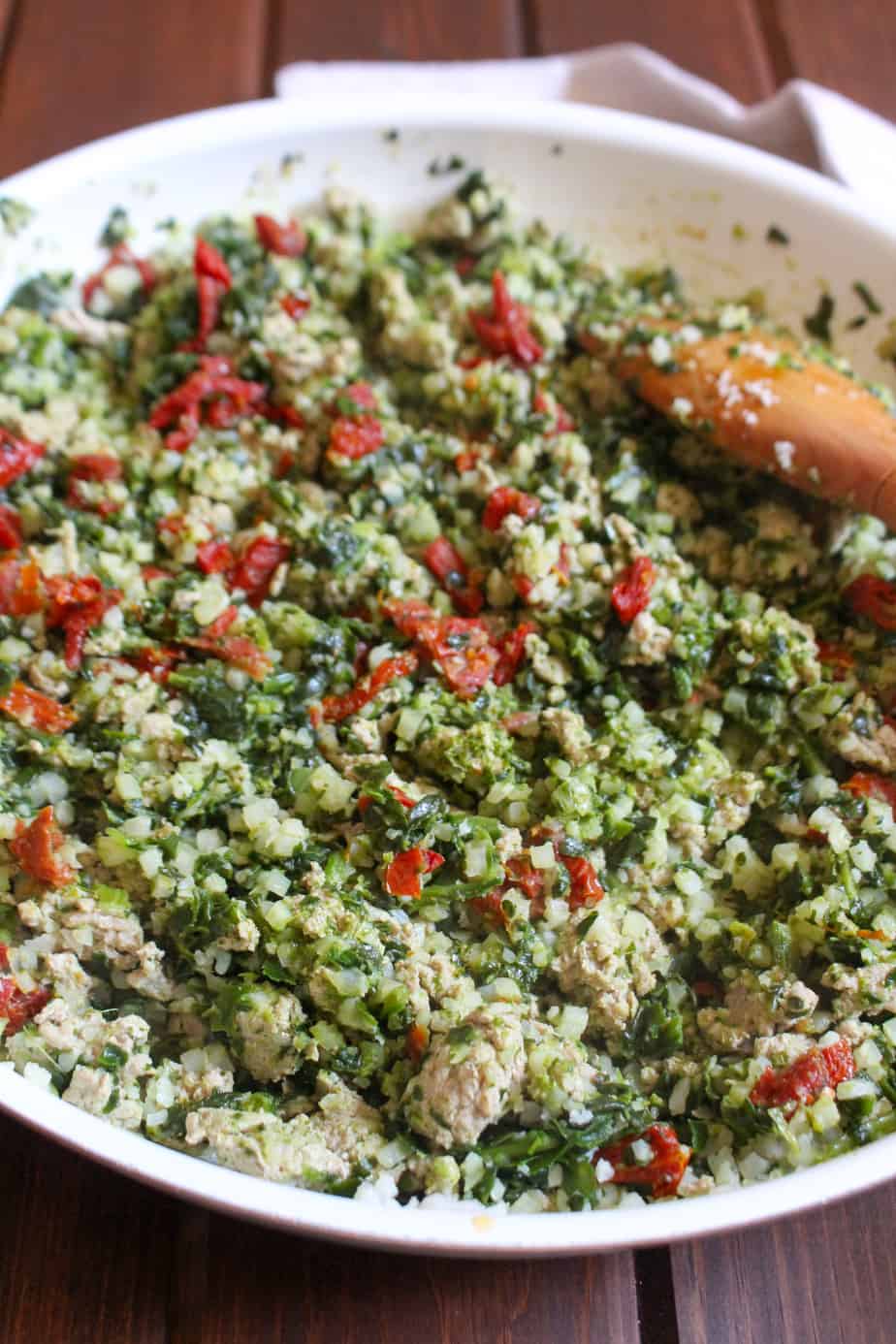 Paleo: Yep!
Vegetarian: No! But you could probably try crumbled tempeh or white beans in place of the turkey?
PIN THIS RECIPE FOR LATER ↓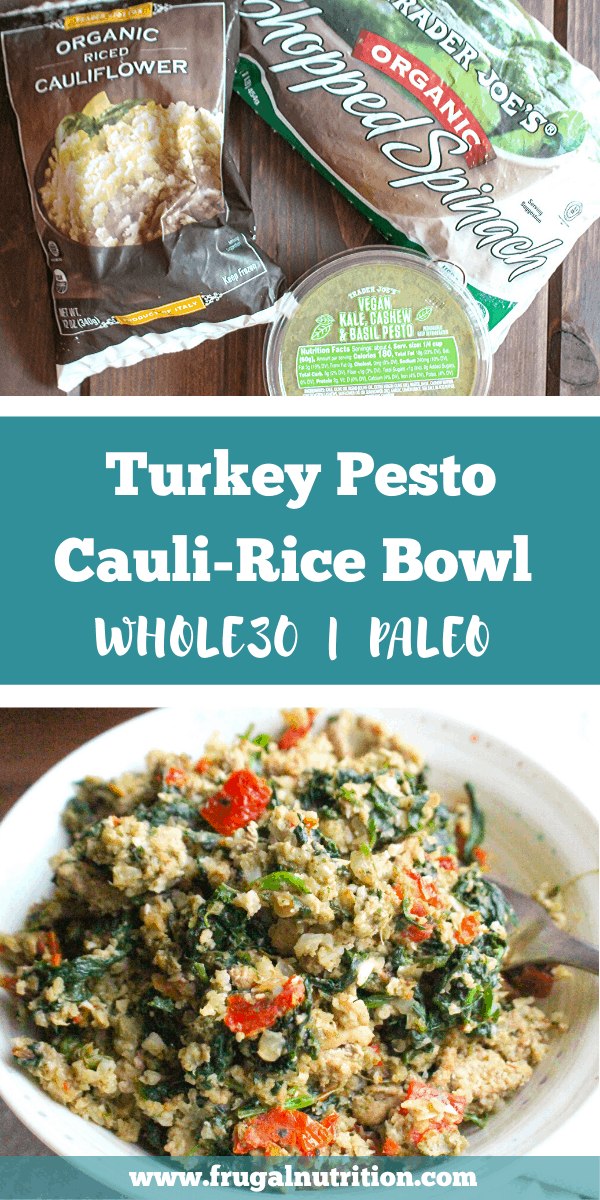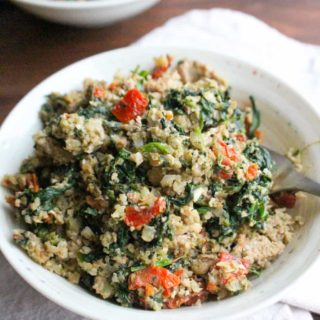 Pesto Turkey Cauliflower Rice Bowls
This easy, one-pan, 15-minute, Whole30 dinner is less than $3.00 per serving. Super fast and super easy!
Ingredients
2

Tablespoons

olive oil

or avocado oil, optional - for browning the turkey

1

pound

ground turkey

12

oz

cauliflower rice

frozen

8

oz

greens

frozen, like spinach

¼

cup

dairy-free pesto Trader Joe's Vegan Kale Cashew Pesto, or homemade Paleo Pesto

1 ½

oz

sun dried tomatoes

chopped

salt to taste if necessary
Instructions
In a large skillet, warm the olive or avocado oil and brown turkey, sprinkling it with just a little salt as needed. (About 5 minutes.)

Add the cauliflower rice and the frozen greens. Cover and cook until warm (about 5 minutes).

Stir in the chopped sun dried tomatoes and the pesto and combine well. Adjust seasonings as desired - salt, pepper, red pepper flakes, garlic powder, etc. and serve!
Notes
To Make Paleo Pesto: Basically, blend together 2 oz fresh basil leaves (washed, de-stemmed), ¼ cup of nuts or seeds of choice (I like walnut, almond, hemp, pumpkin), lemon juice to taste, 1-4 cloves of garlic (to taste), salt, pepper, and then a bunch of olive oil. You can use a little water to thin it out since olive oil can be expensive. Easy!
Nutrition
Calories:
307
kcal
Carbohydrates:
13
g
Protein:
31
g
Fat:
16
g
Saturated Fat:
3
g
Polyunsaturated Fat:
2
g
Monounsaturated Fat:
6
g
Trans Fat:
0.02
g
Cholesterol:
64
mg
Sodium:
255
mg
Potassium:
1051
mg
Fiber:
3
g
Sugar:
6
g
Vitamin A:
1078
IU
Vitamin B1:
0.2
mg
Vitamin B2:
0.2
mg
Vitamin B3:
13
mg
Vitamin B5:
2
mg
Vitamin B6:
1
mg
Vitamin B12:
1
µg
Vitamin C:
58
mg
Vitamin D:
0.5
µg
Vitamin E:
1
mg
Vitamin K:
22
µg
Calcium:
66
mg
Copper:
0.3
mg
Folate:
86
µg
Iron:
3
mg
Manganese:
0.4
mg
Magnesium:
73
mg
Phosphorus:
355
mg
Selenium:
26
µg
Zinc:
3
mg
Choline:
103
mg
Nutrition Label is for 4 Servings (nutrition will vary based on pesto you choose)