Recipe: $6.33
Per Serving: $1.58*
*Priced for Vegetarian version.
When I was in high school I loved caesar salads. It probably had something to do with the salty creamy dressing (which I'm pretty wary of these days) or the flavorless crunchy romaine. Either way, it was enough to help me like salad at a young age, and I'm totally okay with it. I have big plans to make this fancy caesar salad, but that link has been bookmarked for somewhere around forever. I'll get to it one day.
Anyway, as a staunch salad lover, I somehow came up with this genius idea to make warm kale salad with a reduced balsamic dressing. I was on a reduced balsamic kick and had big plans for caprese kebabs with the sweet and sticky sauce as well. I reduced balsamic for like two weeks to get my fix. And then, I realized I wasn't the only one. My friend made caprese kebabs for the Superbowl, and I discovered a similar salad over at Pinch of Yum. I was discouraged by my non-originality for about a month, and then I was like, SCREW IT, I'm doing it anyway and I don't even care.
Kale and reduce balsamic = DELICIOUS. However, in this last-ditch effort to hang onto cheap winter produce for some reason, I decided to make mine two ways. One with acorn squash and bacon for the Paleo folks, and one with barley for the vegetarians and squash haters.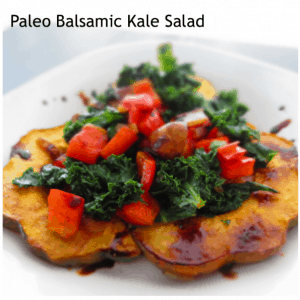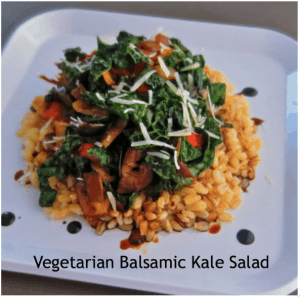 So you can take your pick! There are instructions for both options, but the reduced balsamic is completely non-negotiable. Personally, I preferred the barley version, but my taste testers liked the salty-sweet combination of bacon and squash.
Reduced Balsamic Warm Kale Salad - Two Ways
A tasty warm kale salad for a tasty side dish for meals or main dish.
Ingredients
1

bunch kale

~8 cups chopped

1

red bell pepper

or yellow, orange

8

oz

mushrooms

about 10ish

½

white onion

½

cup

balsamic vinegar

Vegetarian: 1 cup barley

optional parmesan cheese

Paleo:

no barley 1 acorn squash and 2 slices bacon
Instructions
Prepare barley in vegetable stock or water, according to package directions. (I like to use my rice cooker! It takes about 45 minutes though.)*Paleo Version: Slice acorn squash in ¼-inch strips and remove seeds (either slice in half first or use a cookie cutter to remove seeds). Brush with oil, salt, and pepper and bake in 350-degree oven for about 15-20 minutes.

Start with your vegetables – dice the onions, chop the bell pepper into ½-inch pieces, and quarter the mushrooms (if they're big, cut some into 6 chunks). *Paleo Version: Cook bacon strips first in large pan with lid. Remove from pan and set aside to cool, then chop into small chunks. Do not drain! Add onions and bell peppers directly to bacon grease to saute.

In a large pan with a lid, saute onions and peppers in about ½ tablespoon olive oil (or coconut oil, or ghee) for about 5 minutes, until fragrant and a little soft. Add mushrooms and cook all together, stirring occasionally, for about 10 minutes.

Meanwhile, prepare balsamic reduction. Place ½ cup balsamic vinegar in sauce pan and bring to a low simmer. Simmer for about 10-15 minutes, and be sure to set a timer so you check it around the 10-minute mark. You want it thick and syrupy. Turn it off and remove from heat when finished.

Reduce heat on vegetables to low. As soon as the barley is done, add the kale to the vegetable sauce pan with about 2 tablespoons water, and cover, allowing the kale to steam for about 2 minutes, or until super bright green.

Mix kale in with the vegetables, and add most of the balsamic vinegar to pan, reserving some for drizzling if you want.

Serve over barley or acorn squash!
Nutrition
Calories:
149
kcal
Carbohydrates:
27
g
Protein:
7
g
Fat:
2
g
Saturated Fat:
0.3
g
Polyunsaturated Fat:
1
g
Monounsaturated Fat:
0.2
g
Sodium:
84
mg
Potassium:
802
mg
Fiber:
8
g
Sugar:
9
g
Vitamin A:
14321
IU
Vitamin B1:
0.3
mg
Vitamin B2:
1
mg
Vitamin B3:
5
mg
Vitamin B5:
1
mg
Vitamin B6:
0.4
mg
Vitamin B12:
0.02
µg
Vitamin C:
165
mg
Vitamin D:
0.1
µg
Vitamin E:
1
mg
Vitamin K:
524
µg
Calcium:
360
mg
Copper:
0.3
mg
Folate:
115
µg
Iron:
3
mg
Manganese:
1
mg
Magnesium:
67
mg
Phosphorus:
161
mg
Selenium:
10
µg
Zinc:
1
mg
Choline:
18
mg