Recipe: $5.30
Per Serving: $1.32
SUPER BOWL = SALSA TIME.
(Serving size is ½ cup.)
Do you looooove chips and salsa? Because I do. I didn't like salsa growing up. I thought you were supposed to buy some major brand of salsa in a jar and then microwave it and mix it with the same brand's cheesy queso dip and eat it with chips. And that wasn't so tasty. Then I moved to San Diego and holysmokesmcgee MEXICAN FOOD. You see, I'd been in the land of Italians, also known as New Jersey. And, well, their Italian food is off the chain/freakin' hook/everything, what have you, but the mexican food? Not so much.
San Diego on the other hand, does Mexican "border food" really really well. And so, chips and salsa. A regular indulgence.
Have you ever made your own salsa? I mean, regular salsa fresca / pico de gallo is super duper simple. It's just: chop, mix, season, EAT. This is restaurant-style salsa, which calls for the same ingredients, but a few extra steps.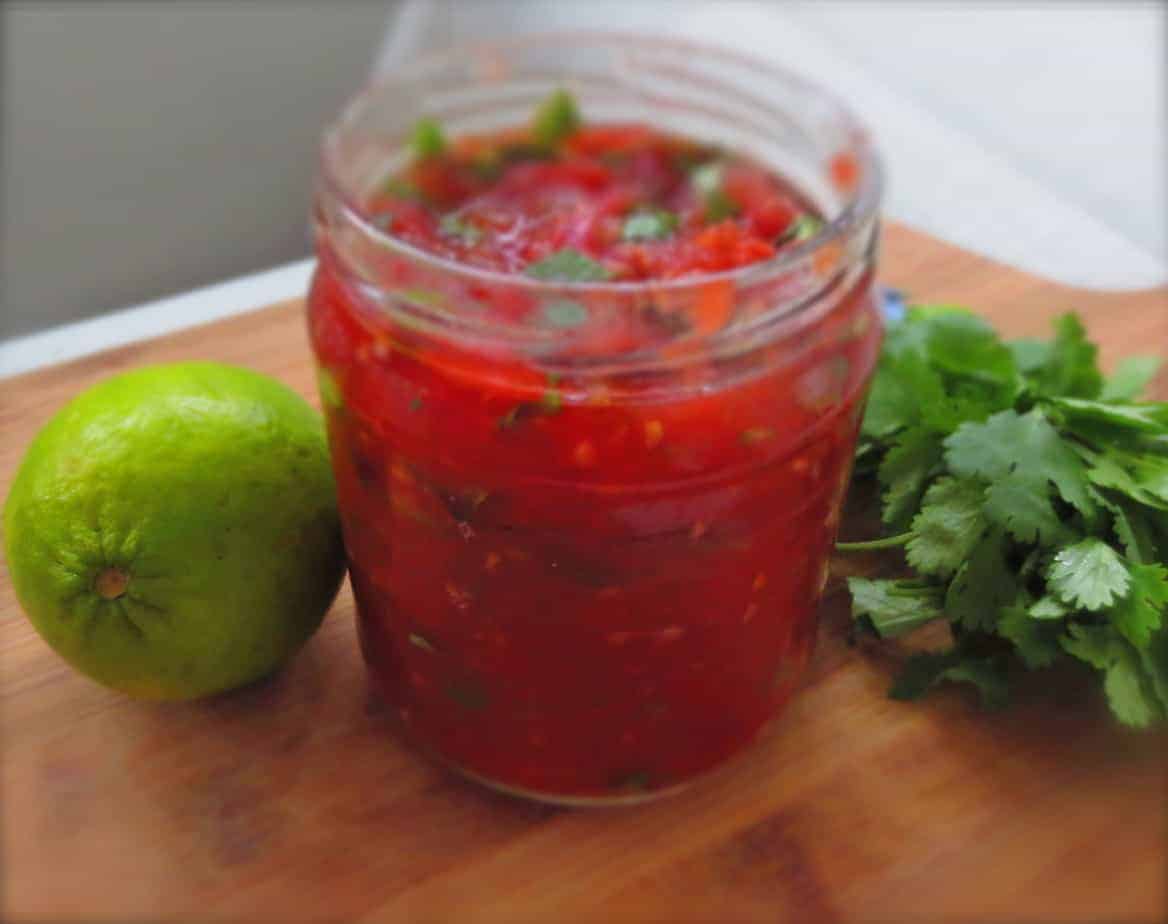 There are several ways to make restaurant style salsa, but this method has a good combination of chunky and saucy, and that's what I like. CHUNKY SAUCY. And I understand that this is a little pricier than most of the grocery store salsas, but it's comparable to the fresh salsas in the deli section (you know, by the hummus and cheese and stuff), and it skips all those extra ingredients like citric acid and such. You can use canned or jarred tomatoes also to save on cost. Or make it in summer when tomatoes will be half the price and twice the flavor!
I'm not going to bore you too much talking about the salsa, or my not-so-freezable veggie tacos, or how difficult it is to take food photos when San Diego refuses to give us sunshine (come on now!). Instead, I'll just tell you about this pepper. The teeniest habanero pepper in the world. The grocer didn't even want to charge me. He actually told me to put it in my pocket or purse. But I don't like to steal (and it was 25 cents). I wasn't even sure if this habanero was big enough to have any capsaicin in it. (The spicy stuff.)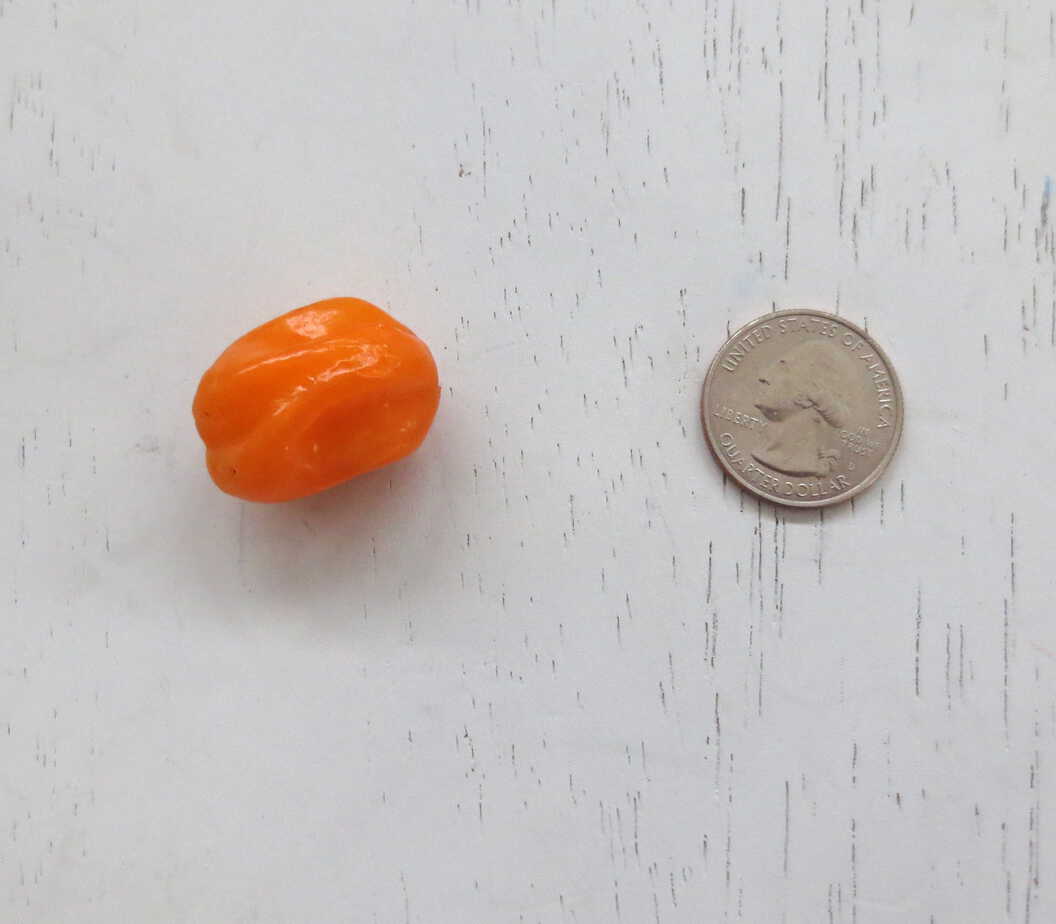 I've dabbled in a few peppers, including the Serrano and a few varieties of Peruvian Aji, but Habanero? Nope. Nope nope nope. I though this quarter-sized pepper was a good way to start, and you know what? It really was. I found that it isn't as potent in flavor, like the jalapeño and the chipotle, nor as sweet as the Aji. It's basically a slow burn of spicy. This little baby wasn't even spicy enough for me, so I think I'll actually be adding a few shakes of pepper flakes to this batch.
You can basically choose whatever pepper you want in this, I've made it with Aji, Jalapeño, and now a baby Habanero, but the other ingredients will remain the same. This recipe makes two cups, so you should double it and take it to your Super Bowl party. Or you can just put it on your tacos. Your call.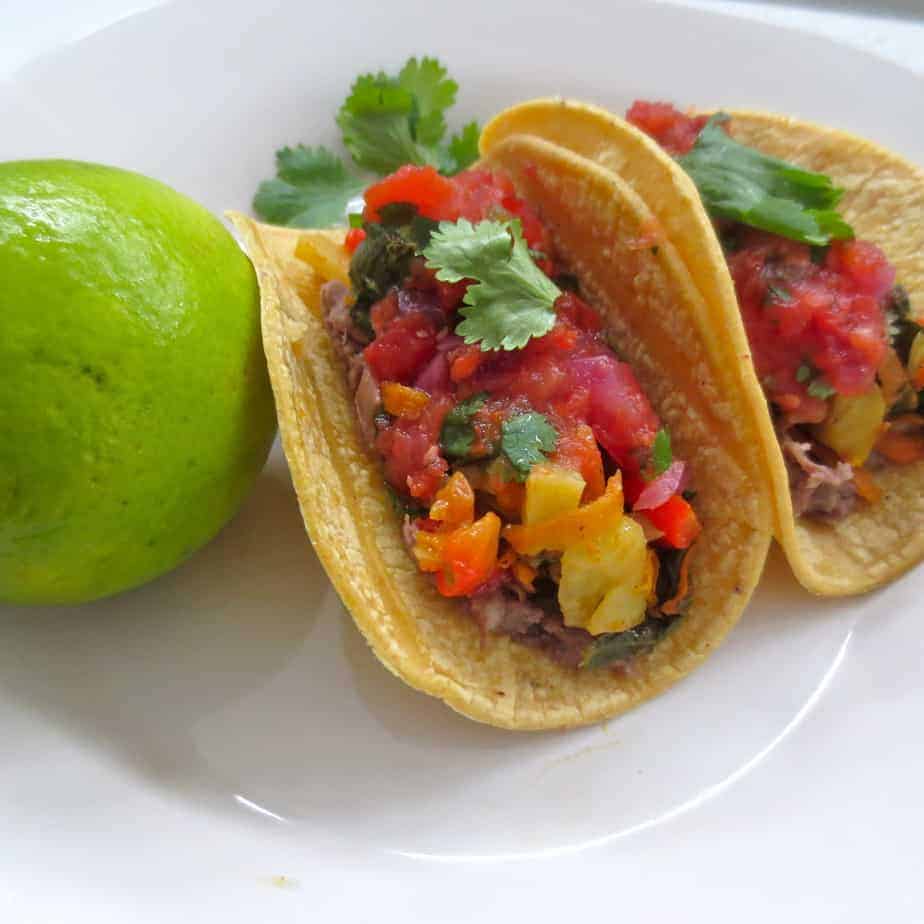 Restaurant-Style Homemade Salsa (Easy)
A quick and easy salsa that's just as good as the one at your favorite restaurant.
Ingredients
5

medium

ripe tomatoes (I used vine-ripened)

¼

red onion

about ⅓ cup diced

½

jalapeño + 1 baby habanero

or 1 pepper of choice

juice of 1 lime

4ish tablespoons

1

garlic clove

salt & pepper to taste

¼

cup

fresh cilantro

roughly chopped
Instructions
Dice all tomatoes into chunks, set half aside. Put other half in blender and pulse until chopped or pureed (your choice).

Heat medium saucepan over low to medium heat and add tomato puree, bring to a simmer.

Meanwhile, dice the onion, then mince the garlic and pepper (Use a fork to hold the pepper in place!) Add onion, garlic, and pepper to tomato puree as you go. Simmer together for about 15 minutes, or until the sauce deconstructs a bit more and turns a bright red.

Add the other half of the chopped tomatoes to the pot. Return to a simmer, and stirring occasionally, simmer for 15-20 minutes, or until most or all of the water has evaporated and desired consistency is reached.

Add salt and pepper to taste.

Let salsa cool completely, then mix in the fresh lime juice and the cilantro & serve!

*If you don't like your salsa to be kind of pinkish in color, you should skip the blender and just cook it for about twice as long on the stove, stirring occasionally. The pink comes from blending the tomatoes!
Nutrition
Calories:
26
kcal
Carbohydrates:
7
g
Protein:
1
g
Fat:
0.1
g
Saturated Fat:
0.01
g
Polyunsaturated Fat:
0.02
g
Monounsaturated Fat:
0.01
g
Sodium:
2
mg
Potassium:
82
mg
Fiber:
1
g
Sugar:
1
g
Vitamin A:
188
IU
Vitamin B1:
0.03
mg
Vitamin B2:
0.01
mg
Vitamin B3:
0.2
mg
Vitamin B5:
0.1
mg
Vitamin B6:
0.1
mg
Vitamin C:
15
mg
Vitamin E:
0.2
mg
Vitamin K:
7
µg
Calcium:
12
mg
Copper:
0.03
mg
Folate:
14
µg
Iron:
0.2
mg
Manganese:
0.1
mg
Magnesium:
6
mg
Phosphorus:
15
mg
Selenium:
1
µg
Zinc:
0.1
mg
Choline:
3
mg