Recipe: $2.40
Per Serving: $0.48
Have you ever sprouted beans? It's super super easy, but it definitely takes some forethought. I make a point to randomly soak beans overnight even when I'm not planning a meal. And the first time I sprouted beans, I did it accidentally. I soaked the beans overnight, and then drained them and forgot about them. They sat on the counter because the fridge was full, and about a day later I had slightly sprouted white beans. I watched this video, then experimented with sprouted lentils (so easy) for soup. I've decided to try and sprout more beans when I can, and did just that when I had soaked too many kidney beans for my vegetarian chili.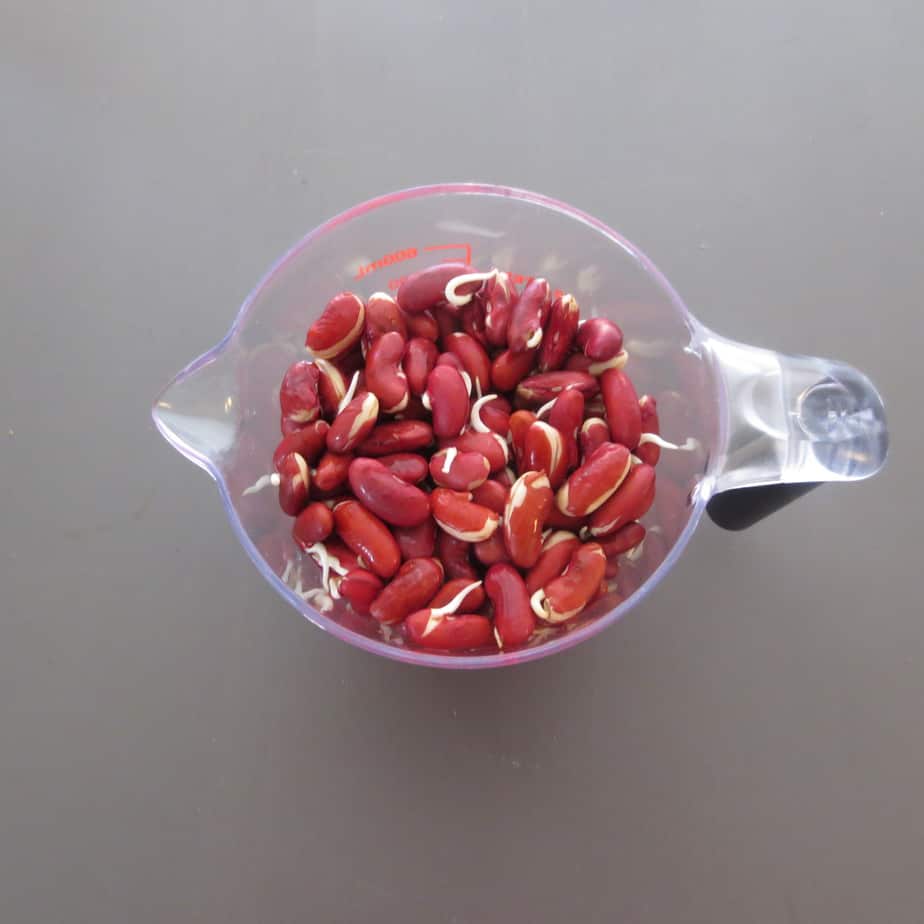 There are a lot of benefits to sprouting your beans, including the dismantling of "anti-nutrients" which are those pesky little things like phytic acid that the beans evolved to try and make it more difficult for humans to digest beans. (And which sometimes act as free radicals in the body.) It is actually these anti-nutrients that make legumes un-Paleo (mostly), so many people on the Paleo diet will accept sprouted beans as a safe form of cheap protein.  I'm being vaguely sciencey here, but stick with me.
Here at Frugal Nutrition we like beans, and we know that the bloating and gas some people get from beans doesn't normally happen if the beans are soaked prior to being cooked, and any GI distress form beans is pretty much eliminated when you sprout them. Plus, sprouted or germinated beans are living plants with a whole host of accessible nutrients. So, we'll be sprouting when we remember. Capische?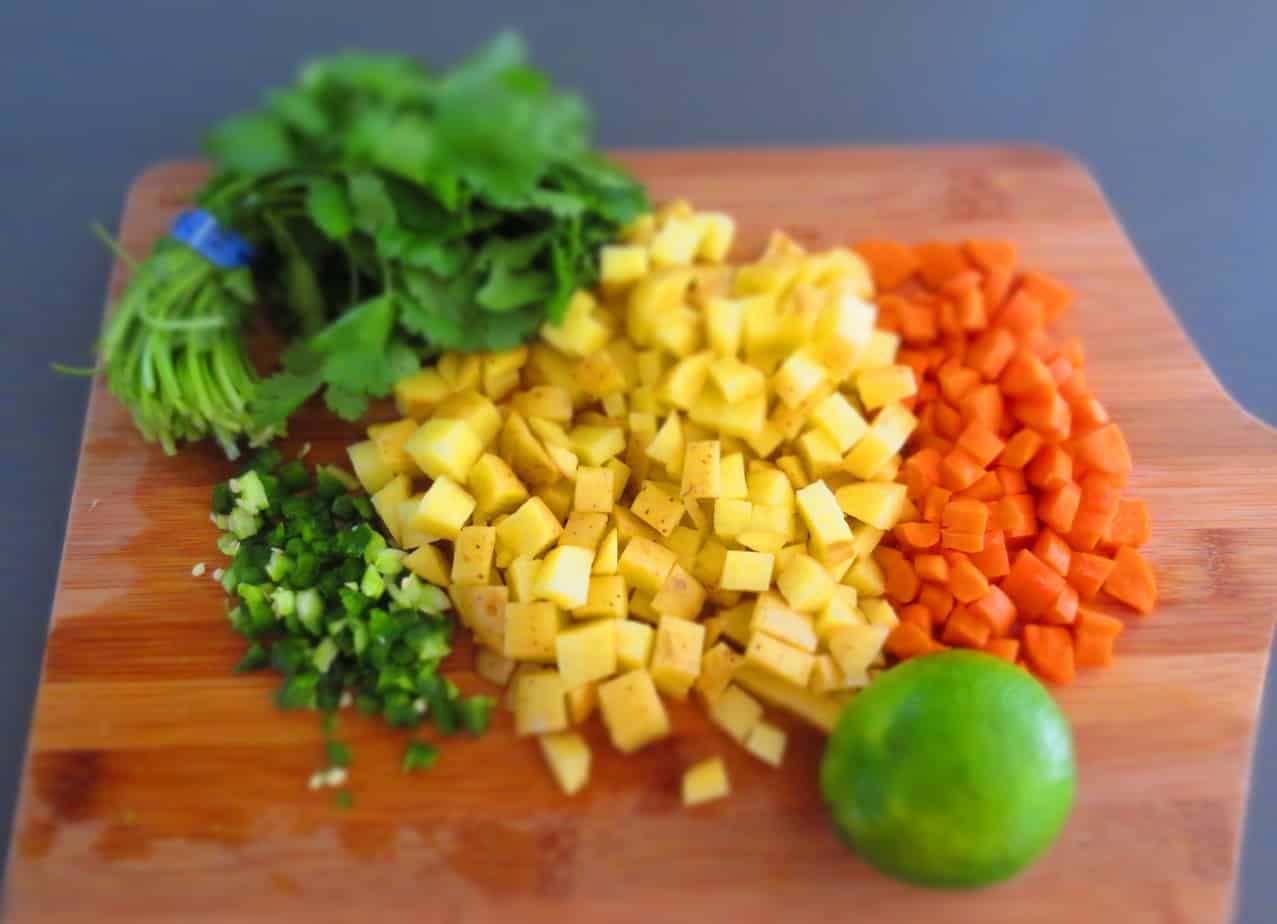 This lime-y bean-y soup is an awesome vegan and frugal alternative to chicken noodle soup, and I find it to be an excellent soup for an upset stomach, or, ahem, Super Bowl hangover, even with all the spicy peppers. And here's a tip: the lime squeeze at the end is a must-have addition to the soup! It's just not the same without it.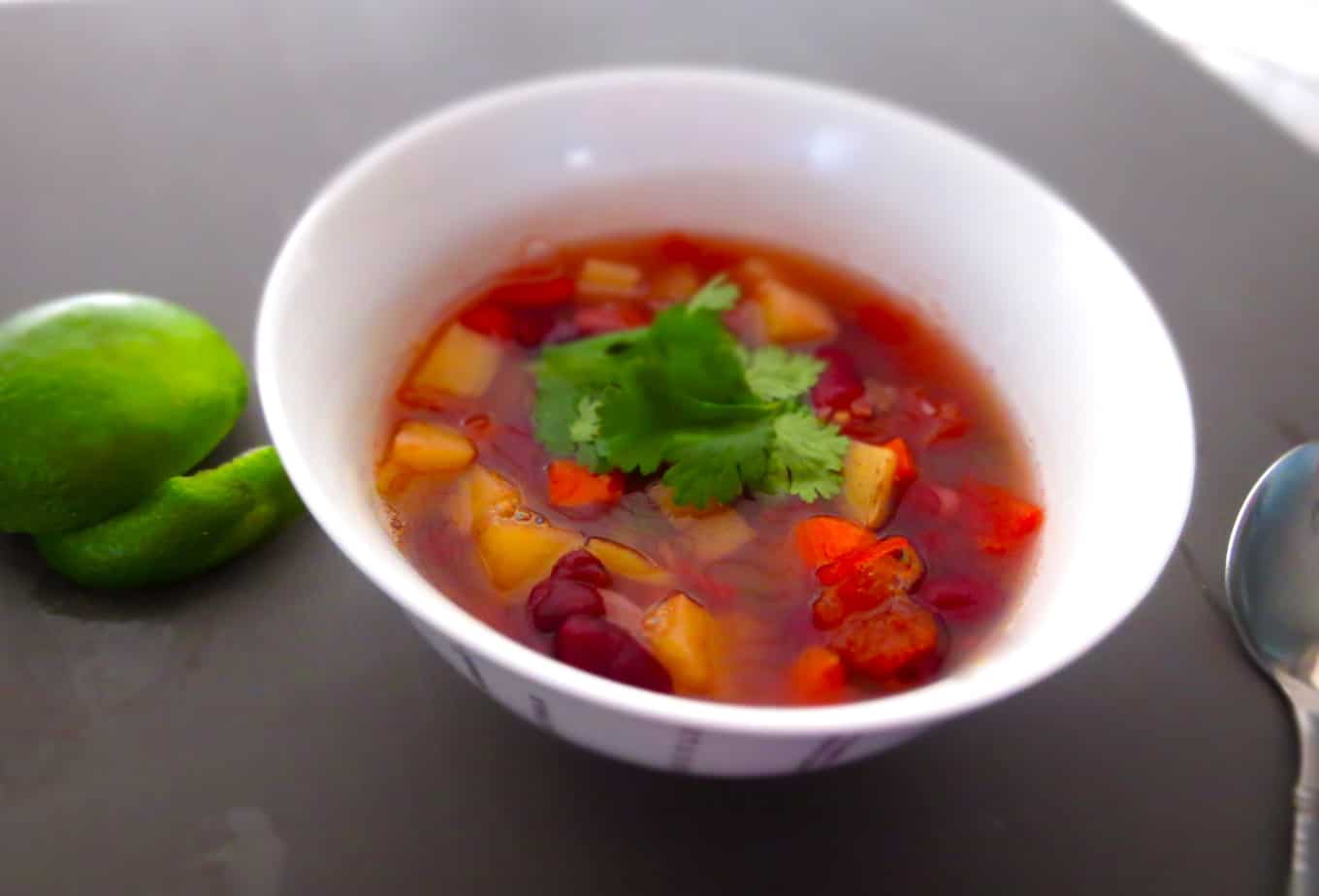 Enjoy as is, or add a spoonful of salsa, a side of tortilla chips, or an extra shake of red pepper flakes.
Sprouted Kidney Bean Lime Soup
A simple kidney bean soup with a seasoned broth and lime juice.
Ingredients
2 ½

cups

sprouted kidney beans

2

cloves

garlic

minced

7

cups

water

1-2

medium

potatoes*

1

medium

carrot

1

medium

tomato

½

medium

onion*

optional

½

spicy pepper

jalapeño

½

teaspoon

cumin

½

teaspoon

chili powder

or cayenne

¼

teaspoon

red pepper flakes

optional

1

lime

1

small bunch

cilantro
Instructions
After sprouting your kidney beans for a few days, place them in a pot with the garlic and cover with 4 cups water. (Optional: Use vegetable or chicken stock.) Bring to a rapid boil, then reduce to a simmer for 25 minutes.

Chop potatoes, tomato, and carrot to similar-sized pieces, and mince the jalapeño. (Suggestion: Hold spicy peppers with a fork while chopping.) Add carrot, tomato, potato, jalapeño, and spices (cumin, chili powder, red pepper flakes) to pot with the 3 remaining cups of water.

Bring to a boil then reduce to a simmer. Simmer together for about 30 minutes, adding salt and pepper to taste. Top with cilantro and a squeeze of lime and serve!

*I prefer to make this with one medium potato, but accidentally photographed and chopped two before realizing my mistake! Also, I normally make this with onion but didn't have any this time around and it still tastes great!
Nutrition
Calories:
211
kcal
Carbohydrates:
42
g
Protein:
12
g
Fat:
1
g
Saturated Fat:
0.1
g
Polyunsaturated Fat:
0.4
g
Monounsaturated Fat:
0.1
g
Sodium:
47
mg
Potassium:
875
mg
Fiber:
11
g
Sugar:
4
g
Vitamin A:
3117
IU
Vitamin B1:
0.3
mg
Vitamin B2:
0.1
mg
Vitamin B3:
2
mg
Vitamin B5:
1
mg
Vitamin B6:
0.4
mg
Vitamin C:
32
mg
Vitamin E:
1
mg
Vitamin K:
22
µg
Calcium:
75
mg
Copper:
0.5
mg
Folate:
167
µg
Iron:
4
mg
Manganese:
1
mg
Magnesium:
77
mg
Phosphorus:
215
mg
Selenium:
2
µg
Zinc:
2
mg
Choline:
47
mg