Recipe: $2.50
Per Serving: $1.25 (as main)
Does everyone else have a love-hate relationship with the grocery store? Wherein you love being surrounded with so many possibilities, but hate the prices, crowded aisles, and having to stick to your list instead of browsing at will? It's totally like the airport! That boarding pass is like the grocery list – aisle 3 has the butter on your list, but don't go to gate 4, those awesome people are headed to Fiji with their expensive dark chocolate bars and delicious amounts of cheese.
Did I lose you?
I have a bad habit of spending far too much time going to grocery stores. When I know that peanut butter is cheaper at another store, it is so so hard for me to buy it wherever I am. And then I get home, and we have no peanut butter, so I go to another store the next day. The cycle never ends. Luckily, we live in a pretty well-populated area with my 3 top stores in a 2-mile radius. I do really miss the days when I could walk across the street to Wong when we were in Lima. One major grocery store that close really eliminated the desire to price check every item in a foreign currency.
Well, in a two-day period I went to Albertson's (which is a rarity), Trader Joe's, Sprouts, and Whole Foods, plus we picked up our CSA box. The house is STOCKED. However, we still have lots of random leftovers to consume and I'm kind of a stickler. I've been trying especially hard lately to use up what we have on hand instead of running out for that "one missing ingredient" to make a perfect recipe for the blog. Cause guess what? This little bitty is called FRUGAL Nutrition for a reason. So here's hoping that you guys can appreciate a few leftover-based dishes like this one.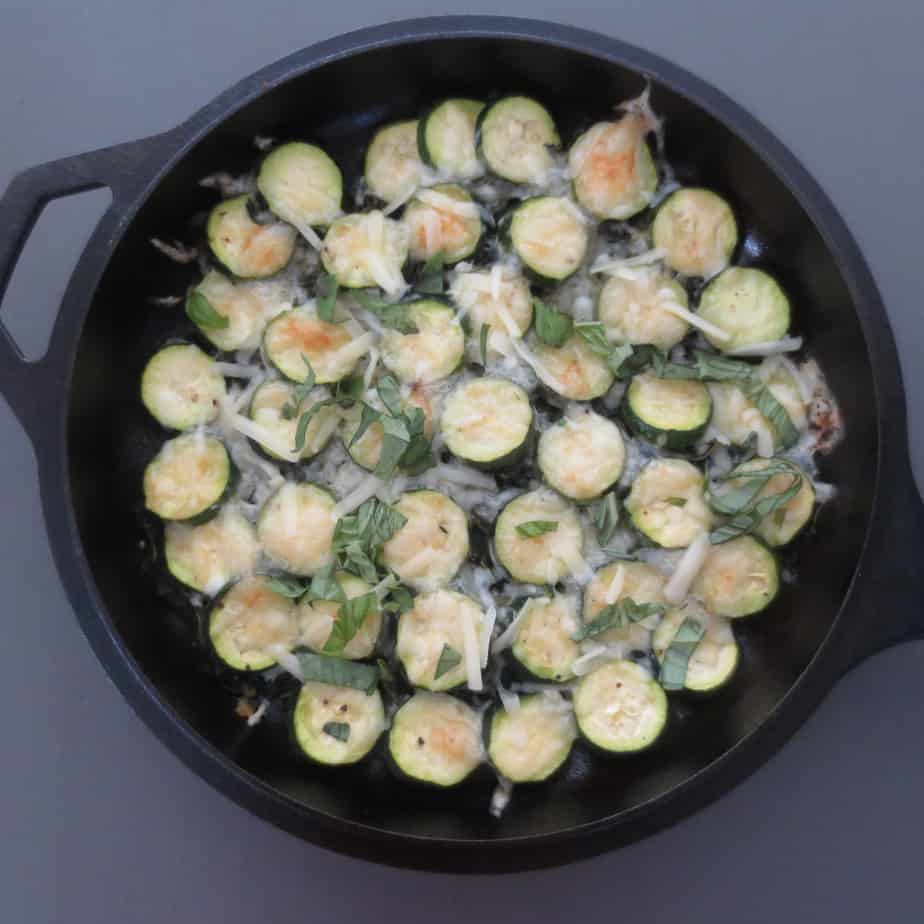 I'm calling it a Leftover Kale-Zucchini Gratin. Around lunchtime I started looking around for something that would be relatively easy with minimal hands-on time, using older produce. I found two slightly shriveled zucchini and a whole lotta leftover cooked kale. Plus a little block of cheese that was definitely past its prime, and some basil. Sure, you could probably whip those ingredients into some sort of pesto sauce over zucchini noodles, but I didn't have that kind of time, so a gratin-esque dish it was. Hands on time? 5 minutes. No complaints about that.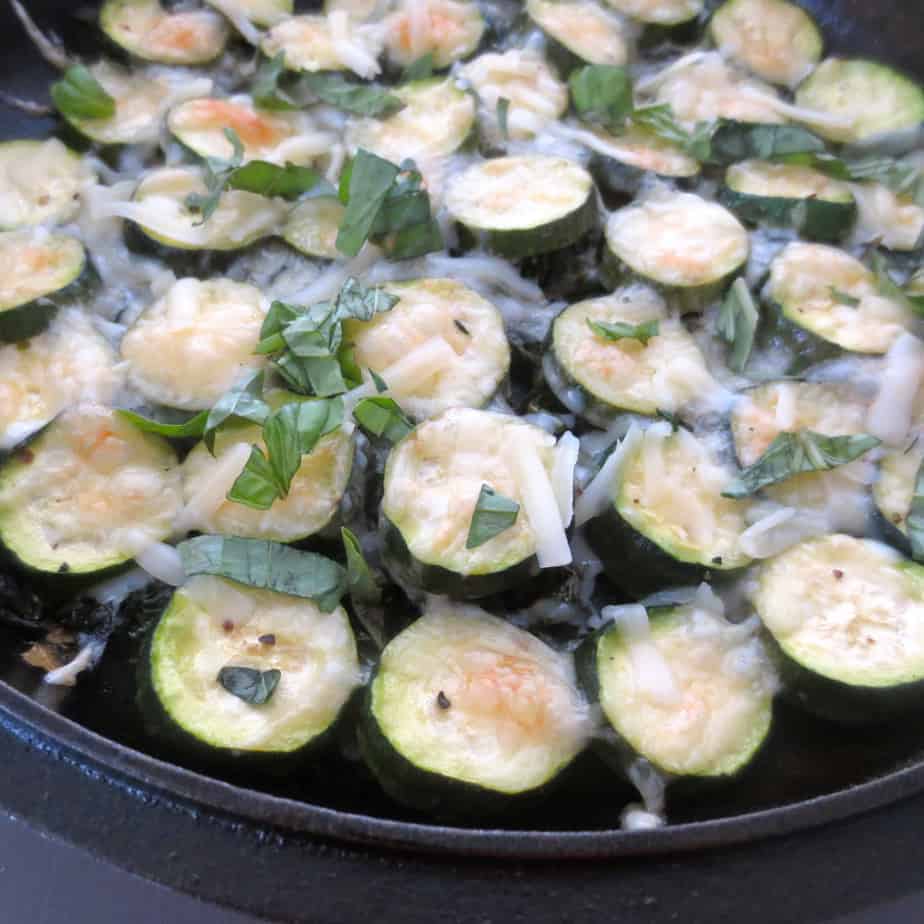 This kind of dish is perfect for just about any random veggies and leftovers you can find in the fridge. I later found some cooked ground turkey and wished I'd thrown that in also. You could go with more taco-ish flavors using cumin, cayenne, and maybe some salsa, or you can try to use up those massive quantities of vegetables and herbs (ahem, SO MUCH basil) from your CSA box. This is also a good way to get through summer's overflow of zucchini. Might I suggest two layers of zucchini and cheese?
It's almost too simple to be a recipe, but we loved it! If you want to get fancy, this would be great as a side dish also, but I would recommend another layer of zucchini! You can always go thinner, though I don't really love zucchini when it is super mushy so I stick with 1/4-inch slices.
Print

Skillet Kale-Zucchini Gratin
---
Author:

Total Time:

30 mins

Yield:

2

1

x
1

clove garlic

1 teaspoon

tomato paste

1 cup

cooked kale (or thawed and drained from frozen)

1/4 cup

chopped fresh basil

1/3 cup

grated cheese (blend of mozzarella and parmesan is best, but I actually had monterey)
dash of red pepper flakes
salt, pepper, olive oil
---
Instructions
Preheat oven to 450º. (You should place your cast iron skillet in there while it preheats.)
Mince the garlic and mix together in a bowl with 1 teaspoon tomato paste.
Chop the kale and chiffonade (uh, thinly slice) the basil and add both to bowl. Top with a shake or two of red pepper flakes and mix well.
Slice (or use a mandolin) the zucchini into 1/4-inch slices. (Feel free to go thinner if you want.) Season zucchini with salt, pepper, and olive oil and mix together.
Remove cast iron skillet from oven (use an oven mitt!) and add a little oil, unless it is well-seasoned. Spread kale mixture evenly across skillet. Layer zucchini slices and top with cheese.
Bake on 450º for approximately 20-25 minutes or until cheese is melted and a little brown. Garnish with a little more cheese and basil, and let rest 5 minutes before serving.
Prep Time:

5 mins

Cook Time:

25 mins

Category:

Side Dish, Entree