Recipe: $5.78
Per Serving: $1.16
Okay, I know, scampi originally referred to a small lobster of some kind. I read that somewhere. And now it refers to the preparation of shrimp with garlic and oil, but this dish doesn't require shrimp, just the garlic and oil. So I'm still calling it scampi. Cause it's easier.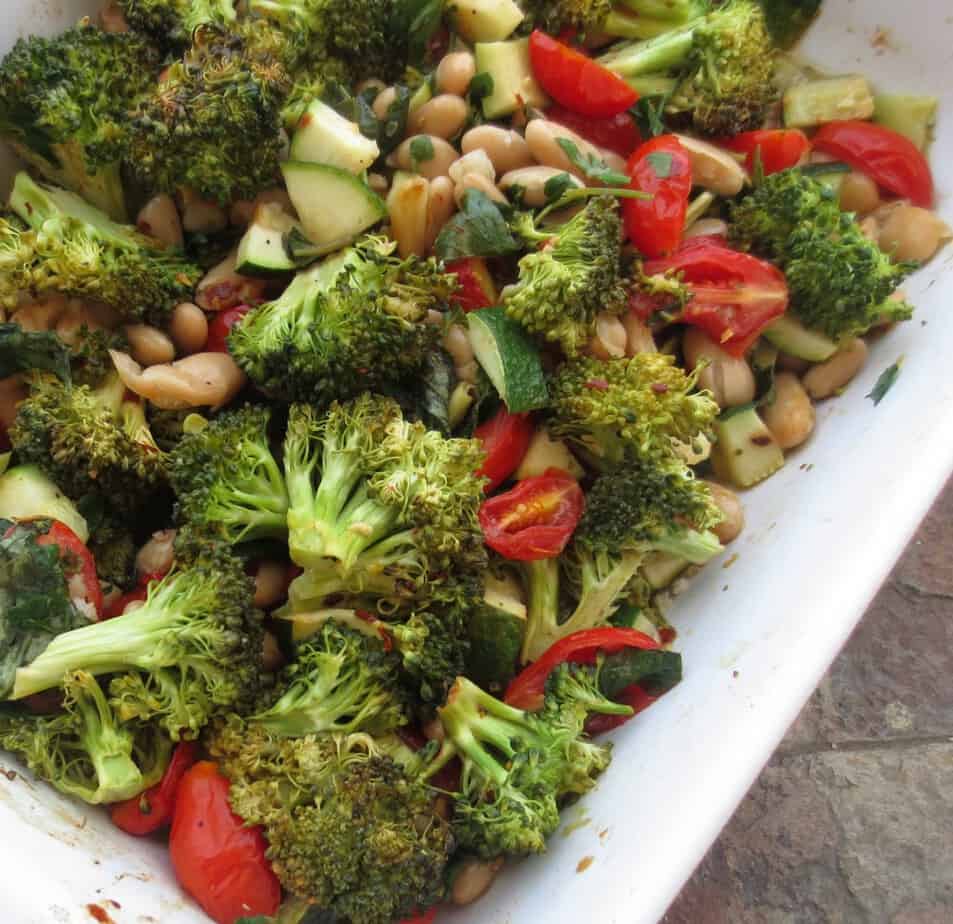 I had the awesome good fortune to have an adult sleepover (when does that start getting weird?) at my friend's house and we made garlic bread (YUM), zucchini lasagna with tomato-basil-cauliflower sauce (SO GOOD) and THIS. Basically, it's a bunch of roasted veggies with garlic oil. As in: the best thing ever.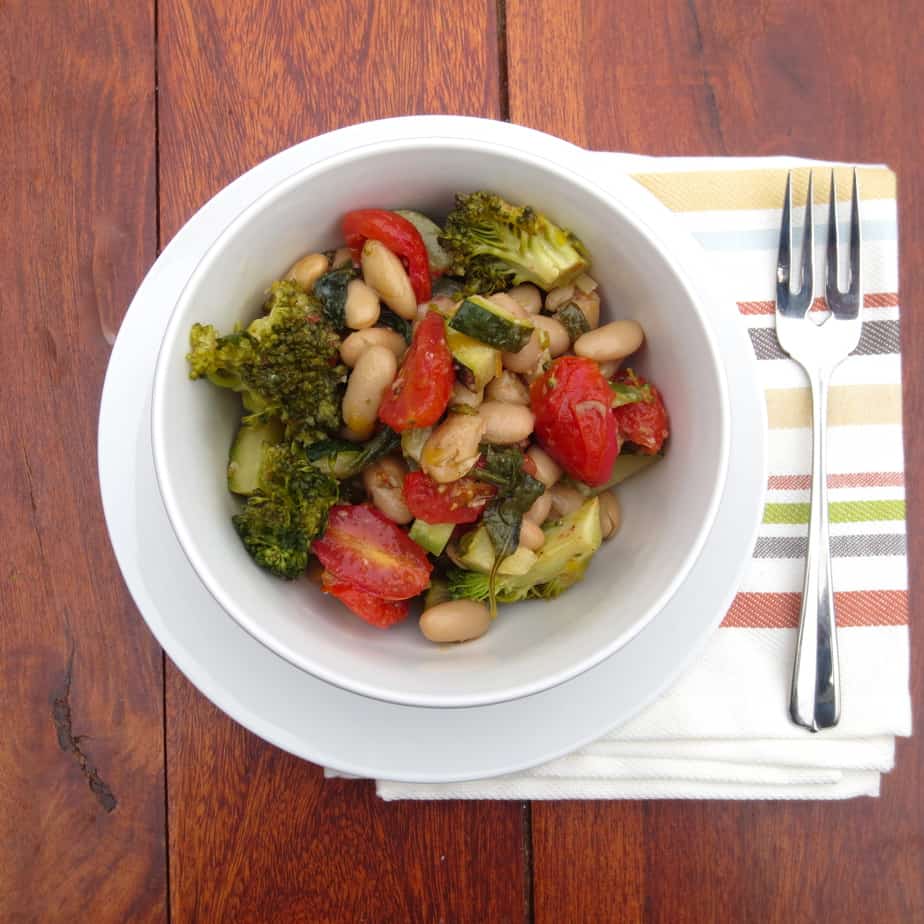 We made enough food to last Karen at least a week, and instead of cracking into this for lunch the next day, we turned our leftover bread into avocado-Sriracha-mozzarella grilled cheese. I thought nothing would ever replace Pesto Grilled Cheese. Really, I thought it was the ultimate, end-all, no need for anything else, grilled cheese masterpiece. And then a little creamy avocado-spicy Sriracha combination changed my whole world. Strictly speaking, Sriracha is not real food, but Sundays aren't real days anyway.
Updated picture, December 2015: 
Back to the "scampi." We actually did toss some shrimp in here for my friend, and I do believe she plans to serve this over spaghetti, but I ate it as is: broccoli, tomatoes, garlic (lots-o), zucchini, and white beans. That sounds like a meal to me!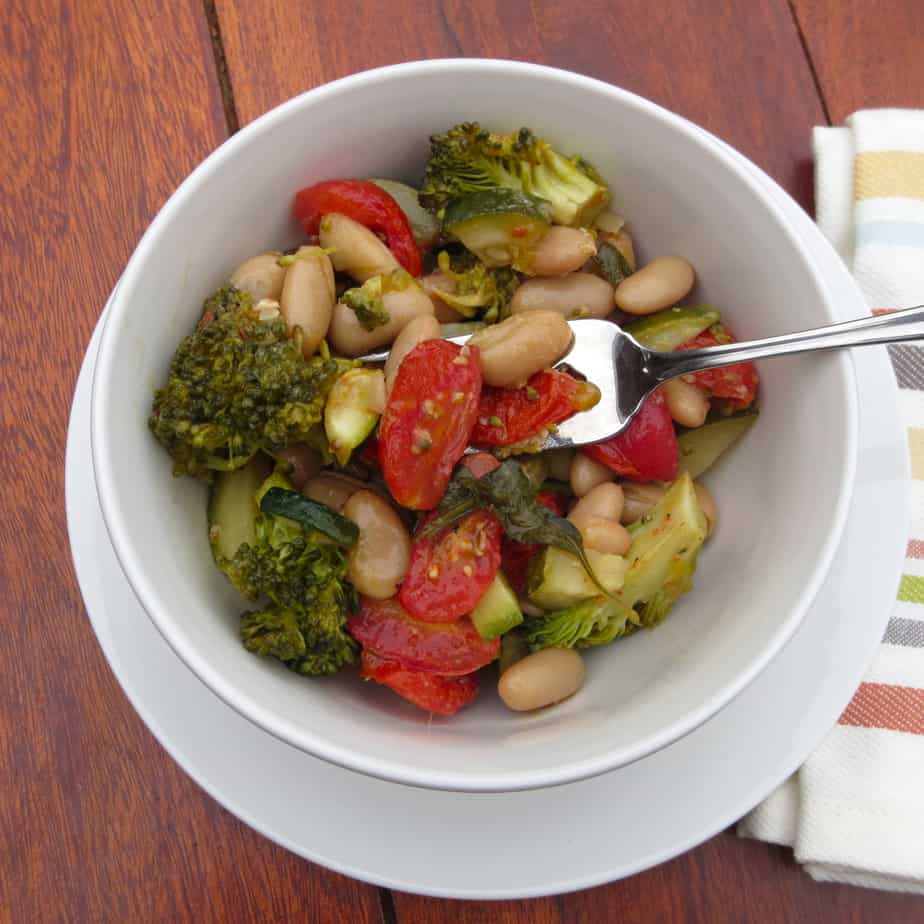 Roasted Vegetable "'Scampi"
Delicious scampi sauce served up on roasted vegetables for a tasty dish that's perfect for a main dish or side dish.
Ingredients
8

cloves

garlic

2

tablespoon

butter

for vegan, replace with more oil

⅛ - ¼

cup

olive oil

1

can

white beans

about 1.5 cups cooked

1

head

broccoli

1

pint

cherry tomatoes

¼

teaspoon

salt

½

teaspoon

red pepper flakes

black pepper to taste

½

zucchini

diced (optional)

½

pound

shrimp

optional

¼

cup

fresh parsley

optional

¼

cup

fresh basil

optional

shredded parmesan cheese

optional for serving
Instructions
Mince or slice the garlic. Melt butter in a pan with olive oil and garlic and cook on the stove over very low heat for about 3-5 minutes. You can let it reach a low simmer, but keep a very close eye on it because it can easily burn. Remove from heat BEFORE it starts to brown and set aside. (It will continue cooking in the oil a bit, so keep an eye on it. If your oil is too hot and it starts to burn, strain out the garlic or put it in the fridge.)

Meanwhile, remove the broccoli from the stem and chop florets into bite-sized pieces, slice the cherry tomatoes in half, chop the zucchini, and wash and chop the optional herbs. Drain and rinse the white beans (cannelloni).

In a casserole dish, mix together the vegetables, beans, and spices (not the herbs). Pour the garlic oil/butter mixture over the top and mix well.

Bake on 425º for about 25 minutes. If using shrimp, you can mix the shrimp in as well and bake until it is pink and cooked through. (If using pre-cooked shrimp, mix it in just for the last 5 minutes of baking.)

Mix in the optional herbs (basil, parsley) just before serving and top with parmesan cheese if you'd like. Serve as is or over whole wheat pasta, quinoa, or even zucchini noodles!
Nutrition
Calories:
223
kcal
Carbohydrates:
26
g
Protein:
10
g
Fat:
11
g
Saturated Fat:
4
g
Polyunsaturated Fat:
1
g
Monounsaturated Fat:
5
g
Trans Fat:
0.2
g
Cholesterol:
12
mg
Sodium:
210
mg
Potassium:
896
mg
Fiber:
7
g
Sugar:
5
g
Vitamin A:
1420
IU
Vitamin B1:
0.2
mg
Vitamin B2:
0.2
mg
Vitamin B3:
1
mg
Vitamin B5:
1
mg
Vitamin B6:
0.4
mg
Vitamin B12:
0.01
µg
Vitamin C:
132
mg
Vitamin E:
3
mg
Vitamin K:
132
µg
Calcium:
123
mg
Copper:
0.3
mg
Folate:
130
µg
Iron:
4
mg
Manganese:
1
mg
Magnesium:
67
mg
Phosphorus:
173
mg
Selenium:
5
µg
Zinc:
1
mg
Choline:
49
mg