Recipe: $2.50 (with rice: $3.14)
Per Serving: $0.63 (with rice: $0.79)
Cheap eats! I've been on a mission lately to come up with easier and cheaper options for the blog. Sure, I love many things that cost $3 and more per serving, but that's not what my wallet is about. And that's not what this blog is about either!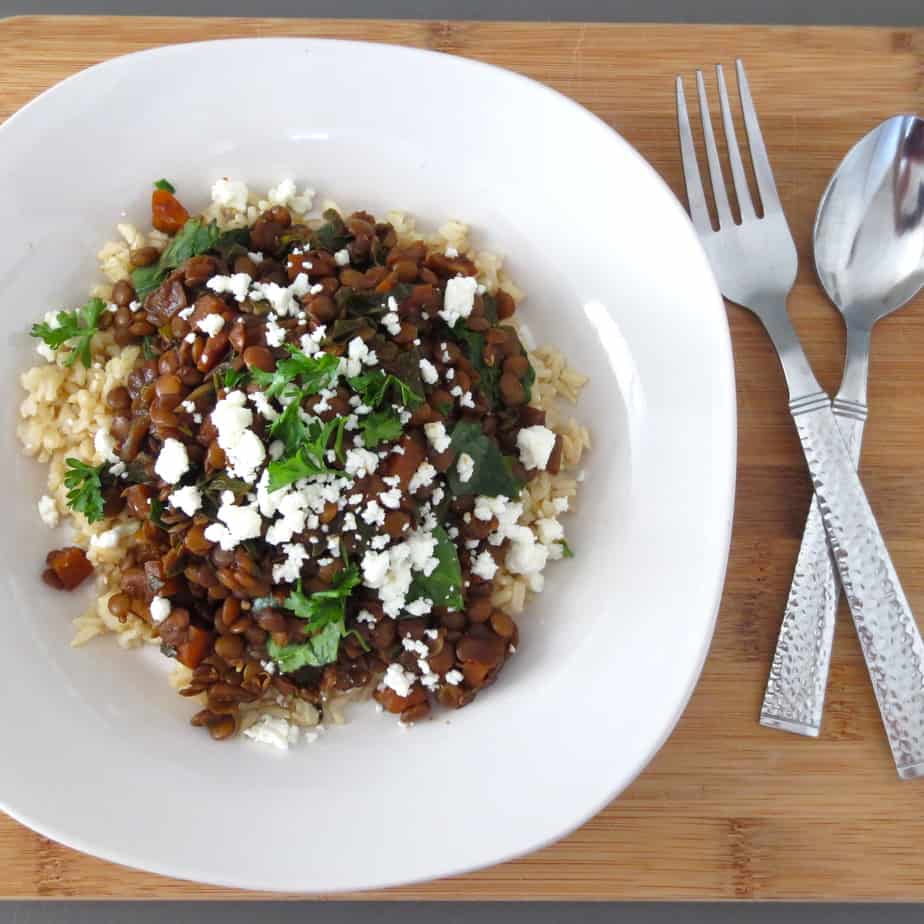 I have a few secret weapons when it comes to flavor and their names are vinegar and tomato paste. Tomatoes are packed with umami, while vinegar gives a sort of sweet richness to a dish. And they balance each other out. At least that is what I think - I'm kind of making this part up based on experience, so don't quote me in your culinary school paper or anything.
I've been really lazy with my receipts lately, so I didn't have the exact price for this meal, but EVERY SINGLE INGREDIENT was available on the Vons/Safeway site, so if you shop there, this is what you'll pay! I recently created a spreadsheet of prices for Sprouts and Trader Joe's to make it easier to get the prices right. I'll share it soon. Fun spreadsheet stuff.
Lentils and rice. It doesn't get much cheaper than that. But how to make it interesting in under 30 minutes and for less than $1 per serving? Balsamic vinegar my friends, balsamic vinegar. This secret weapon is one of my favorite ingredients to cook with. In case you haven't noticed it in about a thousand of my recipes.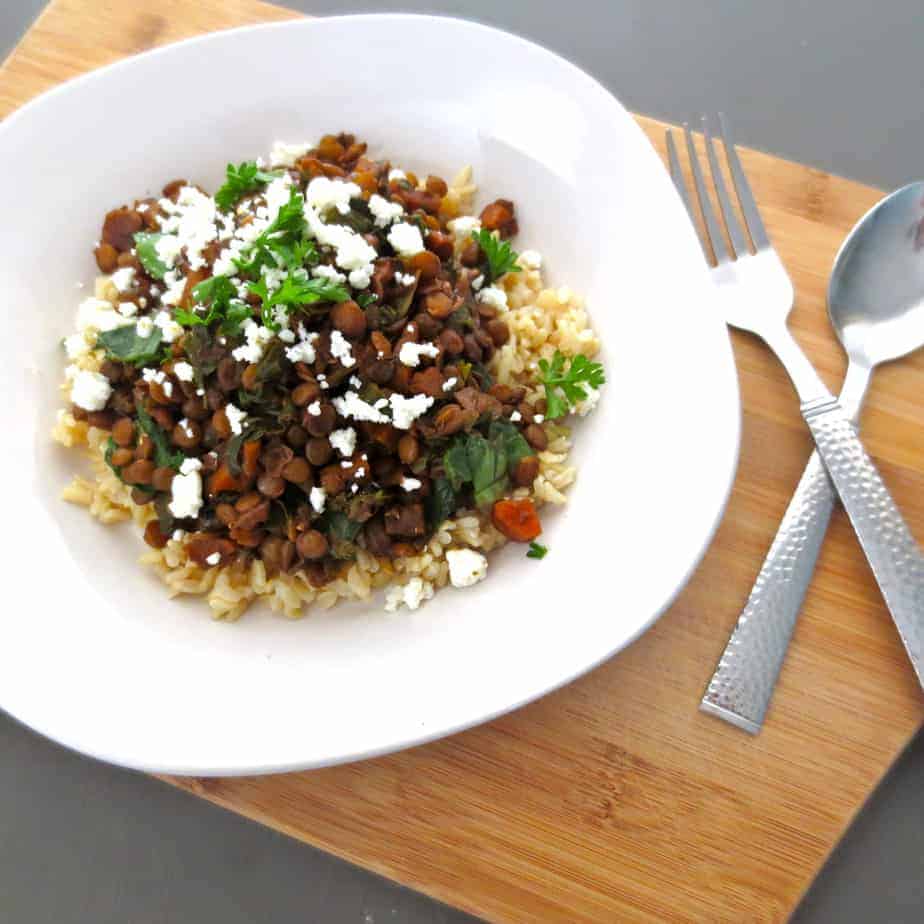 And something Peruvians, Indians, and a wide array of other traditional cultures figured out long ago (without knowing it) is that beans + rice = a complete protein! This is just one variation of the tried and true one-two punch. It's such a fun and versatile combination, and you can make a simple mixture of rice and beans take on so many different flavors! (Think mexican spices, curry, peruvian chili and garlic, italian risotto with white beans or chickpeas.)
Now go experiment with some of the cheapest foods on the planet, or just make this!
Print

Balsamic Lentils with Parsley
---
Author:

Total Time:

27 mins

Yield:

4

-6

1

x
1 cup

uncooked brown rice, 2 1/4 cups vegetable broth (for the rice)

1 cup

dry lentils

2.5

-

3

cups sodium-free vegetable broth/water (for the lentils)

1 Tbsp

tomato paste

1/2

medium onion

1

medium carrot

2

garlic cloves, minced

4 Tablespoons

balsamic vinagar

1/2 cup

fresh Italian parsley (about

1/3

of a bunch)

2 cups

leafy greens
olive oil
salt, pepper
---
Instructions
Prepare brown rice according to package directions, or place 1 cup brown rice and 2.25 cups vegetable broth in rice cooker and turn on. Use vegetable broth instead of water, and add few crushed garlic cloves. Mix in 1/4 tsp salt, parsley, and 1 Tbsp butter or olive oil at the end to give it extra awesome flavor! Set aside.
Saute onion and carrot in olive oil for about 5 minutes. Add garlic, lentils, sodium-free vegetable broth, and tomato paste, and bring to a boil. Reduce to a simmer and cook for about 15-20 minutes, or until liquid is mostly absorbed and lentils are tender. (Alternatively, you can use already-cooked lentils. Simply use just 1/2 cup broth, and simmer ingredients together until liquid is absorbed.)
Stir in balsamic and cook until mostly absorbed, then add salt, pepper, parsley, and season to taste.
Add chopped greens and remove from heat. Stir until greens are wilted and serve over brown rice. Top with feta cheese or parmesan and serve!
Prep Time:

2 mins

Cook Time:

25 mins

Category:

Entree