Recipe: $2.42
Per Cookie: $0.15
Disclaimer: The lemons for this post were provided by Melissa's Produce in support of Alex's Lemonade Stand, but all opinions are mine. 
These are delicious almond-lemon-chia-date cookies. They're good for dessert. They're good for breakfast. They're Paleo. They're vegan. And they're here to tell a story.
If you haven't heard of Alex's Lemonade Stand, grab the tissues. You're about to be inspired by a caring little girl.
Little Alex was diagnosed with cancer just before her first birthday. She fought and fought and fought, and in the midst of all that cancer-fighting, at age four, she told her parents she wanted to find a way to help the doctors fight cancer for other sick kids. Her method of fundraising? A lemonade stand. Is that the most adorable and selfless thing ever? My lemonade stands growing up were primarily funding my desire to buy things at the school book fair.
Alex unfortunately lost her battle with cancer after seven years of fighting, but she's left behind a legacy of lemonade stands around the country, run by caring kids who want to help.
This week I'm partnering with friends to support this amazing cause. If you're in San Diego, it's here:
Alex's Lemonade Stand: Saturday July 26: 10:00-6:00 pm
3366 Adams Avenue, 92116 (Masonic Parking Lot)
FM 94.9 Live Broadcast from 10a-6p
Bands, lemonade, silent auction, kids' activities, and more!
This lemonade stand is the biggest fundraiser in California and one of the top ten Alex's Lemonade Stands in the country. Since the beginning, Alex's Lemonade Stand has raised over $80 million for childhood cancer, and has funded more than 450 research projects at 94 institutions. They also help families struggling with childhood cancer through a Travel Fund and an annual Educational Symposium.
Zac and I are heading out of town, so we won't be able to attend, but we can still help, and so can you! If you can't attend either, click here to donate. Your donation of $50 funds one hour of research.
This post is part of a San Diego Food Bloggers Lemonade Online Challenge, sponsored by Melissa's Produce. More than a dozen San Diego Food Bloggers will be cooking with lemons in support of Alex's Lemonade Stand. Check out their lemony recipes online from now until July 28th, and make a donation to the Stand through links on their blogs. All their recipes will be linked to this post too!
A Purpose Driven Wife
BakeLoveGive
Becky Charms
Confessions of a Foodie
Deleting the Adjectives
Family Spice
Frugal Nutrition
Golden State Mom
Jinxi Eats
Kirbie's Cravings
Making It Sweet
Recipe Renovator
Sweet Sueshine
The H Blog
The Seaside Baker
This Tasty Life
Three Dog Kitchen
Event Partners:
Alex's Lemonade Stand
Adams Avenue Business Association
Blind Lady Ale House
FM 94.9, broadcasting live all day
Melissa's Produce
See, I'm not just making cookies to eat cookies. I'm making cookies to support this little girl's legacy, and to support cancer research. Remember, if you can't make the event, you can still help: DONATE HERE.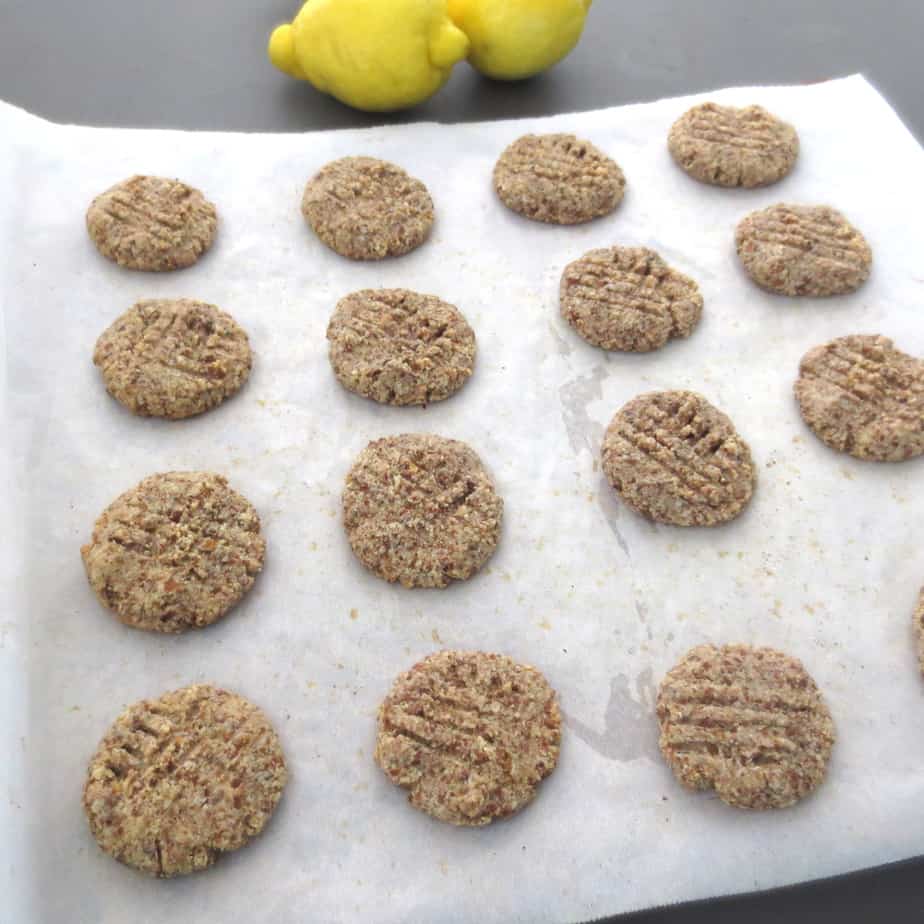 And about those cookies? Make them with lemons and love.

Lemon Almond Cookies (Paleo) and Alex's Lemonade Stand
A healthy lemon cookie that's sweetened with dates and gluten-free. Suitable for paleo.
Ingredients
5

dried dates

soaked in warm water (or about 5-7 tablespoon date syrup)

1-2

teaspoons

lemon zest

about one small lemon

2-3

teaspoons

lemon juice

about half a lemon, to taste

1

Tablespoon

chia seeds

1 ½

Tablespoons

coconut oil

1 ½

cups

almond meal

¼

teaspoon

salt
Instructions
Preheat oven to 350º.

Soak the dates in the warm water until soft, about 5 minutes or so. Add the dates to the blender with about 2-3 Tablespoons of the soaking water, melted coconut oil, lemon juice, and zest. Blend until a paste forms.

In a bowl, mix together almond meal, salt, and chia seeds. Add date paste and stir well. Taste and add more lemon juice if you desire. (Remember, the lemon flavor will fade a bit as it cooks.)

Scoop one Tablespoon of dough at a time and roll a ball. (Makes 16 balls.) Place on a parchment-lined baking sheet and then flatten with your hands, a fork, or the bottom of a glass.

Bake on 350º for 12-15 minutes. Nom.

Notes: I used regular lemons, but feel free to use Meyer Lemons for a touch of added sweetness. These would also be great with a lemon-cream cheese frosting!
Nutrition
Calories:
80
kcal
Carbohydrates:
4
g
Protein:
2
g
Fat:
7
g
Saturated Fat:
1
g
Polyunsaturated Fat:
0.2
g
Monounsaturated Fat:
0.1
g
Trans Fat:
0.001
g
Sodium:
37
mg
Potassium:
18
mg
Fiber:
2
g
Sugar:
2
g
Vitamin A:
1
IU
Vitamin B1:
0.01
mg
Vitamin B2:
0.003
mg
Vitamin B3:
0.1
mg
Vitamin B5:
0.01
mg
Vitamin B6:
0.004
mg
Vitamin C:
0.4
mg
Vitamin E:
0.01
mg
Vitamin K:
0.1
µg
Calcium:
28
mg
Copper:
0.01
mg
Folate:
1
µg
Iron:
0.5
mg
Manganese:
0.03
mg
Magnesium:
4
mg
Phosphorus:
8
mg
Selenium:
0.5
µg
Zinc:
0.04
mg
Choline:
0.2
mg