Recipe: $3.00 | Per Serving: $0.75 | Yield: 4
I'm normally paying super close attention to food prices at the grocery store. But sometimes you are going to a Cinco de Mayo BBQ, and someone asks you get a few things, like tomatoes, while you're picking up your CSA box at Whole Foods and even though you know the prices there can be outrageous you think things like, "$2.99 /lb for tomatoes isn't that bad." And then you look at the receipt and realize that's 5 tomatoes for $4. Oops.
Otherwise, this meal was pretty close to free. I received some free zucchini and basil at work, and I had a chunk of mozzarella in the freezer (mighta been there quite a while though...) so at least it balanced out for me. I don't know the normal prices of tomatoes anymore because I haven't bought them much - I normally wait for them to be in season again. So I decided to look on Safeway's site for prices and their "vine ripened" tomatoes are $0.82 each. Which is almost EXACTLY what I paid at Whole Foods. Am I taking crazy pills??? HOW MUCH DO TOMATOES COST IN THE REAL WORLD?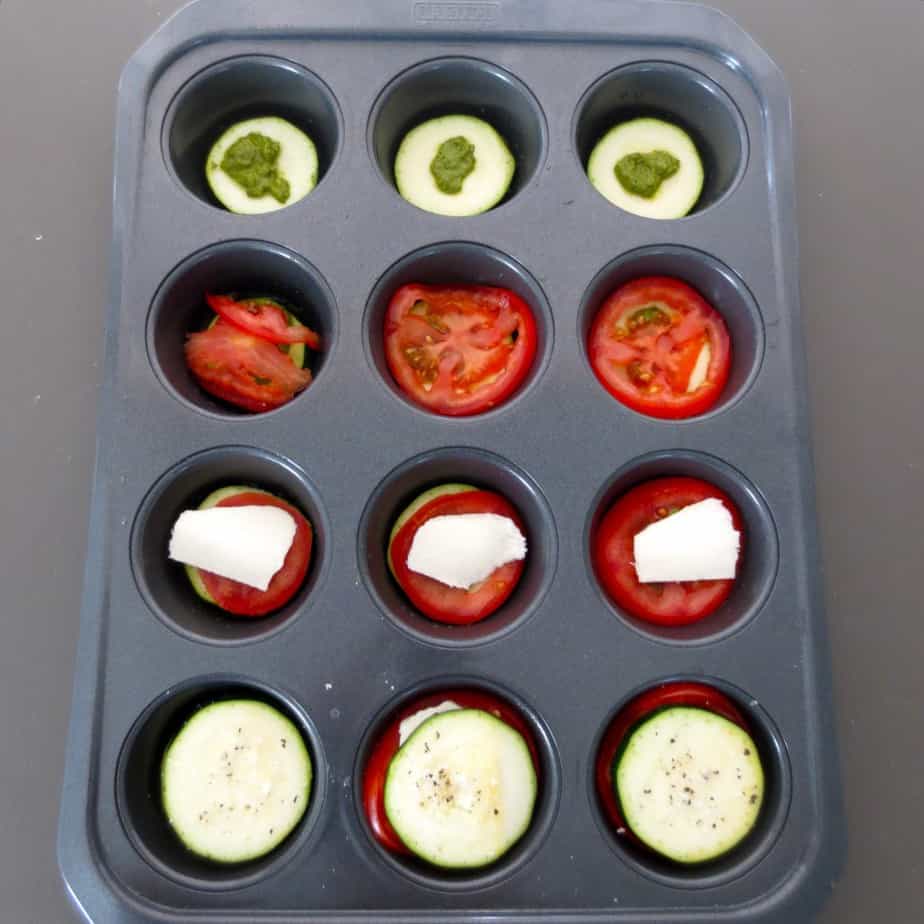 Anyway, if you can afford a tomato...then go ahead and make these zucchini stacks. Or, if you're like my parents who happen to grow the most fantastic garden tomatoes in the world...then go ahead and make these zucchini stacks. Or, if you're reading this in the heat of summer and tomatoes are like 15 cents a pop...then go ahead and make these zucchini stacks.
They don't photograph super well, but they sure taste good. Also, I only used 1 slice of zucchini on the bottom layer, but the recipe calls for two. That's cause I think two slices would hold up the other flavors better, but I was all out of mozzarella and tomatoes so I couldn't try it. You should do two zucchinis on the bottom though, it's a good idea. Also, if you want to be fancy, reduce some balsamic on the stove while they're baking and give those babies a nice little drizzle before serving.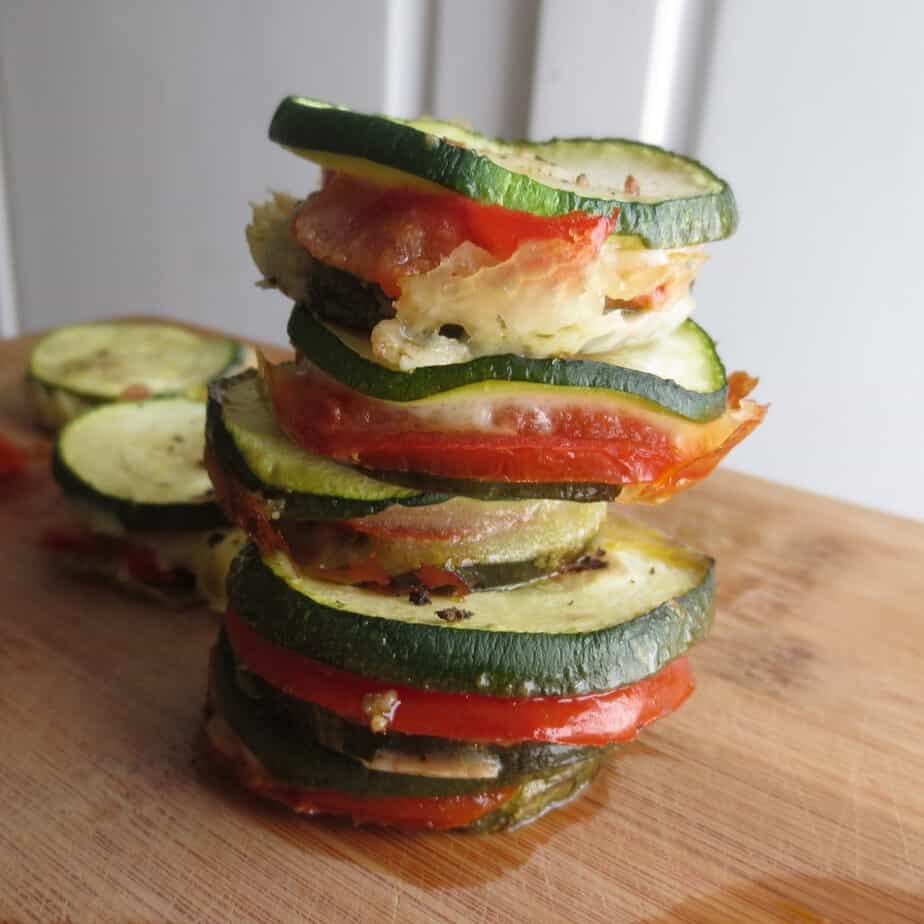 As a warm appetizer or side dish, I'd say they serve about 4. (3 stacks per person). You could double it and make them in batches, or possibly all in one casserole dish, but you'd probably have to slice the stacks cause they wouldn't stay in pretty little circles, and then it's more like a casserole than cute little appetizer stacks. But, really, it all tastes the same. So go make these and enjoy awesome summer flavors!
Print
Baked Zucchini Caprese Stacks
---
Description
These zucchini caprese stacks are a great way to use up the best of summer's abundant product! Add a drizzle of balsamic reduction and enjoy!
---
2

medium organic zucchini

1

-

2

roma tomatoes

2

-

3

Tablespoons fresh pesto
fresh mozzarella cheese (about 2 oz)
oil for greasing pan
salt, pepper
optional balsamic for drizzling
---
Instructions
Start by slicing your zucchini, tomato, and mozzarella into thin, even slices. (Mandolin is very helpful for the zucchini). You're looking for 36 slices of zucchini, and 12 slices of each the tomato and mozzarella.
Lightly grease your muffin tin and place two rounds of zucchini in the bottom of each muffin cup. Top with a dab of pesto, a slice of tomato, a slice of mozzarella, and another zucchini slice.
Sprinkle a little salt and pepper on top and bake on 350ºF for about 12-15 minutes, or until the zucchini is tender.
Let cool and remove to a serving dish! If you'd like to be fancy, drizzle with a little balsamic reduction before serving.
Prep Time:

10 mins

Cook Time:

15 mins

Category:

Snack, Appetizer

Method:

Oven

Cuisine:

American, Summer