Recipe: $4.00
Per Serving: $1.00
YOU GUYS! THE HEAT IS BACK. San Diego has gone from coastal to desert overnight again. Frozen strawberry lemonade anyone?
In case you didn't see the title, this is TART. You can go ahead and add more honey and water if you want, or even reduce the lemon juice a bit, but tart is just the way I like it. This little gem is another addition to the "'San Diego is suddenly hotter than Hades" group of recipes. See: Mango Frozen Yogurt. I'm glad to have this in my repertoire for when real summer comes along.
Also, I know that it is sort of a crime against eating seasonally and locally, but I used frozen strawberries from Trader Joe's. 1) We'd already eaten all of the strawberries from our CSA box. 2) Frozen strawberries seemed appropriate for frozen lemonade. The good news is that they're cheap and available when the weather gets all hot and crazy before the strawberry season is in full swing.
If you're having one of those I-need-a-drink kind of Mondays, you can go ahead and toss some vodka or rum in there as well, and then you've got yourself a sour-mix-free daiquiri-type beverage. I'm sure it will be delicious. Either way, sweet strawberries + tart lemon juice + sweltering hot San Diego = spectacular.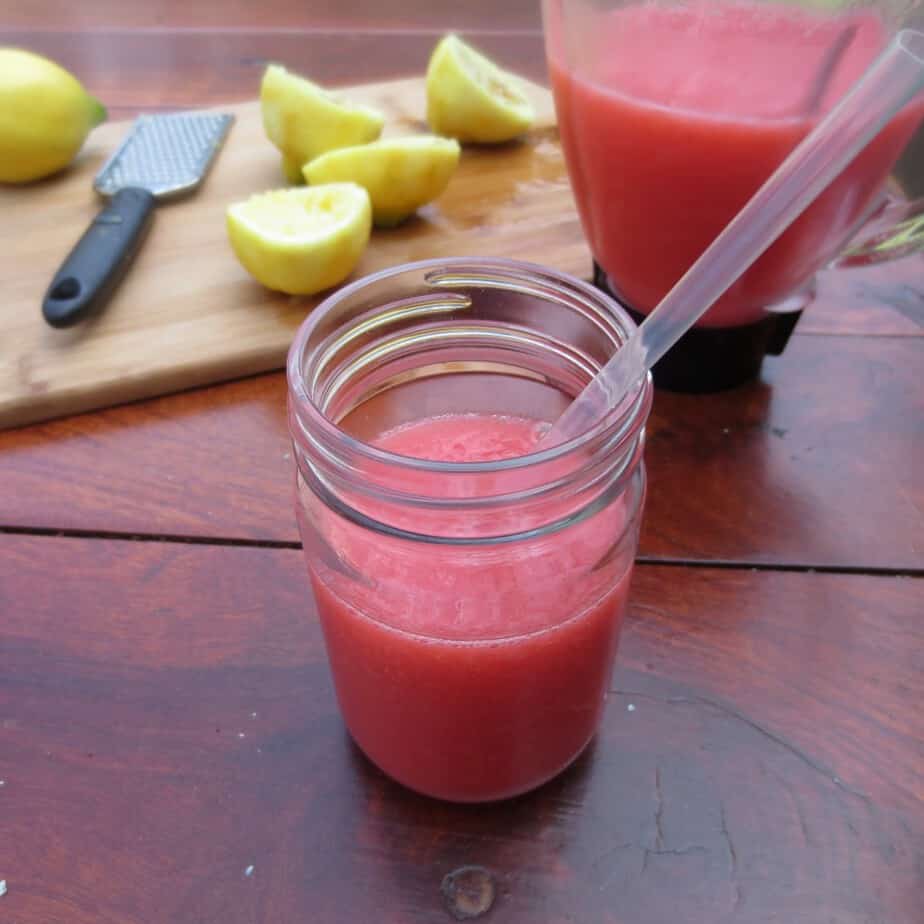 Tart Frozen Strawberry Lemonade
A fresh frozen strawberry lemonade to sip on all summer long.
Ingredients
2

cups

frozen organic strawberries

or about 12ish ounces

⅓-½

cup

fresh lemon juice

juice of 2 med-large lemons

1

cup

coconut water

or regular water

3

tablespoon

raw honey + 3 tablespoon water

1 ½-2

cups

ice

zest of lemon

optional – I used 1 Tbsp
Instructions
Melt together the honey and 3 tablespoon water – you can let this sit on the stove, or nuke it for 20 seconds. (I do this because my blender is only of average quality and it can't blend honey with cold things very well.)

Prepare your ingredients! Zest the lemon (if you've got time for that), squeeze out the delicious lemon juice, and add all ingredients to blender. BLEND. Add more ice if you like it thicker. Add more honey if you like it sweeter.

When a deliciously frozen consistency is reached, try to share it with your friends. And maybe take small sips so you don't get an ice cream headache.
Nutrition
Calories:
87
kcal
Carbohydrates:
22
g
Protein:
1
g
Fat:
0.4
g
Saturated Fat:
0.1
g
Polyunsaturated Fat:
0.1
g
Monounsaturated Fat:
0.03
g
Sodium:
69
mg
Potassium:
289
mg
Fiber:
2
g
Sugar:
19
g
Vitamin A:
10
IU
Vitamin B1:
0.04
mg
Vitamin B2:
0.1
mg
Vitamin B3:
0.4
mg
Vitamin B5:
0.2
mg
Vitamin B6:
0.1
mg
Vitamin C:
52
mg
Vitamin E:
0.2
mg
Vitamin K:
2
µg
Calcium:
31
mg
Copper:
0.1
mg
Folate:
23
µg
Iron:
1
mg
Manganese:
0.4
mg
Magnesium:
27
mg
Phosphorus:
32
mg
Selenium:
1
µg
Zinc:
0.2
mg
Choline:
6
mg