Recipe: $4.60
Per Chocolate: $0.33
When I was in Peru, my friend Maria and I made chocolate at a place called Cusco Cooking. (The same company where Zac and I later took a cooking class.) It was really fun and easy, but we didn't do any of the chocolate making. We mixed our own ingredients in the liquid chocolate that they made. It was fun, but I was bummed that they made the actual chocolate, but now, after last weekend's date in a box, I can proudly say I know how to make chocolate!
Starting in May (yes, we were slow following through with the date), we subscribed to this thing called Unbox Love, which is basically a date-in-a-box subscription service. Zac and I have done a lot of fun stuff together - backpacking through Asia, teaching English in Peru, roadtrippin' across the states - but now that we're in San Diego on a tiiiight budget, it's hard to find the motivation (& time, & money) to actually have things like "date nights." So, we decided to fork over the $39 a month for Unbox, figuring we could cancel anytime if we didn't like it. In reality, going out to dinner or a bar costs about that much anyway.
So, our first Unbox was a chocolate-making kit with Benchic chocolate! They sent us all of the ingredients, including optional add-ins, instructions, and even a deck of cards with rules for a few 2-person card games. I was especially excited about the cards because I love playing games and Zac was forced to participate even though he hates playing games. He's lying though, he had fun, especially when he won! We also got some conversation starters, but we kind of skipped over that part.
The chocolate was AMAZING. I just finished the last piece as I was writing this post. Maybe not the best pictures, but so so so good. We're definitely going to be buying cacao butter and making our own! The recipe was super simple - cacao butter: cacao powder: honey - 2:2:1 ratio. I'm pretty sure that means the resulting chocolate was 80% cacao dark chocolate. (The cacao butter and cacao powder are 100% chocolate. This had a small dash of lucuma powder added, but it was negligible.) Coincidentally, lucuma is a famous Peruvian fruit! We actually ate one straight off a tree while hiking Colca Canyon.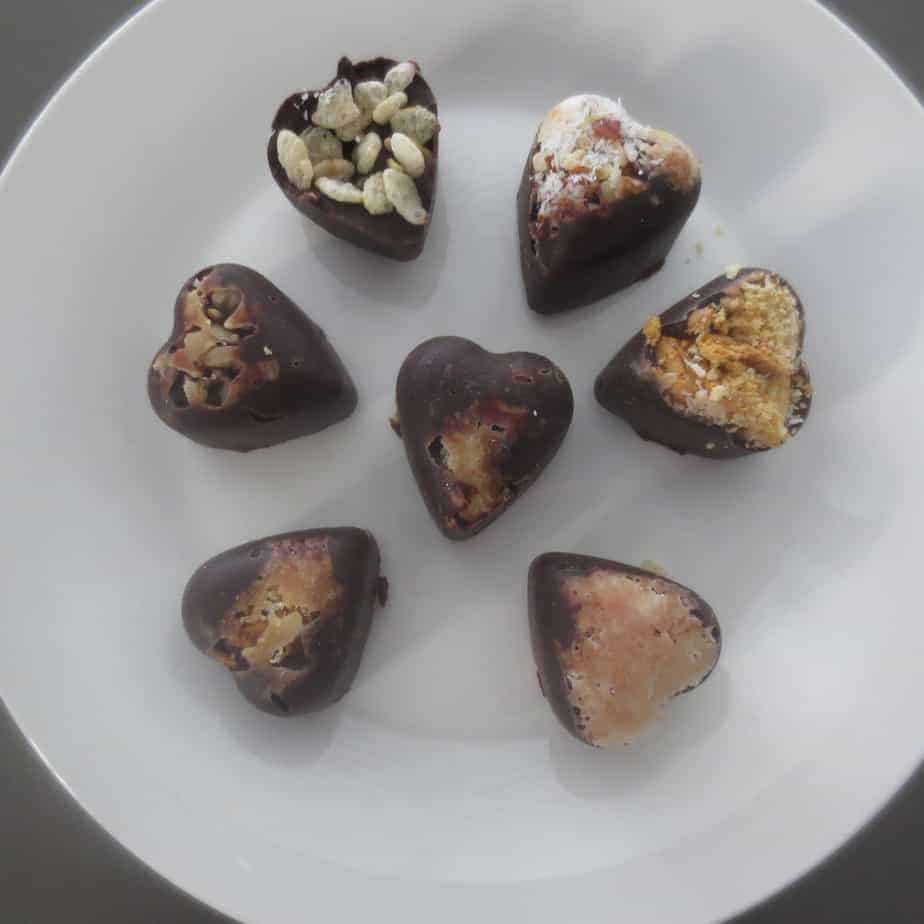 Even for someone as cynical as me, the only corny aspect was the heart-shaped silicone mold (come on! I don't want heart-shaped things!). Now, we'll be off making more chocolatey concoctions. Go check out Unbox Love and show them some love! And don't worry, this isn't a sponsored post, I just think they're great!
I used these brands for pricing:
Sunburst Superfoods cacao butter - $14/pound (3 cups)
Hershey's Special Dark cacao powder - $3.99/ 8oz at my grocery store (~1 cup)
Print
Unbox Love + How to Make Chocolate
---
Author:

Total Time:

1 hour 20 mins

Yield:

14

Chocolates

1

x
1/2 cup

cacao butter

1/2 cup

cacao powder

1/4 cup

honey (or maple syrup)
dash of salt
optional add-ins: nuts, dried fruit, crispy rice, coconut flakes, sea salt, caramel, lime, cayenne, cinnamon, etc.
Tools Needed: metal bowl, pot, spoon, silicone freezer-safe mold
---
Instructions
Chop up the cacao butter and place it in a heat-safe metal bowl. Set the bowl over a pot of simmering water (think double-boiler style) and stir until the cacao butter is melted.
Remove bowl from heat! Add the cacao powder, honey, and a dash of salt to the bowl of cacao butter and mix until there are no lumps.
Place the various ingredients throughout the silicone mold and top with chocolate. You could also start with a little chocolate on the bottom and mix the ingredients in. Try chocolate-nut butter-chocolate for a homemade Reese's!
Let the mold sit at room temperature for 15 minutes, then place in freezer for at least 1 hour.
Prep Time:

5 mins

Cook Time:

1 hour 15 mins

Category:

Dessert