Recipe: $5.04 | Per Serving: $1.01 | Yield: 5
Fall / Winter vegetables are HERE! And I'm so prepared, with my 4th or 5th butternut squash meal of the year already, including these easy Beef & Butternut Squash Bowls with Kale - so easy!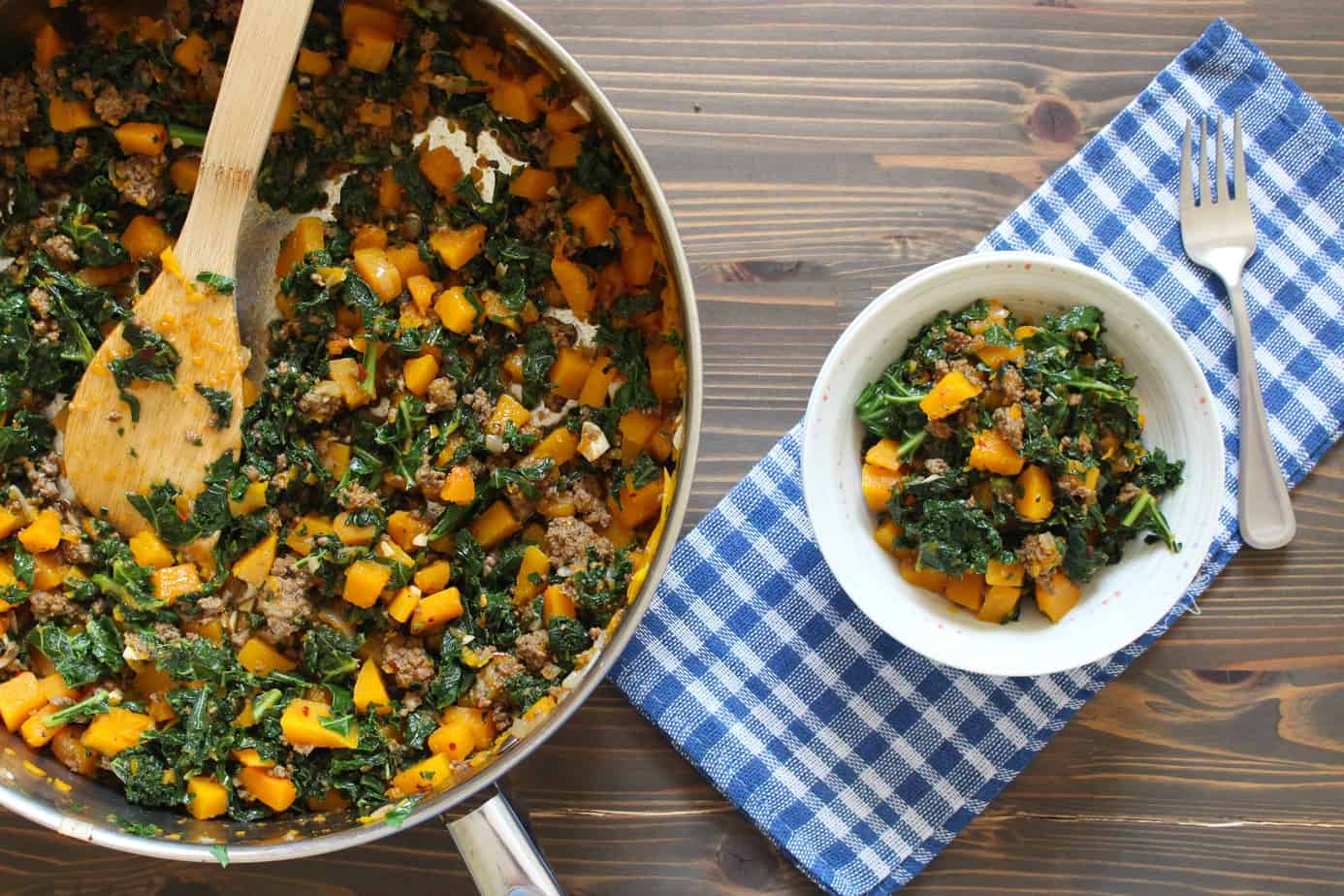 On Sunday morning, I roasted some butternut squash with potatoes and kale for our week, but then I had this other half of the squash just kind of staring me down. And I suddenly remembered these epic Beef & Butternut Whole Wheat Empanadas, which I originally made in January of 2015 to take with my on my moving-to-Japan flight. (SO MUCH NOSTALGIA FOR JAPAN.) And I decided: empanadas it is!
But Sunday was also our full-house-cleaning day. The whole shebang. It was a good 2+ hours of dusting and mopping and vacuuming and scrubbing - like we wanted our deposit back or something, but we're not moving and we're actually going to enjoy having a clean house. After all that, I was no longer in the mood for any kind of empanada-ing. So instead, same filling, different prep: BOWLS.
I mean, I get that bowls are kind of unglamorous and stuff, but there's really no need for fancy pants glamour, as long as it tastes good. The only change here is that I used a bit more squash, and added in some smoked paprika. I also think using sausage seasoning would be really great, or even upping the spice factor with more red pepper flakes. This makes somewhere between 4-6 servings, depending on if you're eating it as is or with other things.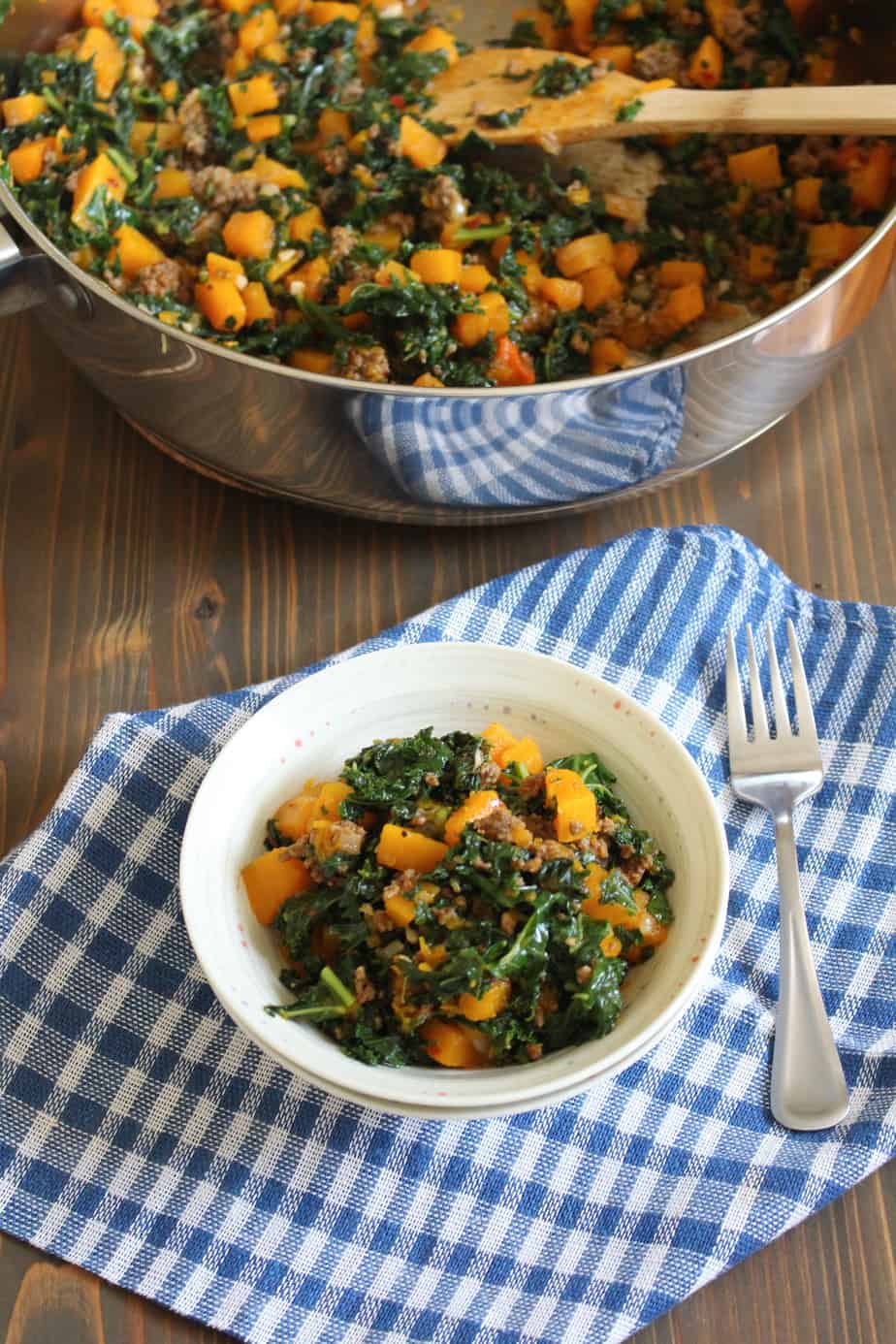 Vegetarian: I would skip the beef and toss in some black beans instead! (Black beans & butternut are a good combo.)
Paleo: Yes! If you're not into butter, swap it out for some oil, but otherwise you should be good to go.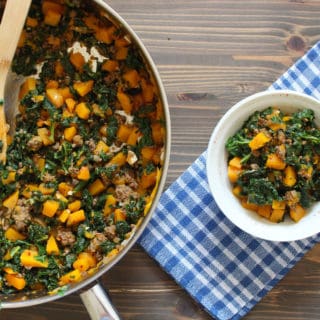 Beef and Butternut Squash Bowls with Kale
A tasty one bowl meal with ground beef, butternut squash and kale.
Ingredients
½

Tablespoon

oil

or butter

½

medium

onion

minced

½

pound

beef

4

cloves

garlic

minced

1

Tablespoon

tomato paste

½

large

butternut squash

cubed (about 4ish cups cubed)

¾

cup

water

½

teaspoon

salt

¼

teaspoon

smoked paprika

¼

teaspoon

red pepper flakes

pepper to taste

4-6

cups

chopped kale
Instructions
In a large skillet or pot, warm the oil or butter over medium-high heat. Sauté the onion until translucent, about 5 minutes. Add the beef and brown through.

Once the beef is browned, add the garlic and tomato paste and incorporate well, cooking for another 30 seconds or so.

Add the squash, water, salt, smoked or regular paprika, red pepper flakes, and some black pepper. Stir well and cover. Cook, covered, for 10-15 minutes, or until the squash is cooked.

Remove the lid and stir well. Then add the chopped kale to the top and cover. Cook another 3-4 minutes, or until the kale is fully wilted, but still bright green.

Serve as is or with bread, rice, or pasta.
Nutrition
Calories:
260
kcal
Carbohydrates:
22
g
Protein:
14
g
Fat:
14
g
Saturated Fat:
5
g
Polyunsaturated Fat:
1
g
Monounsaturated Fat:
6
g
Trans Fat:
1
g
Cholesterol:
40
mg
Sodium:
407
mg
Potassium:
957
mg
Fiber:
6
g
Sugar:
5
g
Vitamin A:
21735
IU
Vitamin B1:
0.3
mg
Vitamin B2:
0.4
mg
Vitamin B3:
5
mg
Vitamin B5:
1
mg
Vitamin B6:
1
mg
Vitamin B12:
1
µg
Vitamin C:
95
mg
Vitamin D:
0.1
µg
Vitamin E:
3
mg
Vitamin K:
266
µg
Calcium:
260
mg
Copper:
0.2
mg
Folate:
87
µg
Iron:
3
mg
Manganese:
1
mg
Magnesium:
84
mg
Phosphorus:
185
mg
Selenium:
11
µg
Zinc:
3
mg
Choline:
36
mg