Recipe: $3.82 | Per Serving: $0.64 | Yield: 6
Most vegetables in the brassica family (kale, cauliflower) pair perfectly with sharp white cheddar, and we all know broccoli is no exception. This simple broccoli-cheddar frittata makes 4-6 servings of veggie and flavor-packed breakfast so you can skip the sugary cereals and carb-heavy bagels. Also, eggs are life.
In other news, I have just come back from my school-related hibernation in which I became so incredibly busy that I couldn't even remotely make time for blog-related things. Additionally, I've just recovered from two back-to-back colds and a lingering 2-month cough. What a fun fall! I have four full weeks of no school and then right back at it the second week of January. I'm not sure how I feel about this trimester thing. Remember those long and luxurious 6-week winter breaks and 3-month summer breaks? So much time for activities!
If only, amiright?
This weekend we actually did do so many activities! I finished my last final around 4pm on Saturday evening and by 4:30 pm I was plopped on the couch watching The Office, finishing up our stash of chocolate chip cookies. We ordered pizza (& wine!!), and had our first-ever Netflix binge. Six hours of The Office, and pizza. Basically all I've ever wanted in life. On Sunday we went for a freezing cold hike, ran a bunch of errands, and then went ice skating at the outdoor rink in the Inner Harbor. We rounded out the weekend with Ginger Beef & Cabbage Stir Fry with a friend, and a few more episodes of The Office. (We're almost done with the last season - eek!)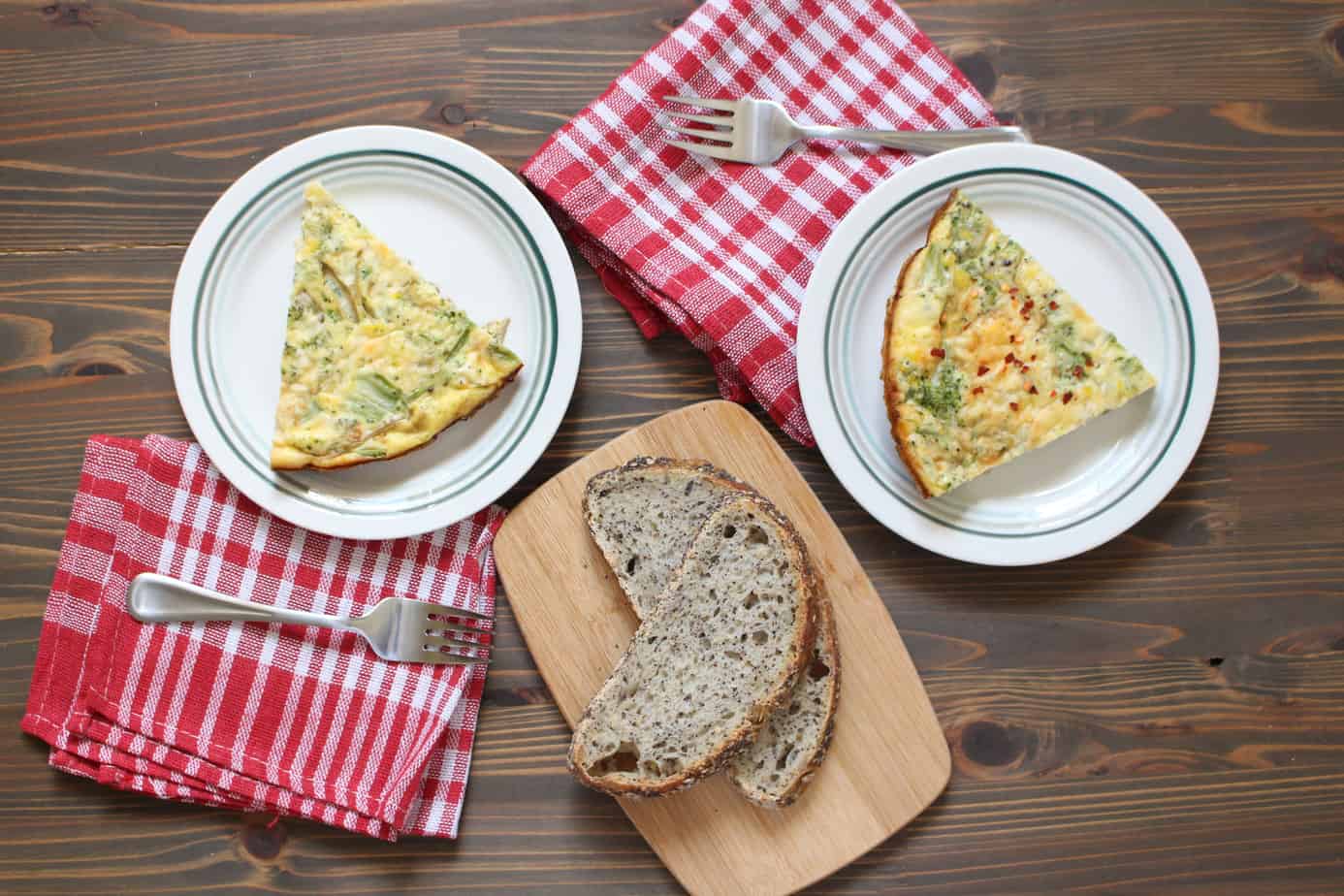 Meal planning saved my life these last few weeks of school. I decided to start getting a Hungry Harvest box again, but we went for the full harvest so that we wouldn't need to supplement with any additional produce. You can check what's coming on Friday, and then plan your meals. I took a little time on both Saturday and Sunday to pull some fast and easy stuff together, and even made a huge double batch of Mushroom & Sausage Bolognese. I also did myself a favor by grabbing a couple of frozen food options from Trader Joe's to make life a little easier (turkey burgers and stir fry). And for breakfast? We were fully stocked with oatmeal and berries, avocado toast, and this Broccoli-Cheddar Frittata.
Now that I will have more time for a few weeks, I hope I can remember how useful it was to have a stocked freezer and get some of my recipes out of my brain and onto my blog! Thanks for sticking it out this last month. :)
Broccoli-Cheddar Frittata
This simple broccoli cheddar frittata makes a wonderful egg dish for breakfast, brunch or a light lunch.
Ingredients
1-2

teaspoons

butter

or oil

½

medium

onion

thinly sliced

1

clove

garlic

minced or crushed

2

cups

broccoli florets

fresh or thawed from frozen, chopped

½

teaspoon

salt

6

eggs

½

cup

milk

black pepper

to taste

⅓

cup

sharp white cheddar

shredded
Instructions
Before beginning, preheat your oven to 350ºF and prepare all your ingredients, because this comes together quickly. Slice the onions, mince the garlic, chop the broccoli, and shred the cheese.

Warm an oven-safe cast iron skillet over medium heat add oil and onions and sauté for 2-4 minutes. Add the garlic and sauté another minute. Next, add the chopped broccoli and the salt and sauté just another minute, then spread out evenly in pan.

In a bowl, whisk the eggs and milk together. Add a little black pepper to the eggs. Pour the egg mixture into the pan and shake a little to ensure it is even. Top with the cheddar cheese and let cook 2 minutes on the stovetop.

Remove from stovetop and place in oven. Bake on 350ºF for 30-35 minutes, or until cooked through.

Let cool until the eggs slightly deflate, then remove from pan and slice in 4-6 pieces. Serve immediately (with toast!) or store in fridge or freezer.
Nutrition
Calories:
121
kcal
Carbohydrates:
4
g
Protein:
9
g
Fat:
8
g
Saturated Fat:
3
g
Polyunsaturated Fat:
1
g
Monounsaturated Fat:
2
g
Trans Fat:
0.04
g
Cholesterol:
174
mg
Sodium:
321
mg
Potassium:
208
mg
Fiber:
1
g
Sugar:
2
g
Vitamin A:
543
IU
Vitamin B1:
0.1
mg
Vitamin B2:
0.3
mg
Vitamin B3:
0.3
mg
Vitamin B5:
1
mg
Vitamin B6:
0.2
mg
Vitamin B12:
1
µg
Vitamin C:
28
mg
Vitamin D:
1
µg
Vitamin E:
1
mg
Vitamin K:
31
µg
Calcium:
112
mg
Copper:
0.1
mg
Folate:
43
µg
Iron:
1
mg
Manganese:
0.1
mg
Magnesium:
17
mg
Phosphorus:
160
mg
Selenium:
17
µg
Zinc:
1
mg
Choline:
141
mg