UPDATE MAY 2016 - I lost the recipe card for this when I updated my site, but fortunately I have an Express Version! Hawaiian Lentil Sloppy Joes - Express Version. It's just as delicious and takes half the time!
While living in Peru, I started eating a lot of lentils. They're incredibly cheap (like 50-80 cents a pound), quick to prepare, and they're pretty healthy. Budget living is hard stuff, but not when you've got lentils on hand. I came across this recipe for "Hawaiian Sloppy Joes" on Chef Chloe's vegan website, and everyone who gets a taste simply raves about this meal. Even the professional chef next door couldn't believe how amazing the simple concoction is. You can check out Chef Chloe's original recipe, but I've made a few modifications for the sake of health and price, as I tend to do.
Okay so now that I've given you the boring talk, let me gush for a moment.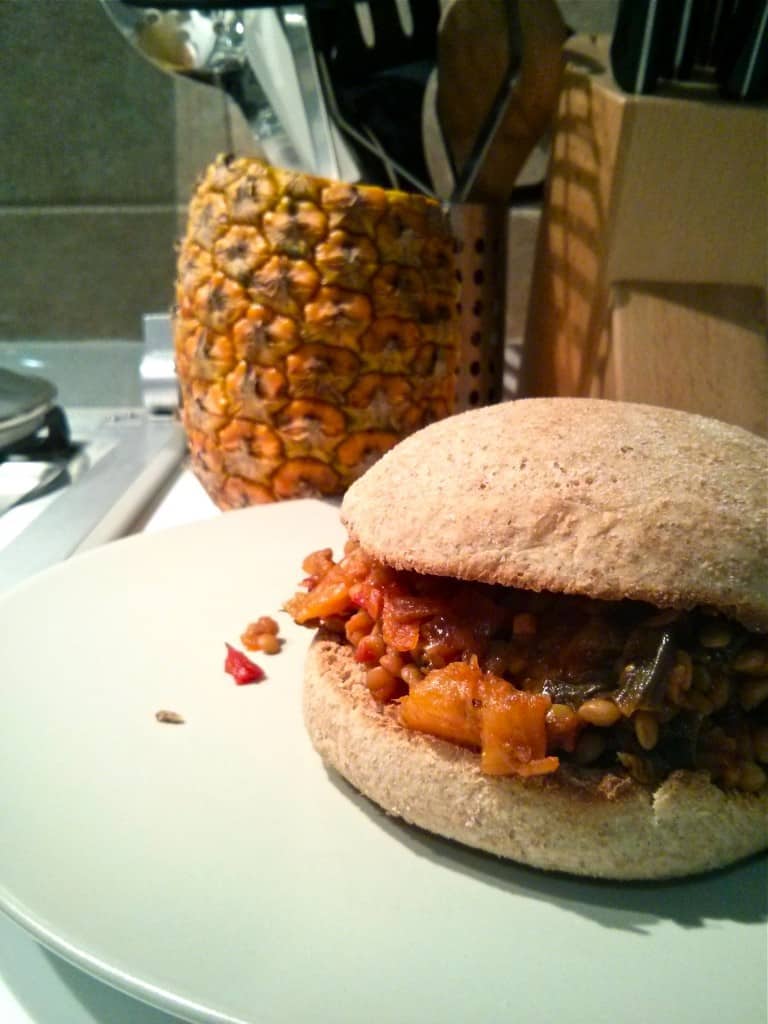 This recipe is amazing. I'm not sure why it's so delicious because it's really easy, but something about pineapple and lentils and tomatoey goodness makes this one of the most popular dishes I've ever, ever made. It's rich and sweet and sour and hearty all in one. I made this in a pinch once when I was cooking for five, and needed something substantial but cheap. Huge success! I mean, it was like a $4 trip to grocery store for lentils and pineapple and veggies and soy sauce and bam. (Well, I had the other ingredients already.)
This time around I made it for my sister and her husband, who are hosting us in Mexico City. I was going to take several pictures, but the 4 of us were drooling and I couldn't make anyone wait any longer, so here you have it. Okay, gush session over.
In order to keep the price down, I learned to make the sauce along the way, and I still do. I also opt for more pineapple chunks instead of adding brown sugar, and I load this dish with veggies. This is kind of a double recipe, as it makes about 8 sandwiches. Especially if you serve it with steamed broccoli or a salad as we often do.
Don't worry, you don't have to add another veggie to this meal if you don't want to - it's pretty loaded already!
Although it can be a little time consuming, especially if you're not using store-bought sauce, it's definitely easy and almost impossible to mess up!
It might not look amazing, but I promise, it is. Definitely vegan and real food approved.