Recipe: $13.80 | Per Serving: $3.45 | Yield: 4
Pesto is my favorite food. I like to keep it around as much as possible as a back-up flavor component when my meals get boring, and I love that Trader Joe's has an awesome vegan kale pesto packed with healthy fats and plenty of vitamins and minerals from the basil and kale. Today I'm showing you how I use it in my frozen meal prep!
This post is part of a series about homemade frozen dinners. Please see How to Make Homemade Frozen Meals for more information.
This pesto has just a few simple ingredients, but you can use whatever pesto works for your family, or even make your own in a blender or food processor! I love traditional basil pesto, but I also love adding a little arugula or spinach for an even more balanced flavor.
Ingredients for Pesto Veggie Noodles Frozen Meal Prep (All Ingredients Found at Trader Joe's)
1 box Trader Joe's Frozen Zucchini Noodles (you'll use it all)
1 box Trader Joe's Frozen Carrot Spirals (you'll use it all)
1 tub Trader Joe's Vegan Kale Cashew Basil Pesto (in the refrigerated section - you'll use the whole thing)
Trader Joe's Organic Chicken Sausage (use 3-4 links, about 7-10 oz, use 8 links for Paleo)
1 can organic chickpeas (double for vegetarian)
How to Make Pesto Veggie Noodles Frozen Meal Prep
First, you want to place your zucchini noodles on a cutting board. Using a sharp knife, do your best to cut this frozen block of zucchini noodles into 4 equal pieces. You can choose to thaw them a little or you might even get some that aren't frozen into a solid cube, in which case you can just divide evenly. Place in 4 separate freezer-safe containers.
Repeat with the carrot spirals. You may have to turn some on their sides to fit completely.
Slice your sausages and add to the container.
Drain and rinse the chickpeas and add to the container.
Top each dish with ¼ of the pesto.
Close, seal, and store in freezer!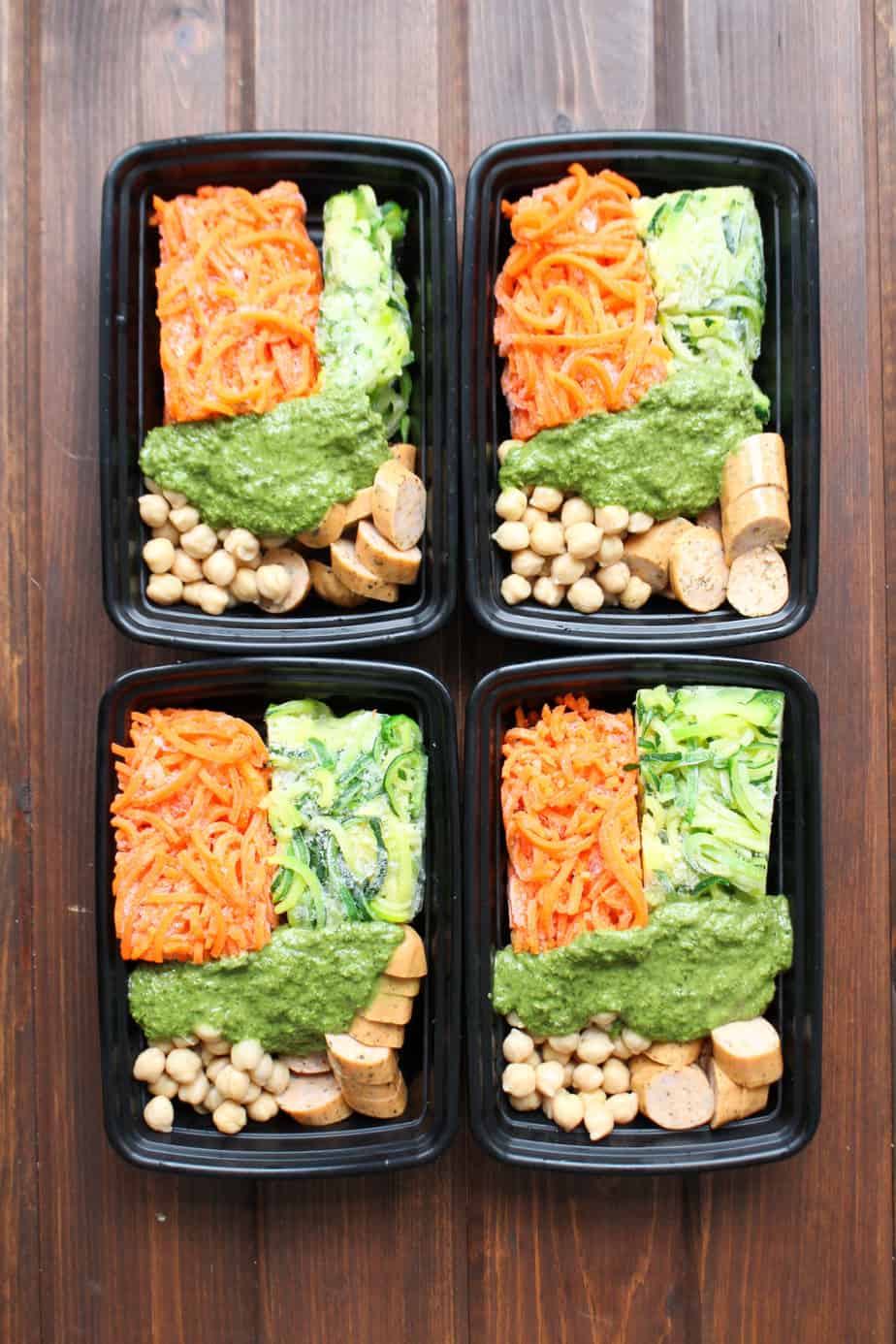 Does this Frozen Meal Get Soggy?
The zucchini and carrots in this meal do release quite a bit of water as they thaw. The food itself doesn't get super soggy though.
I have found that there will be a lot of water in the bottom when you warm it up, which is pretty typical of cooked zucchini noodles anyway. It didn't bother me because the pesto flavors the water so it feels like I'm eating soup broth. If this is something that might bother you, I'd pour off the liquid before serving / eating.
Suggestions for Reheating this Meal:
Microwave: Remember that every microwave is a little different, so be sure to check them every 90 seconds or so. When reheating from frozen, it is always best to thaw foods in the fridge ahead of time - so just put the container into the fridge to thaw overnight the evening before you plan to eat it.
From Thawed: Dump the contents onto a microwave-safe glass or ceramic bowl or plate. Microwave on high heat for about 2-3 minutes.
From Frozen: I recommend 2-3 90-second intervals. You'll want to stop and stir / check it in between.
Make sure the food is "piping hot" i.e. steaming visibly since you're not cooking them ahead of time.
For more cooking methods, please see this post.
A Few More Tips:
Also: note that chickpeas are susceptible to freezer burn. If freezing for more than 2-4 weeks, coat the chickpeas with the pesto to reduce the risk of freezer burn.
Remember: if using plastic containers, bring a separate plate to work so you don't heat your food up in plastic!
Dietary Substitutions and Modifications:
Paleo: If you skip the beans and increase the sausage, yes, this is Paleo!
Vegetarian: If you skip the sausage and increase the beans, yes, this is Vegetarian!
Low FODMAP: If you use sausage and pesto without garlic, this recipe is low FODMAP as written!
↓ PIN THIS RECIPE FOR LATER ↓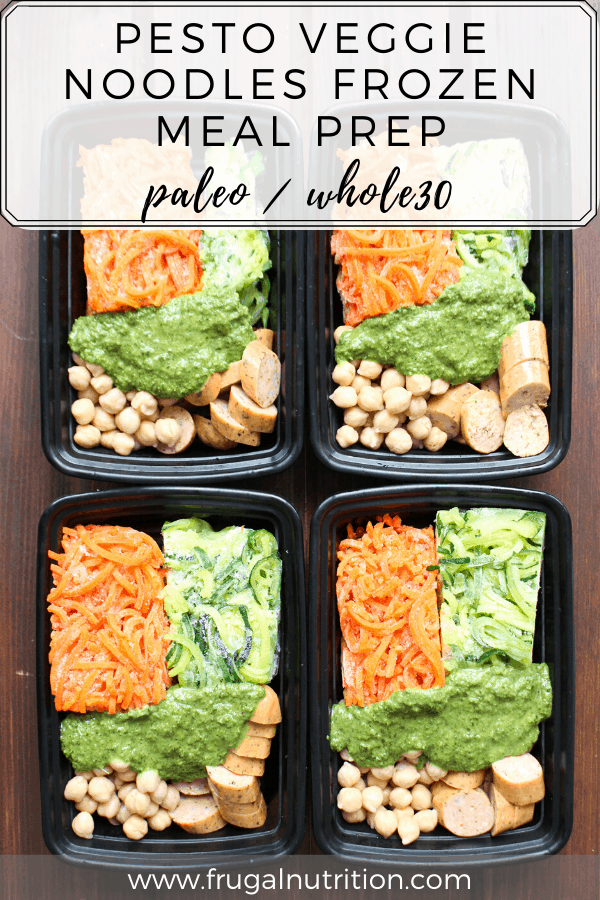 Pesto Veggie Noodles Frozen Meal Prep
This gluten-free frozen meal prep dish can be made in just a few minutes, and is easily modified to be Whole30, Paleo, or Vegan/Vegetarian.
Ingredients
12

oz

frozen carrot spirals

12

oz

frozen zucchini spirals

8

oz

dairy-free kale pesto

3

Trader Joe's Organic Chicken Sausage

about 7 oz

1½

cups

1 can organic chickpeas
Instructions
Remove the zucchini noodles from their packaging and carefully cut into 4 equal pieces. (Or as even as you can get!) Place in 4 meal-sized storage containers.

Repeat with carrot spirals. Place in containers next to the zucchini.

Slice the chicken sausages; divide evenly among the four storage containers.

Drain and rinse the chickpeas. Divide evenly among the storage containers.

Add 2 ounces of pesto to each storage container.

Close and seal and store in the refrigerator for 4-6 weeks.
Notes
If using the chickpeas and storing for more than 4 weeks, coat the chickpeas in pesto to help prevent freezer burn.
Nutrition
Calories:
422
kcal
Carbohydrates:
26
g
Protein:
15
g
Fat:
30
g
Saturated Fat:
5
g
Polyunsaturated Fat:
1
g
Monounsaturated Fat:
0.3
g
Cholesterol:
40
mg
Sodium:
1274
mg
Potassium:
583
mg
Fiber:
7
g
Sugar:
9
g
Vitamin A:
15706
IU
Vitamin B1:
0.1
mg
Vitamin B2:
0.1
mg
Vitamin B3:
1
mg
Vitamin B5:
1
mg
Vitamin B6:
1
mg
Vitamin C:
21
mg
Vitamin E:
1
mg
Vitamin K:
15
µg
Calcium:
154
mg
Copper:
0.2
mg
Folate:
52
µg
Iron:
2
mg
Manganese:
1
mg
Magnesium:
42
mg
Phosphorus:
111
mg
Selenium:
1
µg
Zinc:
1
mg
Choline:
36
mg