This is the easiest way to meal-prep healthy foods on a budget! Your life may be busy, but with this method, you can fit in the 10-30 minutes weekly required for this easy meal prep method.
$2.90-$3.50 per serving
Homemade Meal Prep Dinners!
This post isn't about chopping and prepping foods to add to a freezer bag and toss in the oven or slow cooker sometime in the future. We're not doing things from scratch today - we're doing it the cheap and easy way!
This meal prep method is about taking advantage of the amazing variety of frozen vegetables and starches, cooked meats, and quality fats and sauces already available in your local grocery store to create a week's worth of meals you and your body can feel good about.
I like to think about these meals as alternatives to takeout or frozen dinners on those nights when you just can't. And a huge plus is that they're cheaper than ordering out and healthier than most other convenient options.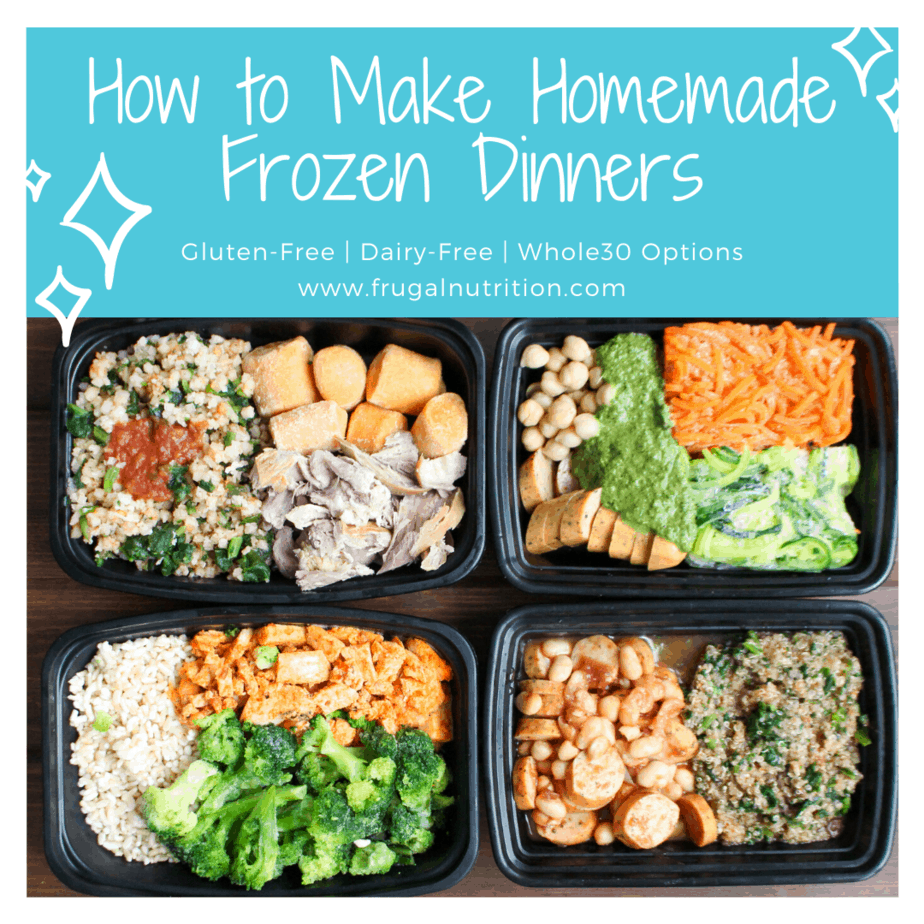 I've been making some form of homemade frozen meals on and off since my first job out of college.
It wasn't quite so intentional as it is now - I would usually keep Trader Joe's frozen edamame, frozen mixed vegetables, and frozen brown rice in my freezer, and pour out a portion into a lunch container at 6:45 am, topping it all with their famous Soyaki dressing.
That was delicious for sure, but today we're going to get a little more organized with our frozen meals.
Let's dig into how to make homemade frozen dinners.
What you need for Homemade Frozen Meals
Storage Containers: I highly recommend glass, but I understand that some people find them cost-prohibitive or too heavy. Over time, leak-proof rubber seals can become damaged by the freezer so sometimes reusable plastic makes more sense. Large wide-mouth jars can be a good option as well.
If you do choose plastic, take appropriate measures to avoid microwaving in plastic. Stash a plate at your office, or get yourself some paper plates for the microwave.
I use reusable plastic containers from dining out or from Territory Foods, but here are other options.
People tend to like these Ziploc plastic containers. They make several sizes so you can find your favorite. I had these and they lasted about 1-2 years.
As for glass containers, these glass pyrex containers with leakproof lids are my favorite! I've had them for almost 4 years and they all still seal perfectly, but I don't usually put them in the freezer.
And as always, feel free to use a large glass jar and stack the food to make more of a "bowl." I think 24 oz and larger would work best.
Types of Food
Starch: There are so many great options available! Trader Joe's has frozen mashed sweet potatoes, but you can also find frozen butternut squash, or go for pre-cooked brown rice or quinoa.
Vegetables: Get 'em already prepped, blanched, and frozen! I like riced veggies, chopped spinach, organic bell peppers, and broccoli florets.
Protein: The easiest option here is probably organic frozen pre-cooked chicken (with nothing added), but that isn't available everywhere, so find what works for you. There are some decent quality pre-cooked sausage brands (Aidell's, True Story Foods, Pederson's, Applegate), canned wild fish, pre-cooked chicken, and even deli meats available at most grocery stores. Trader Joe's has "Simple Roast Chicken" pre-cooked chicken breasts ($6.99) in the fridge section, which I used here.
I also like grass-fed beef burgers, which only take like 8 minutes to cook ahead of time so you can cook them quickly and then toss them in the container.
Sauce: you can keep it super simple with olive oil and balsamic vinegar, you can make homemade sauces, or you can just grab some store-bought sauces you like, such as salsa, marinara, hummus, pesto, harissa, etc.
Substitutions for Vegetarian Protein
You can totally do canned beans or whatever real food vegetarian option works for you. Beans are a great source of protein and fiber. For many, beans that aren't soaked and cooked with kombu are significantly harder to digest, so you may usually save beans for when you can make them from scratch.
However, Eden Organic actually soaks their beans and cooks them with kombu, so that's a great option for making vegetarian homemade frozen meals! Organic edamame is another decent choice if you're able to eat soy.
While Tofu is a classic choice and can be frozen, it usually benefits from a little TLC in the form of marinating or crisping, and we don't have time for that today.
Here I used some organic canned beans from Trader Joe's in moderate amounts.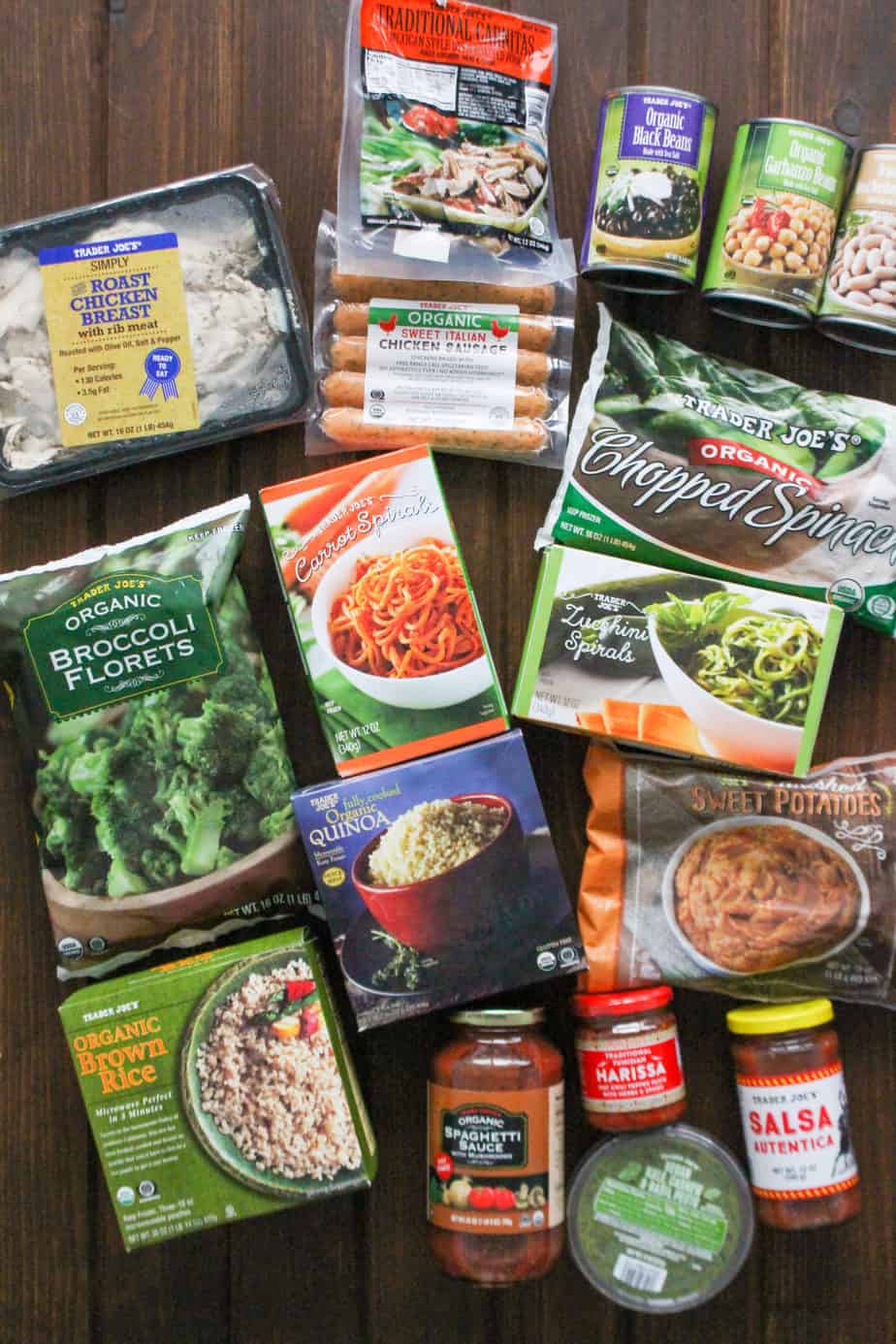 How to Make Homemade Frozen Meals
→ Select frozen produce - this produce has already been flash-frozen, which makes it more resistant to freezer burn.
→ Cook your meat or choose pre-cooked protein options. This doesn't have to be frozen. Meat handles the freezer well so it doesn't need to be flash frozen.
→ Pair with a starch. Most people do well with real-food complex carbohydrates (though not all), so if this works for you, definitely toss some in there.
→ Think about your flavors! I personally love Italian sausage with white beans and tomato sauce (one of my favorite recipes here), so you'll see that reflected in one of the meals I created. See what's available to you and pair it with your favorite sauce!
How Much Do Homemade Frozen Meals Cost?
These are certainly not the cheapest things on my blog, but they're much much healthier than other frozen food options, and they're cheaper than most of them too! It's also important to remember that once you invest in the containers required for storage, the prep becomes that much cheaper every subsequent time!
I chose to get all of my ingredients from Trader Joe's this time around. This Trader Joe's haul came to about $55.00! And I had plenty of leftover starches and sauces after making these 4 dishes.
Each of the meals are about $2.90-$3.50, and the recipes are linked below if you want to give them a try! Let me know what you think!
How to Reheat These Homemade Frozen Meals
I find that the best way to reheat these is as follows:
Microwave: Remember that every microwave is a little different, so be sure to check them every 90 seconds or so.
Thaw them in the fridge overnight - so just put the container into the fridge to thaw overnight the evening before you plan to eat it.

Dump the contents onto a microwave-safe glass or ceramic bowl or plate. Microwave on high heat for about 2-3 minutes.
From Frozen: I recommend 2-3 90-second intervals. You'll want to stop and stir / check it in between.

It's a good idea to make sure the food is "piping hot" i.e. steaming visibly since you're not cooking them ahead of time.
Stovetop: You can easily heat these up in a small pot or skillet on the stove.
Dump the frozen contents into a pot (breaking apart as needed), and warm over low-medium heat. Stir until they've mostly thawed, then just cook until "piping hot."
Toaster Oven: I find the toaster oven works well if you thaw the meals overnight, but it will thaw and warm the food unevenly if you try to heat them up from frozen.
Dump the contents onto a toaster-oven tray and 'bake' on about 350ºF for 10-15 minutes or until food is 'piping hot.'
Dietary Substitutions and Modifications:
Paleo: Each of these recipes is gluten-free and dairy-free as written, but the only one that is Paleo as written is the Carnitas & Sweet Potato Bowl.
Vegetarian: Replace the animal protein with beans or frozen edamame.
Low FODMAP: see the individual recipes themselves for recommendations
I hope you enjoy this post - and if you use any of these tips, please be sure to leave a ⭐️⭐️⭐️⭐️⭐️ review and comment below!
For videos of different recipes from my blog, please check out my YouTube channel!