Recipe: $13.18 | Per Serving: $2.20 | Yield: 6 | Jump to Recipe
Roasted veggies + creamy goat cheese = perfection! Not sure if you like salad? Don't worry, this roasted vegetable salad is sure to convert you!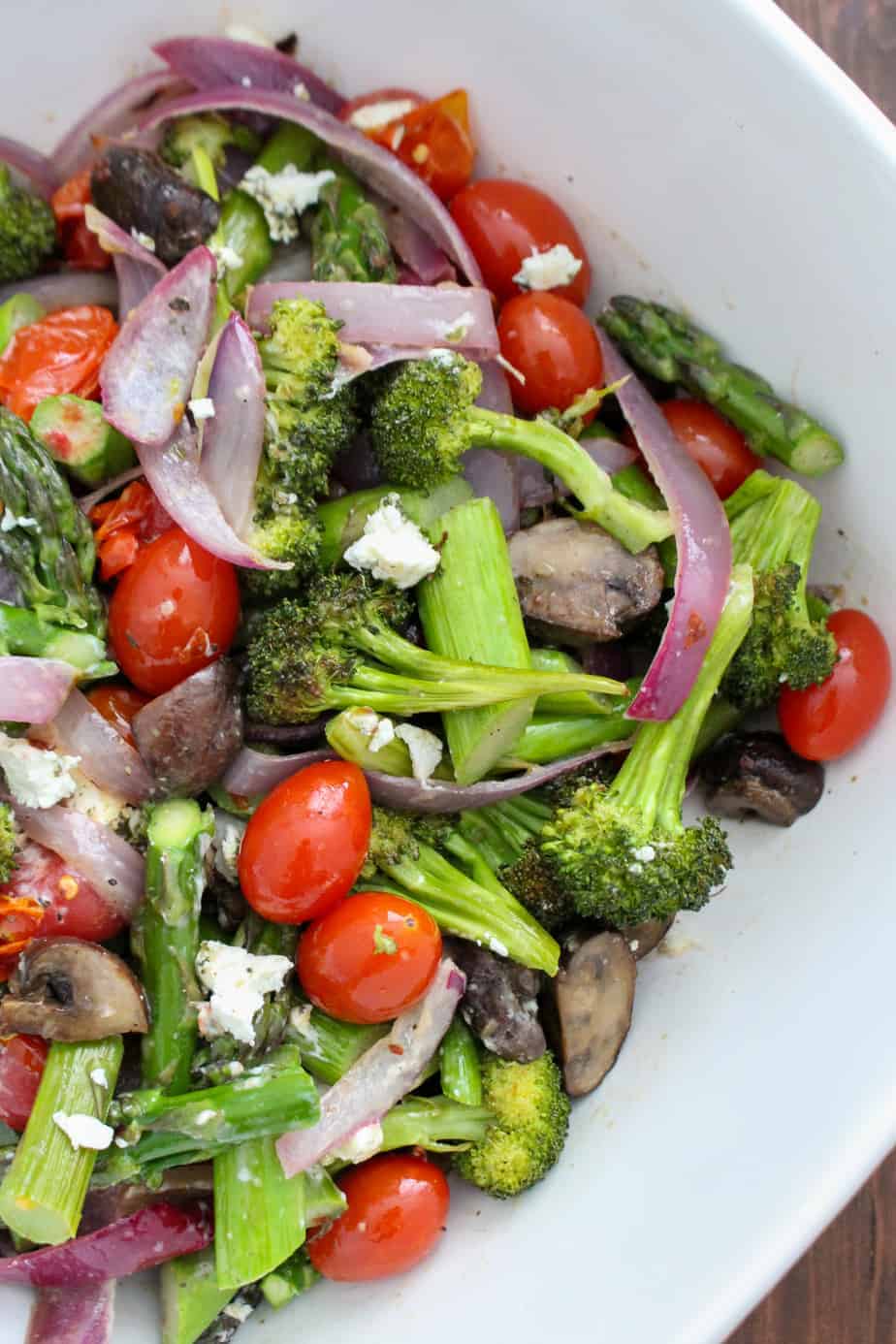 Friends, is time to spice up your salad game with a few flavor additions. Namely, roasted summer vegetables, a delicious lemony dressing, and creamy, tangy goat cheese. This salad is loaded with the good stuff - and the lettuce is optional.
Personally, I LOVE a good salad. Sweetgreen is one of my favorite restaurants and despite the price tag, that little healthy-fast chain brings me an incredible amount of joy. In much of high school and college (before getting into the fine dining industry) I exclusively ordered Caesar Salads from every single restaurant.
Salads. Are. My. Jam.
However, I understand that a lot of people don't love salads. A lot of people like the stuff that goes into salads, but could do without all the raw veggies and the bland lettuce.
If you fall into that category, this, my friends, is the salad for you.
Roasted vegetables with a sweet and citrusy dressing, fresh and tangy goat cheese, and optional additions like walnuts, chicken, chickpeas, or arugula. Again, lettuce is optional.
Adding Protein
You can serve this as a delicious side dish - warm, chilled, or at room temperature - or you can beef it up with protein to make a full meal. Crispy stovetop chicken thighs, baked almond crusted chicken, or arrowroot coated chicken are all great choices.
Feel free to also go with beans - both chickpeas and white beans pair perfectly here, and I'm sure green lentils would be a good addition.
Why Goat Cheese? Is there Lactose in Goat Cheese?
Yes, there is! Goat cheese actually has almost as much lactose as cheese made from cow's milk, but for some reason, many people tolerate goat cheese much better than cow's milk cheese. This could be due to the different chemical structure of other components in the milk, such as the type of casein protein or the size of the fat molecules, not the lactose content itself.
Lactose Intolerance:
Approximately 75% of the world's population is lactose intolerant. Lactose intolerance it is closely linked to biological ancestry; if your ancestors didn't evolve to consume dairy, you're much likelier to be without the enzyme lactase, which is required to break down the lactose (sugar molecule found in dairy). The rates of lactose intolerance among Asian countries is 90%!
There are a lot of other biochemical and evolutionary debates about whether or not we should be eating dairy. But if you're just looking for ways to reduce your dairy or your lactose consumption, then I highly recommend choosing your dairy carefully.
Real Food Dairy: What to Look For
Opt for organic fermented forms of dairy - cheese, kefir, yogurt - rather than straight up highly processed chemical-laden milk and dairy products (looking at you, Fairlife). And goat milk products are a great option because they're less processed. Goat's milk is naturally homogenized (so it doesn't separate), and therefore doesn't require a man-made homogenization process.
Organic raw goat cheese, kefir, and yogurt are decent "real food" dairy options, but feel free to also check out buffalo milk (buffalo milk mozzarella is super easy to find), and sheep's milk cheese. And regarding raw cow's milk: proceed with caution. The composition of raw milk is better for the human body, but it comes with serious risks related to contamination.
What Can I Use Instead of Goat Cheese?
This is a great question! Dairy doesn't love me, so I have to use it in moderation. As such, I've found some excellent replacements. When it comes to replacing goat cheese in this recipe, I recommend a cultured nut-based cheese alternative like those offered by Kite Hill and Treeline. Although expensive, the Treeline Scallion is my favorite!
And back to today's recipe!
How To Roast Vegetables
Roasting vegetables is really really easy, but you do want to have an idea of which vegetables prefer a shorter cooking time and which really require a longer cooking time. Some vegetables (onions, mushrooms) can go either way, while others can be overdone and mushy (asparagus) or woefully underdone (Brussels sprouts). There's a lot of variability here, but below is a general rule of thumb.
Once you have the timing down, you can just separate the vegetables onto different sheet pans based on cooking time.
Short Cooking Time Vegetables: 8-12 minutes on 450ºF
asparagus
grape or cherry tomatoes
zucchini
summer squash
Long Cooking Time Vegetables: 12-20 minutes on 450ºF
mushrooms (can be long or short!)
broccoli
cauliflower
brussels sprouts
cabbage
onions (can be long or short!)
bell peppers (can be long or short!)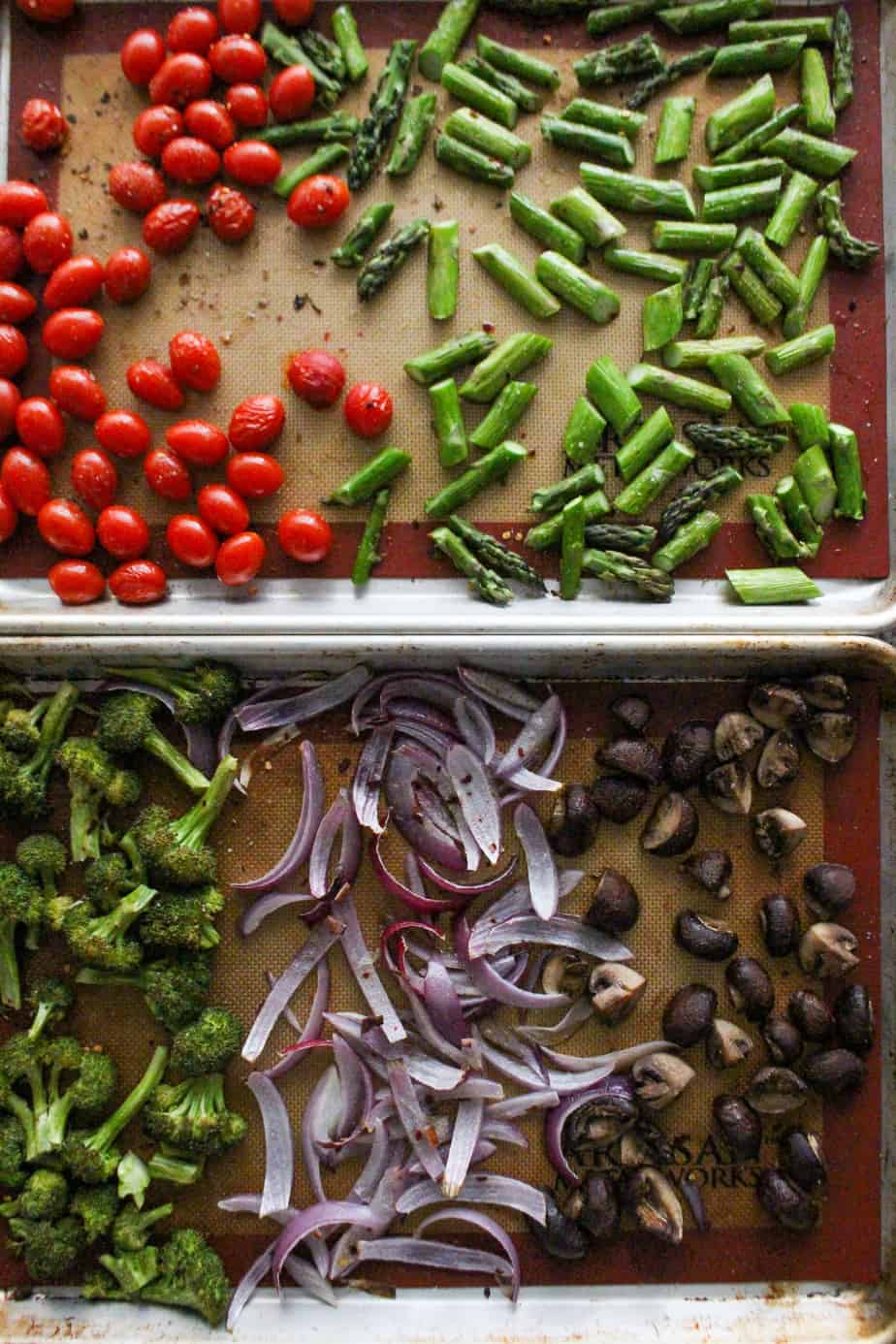 Paleo: Nope - because of the goat cheese. Skip it if you can't do dairy.
Vegetarian: Yep - unless you add chicken!

Print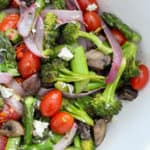 Roasted Vegetable Salad with Goat Cheese
---
Author:

Total Time:

25 mins

Yield:

4

1

x
Description
Roasted veggies + creamy goat cheese = salad perfection! Not sure if you like salad? Don't worry, this roasted vegetable salad is sure to convert you!
---
For the Vegetables:

1

bunch asparagus

1/2

large red onion

1 pint

grape tomatoes

1

small head broccoli

8 oz

mushrooms

1

-

2

Tablespoons avocado oil (or other oil for cooking)

3/4 teaspoon

salt

1/2 teaspoon

garlic powder

1/2 teaspoon

red pepper flakes

1/4 teaspoon

black pepper
For the Dressing:

3 Tablespoons

olive oil

2 Tablespoons

fresh squeezed lemon (or lime) juice

1/2 Tablespoon

honey (or more to taste)
For the Salad:

2 oz

goat cheese

1/3 cup

chopped walnuts (optional)
(Also optional - add Crispy Stovetop Chicken Thighs or Shredded Chicken)
---
Instructions
Preheat oven to 450ºF.
For the Vegetables: Combine the salt, garlic powder, red pepper flakes, and black pepper in a small bowl.
Wash the asparagus and either remove the tough, stringy ends or peel the touch ends. Chop into bite-sized pieces.
Rinse the broccoli and break / cut into bite-sized pieces.
Chop the onions into large-ish chunks.
Clean mushrooms - either by rinsing or by wiping them down with a damp towel. Cut into equal-sized quarters or halves.
Place the vegetables on two sheet pans. I recommend pairing the short-cook veggies (those like tomatoes, asparagus, summer squash, zucchini) together and place them on one, with the long-cook veggies (onions, mushrooms, broccoli, bell peppers, brussels sprouts, cauliflower) on the other one. Toss vegetables with oil, then season both trays evenly with the spices (previously mixed and set aside).
Roast short-cook veggies for approximately 8-12 minutes and the long-cook veggies for approximately 12-16 minutes, or until they reach desired doneness.
Notes
Feel free to use a wide array of vegetables here! Be sure to separate them by those that take around the same amount of time to cook.
This recipe serves 6 as a side dish, or 3-4 paired with protein as a main. Add 4-6 ounces chicken and/or 1 cup beans to complete the meal!
Prep Time:

5 mins

Cook Time:

20 mins

Category:

Salad

Cuisine:

American, Summer
Nutrition Label is for recipe as written (no added protein, no walnuts) for 1/6th of the recipe.