Recipe: $6.49 | Per Serving: $1.08 | Yield: 6
Say hello to your new summer best friend: couscous. It's the original one-pot wonder, and it's here to save your energy bill.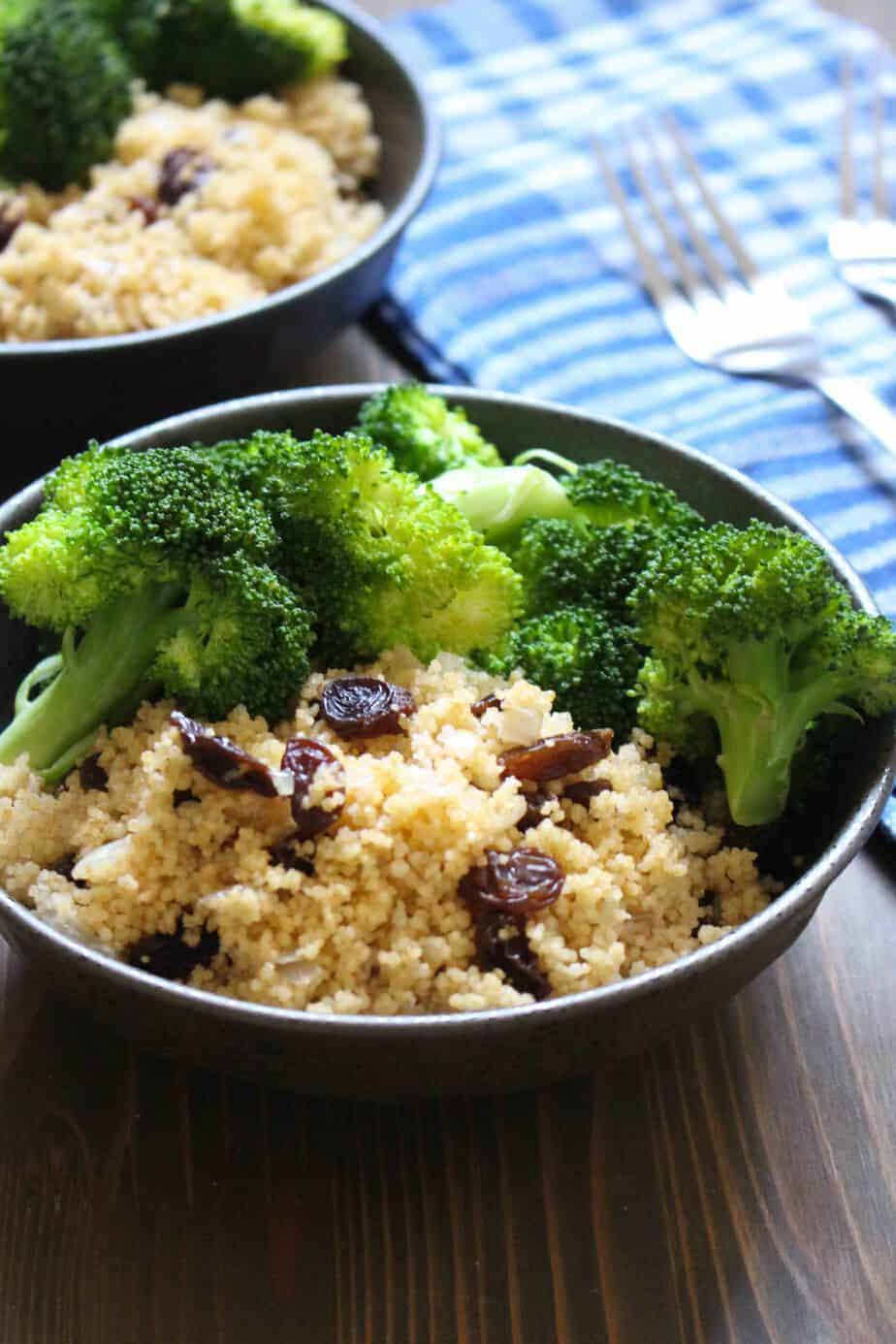 Because it is HOT. So so so hot. I don't remember the east coast being so hot. I dream of returning to Japan everyday to swelter in that version of hot instead. It was so much nicer, even though we roasted a bit without any air conditioning. Summer rule: buy fans and AC in May, not August.
So now we're roasting away in Baltimore in our 3rd-floor apartment, despite the AC. We keep getting these messages from the gas & electric company asking us to use less electricity on certain days, so today our apartment is 85 degrees. eek. Which is why couscous is a super fantastic lifesaver when the going gets hot. Boil water. ✔️ Add water to couscous. ✔️ Done. You can do that with an electric tea kettle in a dorm room! There are so many things I wish I knew in college.
This recipe does call for a few minutes of sautéing onions, as most good recipes do, but you could probably skip that if you're not in the mood. And steamed broccoli can happen in your microwave - nobody's judging you. BOOM, you just made a super fancy healthy meal with your kettle and your microwave. If you're feeling fancy, grab a rotisserie chicken while you're at it and add some protein to your life. Miracles can happen.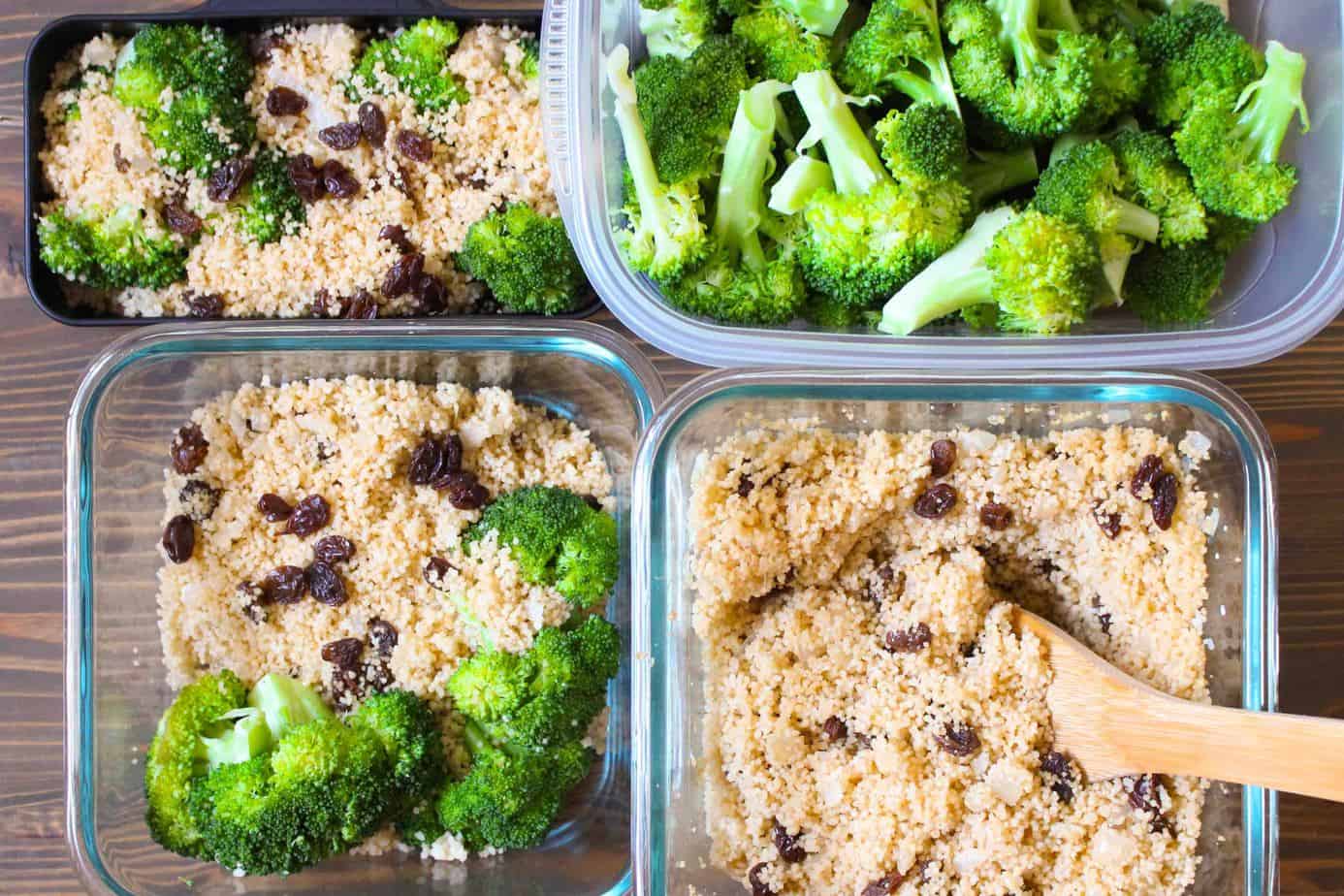 Also, this is such an meal for meal prepping. It make six servings, and lasts all week! This couscous is spiced with cinnamon, cumin, and a bit of cayenne to give it that slightly Moroccan taste, and you can even take it a step further by adding a little turmeric or ginger. I love the sweetness of the raisins and the little kick from the cayenne. It's all good stuff happening here.
Feel free to use whatever basic vegetables you have on hand. I'd say roasted asparagus and quickly sautéed zucchini are two great options as well. We went with broccoli because I was in the mood for something really easy that we could pair with multiple meals throughout the week. We also paired this dish with roasted asparagus one night because I am a masochist who enjoys increasing the temperature of my apartment by 10 degrees just for the sake of roasted vegetables. DUMB.
Vegetarian: YES!
Paleo: No - due to the whole wheat couscous. However, I think this dish would work really well with cauliflower rice/couscous. Season the pulverized cauliflower before roasting or steaming it and then mix in the raisins and sautéed onions.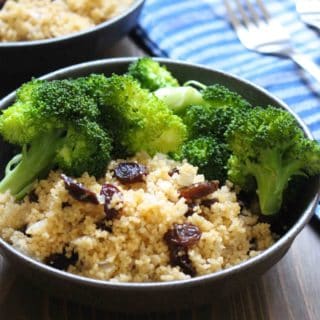 Spiced Couscous with Raisins
A simple side dish with couscous and broccoli flavored with spices and raisins.
Ingredients
2

pounds

broccoli

fresh or frozen

1

Tablespoon

oil

for cooking

½

white onion

½

teaspoon

salt

¼

teaspoon

cumin

¼

teaspoon

cayenne

1 ½

cups

whole wheat couscous

1 ½

cups

boiling water

1

cup

raisins

1-2

Tablespoons

olive oil

for drizzling
Instructions
For the Broccoli: Steam broccoli in a large pot, steamer, or your microwave and set aside. (I just put 1 inch of water in the bottom of a pot, clean & chop the broccoli, and place it in a steamer insert, then put that inside the pot. Cover and steam for 3-5 minutes.)

Warm the oil in a large pot and sauté the onions until just a bit opaque, about 3-5 minutes. Add the salt, cumin, and cayenne and cook another 30 seconds.

Stir in the couscous, raisins, and boiling water and stir to combine. Cover for 5 minutes.

Remove cove and fluff, then drizzle with a little olive oil before serving. Serve hot or cold and enjoy!
Nutrition
Calories:
386
kcal
Carbohydrates:
79
g
Protein:
13
g
Fat:
6
g
Saturated Fat:
1
g
Polyunsaturated Fat:
1
g
Monounsaturated Fat:
3
g
Trans Fat:
0.01
g
Sodium:
251
mg
Potassium:
694
mg
Fiber:
11
g
Sugar:
4
g
Vitamin A:
978
IU
Vitamin B1:
0.1
mg
Vitamin B2:
0.2
mg
Vitamin B3:
1
mg
Vitamin B5:
1
mg
Vitamin B6:
0.3
mg
Vitamin C:
137
mg
Vitamin E:
2
mg
Vitamin K:
157
µg
Calcium:
102
mg
Copper:
0.1
mg
Folate:
98
µg
Iron:
4
mg
Manganese:
0.4
mg
Magnesium:
40
mg
Phosphorus:
121
mg
Selenium:
4
µg
Zinc:
1
mg
Choline:
29
mg