Another week of a $60 "real food" budget for 2 people down! This is our third week of this tighter budget, and here's how we fared.
I started with sausage. Last Sunday I made some homemade sausage so I could make this White Beans, Sausage, and Kale dish with collards instead of kale and some brown rice. I also made sautéed kale & sausage, and roasted sweet potatoes. We bought a huge bunch of collards form the farmer's market for $5, and we've gotten through about 3/4 of it, using it in just about every meal this week. Monday night I made Whole Wheat Cheddar Garlic Biscuits because I had found a great sale on cheese ($1.25 for 8 ounces!). We also had 2 servings of Vegan Sweet Potato Chili (black beans instead of meat) in the freezer (this recipe, but Vegan instead of Paleo), so I pulled that out for the end of the week. For breakfast we planned on Banana Oatmeal with blueberries, and I also made some Whole Wheat Banana Pancakes.
For snacks, we had some leftover Soft Oatmeal Raisin Bars and a few carrots, and I bought sugar snap peas, blueberries, and Kettle Corn Rice Cakes. Those rice cakes are not actually real food, just FYI, but I wanted to try something different from the plain cakes I usually buy.
This last week was definitely weird because we were actually house & dog-sitting for my friends, who happen to live a 3-minute walk from my day job, so I definitely saved a good 20+ minutes each morning and afternoon, which is why I was able to make pancakes one day!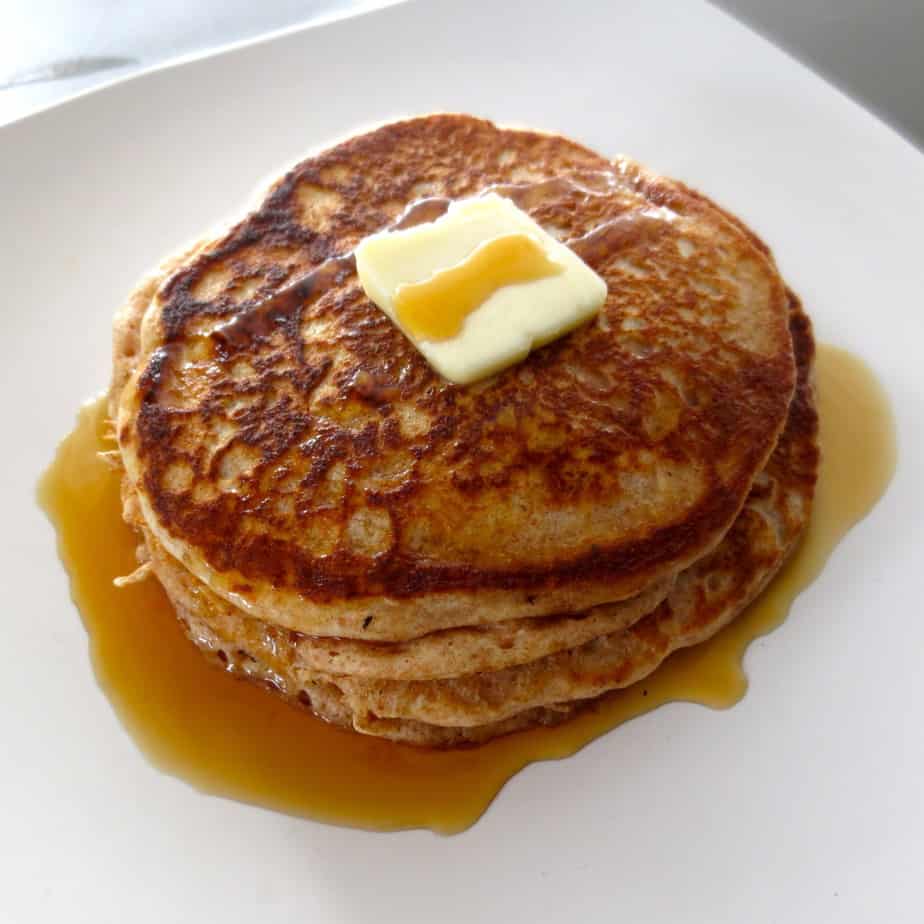 And here is a list of what we actually ate. It's so hard to keep track of everything, but this is pretty close. We did actually get 2 different meals out - one lunch with a friend, and one dinner at a friend's house. We have leftover brown rice, so we would have probably whipped that into some sort of fried rice with frozen broccoli and fried eggs if we needed another 4 meals.
Monday: Leftover Coconut French Toast, out to lunch, White Beans, Sausage, & Collards + Cheddar Biscuits
Tuesday: Banana Oatmeal, White Beans, Sausage, & Collards + Cheddar Biscuit, Snacks, Sausage & Collards with Roasted Sweet Potatoes
Wednesday: Banana Pancakes, Sausage & Collards with Roasted Sweet Potatoes, Dinner at a friend's
Thursday: Banana Pancakes + Eggs + Tomatoes & Basil, White Beans, Sausage, & Collards + Brown Rice + Cheddar Biscuit, Mac & Cheese with tomatoes, onions, & collards
Friday: Mashed Banana Oatmeal, Vegan Sweet Potato Chili, Mac & Cheese with tomatoes, onions, & collards (for Zac), 1 egg + two rice cakes for me
And for snacks this week: blueberries, cherry tomatoes, snap peas, carrots, soft oatmeal raisin bars, 2 leftover Blueberry Lemon Biscuits, and some Kettle Corn rice cakes.
This week wasn't bad, but I was actually starving on Thursday. I don't think that this meal plan is perfect if you workout regularly.  This week we ran Tuesday, Wednesday, and Thursday, so that definitely made me hungrier in the afternoon. I actually (oddly) feel a little more freedom with my current plan. I know that I can't afford so many things, so I don't spend nearly as much time wandering around the grocery store for inspiration. I've never actually been any good at sticking to my grocery list, so this has definitely been helping me do that, and eliminate those random buys. Next week we actually have a $15 CSA box, so we'll see what that comes with!