So we made it through another week of budget meal planning. A $60 budget for two is really not the easiest thing in the world, but so far we are totally managing. I am always worried about not having enough food, but we had plenty. I did two important things this week: I cooked a whole chicken for backup protein, and one of our dishes was made from super cheap couscous, which made six servings.
Healthy Frugal Weekly Meal Plan: July 25th - July 29th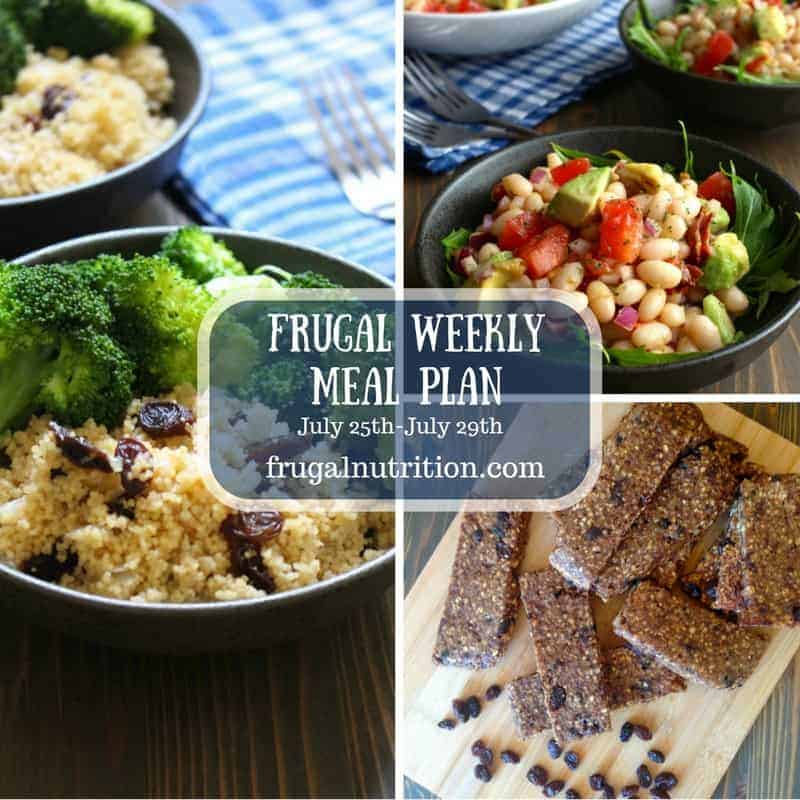 Without further ado, the meals:
Breakfast & Snacks:
We ate blueberry lemon yogurt biscuits, oatmeal, and fried eggs last week. Snacks were carrots, cucumbers, mango, soft oatmeal raisin bars, rice cakes, and apples.
Blueberry Lemon Yogurt Biscuits
I've made lots of variations of yogurt biscuits over the last couple of years because they're really simple to pull together, and they're kind of scone-like, but also biscuit-like. I don't really know the difference except that one is sort of crumbly and one is sort of flaky. I made these for breakfast for the week, paired with strawberry-banana-kale smoothies. I'll keep tweaking them before posting a recipe, but they're definitely easy!
I've been really wanting to make these lately, and I had a few extra bananas that we SUPER brown, so I finally whipped these up. They're so easy and I love them! Perfect for snacking.
Lunch & Dinner:
One of the more decadent dishes on the blog, this dish uses either whole peanuts or peanut butter, and canned coconut milk. I actually modified this a bit. I made the sauce for this dish, then cooked the chicken on the stovetop and served it with rice & steamed broccoli instead of bell peppers and zucchini.
Spiced Whole Wheat Couscous with Raisins
This was a new one for Frugal Nutrition and I was pretty excited about it. It was a really easy dish, and it takes about 8 minutes. So super simple and easy! It's perfect for summer because couscous doesn't take more than boiling hot water!
This is one of my favorite lunch salads. It's so super simple and it's really awesome! We paired ours with fresh spinach and it was really perfect.
I recently bought a meat thermometer and this was the first time I had the chance to use it, and it actually made a huge difference. I've made this recipe by 100 Days of Real Food several times, but the results are kind of inconsistent because I don't always buy the same size chicken. Without a meat thermometer I was pretty much just guessing that it was done, then sometimes I'd wait a little for it to cool and cut into it and it would still be pink. So I am really happy to take the guesswork out of it and have the thermometer tell me when it's done.
The chicken was selected as a back up protein option, and I shredded it and froze half of it right away.
Roasted Asparagus
I bought a pound of asparagus for $2.99 to add some variety to the menu this week, and it was so so good! Roasted asparagus is really easy and it was a nice change from all the steamed broccoli.
Take Aways: It's definitely a good idea to make a little more food than you think you need. Make sure you have a really substantial meal, and instead of making dishes that are 2-4 servings, make sure you've got recipes that make 4-6 servings to minimize the Sunday cooking. Also, Zac & I did get maybe 2-3 work-provided meals this week, which probably helped more than we realize!